Good schools work best in sustainable, agile buildings. Ben Marston on UK school design and the unknowns of post-pandemic design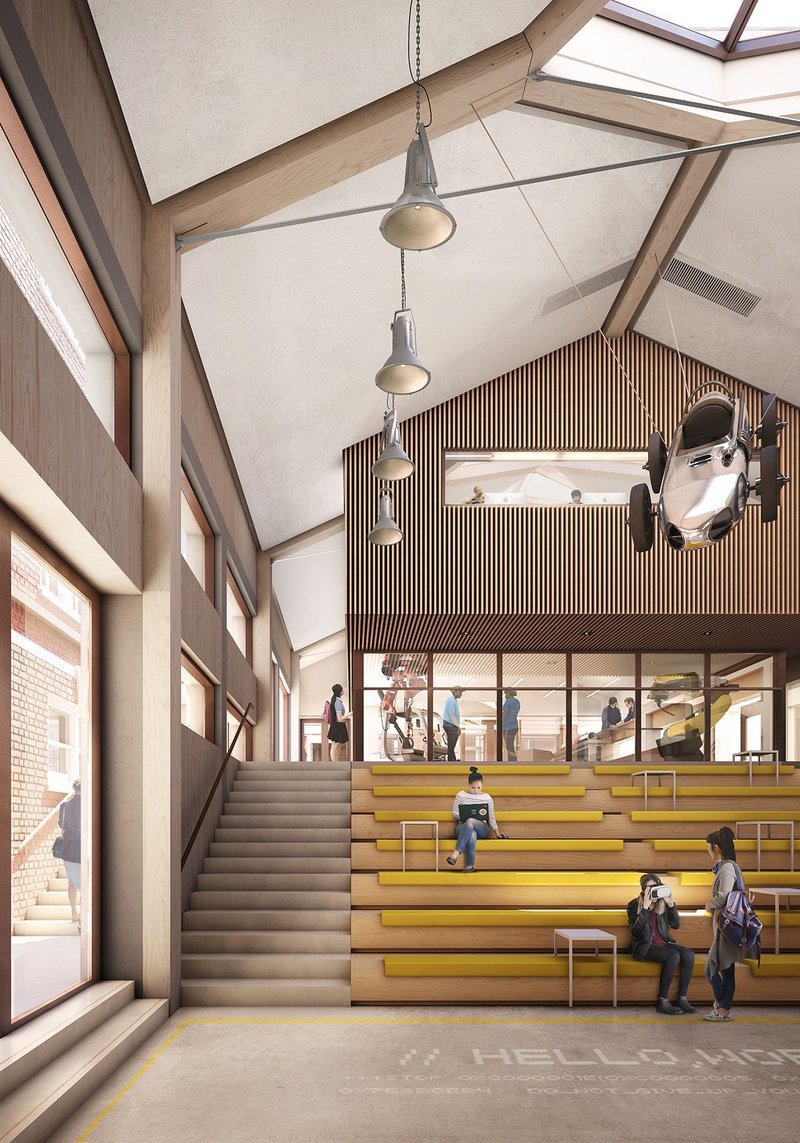 St. Paul's Girls' School - Innovation Centre incorporates a variety of spaces for collaborative project-based learning.

Credit: Secci Smith
Over the 20 years since we established the Jestico + Whiles education studio, we have completed more than 60 schools. We have always been conscious that our architecture is only an enabler: it is the magic that happens within that really matters. Over that time there have been various trends in education, particularly in English state schools as political administrations have come and gone and brought different agendas, alongside increases and decreases in capital expenditure. There was, for a time, a desire for secondary schools to be geared to a particular specialism, with additional funding and facilities, and an appetite for a wider range of educational models drawing on international experience. In more recent years, curricula have become more narrowly focused, with a retrenchment into traditional regimes of standardised testing. State school commissions have become reciprocally standardised: an austerity of back-to-basics, standardisation and spatial minima.
Of fundamental importance is the quality of learning environment. It may seem obvious, but so often, educators will tell you, this is overlooked. Getting the basics right – ventilation, acoustics and lighting – allows the building to become the background, and educators to do what they do best without distraction. If there is one thing that has improved in English school procurement in recent years, despite other shortcomings, it is a focus in the government's standardised specifications on internal environmental conditions.
Another important aspect is creating spaces for collaboration. Research abounds that humans learn and work more effectively when they do so collaboratively, through shared experience and diversity of thinking. Creating these spaces in education buildings is vital as it allows a degree of flexibility in their day-to-day use, encourages serendipitous encounters, and makes space for buildings to breathe. We seek to design in such opportunities wherever possible, as they create conditions where shared activity can happen.
Most important is sustainability. A hero of mine, the late educationalist Ken Robinson, reiterated in a speech shortly before his death the parallels he saw between the challenges of the climate crisis and those in education. If there is one building typology that is a natural bedfellow for sustainable thinking, it is education. Considerations of orientation, daylighting, energy, resources, wellbeing and minimising environmental impact never seem more important than when creating buildings for the next generation. In that context, working creatively with existing buildings is both sustainable and a necessity in the sector. Over the years, we have prepared development masterplans for a number of leading schools. These have tended to focus on creative re-use and incremental sustainable development, rather than wholesale campus rebuilds.
While we continue to work extensively on schools and universities in the UK, we are increasingly also working overseas. Education is a major UK export success story, and in a modest way, we are part of that. We have three projects under way in the Middle East, including the new campus for Doha College, and we are building a new high school for the government of the Cayman Islands, a British Overseas Dependency which follows the English school system. We won an international competition to complete the school which had stalled amid the financial crisis of 2008 and a lack of confidence in the educational vision which underpinned it. An immensely challenging project, it has presented a new context to apply the philosophies which underpin our work.
The current pandemic presents particular challenges for education. A secondary head recently described to us that she feared the next two years would be the most challenging the education profession has faced. Physical distancing in school environments will prove difficult. Schools with more space will find it easier. Making international comparisons is politically discouraged at present, but it is notable that English state schools have some of the smallest classrooms and tightest space standards in the Western world.
The immediate future may be a more hybrid learning experience, with schools needing to teach flexibly or close and move online at very short notice. In a recent blog, one leading head, Kai Vacher of British School Muscat, for whom we are implementing a 10-year campus masterplan, noted that it had taken a global pandemic, rather than training courses or lectures by education gurus, to create a new shape of schooling online. However, he concluded that children need to be in school to benefit from the whole experience of learning with friends, interacting with their peer group and being part of a learning community.
What longer-term impact the pandemic will have on the built environment of education remains to be seen, but there is an opportunity, as with everything, to build back better. In that context, one interesting project we are designing, as part of a wider campus masterplan for the independent St Paul's Girls' School, is an Innovation Centre. It is a highly flexible multi-faceted space incorporating technology, design, and maker spaces to foster co-operative working and shared educational experience. It is an experimental facility, highly ambitious and one which points to a positive, collaborative tomorrow. Whatever their size or nature, it is the social agenda and inherent outlook towards the future which keeps us stimulated designing schools.
---
Ben Marston is a director at Jestico + Whiles
Click here for more inspiration on rethinking our environment