How landscape influences architecture, and how architecture responds to and employs it, was the subject of the second RIBAJ/Knauf seminar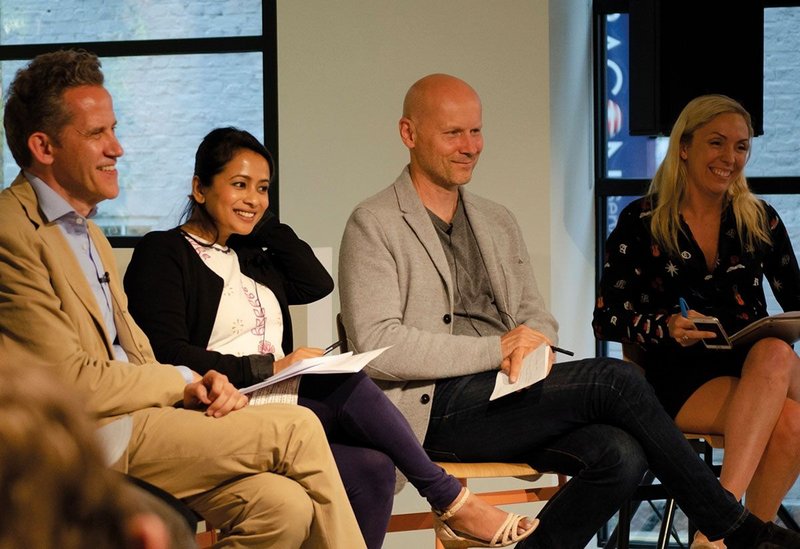 Right to left: Stephen Richards, Tumpa Husna Yasmin Fellows, Michael Pawlyn and Holly Porter.

Credit: Charlotte Collins
Floor to ceiling glazing wraps around our office blocks, fronts our urban apartments and defines the domestic extensions of comfortable suburbia. It might be contributing to summer overheating in city homes, but we love it for the light and the views. Those expanses of glazing and bi-fold doors bring a sense of connection to nature in our increasingly disconnected and digital lives, or as glossy lifestyle magazines put it, 'bring the outside in'.
Of course, we can do a lot better. Our interfaces with nature, in building and landscape, provide opportunities for expressions of culture and creativity, and to design in a way that harmonises with nature and taps into its potential to protect us and enhance our lives. You only have to delve into history and tradition to find examples, even for something as fundamental as a view, as Stephen Richards, partner with landscape architect and masterplanner Gillespies, says.
Look at Japanese architecture and its tradition of the shoji, the translucent screens that adapt and frame views. 'Views were manipulated. What you do and don't see can be lyrical,' he noted. 'A lot of what you see in architecture now is simply putting in a big window. In doing that, you lose things like playfulness.'
Inside and outside
Richards was speaking at the second in a series of debates on space in architecture, organised by the RIBAJ and Knauf at the Knauf Clerkenwell showroom in July, and chaired by Holly Porter, founding director of Surface-to-Air. The second debate's theme, 'When exterior meets interior', explored the potential in the connections between architecture and landscape. In this context, Richards reminded us, the latter should not be mistaken for wilderness. 'The landscape is our interpretation of how we manipulate spaces. A lot of our work at the moment is in cities and through that we're trying to establish what landscape means in the city – is it mature planting, or is it about activity, for example?'
Landscape's value to the city and its citizens is increasingly being quantified, in studies such as the report by arboricultural consultancy Treeconomics for the Royal Parks published earlier this year. This found that the trees in London's Hyde Park had an amenity asset value – the worth of their shade, beauty and other factors – of £173 million. But at the same time, long established local authority-owned parks and street trees are under threat in some locations, and the creation of new public realm is largely reliant on private sector investment.
Traditional influences
As research like the Hyde Park study recognises, landscape provides an alternative or an accompaniment to technology in helping to mitigate adverse environmental impacts, such as excessive summer heat and floods. Qatar's Doha is associated with the glazed skyscrapers of its West Bay, but Mangera Yvars Architects' (MYAA) Qatar Faculty of Islamic Studies at Education City adopts a different design response, which helps to protect users from summer temperatures of more than 40°C. 'Just 2% of the building is glazed; it's like entering a cave,' explained Ada Yvars Bravo, director of MYAA. 'It is not about just glass. There are different levels of porosity.'
The design incorporates traditional Islamic influences, having four Islamic gardens around its perimeter, and a courtyard at the centre. Architecture and water features cool the approaching visitor, explained Yvars Bravo. 'We knew from the beginning that we needed to use the landscape. We have created a microclimate that could reduce the temperature by two or three degrees on approaching the building.'
Such designs result from consideration of the environment in its broadest sense. 'We're interested in blending the building and the landscape. We don't just look at the building; we look 200 km around it,' Yvars Bravo summed up.
Tumpa Husna Yasmin Fellows, founding director of interdisciplinary practice Our Building Design and a RIBAJ Rising Star, spoke of working in a similar way for the Women's Literacy and Healthcare Centre in rural Rajapur in Bangladesh. 'We looked at the sun, wind, monsoon cycle – such factors have a huge influence on the positioning of a building. In controlling the microclimate, there's a need to deal pragmatically with some serious challenges.'
The centre sits on stilts over a pond, which collects rain during the monsoon season, in turn providing evaporative cooling. This marriage of landscape and building gives a solution that is both resilient and pleasant for visitors, explained Fellows. 'The water is beneath and around the verandah where patients wait. Some patients don't want to leave the verandah because the cooling breeze feels so pleasant and healing.'
New ways of thinking
For this community project Fellows drew on the traditional knowledge of local people and used their earth building techniques. 'We felt people who live in remote places have learned how to deal with climate, so the best way was to learn from them. We tapped into local skills and knowledge. I had to stand back as an architect and recognise local skills.'
Now is the time for such fresh thinking, argued Michael Pawlyn, founder and creative director of Exploration Architecture. 'We're now entering the end of the fossil fuel era and we're going to see a massive reawakening of ingenuity in the way humans live in the landscape.' Pawlyn is practising what he predicts with innovations such as the Sahara Forest Project, which tests the viability of greening the desert to produce food and clean energy.
Contrast that with nations across Europe and north America, where innovation in the built environment is commonly measured by a BREEAM Outstanding or a LEED Platinum. 'Systems like BREEAM and LEED have taken us so far, but I'd argue that we have not nearly gone far enough,' said Pawlyn. He called for radical approaches and broader targets, taking on board such factors as the food that needs to be grown to supply a city. 'When we've done that, we'll have cities in a functional landscape,' he said. That still sounds some way off for the UK.
---
See more reviews of Space in Architecture events