Can a generation of low carbon bricks that variously harness recycled waste, cement-free binders and kiln-free curing clean up the sector's impact?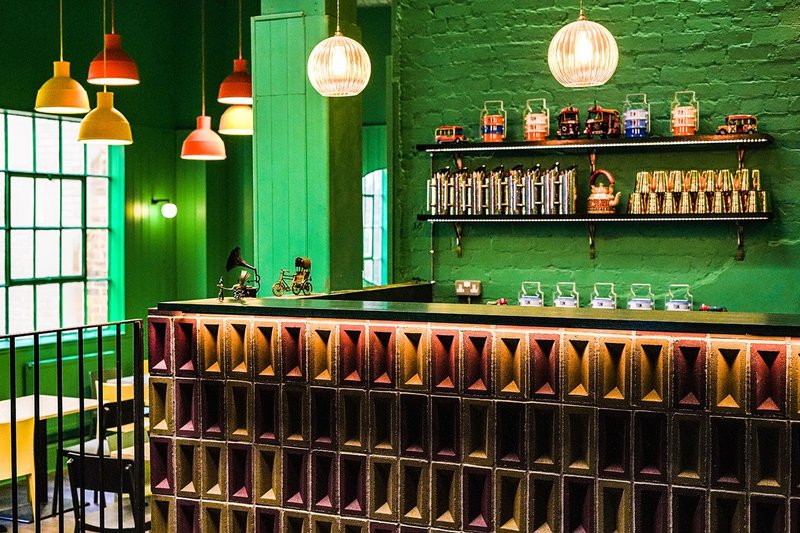 Kenoteq says the K-Briqs is particularly suited to exemplar design and sustainability-led buildings, but with greater economies of scale mass housing will be possible in future.

Credit: Kenoteq
Brick is one of the oldest known man-made materials and remains the prevalent form of construction in the UK, with some 2.6 billion units produced in 2019 alone.
But our hunger for this durable, tactile and often beautiful product, consumes a huge amounts of energy, releasing greenhouse gases and other harmful pollutants into the atmosphere.
Firing clay bricks to over 1000ºC in fossil fuel-powered kilns is energy-intensive. A finite natural resource, clays have to be mined and shipped around the globe and they generate difficult to abate process emissions.
The brick making industry is taking steps to address its impact on the environment. A decarbonisation and energy efficiency roadmap has funded projects designed to cut energy consumption and emissions, and future plans include an investment in efficiency and renewables. For example, Forterra's new Desford plant uses low-carbon fuels like hydrogen (as Michelmersh is doing with its HyBrick) and electric-firing. In 2022 the Brick Development Association reported a reduction of 8kg CO2e/m2 since 2015, with the industry average for clay bricks of 26 kg CO2e/m2, as against 27.3 kg CO2e/m2 for the average traditional clay-fired brick (EPD 2019-2024 Brick Development Association ).
However, with high demand for bricks increasing the UK's reliance on imports from Europe and beyond and the government aiming to build 300,000 homes a year by 2025, a range of ambitious measures will be required to keep national net zero carbon targets for 2050 within reach.
Stepping up to the challenge, brick makers and researchers are spearheading low carbon brick alternatives that harness low-energy and circular approaches such as reused demolition waste, kiln-free curing and alternative cement-free binders, with new factories being rolled out and test-bed construction projects under way.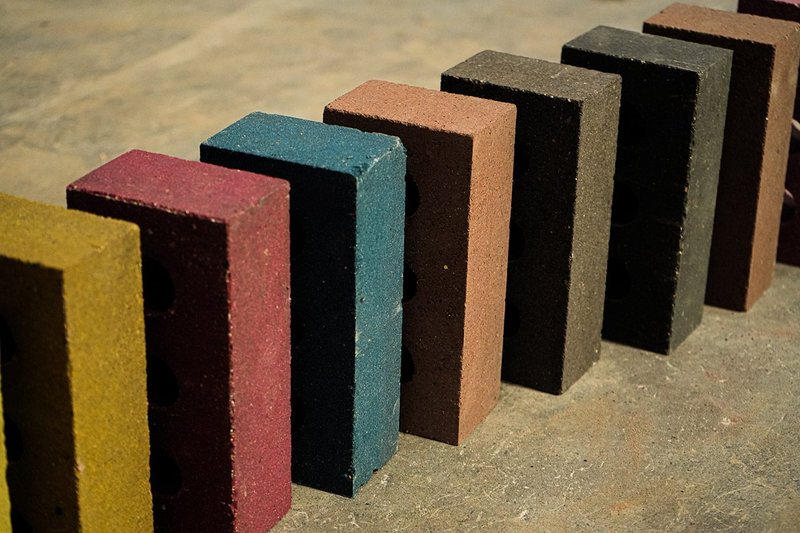 K-Briqs are ready to move into full commercial production pending final certification in September and begin supplying early adopter projects in 2024.

Credit: Kenoteq
K-Briq by Kenoteq
Embodied carbon:
Estimated 1.006 kg CO2e/m2 (A1-A3)
Time to market: Final BBA certification for UK expected September 2023
Coming in at less than 5% the embodied carbon of a traditional clay-fired brick, K-Briq leads the pack in terms of its reduced energy impact and with 90% of the product comprising construction and demolition waste it is also understood to have the highest recycled content of any brick on the market.
K-Briqs can be a replacement for traditional clay or concrete bricks for most exterior/facing brick applications, with comparable strength and the added benefits of higher thermal mass, reduced weight and offered in 13 stock colours.
The product is not fired and the relative lack of water in the mix, combined with the use of a proprietary cement-free binder, allows it to cure in under 24 hours. 'End-of-waste' status from the Environment Agency proves it is free from any toxins and 100% recyclable.
The company is currently working with two construction and demolition waste contractors. Lucy Black, head of business development at Kenoteq, says: 'It's critical we work with certified waste management partners who provide waste streams to the correct quality and granular density and in line with regulations.'
Kenoteq's factory in Scotland has capacity for 5 million bricks per year, and early adopter projects in 2024 will include a high-performing net zero retrofit for a housing association, a large civic project for a local authority and a welcome centre for a key developer, plus smaller extension and interior projects.
Exploiting a localised approach to waste materials sourcing and product distribution, Kenoteq has plans to take production to different regions and countries.
'We will move very quickly to establish license franchise agreements with other waste contractors and ultimately distributors,' explains Black. 'We'll probably have six to eight factories across the UK over the next five to six years and we have patents granted in the US and Europe and one pending in Canada, so these countries will initially form the focus of our international operations.'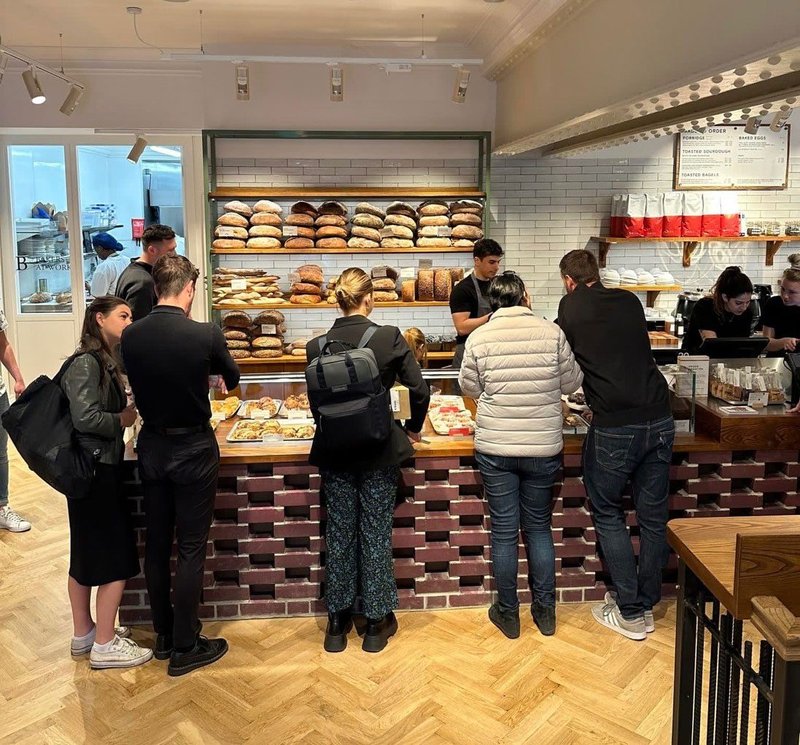 K-Briqs are 90% certified construction waste and formed without the need for a kiln, radically reducing their embodied energy. Still perfect for baking as seen here at Gail's bakery.

Credit: Kenoteq
Porotherm by Weinerberger
Embodied carbon: 17kg CO2e/m2 (cradle to gate A1-A3 based on current EPD certificates for 100mm cavity masonry blocks)
Time to market: Available now
Giving a modest reduction in carbon footprint compared to traditional clay bricks, Porotherm is arguably more attractive as a replacement for concrete blocks, with the 100mm cavity masonry blocks saving around 40% embodied carbon against its concrete equivalent.
Morgan Sindall says using Porotherm blocks instead of traditional cement blockwork when constructing the Addenbrooke Care Home in Gosport, Hampshire, saved 324.5 tonnes of embodied carbon.
Already a mainstay solution for residential buildings in Europe, the thin-joint system comes in a range of sizes so it can work for inner leaves / rendered outer leaves of cavity walls, monolithic single leaf external walls​, infill panels within framed structures​ and load bearing and non-load bearing partition walls.
The blocks require lower kiln temperatures to fire, explains Andy Oram, Porotherm project manager at EH Smith Builders Merchants, UK distributor for the product: 'Firing is one of the inescapable downsides of a fired clay product, but Porotherm is fired at a lower temperature, at 985º Celsius, versus between 1100 and 1500ºC for traditional brick.'
Units are perforated and incorporate 30% of materials from alternative, recycled or secondary sources, reducing the need for virgin clay. Units slot together and therefore require less mortar to bond, which cuts demand for water during construction by 95%.
'Taking out an enormous amount of water from the manufacturing and laying process has technical benefits around the construction method, because you don't have to dry the wall out using heaters and dehumidifiers that run off electricity to make it dry before applying the plaster finish,' says Oram.
The 365mm monolithic block is used most commonly in the UK, generating about 47 kg/m² of carbon, but that 'essentially gives you your entire wall,' says Oram, taking out the need for brick, cavity insulation and concrete blocks. 'You just need to apply the finish to the inside and outside,' he concludes.
Gent Waste Brick
Embodied carbon: 26.25kg CO2e/m²
A-D to EN15804+A2:2019
Time to market: One-off
To give an idea of the struggle it is to make blocks low carbon it is worth hearing Carmody Groarke's story. It worked with a team of material specialists, lawyers and regulators to develop the Gent Waste Brick for use on the external facade of a new wing for the Design Museum Gent in Belgium.
Comprising 63% recycled local municipal waste and using hydraulic lime as a primary binding agent instead of cement, the bricks are cured rather than fired and gain strength through carbonation with atmospheric CO2.
This results in a brick with one-third of the embodied carbon of a typical Belgian clay brick when measured over a 60-year life cycle (0.17kg CO2e/kg compared to 0.54kg CO2e/kg for a typical Belgian clay brick). This will save a total 107 tonnes of CO2 to construct the extension, versus using clay brick.
With a hyper-localised and 'easily-production replicable' approach, bricks are made on a brownfield site in Gent with no emissions, by-products or waste.
Certification involved testing against European Norms and consultation with the Belgian Construction Certification Association, the certification body for the construction sector.
The project was funded through a grant from Belgian government-backed Circular Flanders and developer Sogent, and, says Carmody Groarke architect Sian Ricketts, provides valuable lessons for related work in the UK: 'What we really took away from [it] is the fact their waste streams are really easily accessible compared to in the UK,' she says. 'To start replicating this approach, we need to be improving our waste streams and waste systems to make them more accessible, which means getting a set of principles in place and a methodology.'
Looking to move the innovation forward, the architect is working with PhD students at Imperial College London through the Design Museum's Future Observatory research programme to see how the same principles of reusing excavation waste in a brick can be combined with cement replacements currently in development.
'There's an embodied carbon element to lime, which is the product of fired limestone, so if we can take as much of the embodied energy out of the process as possible using different binders, it will be very interesting,' says Ricketts.
Also coming to a wall near you?
Nominated for this year's prestigious Earthshot Prize, Sugarcrete was developed by the University of East London with the support of Tate & Lyle Sugars, is a low carbon alternative to bricks made from sugarcane by-products. Architect Grimshaw unveiled its first technical application in the form of a prototype slab.
Researchers at the US University of Colorado in Boulder have developed a 'living' brick able to grow itself by sucking CO2 from the atmosphere. The technology raises the prospect of carbon positive bricks and more efficient self-healing construction materials.
With thanks to Footprint+ Conference which brought these companies together