Conceived as a place maker for Canary Wharf's new 3500-home community, Wood Wharf, Glenn Howells Architects' restaurant and public realm on two floating dock pavilions, was a chance to create a contextual response. The architect, engineer Ramboll and client talk through the challenges of realising it
How did the idea for a pair of floating pavilions come about?
Ivan Ferris: At first London Borough of Tower Hamlets was dubious about the idea as proposed. The Canal and River Trust was very protective too as it saw the dockside as a heritage asset. Initial discussions were to convince LBTH that this is as much a piece of public realm as a food and beverage offering – enabling people to get to the water and sit and dwell – alongside a biodiversity net gain.
David Henderson: What we were looking at first was a parameter plan with a percentage of area that could be used, but our idea was bigger than that. The docks are 36m wide here, an inherent part of the wharf, but they can feel disconnected as ground level is 4m above the waterline, so we wanted to engage with them. The argument was won on footfall and permeability – with the possibility of a new north/south crossing over the dock, accessible as public realm and open to all.
What were your influences and constraints?
DH: The Jubilee Line runs below the docks with a piling exclusion zone above. We considered cantilevered concrete piles, but because of the tunnels' presence we concluded it would be better to not have anything set in the water at all – which led to the floating idea. That meant looking at building off-site and transporting it into – and perhaps ultimately out of – the location. In the end it was built at the nearby Royal Docks and towed into place.
We thought about the architectural expression as something that was neither a boat nor a building – more like a product, an Airstream caravan or a car. We were inspired by Jean Prouvé's Maison Tropicale and its assemblage of parts.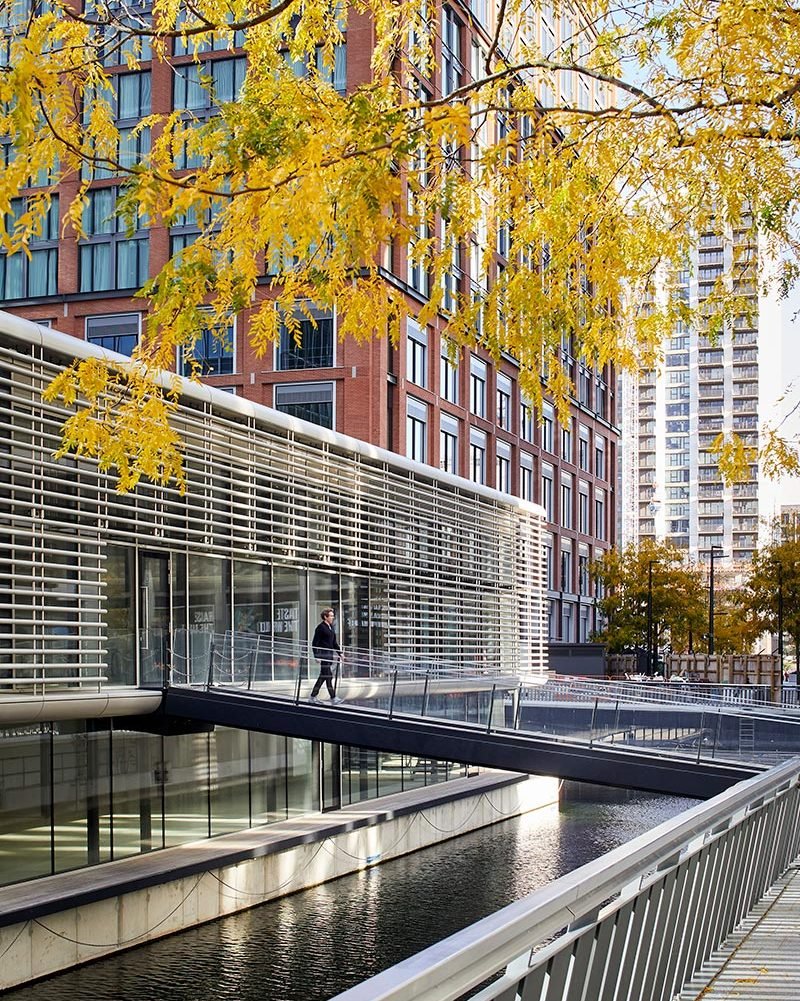 Stuctural diagram of concrete boxes and steel structure and bridge connections back to Water St.

Credit: Hufton + Crow
What was the engineering challenge?
Keith Jones: Being on the water! With most buildings you're designing to maximum loads but here it was minimum ones. If we didn't design the pavilions with enough weight, they'd be too high out the water; but also, they couldn't sit too low in it. Marine engineers habitually design to a fixed brief for a ship, but here they had to evaluate it at concept stage, when no-one knew what was going inside the pavilions. With a tidal range +/-800mm, the hulls would need to deal with that movement. And being held in place, they had to allow for rotation and lateral sway. One Canary Wharf Group exec needed to be assured that if a pavilion moved, no customers' wine would be spilled!
What type of floating box did you go for?
KJ: We went with a concrete hull as there were long-term maintenance issues with a steel one – in time it would need to be re-painted and underwater welded. A lot of reinforcement went into the hulls as we had to make them as thin as possible, otherwise they'd be too heavy. It's made up of a concrete cross-rib structure to give the structures stiffness without extra weight. Our marine engineers were concerned with wave motion acting on the boxes – hence the large amount of rebar installed. It was also driven by a client wish to make it solid as a building – if had they been okay with it behaving more like a boat, we could have gone leaner on the concrete. On the hulls' navigable sides there's also a secondary flood compartments dealing with vessel impact – a crash protection zone that can fail and not compromise the hulls themselves.
What's the function of the bridges?
DH: They give access to the pavilions but, critically, they hold both concrete hulls in place. We had to consider high and low tide scenarios in addition to any tendency to drift out from the quayside, as well as the impact scenarios – all of which leaned into the design. There were these issues plus fire escape concerns – not just from the building but from the public realm pontoons and decks, so that all users could safely escape. In addition to the two concrete hulls there are two pontoons and a bridge that connect to them and the bridges need to deal with all these independent movements.
KJ: From an engineering perspective, the high-level connecting bridges are technically at the wrong level. We would want them connecting to the concrete hulls as that's where we'd get best stability. Any vessel impact forces on the hull would have to be taken by the bridges, so we had to work out how to transfer that without having ugly cross-bracing in the restaurant. Instead it's hidden on the 'water' side of the pavilions, in the kitchen walls.
And how are they designed?
Alex Smith: The bridges are designed to deal with all movement up, down and laterally. They must also be able to rotate to some extent, which makes it a challenging detail. We used a steel circular hollow section that deals with lateral movement, sat in a steel housing that's padded internally to take any potential twisting action. Each detail was drawn in 'neutral state' and high and low tide positions. The tapering configuration at beam ends allows movement of the bridge structures as they rise and fall.
How did you deal with the services?
AS: The bridges perform a function for this too, carrying electric, data – even gas. Naturally, given that the bridges move, this all involves flexible service connections that can deal with tidal movement. Originally, the intent was to hide this within the structural zone of the bridge but as a subcontractor-designed portion, they are on show more than we would have liked. This wasn't helped by the fact that we had no control over the point at which you connect with service runs under Water St – not least the sewers.
What about the pavilion structures?
KJ: We wanted to keep upper levels as light as possible as the more weight there is above the water line, the more the structure would be inclined to tip, so above the hull we went with a steel structure and timber floors.
AS: Once it was floated to site, we cantilevered steel brackets off the hulls to support the external decking and then attached the bridges and associated services. For the cladding, we looked at terracotta, but it was too heavy. In the end we went with lozenge-shaped aluminium louvres set off stainless steel rods, running along the long faces of the boxes. The louvres veil the back of house and plant areas and create homogeneity.
Double glazed units run floor to ceiling, giving direct visual links to the water. Tolerances were built into the glazed facades as there's a degree of torsion in the concrete hulls that we had to allow for.
Steel nibs at the top and bottom of the facade allow for connecting of the louvre screen system. Their lozenge-shape reverts to the idea of the pavilions as product design – the hulls, cladding, even benches all incorporate similar radii. And as you can get up close to this building, we wanted it to be a tactile experience, so there's no sharp corners or jagged edges but radii everywhere. It feels like a machined object.
How was it all procured?
DH: We used Canary Wharf's contractors to procure it with specialist sub-contractors via a construction management contract for the hulls, steel frame, cladding, roofing, timber decking, services and architectural metalwork.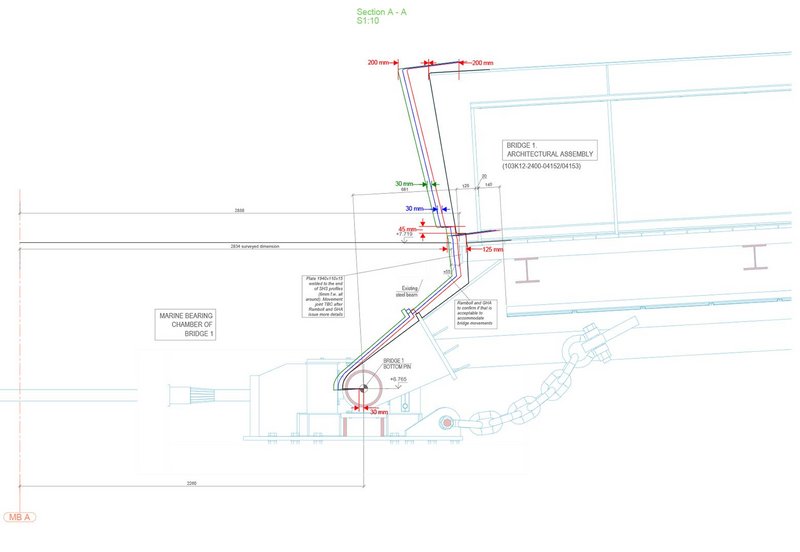 Section detail showing the pivoting bridge structure on the dock side.

Credit: Glenn Howells Architects
So, is it a boat or a building?
DH: It's of interest to note that Canary Wharf Group wanted 'building' quality, not 'marine' – but lot of the issues at play here are marine ones. Take any canal in the UK for instance and you can walk along it and not have a safety handrail – which is what we'd have liked here but were precluded from doing. Marine regulations are less stringent than building ones it turns out. We had moving parts – like the bridges – which were all non-standard. Their moving balustrades and walk-over sliding surfaces, like you might get between train carriages, ended up being evaluated under Building Regulations. With public realm interventions like its wire balustrades (we wanted chains!), we had to carry out risk assessments.
Ultimately, the client could have just moored a restaurant boat there – along with rubbish loos – but it clearly aspired to a higher-quality offering. We thought, for instance, that we'd be installing a hydraulic or scissor lift, but this is a proper traction one that had an engineer dictating how much tolerance – for a moving structure – was needed in the shaft. It really feels like a building!