Studio Weave's Je Ahn talks to Jan-Carlos Kucharek about how the firm kept control of the design and build procurement process at its LVL timber Lea Bridge Library extension – in order to minimise compromises on construction quality and make the café, community social room and function space look a million dollars
You've procured a building that looks like it cost a lot more than the £740,000 the client paid for it
Before we even went out to tender on the D&B contract, we had sourced quotes for all the packages that we wanted to maintain control of. Crucially, we weren't nominating the subcontractor, so they were free to not use them. If they could find another supplier, all well and good- we merely gave them our own subcontractor research. The contractor assumed liability but was happy to do so with a methodology and cost certainty. We'd done the lion's share of the work for them – for free. But it all helped bring the 250m2 building in for a £2960/m2 construction cost.
It ended up costing us a third more than the fee we charged when we were taken on as client advisor. But we have a list of fabricators that we've worked with before and who we have a relationship with, and it allows me to get upfront knowledge on what can be done and at what expense. I never ask them to do anything on the cheap but then I don't need to. All contractors will charge a hefty premium on their works if they're not absolutely clear what the methodology is. But suppliers have to know that you're looking after their interests as well as the client's.
What's the story on the fabricating of the distinctive concrete columns?
A lot of this project was about making tiny tweaks to create savings. With the precast columns, every other one is in fact hiding a self-supporting galvanised steel downpipe within – designed in tandem with the engineer and fabricator. Likewise, the precast concrete clad steel beams support the roof overhang, with the lower line of the beam evidencing the fall to the downpipe.
AlbionArt, who did the columns, usually work on historic buildings so we knew they could do the job. We asked them early on what digital files they would need to make the columns' distinctive 'circle to square' form. We knew a firm like Cambridge Concrete could have made the C-channel steel beam cladding as one piece, but AlbionArt offered big savings if we were prepared to run with three cladding sections and two joint lines. The fibreglass cement cladding itself is 12mm thick, which makes it robust and light yet flexible, allowing for steel thermal movement. This decision on thickness all came out of fabricator conversations before the contractor ever appointed them.
It's a low-cost building but with curved glass. How did you manage to keep costs down on the glazing package?
Suppliers have different rates for their per m2 costs and it depends on variables like radius, size, installation logistics and shatter risk- but they also have healthy contingency built into their quotes. As the glazing design developed and costs were being ascertained, at some point the semi-circle form was broken down into five and then six facets, which had me thinking that the design itself would have to change. So, instead we looked at what factors could be optimised to maintain the curved form. Not just height, as anything over 3.2m tends to double the panel cost, but the frame section and weight – certainly transportation and site installation. We went to six suppliers with our 2.8m high glazed wall and three of them offered a sectional and price profile that worked for us. In the end we ran with IQ Glass.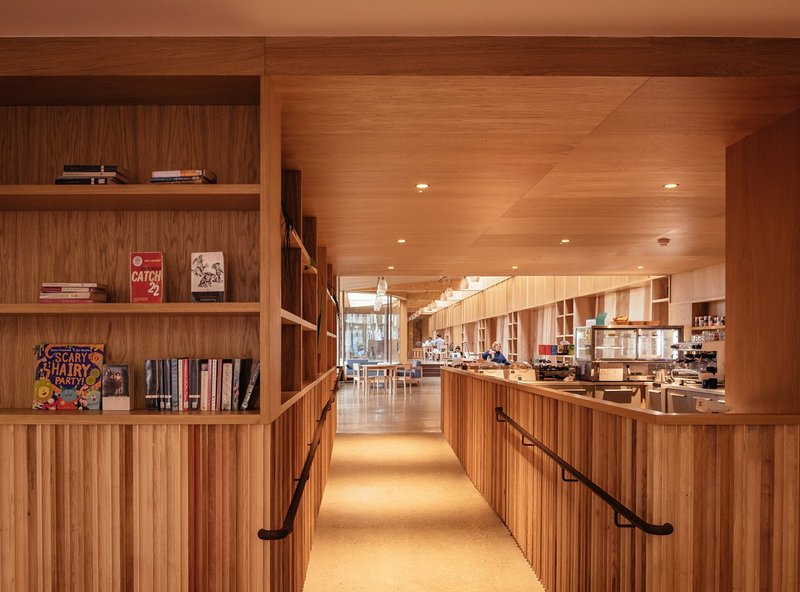 Lea Bridge Library, Studio Weave Community Centre.

Credit: Jim Stephenson
The internal joinery looks bespoke
We were lucky that carpenter Sebastian Cox, who we worked with long before he became successful, was prepared to do it. The bespoke joinery he did used timber all sourced from a yard in Essex that takes all the trees felled from parks across the various London boroughs, so it was all sourced locally and sustainably.
We talked with Seb about the fluting detail we wanted and I suggested he go out and buy a standard router bit – which he did – to cut the pieces of pine, sycamore, oak, London plane and cherry. Due to the specialist nature of the work, we advised the client to contract Sebastian separately to maintain a clear line of delineation. We set a datum line for the cabinetry below which Seb would work, with the contractor doing the upper part, hiding the service spine pipes and ductwork. Seb made and installed the beautiful and tactile fluted panels as a 'free issue', with little contractor intervention.
Asking the contractor at the outset to quote for the works felt like a formality; we knew it would effectively prove the value for money argument with the client. And we were right – Seb's estimated price for the works came in at half that stated by the contractor.
You had to raise the building to take account of a small underground bunker?
Yes, the design had to get tweaked to take account of that and to keep a nearby mature tree that we pushed to have retained, meaning a blockwork upstand on the garden side below the columns – but we really tried to minimise the cost effect. We managed to get the upstand in at a maximum height that didn't require a handrail and changed the walkway width to a standard Marshalls plank width, meaning no expensive specials. The contractor priced the simple mild steel folded plate covering the blockwork at £50,000 but shopping around through our network of fabricators we got it down to £8,000! Keeping the tree also ruled out potential problematic ground shrinkage from its removal.
What about the terrazzo floors?
They're not! When the contractor poured the wet finishing screed I just told them to sprinkle it with bags of cheap-as-chips golden flint as they were going to have to grind and polish the floor anyway. Buying the flint only put a 5% premium on the cost of the floor. Proper terrazzo is expensive, maybe £300-400/m2 but this polished screed came out at around £80. Its utilitarian too: if you have a gallery grade floor finish and spill coffee on it or a kid scrawls on it with pens, you'll see it – here, you don't. Low cost but lovely!