Schueco Excellence Awards 2014: Residential. Entrant: M Price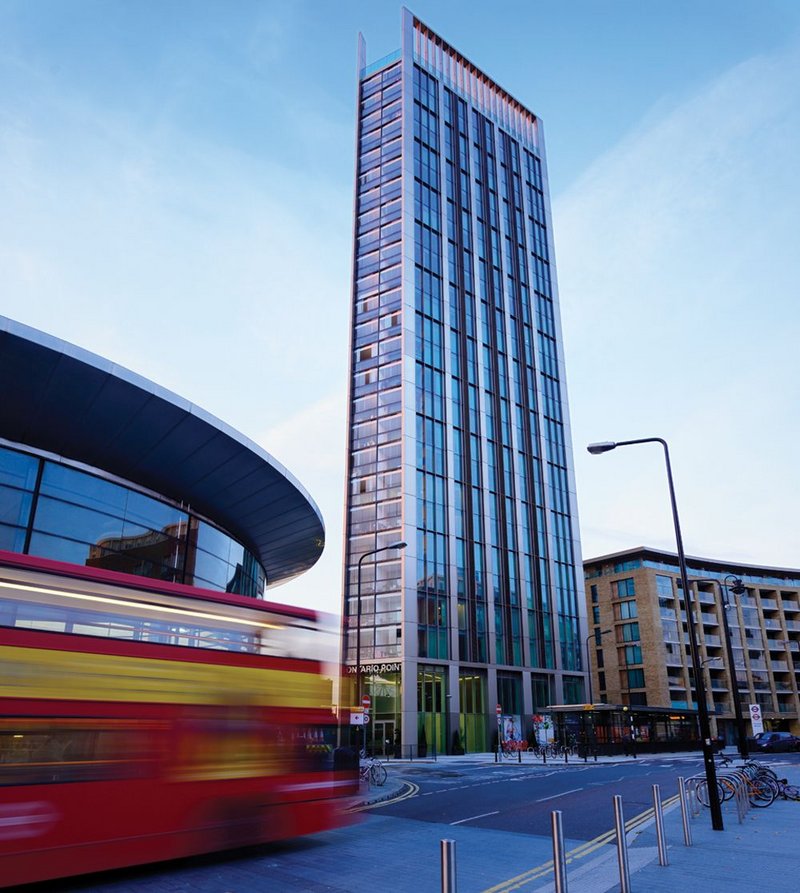 More than 1,000 unitised panels were installed in 30 weeks at Ontario Point at Maple Quays.
More than 1,000 unitised panels make up the curtain walling of Ontario Point, a 27-storey residential tower at the Maple Quays development at Canada Water, Rotherhithe.
Specialist contractor M Price fabricated the 2.5m x 3m panels – its first large unitised project – using Schueco's USC 65 insulated façade system.
The aluminium profiled system was chosen for its aesthetics and functionality, with its three-chamber structure and overlapping gasket design giving excellent weather-tightness according to M Price sales and marketing director James Keller.
A 10-20mm horizontal butt joint allowed for different floor deflections. The system was used with Schueco AWS 102 flush integrated opening elements and the Schueco ASS 70 FD thermally-insulated sliding balcony door system. U-values are 1.7 W/m2k.
M Price collaborated closely with Schueco on the £8m contract, making use of a four-corner crimping machine supplied by Schueco to produce the frames.
According to Keller, this saved approximately six weeks of labour and enabled the contractor to keep to the tight construction schedule – the unitised panels were installed in 30 weeks.
Judges were impressed with the sophistication of the unitised façade on such a large-scale project.
'It is very dramatic and avoids clichés. The detailing is clear and elegant,' says judge Paul Monaghan.
M Price managing director Colin Chapman, says the Enfield-based company's investment in unitised production allowed it to win the contract against foreign competition, and he anticipates a shift towards unitised production among other UK specialist fabricators.
Credits
Client: Barratt Homes
Architect: Glenn Howells Architects
Structural engineer: URS Corporation
Specialist contractor: M Price