Fewer buyers (and sellers) will drive a shift in tenures and types of housing. Could it be a new opportunity for architects?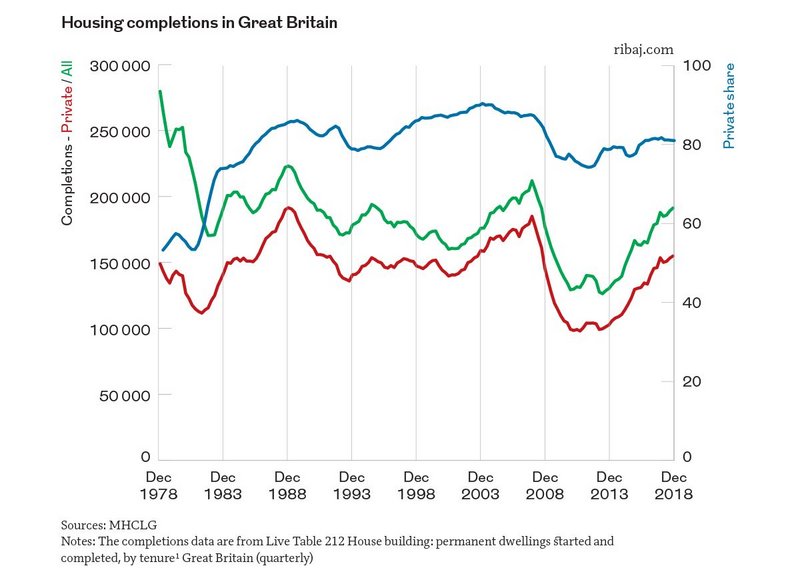 Chart 1
One current structural shift, perhaps more than any other, will shape the type of homes we build and how we build them over the coming decades.
It's not climate change and the drive for zero carbon. It's not digitalisation. Nor off-site manufacture, at least not directly. And while dramatic demographic change is a factor, it's not that either – although all these mega trends will affect what, where and how we build. No, the immediate driver of change is low levels of residential transactions.
Fewer households are buying and selling homes than in the past, driven in part by underlying shifts in housing tenure. And as mundane and distant as that may seem, it could have a profound impact on both the volume and type of residential work undertaken by architects.
This is not a tenuous link, it is a real and present effect that merits more attention than it gets. It is already promoting a quiet revolution in who finances and builds Britain's new homes.
Ultimately a home gets built if someone is prepared to pay for it. For more than 30 years the pattern has been private households buying from traditional housebuilders. As Chart 1 illustrates, since 1985 private sales have accounted for 80% of homes built. In 1970 it was less than half, but building homes to sell to households has dominated since then.
Where do residential transactions fit into the housebuilding picture and why do they matter?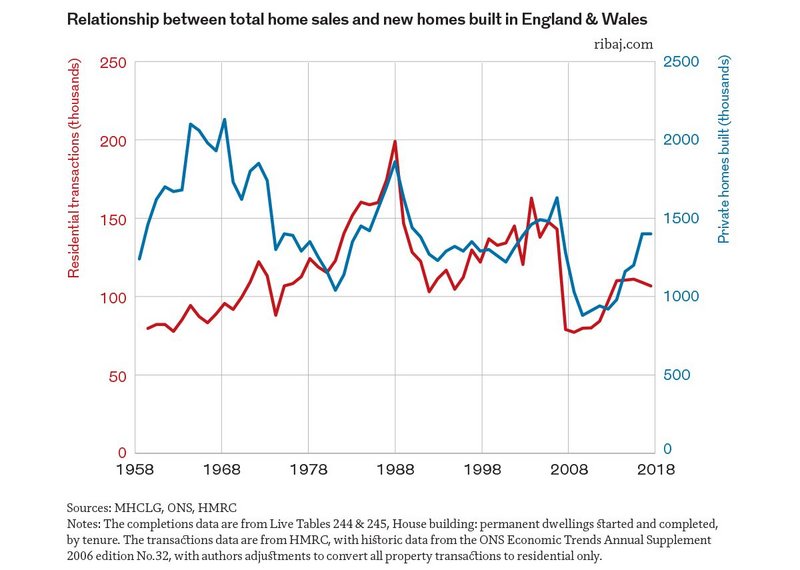 Chart 2
Chart 2 shows that since the late 1970s in England and Wales the link between residential transactions and the number of new private homes built has been intimate. The main competitor to new homes is the second-hand market, existing homes. And the pattern, for almost four decades, has been that private new homes take a 10% share of the total market of residential transactions. So if transactions fall, we can expect to see private homes sales fall, and vice versa.
The chart also reveals an emerging, and in this context unsettling, trend. Residential transactions have not returned to pre-recession levels. Far from it. Chart 1 suggests home sales, after slumping from levels not seen since the 1950s, bounced back over the past couple of years, but only to levels more reminiscent of the 1970s. Given there are 50% more homeowners today, that means they are moving far less often.
Focusing in on the more recent trends, something interesting has happened. This is better seen in Chart 3, which tracks private housing starts and residential transactions in England. Two things are worth noting. First, the flatlining of transactions after an initial bounce-back. Second, the separation of the one in 10 relationship between building homes and housing sales.
Disaggregating the trend in transactions reveals some interesting sub trends. First-time buyers have rebounded solidly from recession and are about 10% off their 2006/07 peak. Cash buyers are not far off their peak. Buy-to-let (BTL) buyers had been returning to their pre-recession level but have taken a tumble as the political mood and legislation has made BTL less attractive. The most significant shift has been the fall in people already with a mortgage moving.
This group at peak accounted for about 45% of all transactions before the recession. That figure is now about 30%. The number of mortgage movers is roughly half the peak level. There are complex reasons for this shift, relating to levels of equity, affordability, finance and the demographic bubble associated with baby boomers. And the projections made by the Council of Mortgage Lenders (now part of UK Finance) suggest the decline will continue.
The upshot is that fewer buyers and sellers should lead to fewer private homes being built. But does this still hold if the one in 10 relationship has collapsed?
Yes, because the relationship between private home sales and transactions has just shifted – temporarily.
When Help to Buy was launched in 2013, it incentivised new homes over secondhand ones. Housebuilders could take a larger share of the people looking to buy a home. So, as the numbers of Help to Buy sales increased, they did. This reasonably explains the split in the relationship.
Raising their market share meant housebuilders boosted the number of private homes built. Against pre-recession trends this suggests 20% more new private homes completed. But Help to Buy provides a one-off lift in market share. It seems to account for much of the progress over recent years in delivering more new homes.
Further increases in private home completions will be a far tougher ask. When Help to Buy is scaled back then finally removed by 2023, what happens? A 20% drop? Who knows?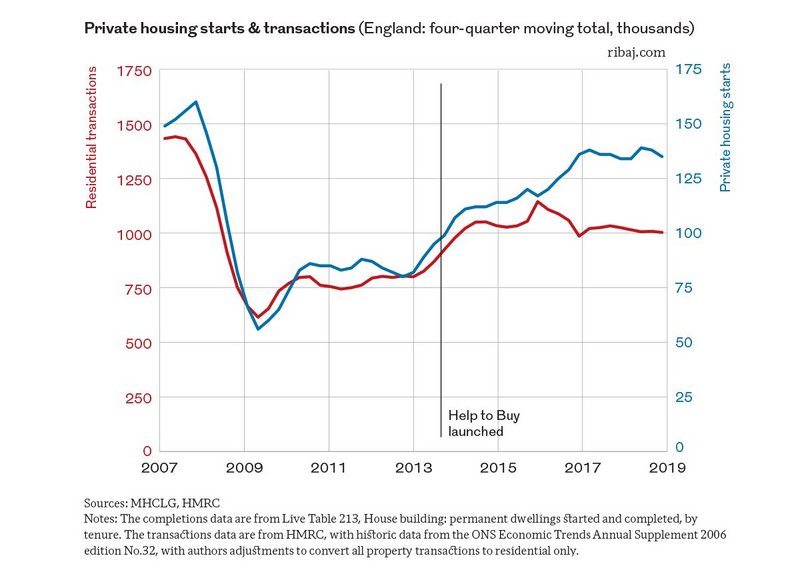 Chart 3
Here is the nub of the issue. The number of buyers of homes – new or secondhand – appears to be flatlining. The share of new private homes might fall back. So, who builds the homes (300,000 a year in England) we are told we so desperately need if there are limits on what can be delivered through private sale?
Assuming the above paints a reasonable picture of the landscape ahead, we should expect to see a major shift in the tenure of the newly built homes. This promises an opportunity for far greater diversity in who builds and what they build.
We are already seeing this shift. Build to rent is catching more than one eye: London-based Telford Homes is now focusing on the sector and in July was the subject of a cash offer by US property firm CBRE.
Legal & General's move into the market across all tenures and the expansion of home production by housing associations provides yet more evidence of a quiet revolution in the housebuilding market.
In parallel with these moves, there is a growing mood, underpinned by the Right to Build legislation, that more homes in the UK should be directly commissioned by the prospective householder.
For architects, this represents a possible reawakening of interest. With new forms of tenure come new approaches to design and delivery.
It's a thin argument that suggests the tenure of the homes delivered doesn't influence what, where and how they are built. Think back to before the days when private sector delivery dominated, the late 1970s.
You may have qualms. You may not. But what was built was different and architects had a much more prominent role.