As fears grow of a collapse in house-building, two reports suggest a paradigm shift in the way we deliver housing – offering new avenues for architects' expertise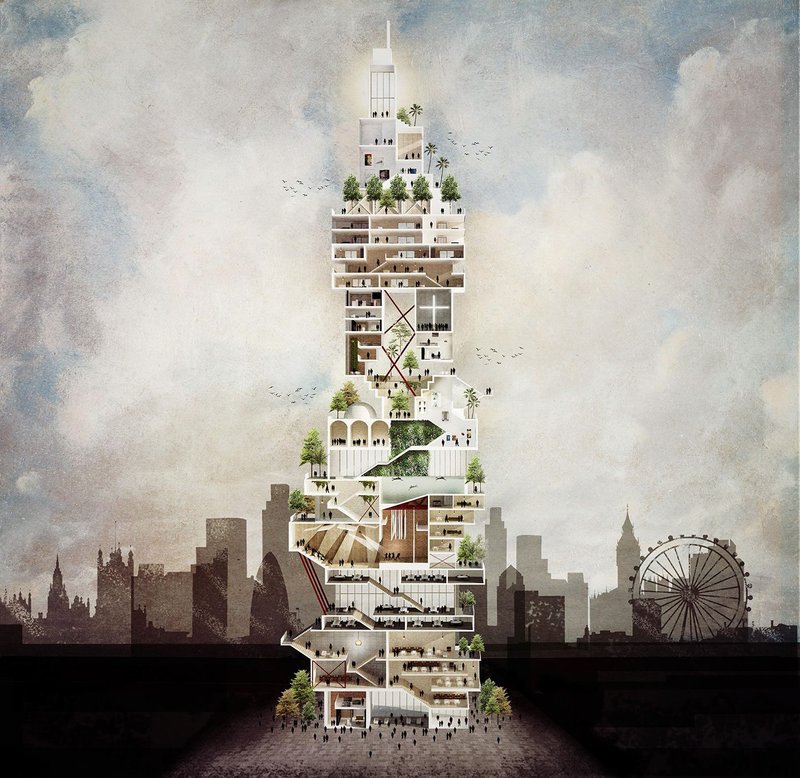 A vision of vertical 'hypermixity' drawn by Mike Stiff of Stiff + Trevillion.

Credit: Mike Stiff
Fears of a collapse in house-building are beginning to spread. This is feeding a growing pessimism among architectural practices that rely heavily on the housing sector for work.
The August RIBA Future Trends survey illustrates how expectations of future work have declined in recent months, as Chart 1 (below) shows. And as the commentary says: 'The outlook for the private housing sector continues to fall. At -23 the workload Index fell 10 points in August and is now at its lowest level since the first Covid-19 lockdown.'
This is having a disproportionate impact on smaller architectural practices, where the workload index dropped to -17 in August, with two-thirds expecting their workloads to fall.
Prospects of a swift bounce back in fortunes seem remote. Forecasters, such as the Construction Products Association, see a drop of 20 per cent or so in construction work in the private housing sector, and recent trading statements from major housebuilders warn they will be scaling back production.
This inevitably focuses minds on the short to medium-term prospects. But if we turn to this year's Housing Market Intelligence report released earlier this month at the Home Builders Federation and NHBC annual conference, there is a strong case for taking a hard look at longer-term developments. Beyond what now seems an inevitable recession in house-building there is potentially a period of profound change for housebuilders and architects in the sector over the next few decades.
These changes present both threats and opportunities. So for architectural practices, both large and small, there is a strong case for paying very close attention to how the sector is developing.
Looking first at the short to medium term, there is a long list of challenges. The leap in mortgage rates over the past two years will have a stifling effect on sales. This comes at a time when Help To Buy has ended, removing a prop that some experts estimate provided a 20 per cent boost to the sales of new homes.
Meanwhile, the cost of labour and materials has risen sharply. Despite inflation easing, construction materials remain on average about 40 per cent above 2020 prices. On top of accommodating these cost rises, house builders will have to spend more on building homes that meet net-zero targets through the Future Homes Standard.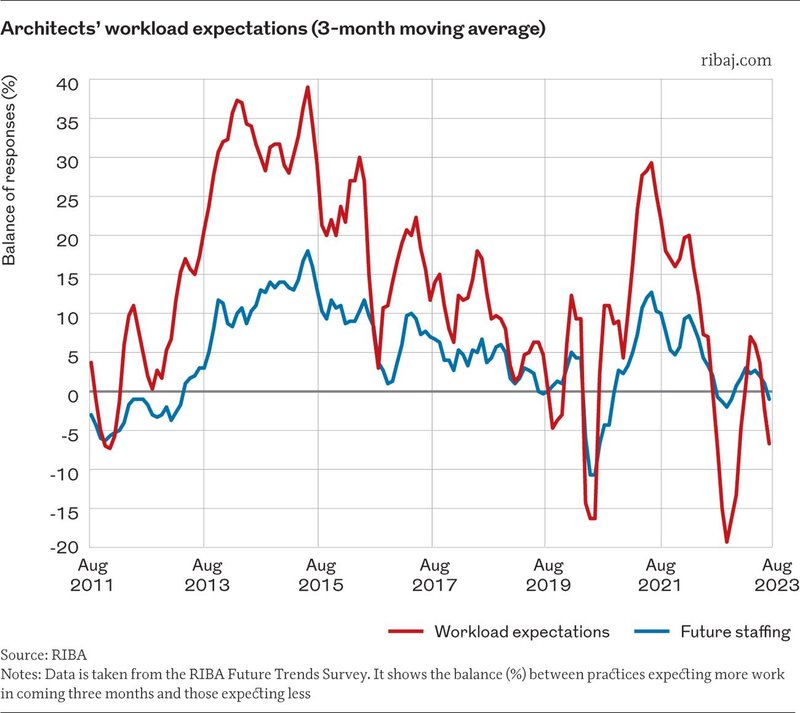 Chart 1
These pressures on housebuilders will lead them to be much more selective in what homes they build and into which market segments. The net result will be less new housing work. And this may also feed through to home improvement.
But within this bleak outlook, there are some positives. The pandemic led to a mini boom in the sector which saw jumps in house prices and sales of new homes. This helped housebuilders rebuild margins and fill their war chests ahead of a seemingly inevitable recession, which means the firms delivering homes will be better placed to weather the oncoming storm.
And there is tentative evidence emerging that buyers are starting to factor energy efficiency into the purchase price of housing. This should provide a boost to new-build homes that are built to much higher energy standards and support home-improvement activity.
Whichever way things go, most firms will be focused primarily on getting through what looks to be a troublesome period in the hope that things will return to normal sooner rather than later. But a return to the normal we knew seems increasingly unlikely. That at least is the message emerging from two articles by leading housing experts in the latest Housing Market Intelligence report. They argue that the housing market is about to experience fundamental structural change, with profound implications for housebuilders, and perhaps wider implications for architects.
Richard Donnell, director of research at the property portal Zoopla, argues that housebuilders will have to reshape their businesses to adjust for an extended period of low real house-price growth and to big shifts in the typical home buyer.
These changes may seem incidental but they cut to the core of how housebuilders have delivered homes over recent decades. Their staple diet for decades has come from opportunities to create housing estates, normally on town fringes and for aspirant families. This process has relied on the need for family housing and has rested on rising house prices to reduce the risks associated with the 'current trader' model adopted by most mainstream housebuilders.
House prices can be volatile over short periods, the long-term trend over decades has seen the price of houses rise greatly relative both to earnings and to most other goods and services. Three decades ago, on average, houses cost less than 4.5 times earnings; today they cost 9 times earnings. This real growth in house prices has, over the period, reduced the financial risk faced by housebuilders and inevitably has become factored into their strategies.
That growth in the value of homes did not come from improvements in the physical housing stock. It came, in effect, from the rise in the price of the land under homes, or more precisely from the location. Between 2007 and 2019 the capital value of the UK's dwellings, excluding land, rose by 32 per cent, while the value of land (most of which is associated with homes) increased by 71 per cent. Increasingly easy access to finance was a key reason for the price growth, with quantitative easing and exceptionally low mortgage rates a massive boost in recent years.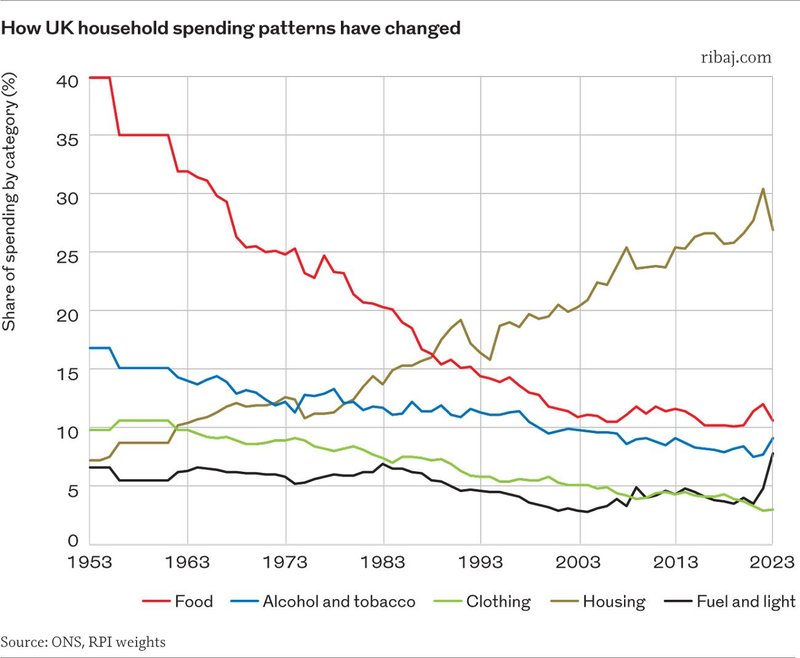 Chart 2
The rise in house prices over this period has, from a household perspective, resulted in an increasing share of income being spent on housing. This is illustrated in Chart 2 (above), which provides a rough guide to the percentage of household income spent on housing and other core goods and services, based on the weighting allotted to elements of spending in calculating retail price inflation.
Donnell argues that with other costs rising, spending on housing will be more constrained. Also, longer term, the household funds needed to improve the existing housing in the face of climate change and net zero will also have a downward pressure on house prices.
He also suggests that the need for more family homes will diminish as the demand for homes increasingly shifts towards the growing proportion of elderly households. The high demographic wave of baby boomers has now reached the shores of retirement. This cohort currently holds a disproportionate bulk of housing wealth in the UK so will have a disproportionate impact on demand in the market.
Aspects of this view are shared by Yolande Barnes, chair of the Bartlett Real Estate Institute, in her article. But her vision of the future suggests deeper challenges for developers and their conventional business models. She believes they will have to radically change as destabilising forces, such as digitalisation and demographics, alter how people live, work, connect and play.
Her view is that there will be a shift, particularly in cities, towards 'hypermixity' – characterised by neighbourhoods that are far more integrated, complex and fine-grained, where building uses are far more flexible and interwoven. She also believes that current planning use classes will be seen as inadequate to deliver neighbourhoods that need to accommodate all human activity simultaneously.
These views of the future are inevitably open to challenge. But the implications of the views of both Barnes and Donnell hint at a paradigm shift in the way we deliver housing for people in the future. This has profound implications for the business models adopted by housebuilders. But importantly, from the perspective of architects, it opens new avenues for their expertise.