Steve McCloy and Bongani Muchemwa are so serious about making design fun that they do it in their spare time. It's the best way for them to make the leap to full time practice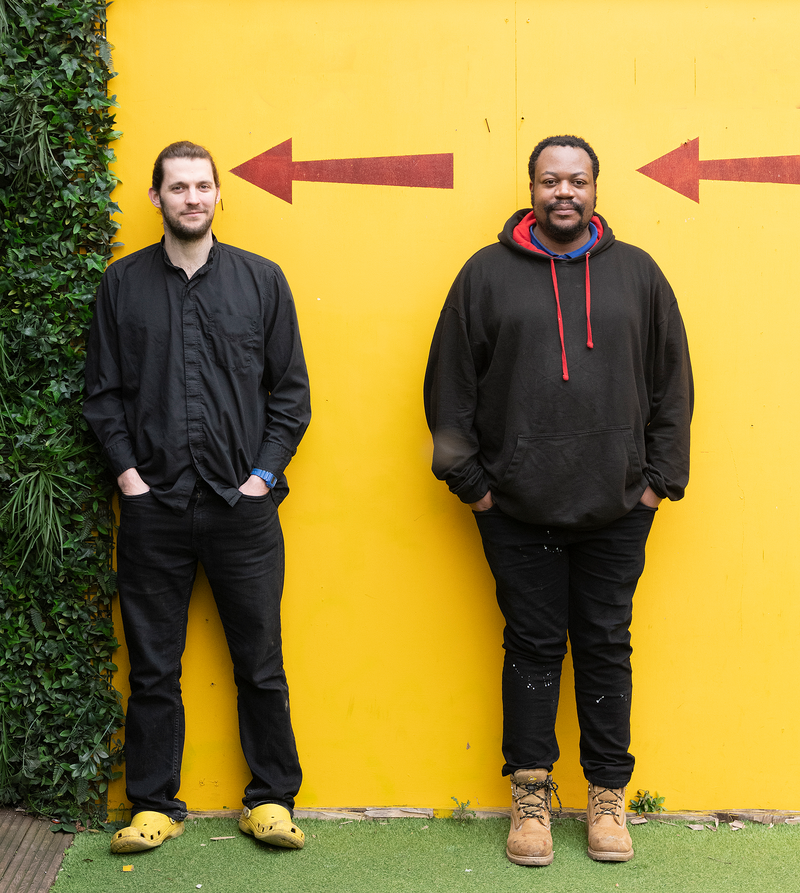 McCloy + Muchemwa: Steve and Bongani.

Credit: Ivan Jones
How do you start up in practice? How do you define what you are interested in, your value to the world, your (horrible phrase) USP? And what part does your own background have in that? For Steve McCloy and Bongani Muchemwa it was finding each other on the first day of university at Leeds Met that started it all off. Both boys had arrived in the UK in their teens from Africa (McCloy from Kenya and Muchemwa Zimbabwe) and were navigating a new world. 'We were fresh to what the UK and Europe was about,' says Muchemwa.
They are still fresh in the sense of being very open to conversation and ideas, telling stories, speculating on next steps for their fledgling practice McCloy + Muchemwa and whether they can make it happen while they both still have jobs elsewhere. But it is worth following them through the journey.
By their third year at Leeds they were pushing boundaries with their projects. Now they knew that they wanted to be where the action was – 'one of those fancy London schools' as seen in the Bartlett Designs book in Waterstones, or in the work of President's Medal winning students from Westminster.
Before that though they needed a year out to get to know the ropes. Muchemwa landed a plum year out at Rogers Stirk Harbour and Partners, he was 'over the moon' to be accepted and become part of the cosmopolitan office of his hero – 'everyone was as foreign as I felt'. Though first there was trial by River Café as he was taken to the restaurant by RSHP founding partner Mike Davies on the first day. 'My immigrant, working class roots showed up,' he laughs. 'Duck was ordered and I asked for ketchup.'
McCloy's first class degree was going to waste until finally in the November of his year off he found himself having to choose between a job in rural Norfolk and working on Harbin Opera House with MAD Architects in Beijing. He chose China.
So there they were, McCloy and Muchemwa sharing a flat in London. In fact sharing a bedroom for two years thanks to prohibitive London prices. McCloy became one of CJ Lim's 'drawing soldiers', studying in his unit at the Bartlett, Muchemwa absorbed himself in Westminster's traditions.
AHMM and CZWG gave them their grounding in practice, enough project work for part 3 and time to build relationships as future collaborators (McCloy + Muchemwa's recent competition scheme for Brick by Brick in Croydon was working with CZWG). They both appreciated working for reasonable practices with reasonable work hours – how else could they have developed their own experiments? 'We got home at six and could do stuff then, or at the weekend,' says McCloy
Through the conversation they reveal how amazed they are by the generosity of the network around them. Their first built project came via tutors in Leeds in the shape of a quick turnaround competition, a pavilion for the reopening of Leeds Art Gallery. But did it need to be a pavilion? McCloy and Muchemwa thought it could be more and turned it into three little covered spaces using the red of road barriers – and plenty of the barriers themselves – to create Redscape. Being able to play around with ideas and costs meant they were able to put half the pavilion budget into activities, red bean bags, hula hoops and red toy buckets, all of which had an afterlife in the gallery. Hiring the barriers meant less waste too. And the red crocs they bought for the opening? They were just fun.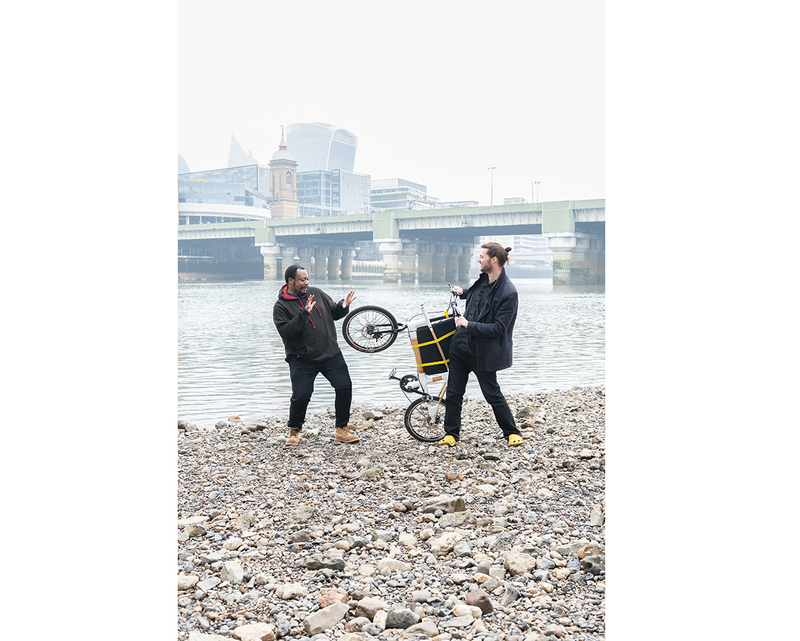 Bongani Muchemwa and Steve McCloy with the bamboo-framed bike they designed – and which McCloy cycled down to the Thames shoot.

Credit: Ivan Jones
If you pull together McCloy + Muchemwa's public projects and their drawings you see a colourful, inventive, high energy, cartoonish approach. Their benches at the Royal Docks in London were supported – and defined – by donated orange buoys. They don't say things – they sing them out, then dance on the table. And you want to be part of the party. But scrolling back to an early house project you can see a different sort design, where pavilions with delicate sylvan columns become part of the landscape. Perhaps what they are really about is not just fun and brightness, but a desire to take things apart and put them together quite unexpectedly.
Since Redscape they can count 75 bids. Increasingly they are working with others on larger projects, with Office Sian on its Leabridge Library bid, with Office S&M, with Freehaus, and potentially with some Stirling winners who approached them on one bid. It feels like a big friendly world of frameworks and exciting networks, but Muchemwa is aware they are in a Catch 22 of not having had delivery experience – which makes it hard for people to believe that they can do things. In fact, as you dig deeper into the conversation and the idea of public service and talk of capital allocations, issues like self-funding projects and consultation come to the fore.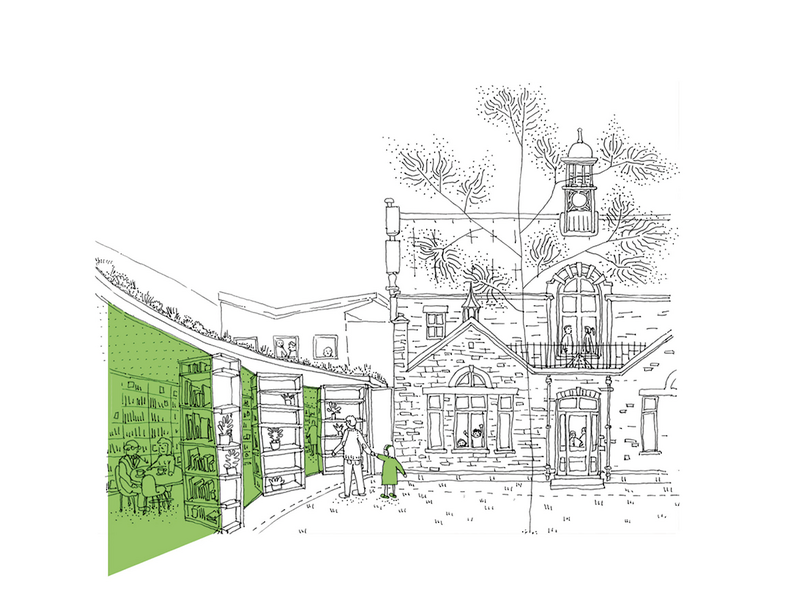 Designs for Leabridge Library, a bid done in collaboration between McCloy + Muchemwa and Office Sian.
It is here that the influence of conversations with the Greater London Authority, and a place on Croydon's BAME-led housing competition shortlist, surface. Muchemwa thinks 2020 could cause a culture shift: 'It is good that you don't necessarily have to know the right people, and operate in their social milieu… I don't necessarily think it is a race thing, more a class thing.'
In that way these two Africa-born ­architects are a pair, Muchemwa goes as far as describing them as a 'multi-ethnic Siamese architect'. And perhaps one day they might start capitalising on their roots, instigating projects in Africa, not just the UK. 'It is our secret plan to work in Africa,' says McCloy. Whether it can be done in weekends, and when to leap from their salaries at Hugh Broughton Architects and Burwell Architects, are another question. But now, both with Part 3s under their belts, this is the time to watch McCloy and Muchemwa.