Making homes airtight to save energy could lead to catastrophic moisture build-up
All that glitters... Passivhaus used for the Leuven University study.
In the first ever study to track the specific implications of passive indoor drying, researchers from the Glasgow School of Art's Mackintosh Environmental Architecture Research Unit (MEARU) monitored 30 homes – old and new properties – and found that a typical load of washing released around two litres of moisture into the air. And when clothes were dried in ill-ventilated rooms – the norm in most homes studied – the conditions allowed mould and spores to grow and dust mites to thrive, contributing to symptoms of asthma or eczema.
The results have serious implications for low carbon buildings, which depend on high levels of air tightness to maintain energy efficiency – open a window to purge extra moisture from washing and you compromise a home's airtight skin, but a vented tumble dryer increases energy use. The situation is aggravated by the building regulations, says MEARU, which give too loose a definition of 'drying space' provision, meaning in many homes no more than a washing line over a bath.
When first reported by BD, the story was met with bemusement by architects commenting on the magazine's online blog, but the MEARU research forms part of an increasing body of evidence on the worrying impact that moisture is having on energy efficient new build and sustainable refurbished properties. Poorly executed details for insulation, vapour barriers and other components are creating high levels of condensation; in Passivhaus-designed homes airflow vents are being left out by construction teams, drastically reducing ventilation rates; and installation errors on mechanical ventilation and heat recovery (MVHR) units, essential to moisture removal in airtight homes, are causing problems with high humidity and air quality.
When it comes to constructing sustainably, 'built tight, ventilate right' should be the mantra, but projects rarely take this holistic approach, explains Russell Smith, MD of domestic retrofit specialist Parity Projects: 'Moisture and ventilation is a massively important issue, which is not being dealt with properly in the UK. The way the industry is set up, individuals focus on a specific measure – windows, plumbing etc, but no one has an overarching view of how they should fit together or the impact of one on the other. This will have major implications for the Green Deal, as providers are not trained to assess properties holistically,' he says.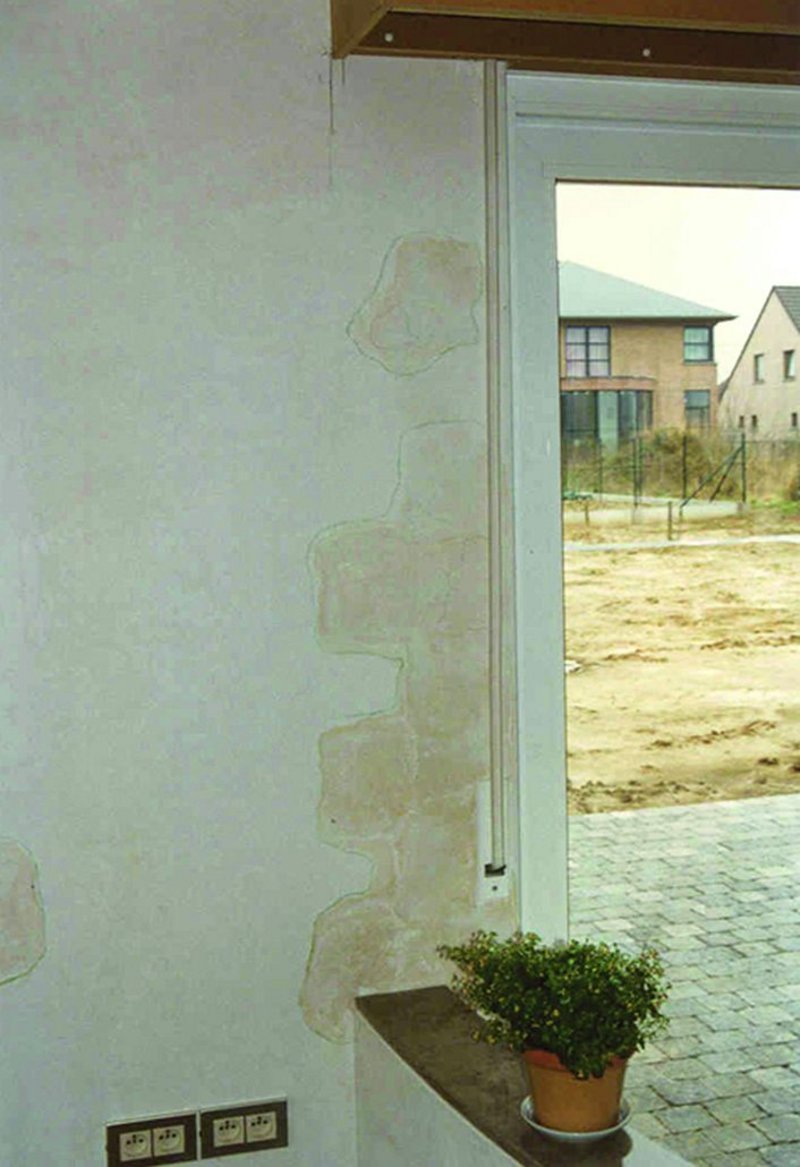 Poor interfacing resulted in moisture penetration.
Passivhaus problems
Researchers at Belgium's University of Leuven have uncovered a plethora of moisture-related problems in the country's Passivhaus properties, one of which was so badly affected it had to be condemned, its occupants suffering from allergies, excessive tiredness, coughing and itching skin.
The University's research into the newly-built property revealed problems with the earth pipe, designed to draw warm air from under the house then blow it through the heat recovery unit and into the living room, kitchen, and bedrooms. The pipe wasn't watertight, allowing rain water to enter, and effectively becoming an air humidifier that pumped warm, bacteria-rich moisture into the house.
Among a catalogue of other issues, researchers measured cripplingly low ventilation rates, much lower than standards required in Belgium. This was caused partly by the MVHR system which was not designed to the proper dimensions, and by the contractor's failure to build flow-through openings in internal walls to enable air to move from the inlets to the extractor vents. Hugo Hens, professor at the University, explains: 'When doors were closed it was almost impossible for air to pass from the air inlets to the extractors, causing humidity to rise to unacceptable levels. It's a construction mistake we see again and again,' he says. 'The biggest issue is design teams, who must ensure properties are properly detailed, with the correct wall and window interfaces etc. This is often not done properly in Passivhaus and other energy efficient buildings.'
In the UK, where the market is less developed, MVHR systems are raising similar issues in low energy properties constructed under the Technology Strategy Board's Building Performance Evaluation (BPE) programme.
Air tight buildings often rely on MVHRs to maintain ventilation rates, but in various testbed projects their ineffective use has led to high humidity levels, says MEARU's Dr Tim Sharpe whose team is monitoring air quality and ventilation in new build sustainable houses in Inverness, Dunoon, Glasgow, Edinburgh and Lockerbie: 'We have concerns over MVHR performance in terms of the design intention, how systems are installed and maintained, and occupants' understanding of the technology,' he says.
A continuing evaluation of Glasgow Housing Association's 'Glasgow House' demonstration home revealed very low airflow rates with air extracted from the kitchen and bathroom and delivered to the hall, but unable to move into adjacent rooms due to fire protection measures.
The MVHR's flexible ducting had collapsed in some places preventing air from circulating, and the filters had become blocked, but could not be easily changed due to their awkward location. Residents also complained that units were noisy and thought they consume too much energy, so turned them off.
Exceeding performance standards set out in Part L1A 2006 of the Building Regulations requires a more stringent approach to detailing, focused on reducing heat losses that occur at the junctions between building elements and around openings.
Researchers have uncovered a plethora of moisture-related problems in Passivhaus properties, one of which was so badly affected it had to be condemned
Retrofits
Although the government is trying to push standard enhanced construction details, the problem is much more complex when retrofitting the existing housing stock, the target of the government's Green Deal. As a result, many problems relating to moisture are only just coming to light, says Bertie Dixon, consulting engineer at Max Fordham. 'With retrofits the biggest danger relates to internal insulation, which if incorrectly detailed can cause the internal surface of the existing wall under the insulation layer to become much cooler, leading to moisture build up, mould growth and even dry rot.'
If not robustly detailed and taped at the top and bottom the vapour barrier can leak and many occupants fail to understand the dangers of hammering in nails to hang pictures, he adds. English Heritage has also warned that insulating internal walls and reducing ventilation in historic buildings can be damaging if the wrong materials are used as properties need to 'breathe', while the wrong type of insulation can cause damp problems.
Issues in old properties are also compounded without a joined up approach to improving energy efficiency. Parity Projects recently carried out a comprehensive energy assessment of a 1930s-built semi-detached property and recommended 25 different modifications. But the specifier went ahead with only two of them, a boiler replacement and some draught proofing, so the entire house was taken over by condensation. The walls were black with mould and wallpaper peeled off.
If the same piecemeal approach is applied under the Green Deal and similar schemes, the country will be overrun with problem properties, says Parity's Russell Smith: 'The bottom line is that under the Green Deal there's not one central person responsible for considering the entire system – for example no part of the industry has considered the fact we should be installing extra ventilation measures at the same time as insulation,' he says.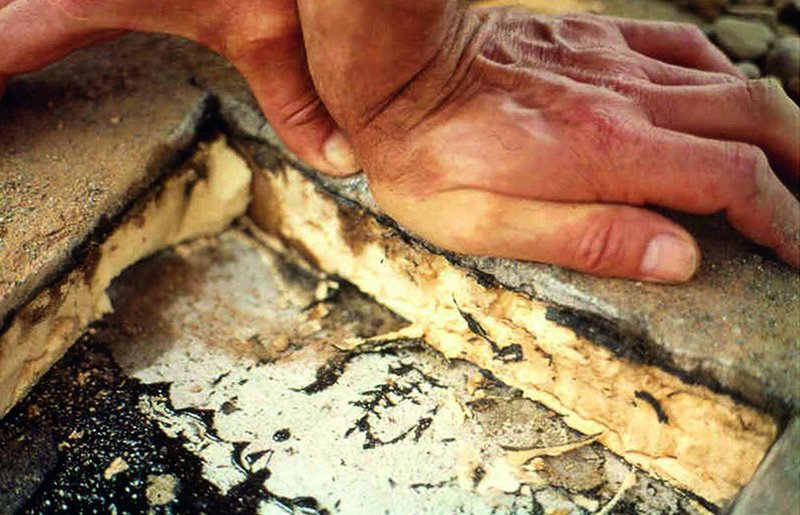 Interstitial condensation in the PIR insulation of the Belgian Passivhaus.
Co-ordinated approaches
In an effort to tackle the problem, Parity is working with the RIBA on creating the new architect's role of retrofit co-ordinator, which would see individuals trained to make informed decisions on how different retrofitted elements affect a home. 'It's what Green Deal providers should already be doing, but they don't understand the implications,' he says.
If problems caused by moisture reveal a tension between efforts to make buildings more airtight and the need to increase ventilation rates, then perhaps designing homes with an holistic energy efficiency strategy can help restore some form of balance between the two. In the meantime, organisations continue to research into the effects of moisture. These include the BRE, which is measuring humidity and interstitial condensation in buildings as part of the BPE project, with data expected later in 2013; and English Heritage, which is carrying out site and ongoing lab-based investigations into the thermal performance and hydrothermal behaviour of traditional buildings.