With offices in London and the Highlands, bridge specialist Moxon Architects has an eclectic workload: hotel refurbs, private houses, a farm shop. Oh, and HS2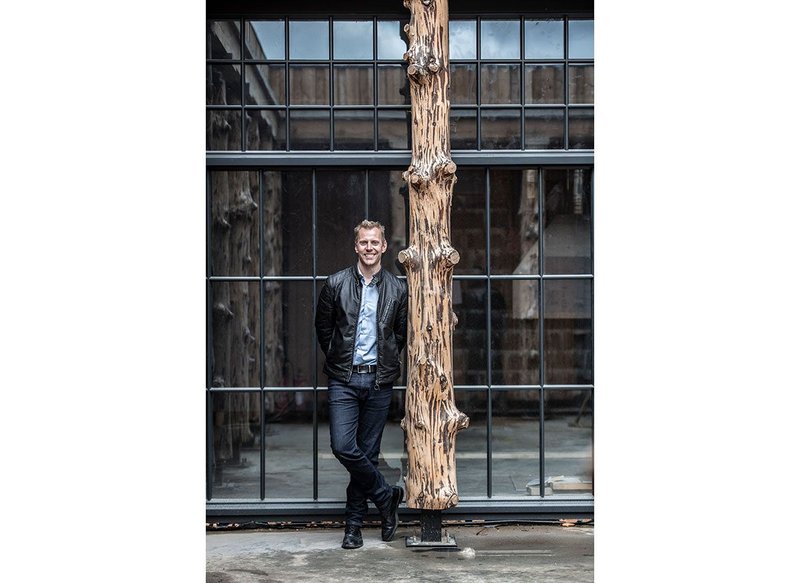 Ben Addy of Moxon in the courtyard at the Fife Arms, Braemar, Cairngorms. The stripped trunk is a typical Highland detail.

Credit: Sim Canetty-Clarke
You may have seen one of Moxon's beautiful bridges. In London's King's Cross, Somers Town bridge marks out a delicate rhythm over Regent's Canal; while in Taunton the arches of Moxon's first bridge span the River Tone, taking traffic while maintaining the delicacy of a footbridge; and the practice is developing 60 bridges and 17 viaducts along the HS2 rail route in one of its most sensitive sections, through the Chilterns. At the same time Moxon is designing, and sometimes building, six houses in the Cairngorms National Park. And it has just completed a fantastical hotel there, reworking it for those who love tartan Victoriana spiked with modern art and spa treatments. This eclectic mix of projects is a result of the expertise and geography of founder Ben Addy.
Like a clutch of other specialist bridge architects, Addy learnt his craft with Jim Eyre at Wilkinson Eyre. After a time collaborating with Amin Taha, another Wilkinson Eyre alumnus, Addy struck out on his own: incorporating Moxon the day he got his part 3. Many practices start general and small and find a specialism emerging through chance and much effort. For Moxon, expertise on bridges has expanded into wider work. There were dramatic sculptural proposals for competitions, including a curvaceous plastic form imagined for the V&A's Contemporary Gallery, a welling up of bronze as a water fountain built for the Royal Parks, and, inevitably, commercial fit-outs. Moxon has just won a mixed-use new build and a bridge from two major London developers.
One significant departure for the practice was the design and delivery of a hotel, the recently completed Fife Arms, for Iwan and Manuela Wirth, better known as the pair behind commercial gallery chain Hauser and Wirth. To understand this we have to follow Addy back to 2012 when he found a ruined farmhouse for sale at Crathie, near where he grew up in Aberdeenshire. Perched above the clear flowing River Dee and Balmoral Castle, facing south into the sun and the corrie of Lochnagar rising to the high plateau of the Cairngorms, it proved irresistible. With one foot in his west London office, and still teaching at the Bartlett, he made the little house weathertight and established ordered, stripped back rooms of bleached simplicity paired with unexpected warmth; all in black and white around a stove. Outside one shed holds his mountain rescue gear; another he built roughly by hand as a sitooterie with a whisky collection. But first he worked up a small studio in an outbuilding to give him a space to dream and draw for competitions. Or so he thought.
In fact, the small practice is surprisingly evenly split between London and the Highlands studio, which is bursting at the seams. Addy and a colleague in the latter are working on HS2 but overall he says the fees each office commands are broadly comparable, as reflected in salaries. 'We get the same fees, sometimes more, in Scotland,' he says, though this seems hard to believe in sparsely populated Deeside. Some might put this down to the oil and gas money of Aberdeen an hour east, some to a privileged strand of tourism since Queen Victoria established a summer base here, others to one good practice making its mark. So what does this work consist of?
Last year a refurbishment and extension of the Cairngorms National Park Authority office was completed with simple CLT and larch cladding. And there are those houses in the landscape. But it is the work for the Wirths that has dominated the Crathie office over the last few years. It started with a bridge for their estate. With hill water flowing into the burns and annual melt water swelling the River Dee, this is a land studded with bridges including elegant white Victorian footbridges that developed into a kit of parts that was shipped all over the British Empire. Addy was happy to continue that tradition with the £50,000 Wirth bridge, completed in 2014. Designs for another nearby, for a different client, though never realised led to the reordering of a kitchenette, worth £2,500 – barely worth invoicing for. Then came a 'wee cabin', Culardoch Shieling, a refuge high in the Cairngorms. And a yoga studio. Then, when the Wirths bought a local hotel, the Fife Arms, Moxon was asked to look at how to make it work.
The Victorian hotel's mish-mash of additions meant there was plenty to do. Moxon dug a basement into the degraded rock above the granite to bring the scattered servicing into one place and replaced a complex of roofs to reinstate the original horseshoe plan and add a green-roofed extension and courtyard. A new route 'skewered' through the centre of the building means that from the friendly pub entrance the village community can walk through the hotel to the Louise Bourgeois spider in the courtyard and the spa behind.
Under a layer of interior decoration, Moxon's contribution has to be judged on the seamless running of the hotel. Until you understand that the practice, with quantity surveyor Cromar Brooks and Addy's construction firm TOR Contracting as principal contractor, took on much of the building work and managed 45 separate contracts as well as having 38 people in the team at the height of the project. At first it was 'terrifying' he says.
For Addy, being part of the contractor is about closing the loop on good construction instead of being just a third of the equation as architect. 'You know you are getting maximum value for money.' Take a glass to glass corner detail: 'It is a doddle,' he says, yet expensive and difficult according to most contractors. The same applies to a concealed gutter, but 'it is just about where you put your rainwater goods'.
Commissions for the Wirths continue with another Braemar inn and, at the Hauser and Wirth gallery in Bruton, Somerset, a farm shop. But in Scotland at least, after the hotel project Moxon has stepped back, just securing planning and designing a few key details, even as TOR continues its work.
For now Addy is 80-90% occupied with HS2. Working with a route and heights fixed by an act of parliament, Moxon's efforts are going into engendering lightness and celebrating structural power. 'It is a serious challenge to civils infrastructure,' he says. There is lot of making the most of the span to depth ratio – bearing in mind the demands of high speed, which mean barely any deflection is allowed. Addy has found comforting parallels in debates over the construction of the Great Western line and the etchings of the huge embankments being thrown up: 'Brutality comes from the shock of the new. It was incredibly stark going through the landscape.' Working with Mott MacDonald, Moxon has developed a beautiful prototype overhead line system that combines structure and electrical protection using compressed beech ply.
Back home in the Highlands, Addy is using 15 years of Moxon savings to build a new office that will blackly edge a local quarry site. He delights in working with TOR again with the freedom to get the steel frame directly from an agricultural barn contractor. 'There is no one cooking up claims,' he says happily. Here he has truly closed the loop as architect, contractor and client.
---