AstraZeneca HQ opens five years late and three times more expensive, as 'beautiful' architecture adds another string to its bow with a new prize. Meanwhile, architectural organisations debate protection of title and function and salary hikes sound better than they really are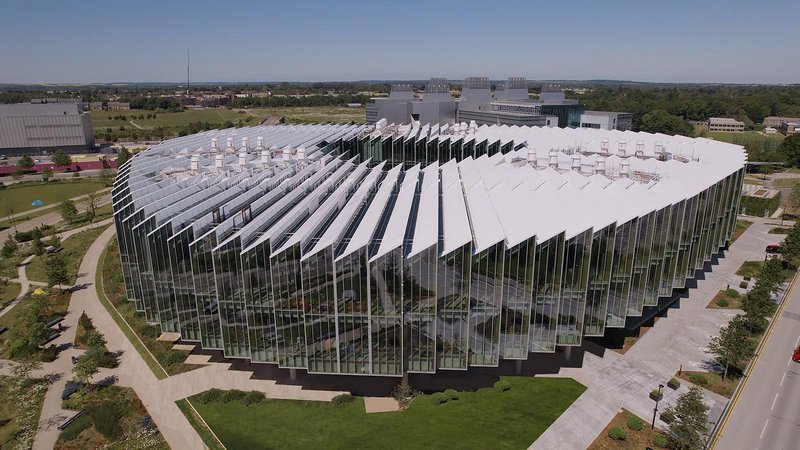 AstraZeneca's new Discovery Centre by Herzog & de Meuron at Cambridge Biomedical Campus.

Credit: AstraZeneca
Stirling Prize-winning Swiss practice Herzog & de Meuron has, at long last, been able to show off its finally completed Cambridge corporate headquarters and laboratories for pharmaceutical firm AstraZeneca.
The architect first unveiled its designs more than seven years ago in July 2014 when AstraZeneca wasn't quite the household name it is today. If all had gone to schedule, construction would have begun the following year and completed in 2016 at a cost of £300 million.
Delays and spiralling costs mean the centre is opening five years late, costing more than triple the budget. AstraZeneca has blamed the complexity of the build, the impact of Brexit on the pound and increased investment in new technologies and equipment, which make up part of the £1 billion price tag.
The four-storey building – including one below ground – is part of the Cambridge Biomedical Campus and takes the form of a curved triangle with a central courtyard, while a glazed sawtooth roof provides natural light inside, the pattern carrying on through to a zig-zag facade.
Inside, a minimal material palette makes use of exposed concrete, solid oak, natural stone and a white resin finish for the laboratory floors.
Its 54,000m2 gross floor area, housing 2,200 scientists, makes it the UK's second-largest laboratory building after the Francis Crick Institute in London.
Herzog & de Meuron describes the courtyard as a modern-day spin on those found in many of Cambridge University's older college buildings. It is also open to the public, part of AstraZeneca's stated aim to make the building more transparent. However, the Observer's Rowan Moore, who visited earlier this month, described how when he started photographing the building's exterior he was immediately challenged by a team of security staff.
Regulation of profession, title or not at all?
A government consultation on the future regulation of the architectural profession has closed with very different views expressed by different professional institutions.
Currently, architecture is regulated by the Architects' Registration Board (ARB) which only allows those who have completed their ARB-ratified Part 3 qualifications to call themselves architects.
But while some have argued that this is an unnecessary duplication of what is offered by membership of the RIBA, both the institute and its Scottish counterpart the RIAS have strongly backed the continuation of a regulated profession and the protection of title.
Conversely, the Chartered Institute of Architectural Technologists (CIAT) has questioned the need for either the ARB or protection of title.
It argues that 'chartered architectural technologists are qualified to design, manage, and lead on all project types from inception to completion' and says 'there is no justification of why one profession should hold a privileged status over others'.
The RIBA, however, hints at a different way of eradicating this paradox. At present protection of title is not backed by protection of function – anyone can design any type of building they like, they just can't call themselves an architect. The RIBA suggests that, instead, 'all but simple building projects' should be the reserve of suitably certified professionals – though it doesn't go so far as saying that those professions should necessarily be qualified architects.
The RIAS agrees, arguing that recent high-profile building failures, such as the collapse of an Edinburgh school wall and the Grenfell Tower tragedy, could have been prevented by better protection of function.
Since qualified architects were involved in both of those projects, this argument might seem shaky. More to the point is the fact that the ARB is now seeking radical changes to architectural training, largely in response to Grenfell. And in that respect, it would seem bizarre if – after this change – unqualified designers were allowed to work on any construction project.
CIAT, however, argues that the qualifications its members hold would be sufficient.
New prize aims to mark beauty in architecture
Adding to the plethora of architecture awards already around, the Royal Fine Art Commission Trust has launched the Building Beauty Awards, the winner of which will be named 'Britain's most beautiful new building'.
The terms 'beauty' and 'beautiful' have become strangely loaded in recent years, since they were adopted by the late Roger Scruton and his Building Better, Building Beautiful Commission – something of which the trust will have been very aware. But are the awards intended to reinforce Scruton's traditionalist preferences or to reclaim the word 'beauty' for a wider range of buildings?
The awards appear to have been launched partly in response to expected changes to the planning system, which the trust's chair, designer Stephen Bayley, says 'will give people greater power to insist on beauty'.
Despite the £10,000 prize for the designer of the winning building, it has had little coverage in the architectural press. It has, however, featured in the Mail, where Bayley helpfully named his personal top five beautiful structures around the world. While these favour older buildings – Hardwick Hall, the Pazzi Chapel in Florence and Chartres Cathedral – they also include Mies van der Rohe's Farnsworth House and even creep into the 21st century with Norman Foster's Millau Viaduct in the south of France.
Anyone can nominate a building for the awards, which also have categories for urban landscaping schemes and engineering structures. They must, however, have been completed since 1 January 2019 – the inaugural prize won't be going to St Paul's Cathedral.
The RFAC Trust is an offshoot of the Royal Fine Art Commission, which advised on the architectural quality of public projects until it was replaced by the more helpfully named CABE (Commission for Architecture and the Built Environment) in 1999 – which was itself scrapped in 2010.
The trust, however, has lived on in a low-key manner. Its previous attempt to raise its profile somewhat backfired when it appointed Prince Andrew as its patron.
Architects pay falls in real terms despite 'candidates' market'
Following recent news that architectural recruitment was becoming increasingly difficult, two new salary surveys, carried out by RIBA/The Fees Bureau and 9B Careers, show – as you might hope – that pay is rising.
But it's not quite time to break out the champagne. The 9B survey reports that average salaries only rose by 2.6%. Since inflation is running at 4.2%, this is a cut in real terms. Even senior architects, the group recording the biggest rise, have only managed an average increase of 3.78%.
This is despite what 9B's director calls a 'candidate job market' caused primarily by the 'Brexodus' of architectural staff from EU countries. Clearly, the profession has some way to go in boosting its bargaining power.
Meanwhile, the RIBA/Fees Bureau survey finds that the group doing best is salaried architects in private practices (ie excluding partners or directors) who recorded an annual rise of 5%. Alas, because their salaries fell during the previous year, this figure is only 1.2% higher than in 2019.
Depressingly, the 9B survey also shows that men are paid more than women at almost every level – the only exception being architectural staff with between one and two years' experience.
That survey does suggest that becoming fully qualified has immediate financial benefits. A recently qualified Part 3 architect now earns an average of £4,250 more than a Part 2 with the same number of years in practice.