Furlough abuses and Covid driven cuts to jobs and apprenticeships are this week's grim stories, while the profession braces itself for slashed architectural exports with a no-deal Brexit. But it's not all bad news: Amanda Levete to design for fusion, Adjaye breaks ground in Niger and Finsbury Circus revamp awarded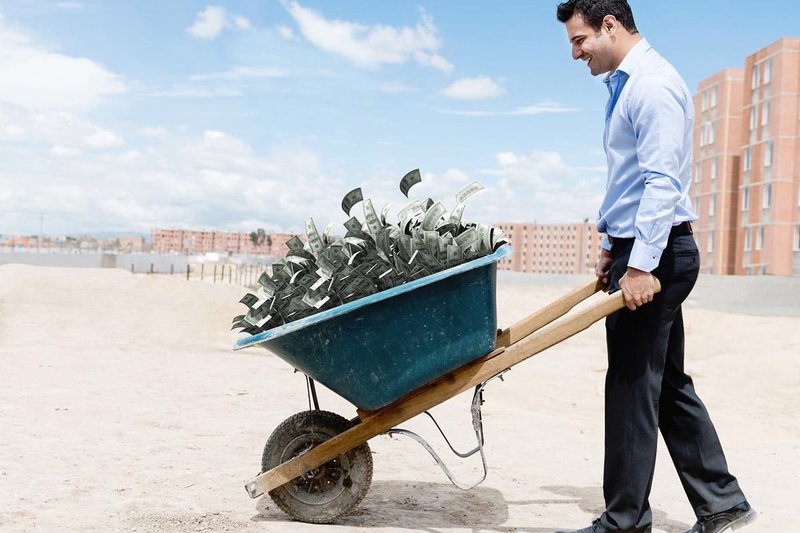 Unscrupulous practices have mis-used the furlough system and staff to give themselves a cash injection

Credit: ©iStock/andresr
It's been a tough past seven months for many architectural practices, and for those who have struggled to keep things going, the onslaught of a second spike will be particularly morale-crushing.
The end of the current furlough system come November means it is crunch time for many practices who must decide whether they can keep employing staff whose salaries have been publicly funded since the spring.
The initial terms of the job retention scheme were that anyone receiving the Treasury payments was not allowed to do any work for their employer. Some firms zealously kept to these terms, discouraging any interaction between furloughed staff and those still working lest they inadvertently say something that could be deemed economically useful. Others, however, took a very different attitude.
As Oliver Wainwright reported in The Guardian this week, many practices seem to have regarded the system as a handy cash windfall, expecting their furloughed staff to continue working.
He quotes one architect who, after having been put on furlough, received an email from his boss reading: 'Just to let you know that you'll still be working but don't tell the govt!!!!!'
The architect says he asked the RIBA for advice and was told to ignore this instruction, but sensing that the alternative would be losing his job, felt he had to keep working.
Commenting on Wainwright's findings, RIBA president Alan Jones described misuse of the furlough scheme as 'completely unacceptable'.
The experience of those working for practices that complied with the rules wasn't necessarily any better. Many have reported having to work longer hours to compensate for the absence of furloughed colleagues.
One extreme example was an unnamed architectural visualisations company, which not only expected its staff working at home to log in at 8.30 and keep working till 10 at night, but kept tabs on them by using the employees' computer webcams to monitor and record their activities.
With future work prospects not looking particularly rosy, many architects will feel they have little clout to refuse such treatment.
The latest figures from the RIBA Future Trends survey show that 48% of practices in London and the South expect to be employing fewer permanent staff in the next three months while 22% expect workloads to fall over that period, – suggesting that getting more productivity from existing staff is proving a particularly attractive option right now.
The survey suggests that smaller practices are generally faring better, as well as those outside London and the South and those working on private housing projects.
Pandemic deals blow to a more diverse profession
Another victim of the covid pandemic looks likely to be the architectural apprenticeships scheme.
Launched two years ago, it was heralded as a crucial way of bringing people into the profession from more diverse backgrounds.
Since student loans are not intended to cover all of a student's living costs, architects' five years of university education has proved a significant deterrent for those from less wealthy families.
Participants get four-year apprenticeships with architectural practices who pay the fees for their part-time university courses, using money they have already put aside through the government's apprenticeship levy.
But while demand from potential students is increasing, the current economic uncertainty has rather taken the edge off practices' enthusiasm to take on apprenticeships.
Investigating the issue, the Architects' Journal says that several apprentices were furloughed over the summer. And it quotes one senior academic saying: 'My sense is that companies in these tricky times may be reluctant to commit to taking on an apprentice, especially at Part 1 when they are not yet equipped to work independently.'
Also writing in the AJ, Mark Nagle of recruitment firm Urban says prospective black and ethnic minority architects are particularly likely to lose out, warning that practices risk missing out on some of the best black and ethnic minority talent. He points to a tendency for firms to use internal recommendations when it comes to recruitment and says that 98% of referrals match the racial profile of the person doing the referring, meaning practices with largely white staff are likely to stay that way.
The European lights are going off all over Britain
The prime minister has said the UK should prepare for a no-deal Brexit as negotiations for what Liam Fox once called 'the easiest [deal] in human history' seemed set to amount to nothing.
Not that this is necessarily going to have a huge impact on the architectural profession given that it seemed set to be completely overlooked in the negotiations.
A report by the House of Lords EU Services sub-committee last week said that negotiations had so far not adequately addressed key issues for professional and business services, such as the mutual recognition of professional qualifications and business mobility.
The UK currently exports £1 billion of architectural services to the EU every year, but without a deal, the report says it fears that EU countries will impose their own restrictions on a national level.
'We have received evidence that national reservations to the agreement such as economic needs tests and rules on local presence could be catastrophic for the UK's professional and business services sectors,' the report says.
Amanda Levete embraces fusion
Delicious as a culinary style food, anaemic as a musical genre, fusion could now be the answer to the planet's energy woes. Amanda Levete's practice AL_A has been commissioned to design a prototype fusion facility for Canadian energy firm General Fusion.
Fusion is a form of power generation based on replicating the process that powers the sun and the stars. Crucially, the process does not create any CO2 or other harmful atmospheric emissions, which means it does not contribute to global warming. And unlike nuclear fission, the process used by atomic power stations, fusion is considered safer, producing less radioactivity and creating very little nuclear waste.
The problem is making it work on a mass commercial level. Since the idea was first proposed in the 1920s, the long-running joke in energy circles, apparently, has been that fusion energy is 30 years away – and always will be.
Nevertheless, that time appears to have shortened significantly with some experts believing it could be a significant power source some time in the 2030s.
Speaking to the Financial Times, Levete explained that the commission came about after she invited one of the scientists in charge of General Fusion's work to speak to her team. His accompanying slideshow presentation ended with a render of the proposed plant.
'It was a shed,' she says. 'So I told him that as a thank you, I would put a small team on to it to show him what the building could be.'
If fusion doesn't pan out, Levete may have designed an architectural white elephant; but if it is successful she may have made a significant contribution to the planet's survival that puts some other Architects Declare signatories to shame.
Adjaye finds things move faster in Niger
As a public inquiry continues into whether David Adjaye's Holocaust Memorial in Westminster continues, he's finding that things move rather more quickly in some other parts of the world. The RIBA Royal Gold Medal-winning architect has unveiled his practice's design for a Memorial to the Martyrs in Niger, and work has already started on site.
The structure features 56, 20m-high concrete pillars which will project beams of light into the sky – representing the lives 'lost in the fight against terrorism along Niger's southern and western borders'.
It is being built in Niger's capital, Niamey, which is some 900km north of Adjaye Associates' studio in the Ghanaian capital of Accra.
The memorial's foundation stone was laid last week.
Finsbury Circus design provokes the lynch mob
Architecture00 and Studio Weave have won a competition to revamp Finsbury Circus in the City of London.
Until earlier this year, the 2.2ha eliptical green space was being used as a construction site for the long-awaited Crossrail project, and while the line is now not now expected to open till 2022, those working on that particular stretch have packed away their tools.
The City of London Corporation is allocating £2.8 million to the project to rehabilitate the park as a 'creative and sustainable' multifunctional public space, including a pavilion and a combination of hard and soft landscaping.
The two winning practices have been working together since 2015 and entered the competition under the name 00SW, collaborating with ReardonSmith Landscape.
Their design features a single storey garden pavilion, seating up to 100 people, as well as an 'urban forest' and an oval pathway inside an existing paved outer ring.
Architect Patrick Lynch, whose practice's own design had failed to be shortlisted, was first up to offer congratulations … to himself.
'Glad to see that our design has won the Finsbury Circus competition ... minus the pergola but otherwise exactly the same,' he tweeted, adding an image of his own entry, which certainly bears a passing resemblance in plan at least. 'Very classy lads,' he added before adding the caveat 'great minds etc'.
Apparently, another unsuccessful entrant also felt its submission was quite similar to the winner, while restraining itself from sharing this on social media.
But is it just possible that such a distinctively shaped site is going to elicit a certain kind of design?