With a general election looming the party conferences should have been brimming with policies – but little was offered
With seven months to the general election, the political party conferences should have been a frenzy of policy announcements, inspiring party activists to get knocking on doors and an excitement as to who would be in senior government positions. After the groundswell of public involvement in the Scottish referendum there was hope that politics could involve and excite people in a way it has failed to do for decades. Instead the party conferences were a damp squib.
It is understandable in a way – no party is feeling confident. The Conservatives have UKIP biting at their heels and causing a few defections, although perhaps not as many as UKIP was hoping for. Conservative debates around Europe and a new British Bill of Rights raged on. Public polls show Labour as a popular party with an extremely unpopular leader, prompting whispers as to what to do about Ed even while the Labour parliamentary team stands resolutely behind him. Liberal Democrats, polling behind UKIP and the Greens in some areas, are busy counting how many MPs they are likely to lose at the next election. There was gossip at the Lib Dem conference as to who the next leader was likely to be, with Tim Farron looking the strongest. Although the Liberal Democrats look the most likely to lose seats at the next election, they bizarrely seemed the most relaxed.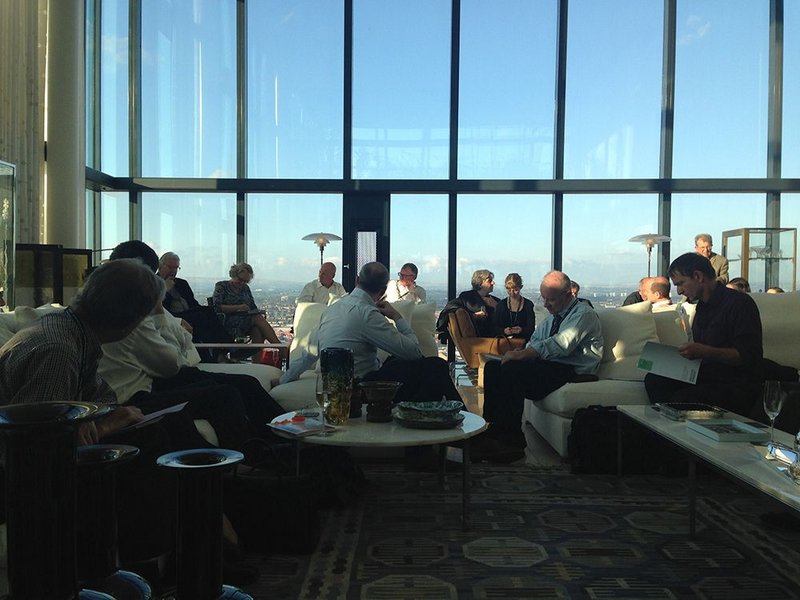 Fringe meeting during Labour Party Conference at Ian Simpson's Deansgate.
So what does that all mean for architecture? Housing was the main issue discussed at the conferences with Labour and Liberal Democrats committing to delivering 200,000 and 300,000 homes per year respectively. Conservatives committed to homes for first-time buyers built on brownfield land. All three explored ideas on how to deliver more but with little comment on how that would be delivered at a local level. The good thing is that politicians of all sides are now careful to point out that they need to be of the right quality. Discussions at fringe debates focused on whether we should prioritise brownfield over greenfield, whether Help to Buy had worked and garden cities. Liberal Democrats made the clearest commitment with a plan to improve the train line between Oxford and Cambridge and allow towns on that route to become garden cities if they wished. Potentially very good for a particular part of the country – perhaps a region that has a few target Liberal Democrat seats?
Issues that resonate most in private meetings with MPs and advisors – often through the bleary eyes of the late night conference bar – concern housing, integrating health and thinking about ageing in a more strategic way with a focus on improvements in the built environment. In a time where parties are not able to make big money announcements to out-do each other, small incremental changes are favoured and even more so things that may save money in the long-run.
Following discussions around greater devolution for all home nations and in particular English cities, RIBA debates focused on how cities might form part of the solution. Labour holds the lion's share of power in local authorities in cities and finds this idea most attractive, with Manchester developing the first cross-city strategic plan. Liberal Democrats see local leadership and greater democracy as key and are keen that a broader approach to flooding, sustainability and communities is considered alongside housing numbers. Conservatives seem the least interested in cities, having largely rural constituencies. What is clear is that for the parties to deliver on commitments such as housing numbers there does need to be a more strategic lead from local authorities – and in particular cities. Which makes being at party conferences with the leaders of those cities so much more important now.
Debates held by the RIBA with the Farrell review and Design Council on architecture – specifically at Labour and Conservative conferences – discussed the idea of an architecture policy for England, the lack of joined up government on architectural issues and the lack of support and resources for the delivery of design services such as design review across the country. Helen Goodman, shadow architecture minister for Labour, declared her support for architecture competitions and an international festival for architecture, although she felt it should be outside London. Ed Vaizey, minister for architecture, called on the industry to collaborate to make some of the recommendations of the Farrell Review happen. Neither made much commitment of any substance to a cross-government approach on architecture nor to further support the promotion of architecture.
And finally RIBA did speak at a fringe event at the Green Party conference on the green belt and shaping future housing and planning policy for the Green Party. In spite of having an MP in parliament, the Greens seem to be failing to make traction at the moment. UKIP however may well be one to add to the list for future.
---
Anna Scott-Marshall is head of external affairs at the RIBA