Build to rent could change the face of the private rental market. But will it solve the housing crisis?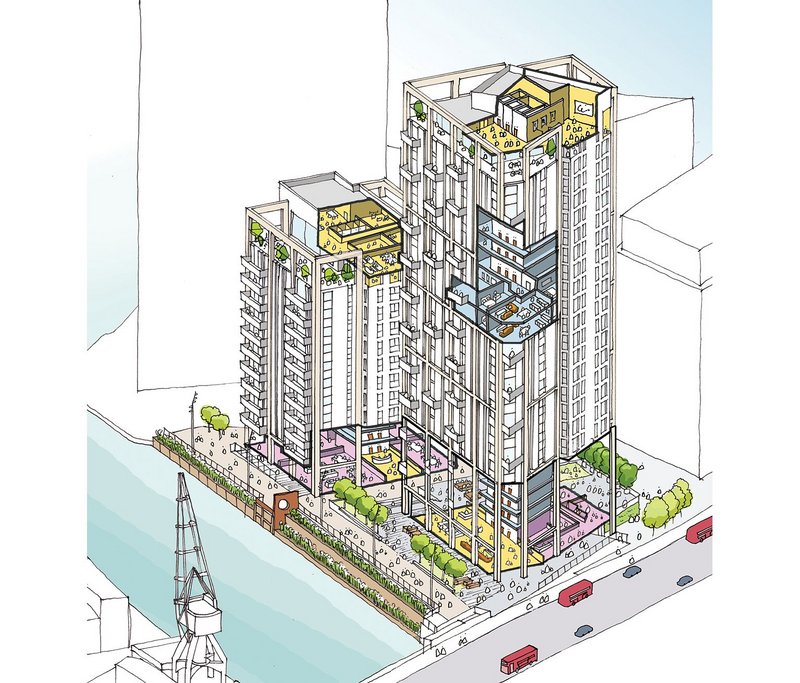 Family renting at Greenwich Creekside designed by Assael Architects. One of Essential Living's plans for 5000 rented homes across the south east.
In the property world it is PRS; the private rented sector. There has been much talk about it: conferences had, a government PRS Taskforce set up and funds allocated – £1 billion in equity finance specifically for Build to Rent. The message is that there is money to be made – and this could be the way round a dysfunctional unaffordable housing market and a poorly performing, piecemeal rental sector where a third of the properties fall below the Decent Home Standard. The ambition is for a professionalised rental sector from the foundations up, with purpose-designed and managed homes to rent to ease the housing crisis. This has opened up a new stream of work for architects with housing experience and a willingness to think commercially.
Rental appeal
To encourage the big institutional investors, pension funds, insurance companies and so on, these units must be easy to manage – blocks or clusters of blocks rather than dotted around a development. It means larger projects. Dave McCall of OMI Architects says: 'When we did a 60-unit scheme 10 years ago everyone thought it was big. Now we have 1350 units on site over three schemes, two of them of 500 each.' Build to rent might not have looked attractive to developers at first but as they faced a slow down in sales during the credit crunch it became a better proposition. Names now attached to the sector now include Origin, Grainger, Cathedral, Wates, Dandara, Qatari Diar and Willmott Dixon's Be:here. Few – Essential Living is one – go all the way through from finding and developing the site to managing the properties. However, there is an appeal to shifting units quickly – either en masse to institutional investors or, for those holding the asset, the relatively fast moving rental market which is better for cash flow than waiting for individual sales to trickle in. It reduces the need for phasing. It also gives regeneration a kick start. For Milton Keynes' western extension, Assael Architects is designing 400 flats over shops to create an instant local centre and ­beyond them other homes that are for sale.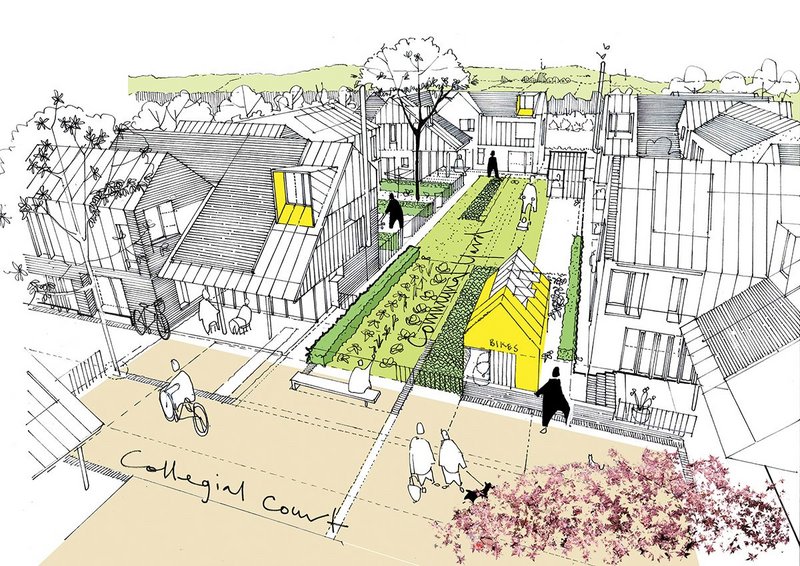 A view of suburban renting from Metropolitan Workshop and MacCormac.
In London the English Housing Survey (2013) shows that a quarter of households are now private tenants. Local authorities, big city ones at least, are alive to role of the rental sector. The Greater London Authority (GLA), like the government, wants to encourage more build to rent with a target to increase the supply and its Housing Strategy has a commitment from the mayor to work with institutional investors. Some authorities are putting their money – or at least their staff's – where their mouth is. Local authority pension funds could prove significant players in the market, with both Manchester and the London Borough of Islington announcing that their pension funds will be used in this way (though not necessarily on their own patch – to spread risk Islington, for one, will invest both in and out of the borough). And there has been more conventional encouragement through the planning system, with the London Borough of Wandsworth last year demanding private rented units at Bellway Homes' Nine Elms development, reportedly the first use of this via a Section 106 agreement. Long term leases on council land can also help capture land value and covenants can ensure rental capacity into the future, something the GLA is experimenting with.
Spot the difference
So what is this new form of private rental that is emerging? So far it has mainly targetted young professionals, likely sharers in high density city locations. Development and land use research body the Urban Land Institute produced a best practice guide last year under the sponsorship of the government's PRS Taskforce. It put the case succinctly to investors: 'Build to Rent is a new product focused on lifestyle.' It suggests it could be an 'institutional commodity' like student housing. As such, its chapter on form and layout focuses on efficiency to ensure developments are viable. Assael Architects' Russell Pedley was lead chapter author. He has a number of PRS schemes under his belt and a perhaps even more influential role in performing due diligence for investors considering buying into schemes and wanting to ensure they will perform as long term assets. One problem he encounters is that the internal layouts don't fit the guide, which encourages equal en-suite bedrooms and a central open plan living space with bedrooms clustered around it.
It doesn't seem to have moved on that far from Leeds' CASPAR scheme by Levitt Bernstein for the Joseph Rowntree Foundation, which completed in 2001. Ground-breaking then in its recognition of the need for a different tenure to encourage a certain demographic into city centre living, it set a model for thinking innovatively about tenants' needs and architectural ambition. However, it is clear as the private rental market matures that this tenure model makes sense outside big cities, in Nottingham for example, and at more suburban densities.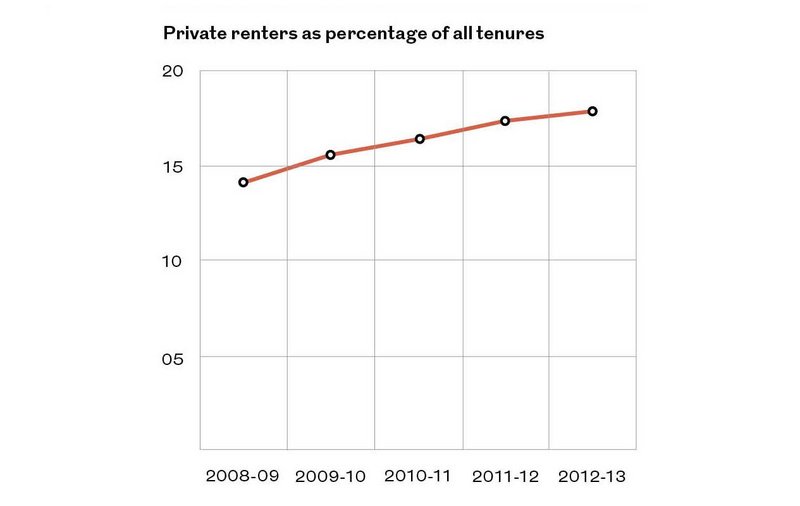 Wates' RIBA Housing in the Private Rental Market Competition took the debate on a stage further under the aegis of Allford Hall Monaghan Morris, which drew up the brief. The winning scheme by Metropolitan Workshop drew on collaborator Richard MacCormac's life-long investigation into form and housing densities. Much of the work reconfiguring a speculative builder's layout to a rental scheme where people would feel embedded in their community would be relevant to housing for sale. Its great strength is that it demonstrates an attractive, liveable, vision where the compromises of efficiency, and the emphasis on community and the possibility future sale, appear to create a sense of place, rather than a big tower with a coffee shop. For Metropolitan Workshop it has proved a passport to the GLA and Department of Communities & Local Government – but despite a worked-through business case it has not yet been tested on a shop's live scheme.
The Metropolitan Works design prioritises communal and shaves the personal, as do high density schemes. This balance seems to make more sense at the suburban scale where individual gardens – and the commitment they require – are less popular with tenants; urban dwellers are less likely to favour shrinking rooms to make space for a roof terrace, party room or foyer coffee shop. Communal space and, by implication, community building, is driven by the same concern to reduce voids, redecoration costs, empty properties and reletting. As with the Private Finance Initiative, long term interest from the start of a building's life is to be welcomed, placing capital investment in perspective and ensuring things like fixtures and fittings are specified for longevity and not just looks.
Metropolitan Workshop's ability to tune the mix of dwellings within the same envelope and its clustering of units around a 'homestead' makes sense for flexibility, predictabilty and buildability. Director Neil Deely explains the scheme can go from 25 to 47 dwellings per hectare without a change in external layouts or building volume.
Don't forget families
London's outer boroughs are an increasingly important focus of intensification and recognition that families need rental property is evident in the way Essential Living is thinking beyond the young professional. Designed by Assael Architecture, its Greenwich Creekside in south east London has 249 units trialling family living. Family rental is well established in the US – tellingly this scheme is ultimately backed by a Washington pension fund. Essential Living has also pulled in £52 million from Build to Rent via the Homes & Communities Agency to deliver 5000 rental properties in London and the south east.
With more competition in this market, operators are looking to create their own distinctive brands – which means design guides and branded buildings similar to student halls. The Urban Land Institute's best practice guide offers a long list of what might be offered, based primarily on US models of highly serviced apartments with gardens, pools, gyms, party and club rooms, and a concierge who can fix anything. OMI's McCall is rather cynical about schemes he sees coming through that offer the whole lot. 'People in the UK are not great at adopting these sort of spaces and tend to prefer to do their own ironing,' he says. The practice is most comfortable working with an experienced contractor and developer like Renaka, which can take informed critical decisions on this menu of options. However, OMI is also working on fuller private rental schemes with large foyers, gym, a fully managed hotel-type reception and back up lettings personnel. But McCall thinks the fundamental moves are those that define the place and give you the chance to meet your neighbours before you reach your front door.
This sector is not about reinventing housing for a different tenure but is a more exciting opportunity: the potential to talk about community building and placemaking to a new set of clients, who have a vested interest in listening.
---
Why private sector rental needs to change

33% of rented properties don't meet Decent Homes Standard, the highest percentage in any tenure
33% built before 1919
73.7m2 mean floor area, compared to 91.7m2 across all tenures
Who is renting?
18% of households have been in their current home less than two years
51% have a household representation under 35, the youngest age profile of all tenures
29% are one person households