A clutch of approvals in the capital take over this month's report
Apologies to the provinces in advance – it's a half dozen of London-centric planning proposals in our first consents roundup of the new year, though some succour may be gained by the fact that it's another power house of a firm in Hampshire, Ayre Chamberlain Gaunt, that's behind a significant London residential scheme. The London Borough of Barnet playing hardball has forced concessions from Barratt London at Mill Hill via a mayoral call-in, Camden market is developing a housing market all of its own behind its Roundhouse, Westminster votes for homes and central London gets even more offices and hotels. We hope the consents keep streaming in during 2018…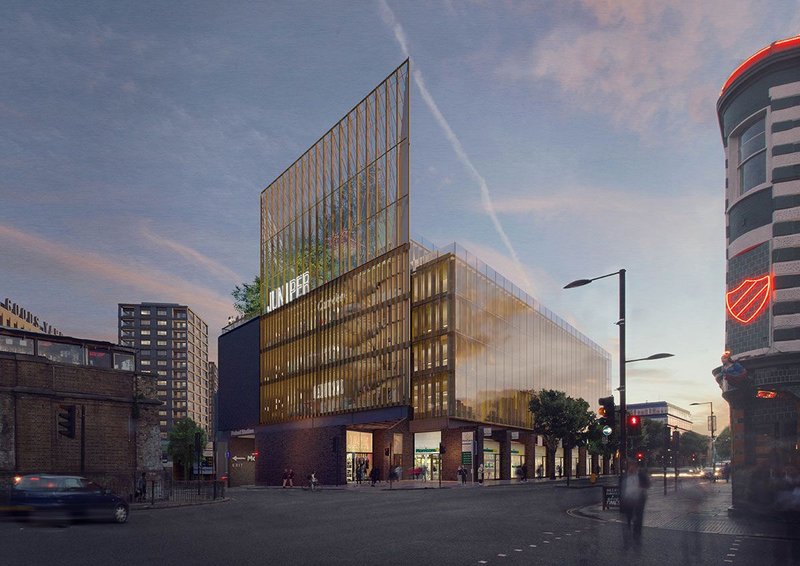 Camden Goods Yard Petrol Filling Station site

Credit: Niall McLaughlin Architects
CAMDEN GOODS YARD, LONDON
Client: Barratt London and Morrisons Supermarkets
Architect: Allies and Morrison with Piercy & Company and Niall McLaughlin Architects
Total area: 99,026m2
Planning authority: London Borough of Camden
Planning ref: 2017/3847/P
Wedged between the back of Camden's Roundhouse and the railway lines into St Pancras station, Camden Morrisons has cut a lonely figure, isolated on its hidden site above The Stables market. Not any more. The supermarket is about to make way for a massive new mixed-use development of homes and shops – including a 14-storey tower which, on this already elevated site, will make a strong presence among the markets' generally low rooflines. The scheme breaks down to 61,000m2 residential (40% 'affordable'), 27,000m2 office/retail and 1,000m2 given to start-up spaces.
With Piercy&Company getting involved on the residential design with A&M, Niall McLaughlin has been drafted in on Chalk Farm Road to work his magic on the existing filling station, which will be transformed, incorporated into a six storey, 11,000m2 non-residential development.
Currently an isolated 3.3ha site with only one access road, new pedestrian access routes are planned, connecting the lower street levels with the development above. With eight new blocks in all, Barratt's development will dwarf developer Market Tech's £120 million Hawley Wharf 170-home mixed-use development bang opposite Camden Market and behind the late Amy Winehouse's watering hole, The Hawley Arms.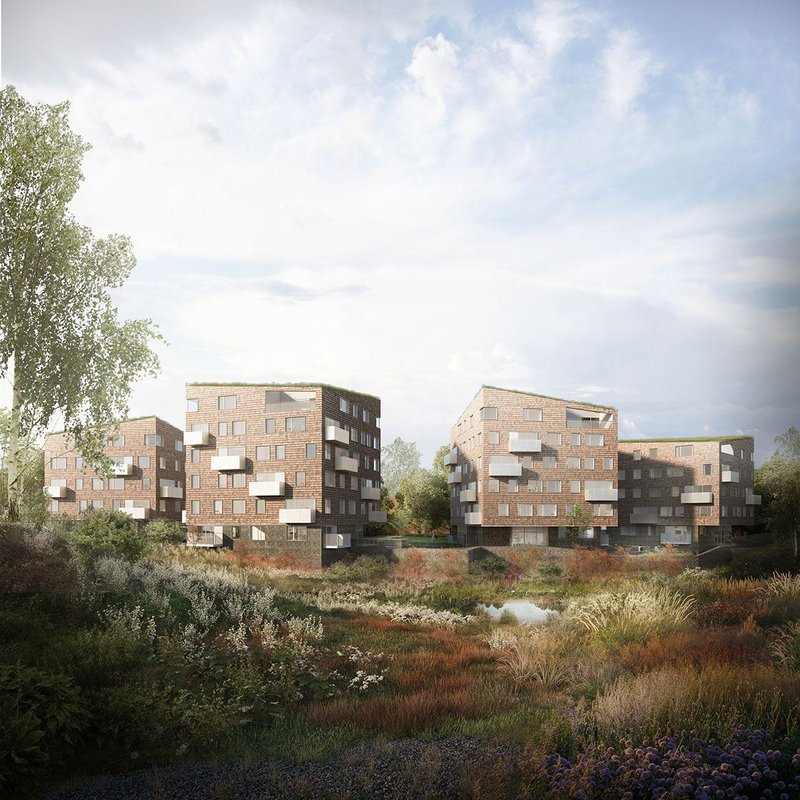 PLEVNA CRESCENT, LONDON
Client: Marson Property
Architect: Ayre Chamberlain Gaunt
Total area: 6,390m2
Planning authority: London Borough of Haringey
Planning ref: HGY/2017/2036
Basingstoke-based but expanding rapidly and now with a London office, 2016 MacEwen Award winner Ayre Chamberlain Gaunt has just received planning permission for a 72-home development in Haringey. The development is made up of one, two, three and four-bedroom apartments in four blocks spread over the site.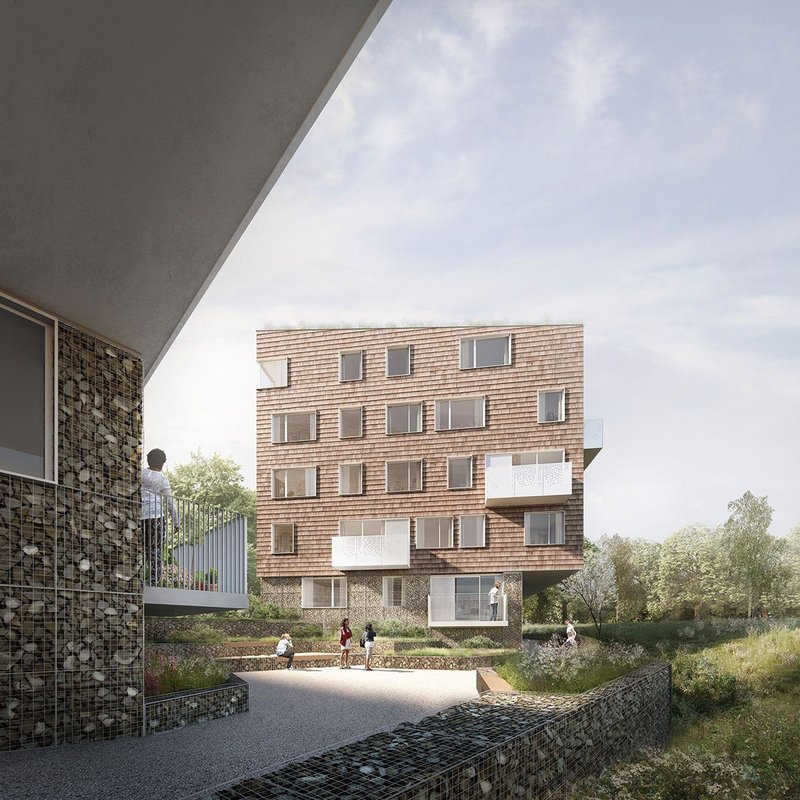 The architect has placed the four pavilions on a plinth of gabion walls to bed the development into the landscape, cladding each of the blocks in cedar shingles 'to reflect the ecological setting' between the two railway lines going into South Tottenham station.
ACG has designed a non-regular arrangement of windows to generate variegated facades and intends the shingle rain screen cladding eventually to be inhabited by local flora and fauna. For added ecological oomph, there's even green roof on all the monopitched roofs, each one of which tilts to the entrance of the site, subliminally helping with wayfinding and providing shifting perspectives for passengers as their trains draw into the station.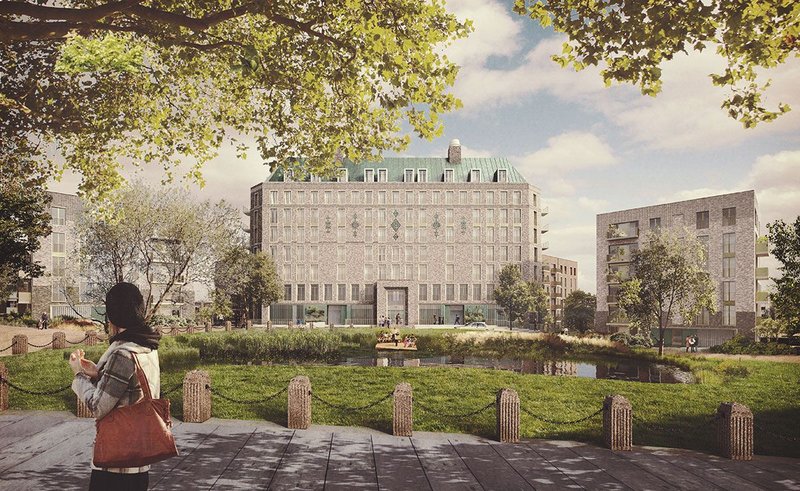 Front view, Mill Hill redevelopment
MILL HILL REDEVELOPMENT, LONDON
Client: Barratt London
Architect: Hawkins\Brown and de Metz Forbes Knight
Total area: 19ha
Planning authority: Mayor of London (on appeal). London Borough of Barnet
Planning Ref: 16/4545/FUL
Going against the advice of its own planning officers, Barnet Council refused the proposal for the redevelopment of the former National Institute for Medical Research, which at the time had only a 20% affordable housing component. But things are looking brighter for the residents of Barnet at this 460-home development. Called in by the Mayor of London, the scheme now has a 40% ratio, meaning that 185 homes will be affordable, comprising 131 as shared ownership and 54 for social rent.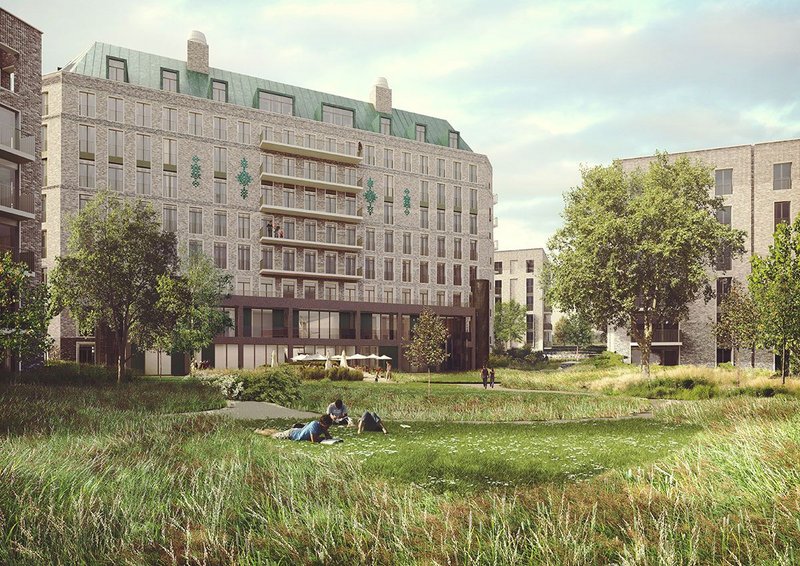 Rear view, Mill Hill redevelopment
Ranging from one-bed apartments to five bed homes, the accommodation will be arranged as clusters of pavilion blocks suiting the sloping topography, all focussing on the unusual landmark nine-storey institute's Cruciform building at the ridge of the Mill Hill valley. dMFK architects has been appointed for work involving an augmented reconstruction of the original building as pavilion wings, opening out views to the green belt of the Totteridge Valley that were never experienced in the original.
And thanks to the call-in, the wooded landscape will be retained too. In addition to saving the 119 trees the client would have felled to develop the site, Sadiq Khan's getting them to plant 91 more; meaning more 'hill' and less 'mill' for Barnet.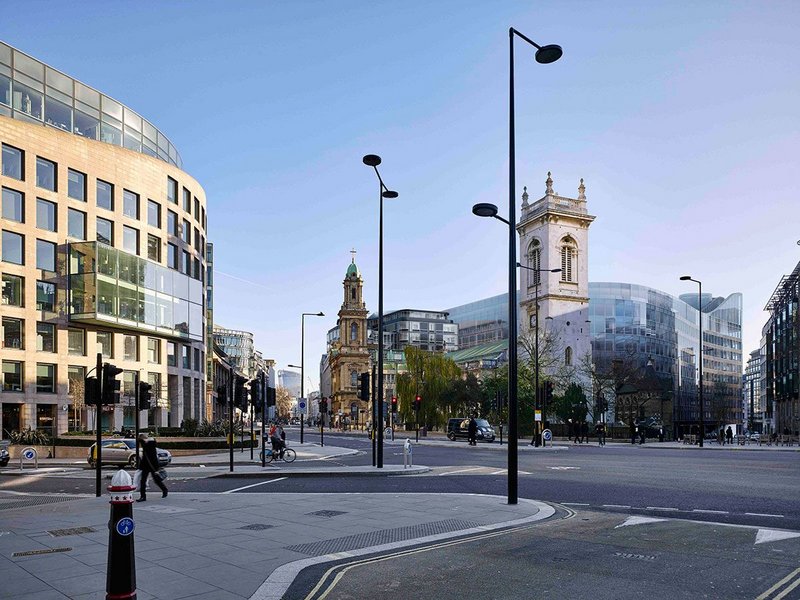 City Temple Quarter

Credit: Eric Parry Architects
CITY TEMPLE QUARTER, LONDON
Client: MH Viaduct LP
Architect: Eric Parry Architects
Total area: 12,450m2
Planning authority: City of London
Planning ref: 17/00165/FULMAJ
This development involves the upgrade of a city block of diverse buildings on the western edge of the City of London at the junction of Farringdon St and Holborn's viaduct, and includes the City Temple church. Eric Parry's plan involves demolishing the Morley House to replace it with a 191-room hotel made of two blocks of seven and nine storeys, catering to the short-stay and tourist market in an area generally underserved by such accommodation.
City Temple, built by architect FH Lockwood in 1873 and substantially rebuilt by Seely and Paget after it was fire damaged during WWII, will undergo another transformation now. The interiors will be refurbished and reconfigured, with a new entrance foyer, remodelled sanctuary, and replacement of the first floor raked gallery with two new mezzanine floors. This will create a 350-seat auditorium and a 150-seat conference space which will be available for church groups and private hire. With the third floor converted to staff accommodation, the revenue generated should help to keep the church economically viable in the future.
The development should be complete in time to welcome in the City's proposed cultural quarter – the new Museum of London at West Smithfield, Sir Simon Rattle's 'dream' concert hall for the LSO at London Wall and the transformation of the Barbican's Beech Street tunnel.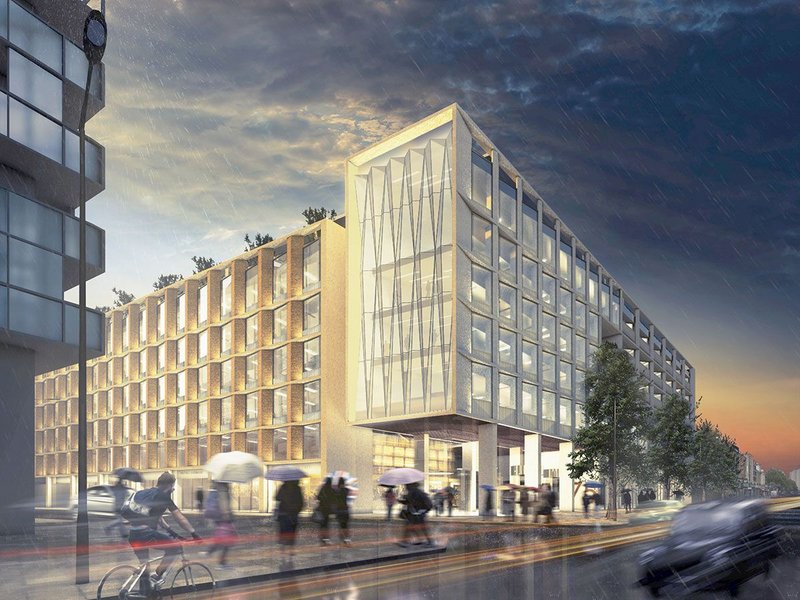 Stephenson House

Credit: Marks Barfield Architects
STEPHENSON HOUSE, LONDON
Client: Lazari Properties 2 Ltd
Architect: Marks Barfield
Total area: 23,000m2
Planning authority: London Borough of Camden
Planning ref: 2017/3518/P
The rather grim length of London's Hampstead Rd, leading north into Camden Town, will receive a bit of a facelift thanks to Marks Barfield's 23,000m2 mixed-use development. This will deliver 17,000m2 of Grade A office space and 17 new homes including six at affordable rents, a café and possible new health centre. The redevelopment will increase the density of the site, generating 5,000m2 extra area over it.
The architect is keen to promote the wellbeing aspects of the new design, embracing circadian design principles, high daylight levels and filling the interiors with sunlit double-height garden spaces and green roof terraces.
While the main facade on Hampstead Rd will be glass and stone, as the building sits on the corner of north London's Drummond Street, with its rich ethnic mix and well-known local eateries, it will defer to red London stock brick materiality, with a touch of bling bronzed metal to bring a bit of Bollywood panache to the project.
A key feature will be the full-height glazed 'lantern' facade with its pleated pattern of glass panels facing south to look back past the BT Tower and over to London's West End.
DMA Parsons North Edgware Road
PARSONS NORTH, LONDON
Client: Westminster City Council
Architect: David Miller Architects
Total area: 7,683m2
Planning authority: Westminster City Council
Planning ref: 17/06049/COFUL
This 0.5ha site on London's Edgware Rd will soon be providing 60 new affordable and private sale homes to the borough, replacing a semi-sunken basement car park whose roof presented a concrete podium to the streets around. Sitting on the edge of the Maida Vale conservation area but also near a 22-storey council residential block, the form was modulated in height and depth by the architect to respond to scale changes occurring across the site. The top floor is set back to reduce apparent massing from the street.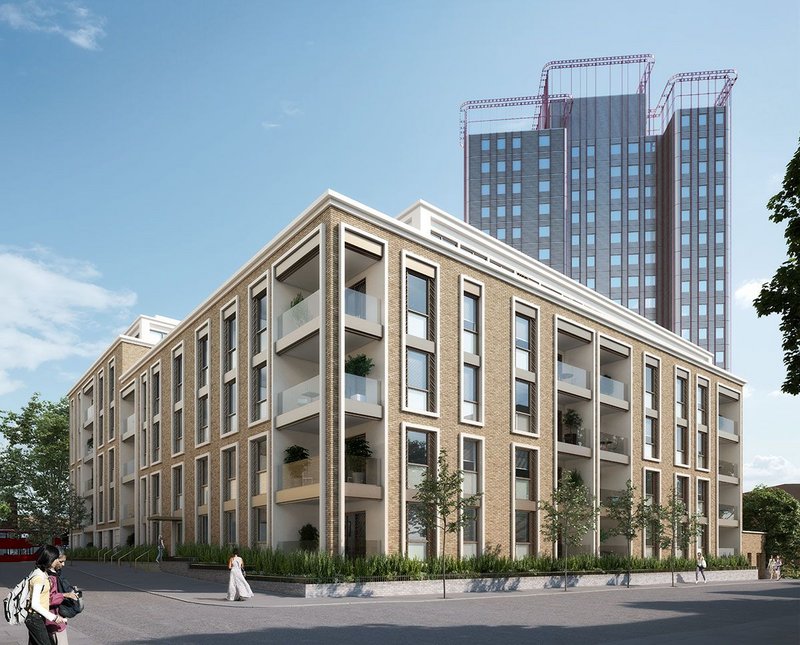 Parsons North from the corner of Crompton Street and Hall Place
To give privacy at ground level, landscaped planters installed on Crompton St and Hall Place act as a visual buffer to the street. Along the very busy Edgware Rd there is additional graduated step access, taking advantage of the wide pavement there to provide another layer of defensible space between the homes and the public realm.