London's abuzz with start-up spaces, a new children's hospice is planned in a nature reserve and Glasgow University is having a huge expansion
There's a lot going on in London, with regeneration of former industrial sites figuring heavily this week. If you haven't heard of the concept of 'pro-working' until now, consider yourself duly informed. Piercy & Company's new Camden development for office space provider Fora mixes commercial let with hotel to create something that's as much an event space as it is a workplace.
Lyndon Goode's residential development in Fish Island will be also providing start-up spaces for the artists and hipsters of London's East End, while out on the Essex fringes Swan Housing Association will be clearing a failed 1970s centre to place its own HQ within a new retail development. In Barnet, meanwhile, a much-needed children's hospice is being perfectly positioned in a nature reserve to provide a peaceful setting for its important work.
Beyond the capital, Glasgow University is having a massive campus built as part of an even bigger £1bn regeneration of an old infirmary site in Kelvingrove. And, on a much smaller scale, books are the order of the day in Carlisle, where the cathedral's former refectory turned library is gaining a new extension by Feilden Fowles that reads as a palimpsest of its own 15th century arches. Less gothic novel than novel gothic.
---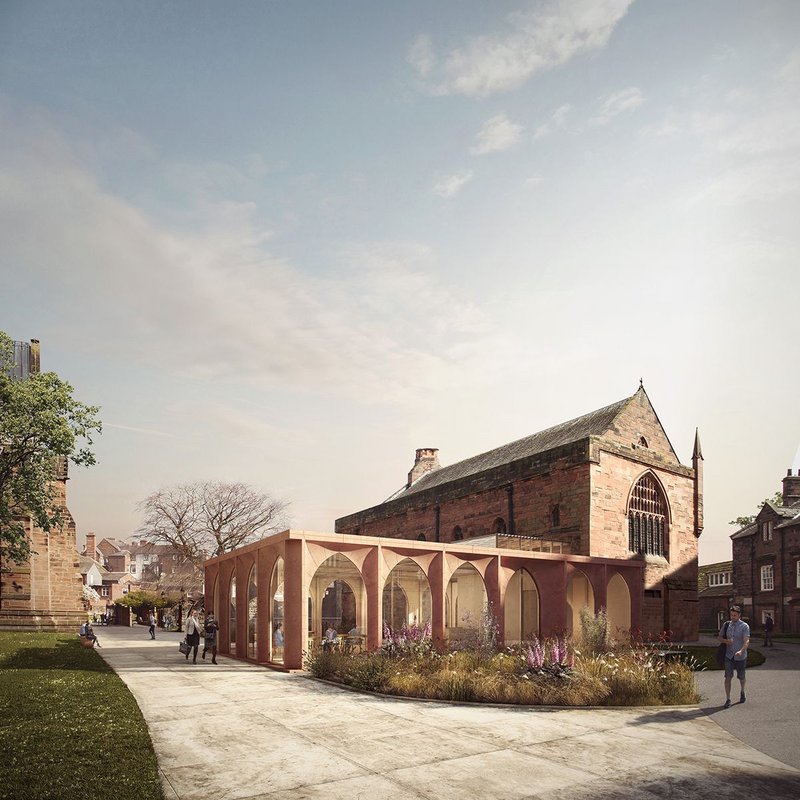 THE FRATRY PROJECT, CARLISLE
Client: Carlisle Cathedral
Architect: Feilden Fowles
Total area: Existing 650m2 New build 185m2
Planning authority: Carlisle City Council
Planning ref: 16/0722
In what represents 'the most significant physical intervention on the cathedral site for 150 years', this £3.4M project (with a Heritage Lottery Fund grant of £2M) is both a refurbishment and extension of the grade I listed Fratry, which was built in the 1500s as the monastery refectory. It now houses one of the largest cathedral collections of 17th-18th century books in the country.
A new, single storey, entrance building to the north west of the Fratry will replace the long disappeared West Range while the Fratry Hall will be refurbished for exhibitions and events. A link structure and the refurbishment of the undercroft for teaching and learning activities completes the scheme.
Feilden Fowles' building, which will also define a new cloister space, has been inspired by the dropped arch on the western gable of the Fratry, creating arched forms within a fine rectilinear frame. The formal approach looks slightly counterintuitive, but the firm say the combination of the two geometries will create subtle shadows across the facade throughout the day.
---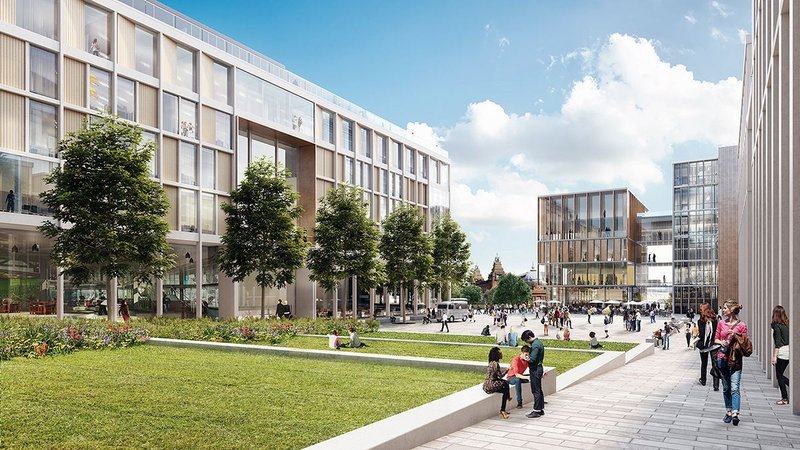 GILMOREHILL CAMPUS, UNIVERSITY OF GLASGOW
Client: University of Glasgow
Architect: AECOM & 7N Architects
Total area: 85,000m2 (total scheme 2Mm2)
Planning authority: Glasgow City Council
Planning ref: 16/01208/DC
The permission in principle for this huge masterplan provides a framework for significant expansion of the university's campus on the site of the former Glasgow Western Infirmary in the West End of the city. The aim is to provide learning, teaching and research spaces in a new mixed-use quarter, which, the architects say, 'will integrate the historic core of the campus with the neighbourhoods to the west and form a new frontage to Kelvingrove Park to the south.'
AECOM leads the team, which includes Simpson and Brown, Muir Smith Evans and Spaces That Work. They will deliver the project in phases governed by design guidance developed by AECOM and Edinburgh-based 7N. This will cover form, height, massing, frontages, articulation and materials.
The £430M first phase will be developed over the next five years. It represents the first tranche of funding for a £1bn project to refurbish and extend Glasgow University's estate, constituting one of the biggest educational infrastructure projects in Scotland's history.
---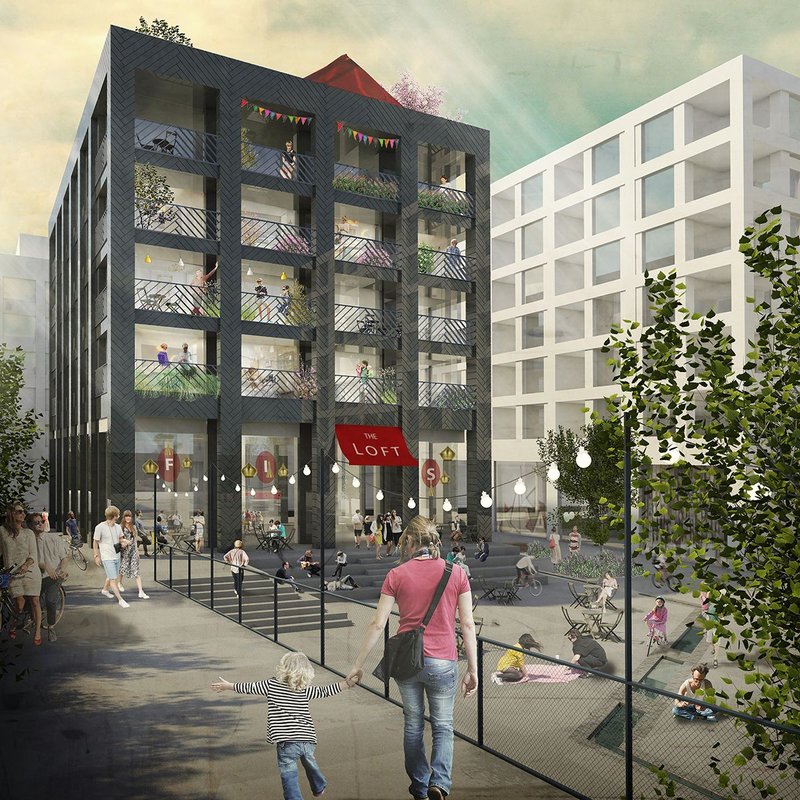 FISH ISLAND VILLAGE, HACKNEY WICK, LONDON
Client: Peabody
Architect: Lyndon Goode
Total area: 1,770m2
Planning authority: London Legacy Development Corporation
Planning ref: 16/00103/REM
Lyndon Goode's five storey building has a ground floor café, bar and restaurant with 16 one, two and three bedroom apartments on upper levels. It forms part of a larger live-work development in Hackney Wick on a piece of land that Peabody bought on Fish Island in 2014. The 580-home development includes buildings designed by Stirling Prize winners Haworth Tompkins and Pitman Tozer.
The herringbone patterned facade was inspired by street art that the firm found on the site. Lyndon Goode propose a trabeated facade with a set back ground floor on the north elevation, creating a small colonnade for al fresco dining. On the south side, the recesses denoting the residential and commercial entrances at ground become balconies at upper levels.
A key aspect of the development is the 4,500m2 of accommodation for local artists, designers and start-ups, providing locals with 'a raft of high specification, purpose-built, affordable living and working space.' The tenant, the Trampery, operates entrepreneurial spaces all over London, but this is its largest project to date.
---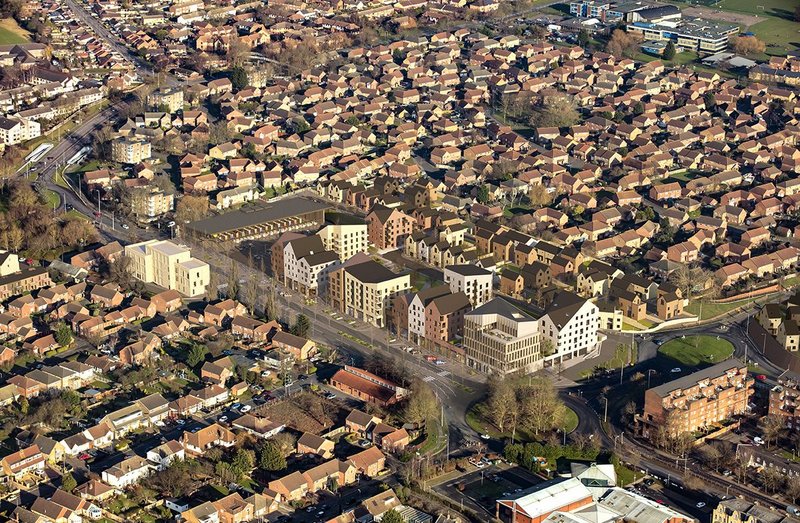 LAINDON CENTRE, BASILDON, ESSEX
Client: Swan Housing Association
Architect: Pollard Thomas Edwards and CF Møller
Total area: 5.66ha
Planning authority: Basildon Council
Planning ref: 16/01594/FULL
This proposal for a large site running along Basildon's High Road might finally turn that thoroughfare into more of a high street. Swan Housing Association has received planning permission to redevelop the site of the 1970s Laindon Centre with a retail-led, mixed-use scheme. It will deliver new shopping, head offices for the housing association itself, a new health centre, apartments and larger family homes.
The site has a troubled past, having had five previous owners in the last 20 years, all of them professing the desire to turn its fortunes around; none of them coming to anything. Swan acquired the site in May 2016 and brought the architects on board to flesh out the proposal. With the housing association intent on making the Laindon Centre its HQ, it's hoped this will prove to be the key incentive that will drive the project forward.
---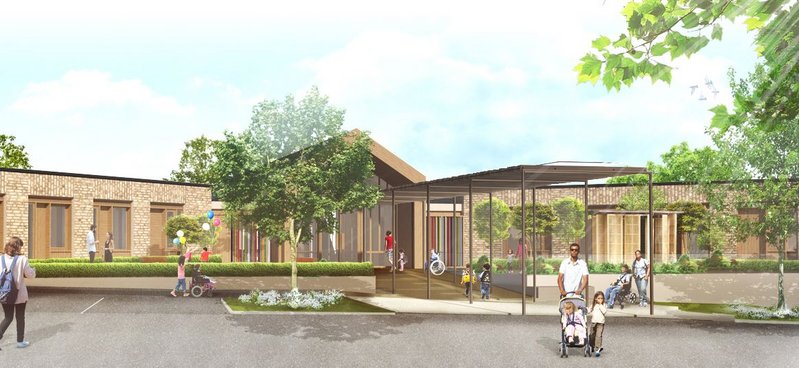 NOAH'S ARK HOSPICE, BARNET, LONDON
Client: Noah's Ark Hospice
Architect: Squire & Partners
Total area: 2,240m2
Planning authority: London Borough of Barnet
Planning ref: 16/5151/FUL
This new facility, providing on-site care and support for children with life-limiting or life-threatening conditions and their families, will be the only children's hospice serving central and north London and Hertsmere. Noah's Ark currently supports around 150 children and their families both at home and in the community, but this new facility will help bring that figure up to 450.
The brief sought an inspiring space for palliative care, allowing young people and families to connect with others in a similar situation, while allowing the children to be just that and not patients. To that end, the proposal sits in a 3ha nature reserve, providing interaction with the landscape not just for the kids and their families but workers and visitors too.
It is effectively a cruciform of two wings with a short central spine separating them. Within the wings are the more private hospice rooms looking out to the landscape. The wings connect back to the spine, which acts as a barn-like entrance and 'light-filled, vaulted hall', with common social spaces under its timber pitched roof.
While Noah's Ark chief executive Ru Watkins is pleased with the decision, he caveats it, saying 'We believe that, given the paucity of land available for such schemes, this will prove to be the last hospice built in London.'
---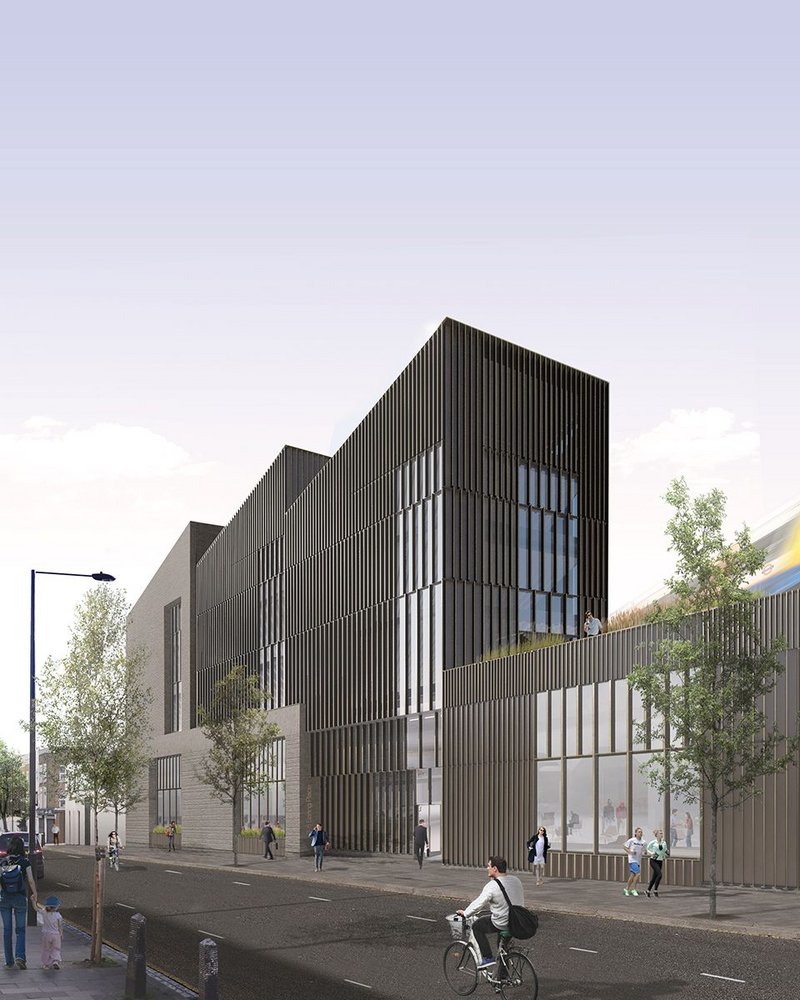 3-6 SPRING PLACE, CAMDEN, LONDON
Client: Fora
Architect: Piercy & Company
Total area: 4,940m2
Planning authority: London Borough of Camden
Planning ref: 2016/5181/P
Client Fora is aiming to carve a niche for itself in the world of commercial start-up offices with its 'pro-working' concept. This takes the best of the hotel experience and applies it to the work environment to create a 'resident experience'. Spring Place in Kentish Town is one of two permissions of this nature secured for the client.
On a complex site adjacent to London Overland lines, the architects are creating offices designed around the metaphor of a house, with 'different zones for working, thinking, collaborating and socialising'. 'Residents' will be looked after by hotel-style concierges managing modern board rooms, wellbeing studios, fully equipped communal spaces hosting curated events, and even boutique hotel style wet rooms.
The industrial look of sawtooth roofs and steel cladding coincides with the industrial nature of the site, making use of the complex volumes created by the triangular plan. Part of the common and workspaces will extend under the arches to lock it into its site and take full advantage of its Victorian past.
---