Green lights for OMA in Manchester, Herzog & de Meuron in London, discreet country dwellers and strutting urbanites
The New Year has seen two projects of national significance by major names make it through planning, starting with OMA's £110 million mixed arts and cultural venue in Manchester Factory.
Premier leaguer Herzog & de Meuron has also secured permission for its intriguing brick and steel proposal for Chelsea Football Club's currently chaotic but largely hidden Stamford Bridge home.
Hiding seems to be the order of the day in the Cotswolds and the Surrey Hills AONB, with two slightly clandestine proposals for rural development: one for a golf club and lodge hotel, the other for a sizeable private home. However, it's quite the opposite in Hackney, where corners are being 'bigged-up' rather than merely turned; and, a little way on from the Factory site, a canalside site is about to undergo major regeneration with significant foreign leverage.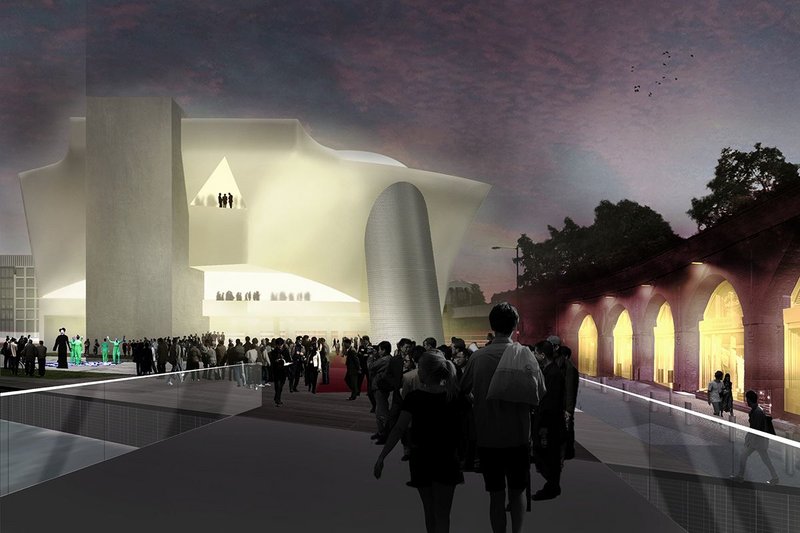 FACTORY, MANCHESTER
Client: Factory
Architect: OMA
Area: 13,500m2
Planning authority: Manchester City Council
Planning ref: 114294/VO/2016 (Listed Building consent 114370/LO/2016)
Having landed on UK soil with the London HQ for one of the world's oldest banking families, it's good to see Rem Koolhaas' OMA getting its teeth into its first public commission in the country – this time in Manchester. The Factory, a flagship new cultural venue for the North, will be the 'ultimate versatile space', catering for everything from small, experimental productions to large scale performances and art exhibitions.
The £110M venue will be run by Manchester International Festival, which is in charge of delivering the event every two years and now gives it a perennial home in the city. Part of the St John's neighbourhood, which is being developed by Allied London in partnership with Manchester City Council, the site is the former Granada TV studios. It's anticipated that the building of the venue will create more than 1500 full-time jobs and generate £1.1bn to the local economy over the next 10 years.
---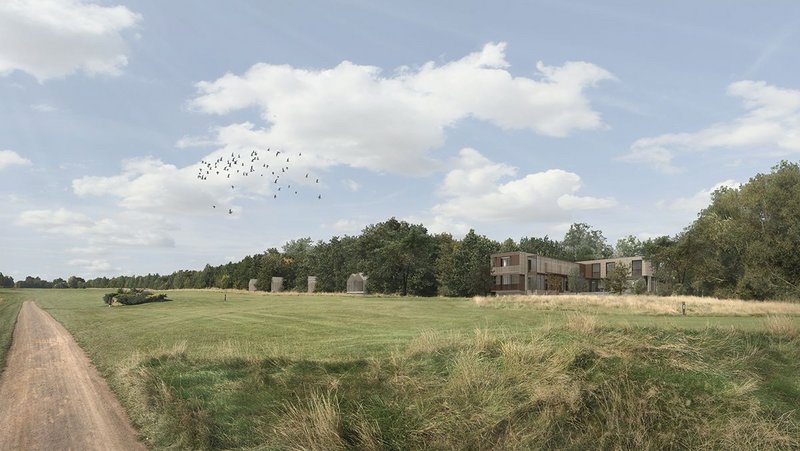 FELDON VALLEY GOLF CLUB
Client: 360 Golf
Architect: Design Engine
Area: 1,736m2
Planning authority: Stratford on Avon District Council
Planning ref: 16/02858/FUL (Clubhouse), 16/02840/FUL (Hotel),16/02532/FUL (Greenkeeping)
Situated three miles from Shipston-on-Stour in the Cotswolds Area of Outstanding Natural Beauty, Feldon Valley Golf Club was originally the vision of a group of enterprising local farmers and business people who had the idea of converting unused agricultural land into a golf club. Brailes Golf Club, as it was known then, opened in 1992.
Under new ownership, the firm plans to build up membership to secure the club's long-term viability. Design Engine was brought in to upgrade the facilities with minimum impact on the site and general context. This includes the renovation and extension of the existing clubhouse including new terraces, a two-storey hotel and four woodland lodges for up to 60 guests, and a new 'greenkeeping' facility. The latter will have a nursery, orchard and allotment for the clubhouse kitchen to grow its own produce. Naturally weathering local materials will embed the new development in the landscape.
---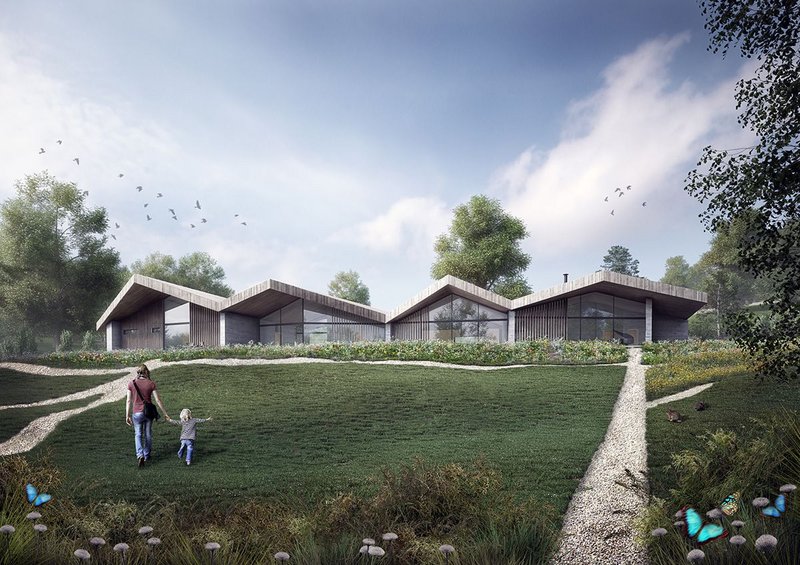 THE 'HIDDEN HOUSE', HAMPSHIRE
Client: Private
Architect: AR Design Studio
Area: 518m2
Planning authority: Waverley Borough Council
Planning ref: WA/2016/1545
Meanwhile, in the Surrey Hills AONB, on the site of a disused riding school 'that was once a scar upon the landscape', Winchester-based firm AR Design Studio has used all its skill and ingenuity to get this sizeable four bedroom 'Hidden House' in under the radar, so to speak.
Of more interest than the fact that the angular geometry of the house was based upon the North Downs' 'geological arrangements' is the other design reference: the idea of 'dazzle camouflage', a tactic employed by ships during the First World War to trick the eye and break up their perceived mass when they were out at sea.
Four discrete concrete pods housing bedrooms, kitchen/dining, utility and storage and snug and pool facilities are embellished on the outside with a timber structure that encloses the main living and relaxing areas commanding 'incredible' views across the Surrey Hills. In a nod to sustainability, the oversailing undulating roof will be clad in the same timber used to shutter the insitu cast concrete.
---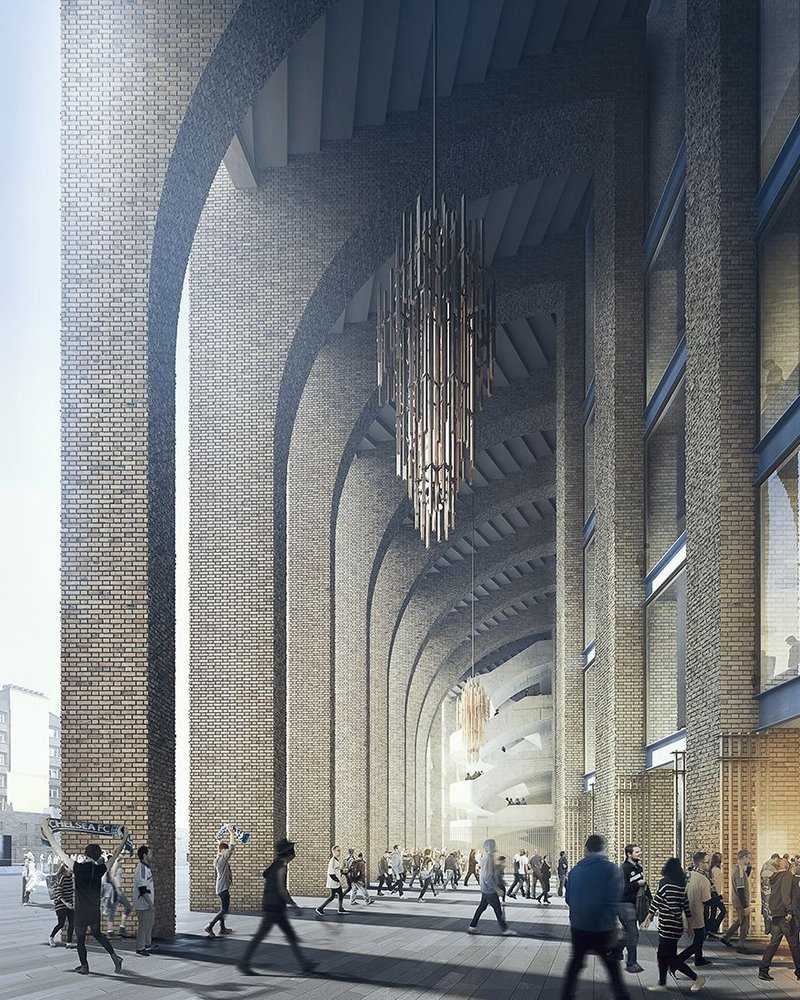 STAMFORD BRIDGE GROUNDS
Client: Fordstam
Architect: Herzog & de Meuron
Area: 153,061m2 (stadium footprint 38,676m2/site area 6.2ha)
Planning authority: London Borough of Hammersmith & Fulham
Planning ref: 2015/05050/FUL
It was less Pompey-do than Pompey-don't when the 2008 financial crisis put pay to Portsmouth FC's bold plans of having Herzog & de Meuron design its new stadium, but it's definitely a London hat-trick for the Swiss firm now, having just secured planning permission for the massive redevelopment of Chelsea Football Club's constricted Stamford Bridge site.
The permission involves demolition of the old 41,600 seat stadium and construction of a 60,000 seater replacement, a new high-end residential development, reinstatement of two current hotels, a new restaurant, club museum, health club, live music venue and external circulation areas. The proposed facilities more than double the existing area of the club site.
The dramatic new stadium will be a faceted polygon responding to the site and orientation, made up of 264 vertical brick piers supporting radial roof steels that span 50m over the bowl and converge at its central steel ring beam. The piers will taper at lower levels to designate entrance atrium areas.
With all the stadium functions held within its mesmerising envelope, and if Herzon & de Meuron's recent Bordeaux stadium is anything to go by, this could well turn into the UK's most exciting new sporting venue.
---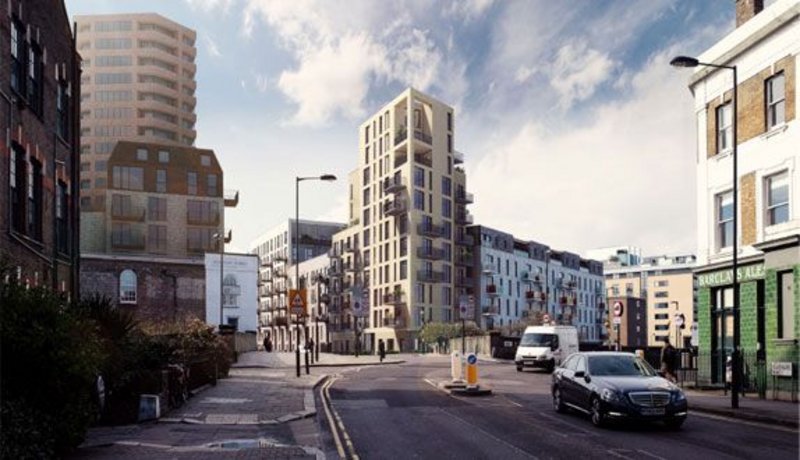 BRIDPORT PLACE, HACKNEY, LONDON
Client: Metropolitan Housing Trust
Architect: Fraser Brown Mackenna
Area: 2,680m2
Planning authority: London Borough of Hackney
Planning ref: 2016/2840
Fraser Brown Mackenna Architects has two reasons to celebrate with this residential proposal for a London housing trust. Not only has it 'celebrated' the corner of this 427m2 site adjacent to David Chipperfield Architects and Karukusevic Carson's Coleville Estate development, but it managed to secure unanimous planning permission approval for it.
Thirty-two new homes have been squeezed onto the site with a pale brick stepped form that rises to 11 storeys as it reaches the apex of the corner of Bridport Place and Wiltshire Row. Of these, 16 are for market sale and 16 are affordable homes; 10% of this total will be wheelchair accessible apartments in a range of sizes.
Facing out over Rosemary Gardens and with two market sale duplexes giving a 'hat' to the tower, the design's stated aim is to provide 'a viable scheme that provides a greater number of high quality homes to meet local housing need'.
---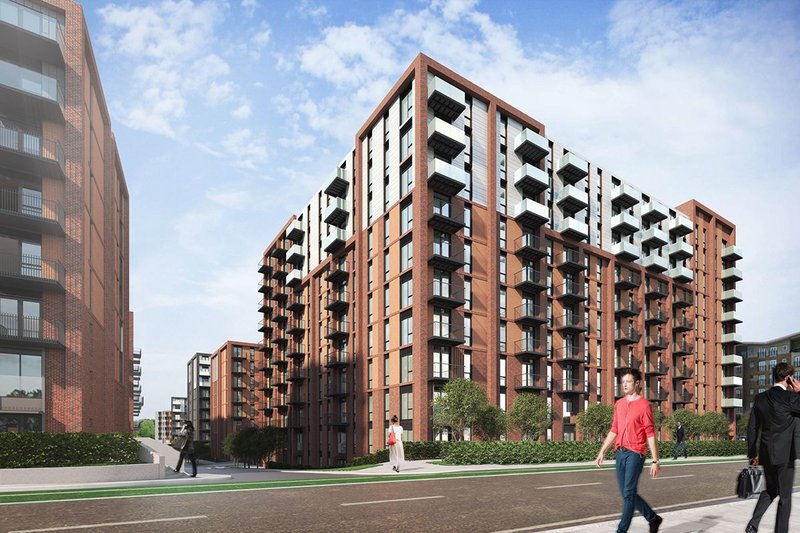 MIDDLEWOOD LOCKS, SCARBOROUGH
Client: Scarborough International Properties Ltd
Architect: WECC Architects
Area: 39,000m2
Planning authority: Salford City Council
Planning ref: 16/68904/REM
FairBriar International, the residential arm of client SIPL, has received permission to build out phase 2 of its £700M, 10ha Middlewood Locks development, a residential and commercial neighbourhood at the western gateway of Manchester's CBD. Emulating the 571 home mixed use development of phase I, with 546 homes being provided in four blocks of up to 10 storeys, the development will sit in three basins around the Manchester, Bolton & Bury canal, connecting to the River Irwell. The aim is to ultimately deliver a mixed-use neighbourhood formed of 2,215 new homes and 83,600m2 of commercial and retail space with 'extensive new public realm'.
FairBriar is 50% owned by SIPL, with assets of over £2bn, with the other 50% owned equally by the $1.4Bbn Singapore-based Metro Holdings and $3bn valued Chinese Hualing Group. Metro is investing over £50M into SIPL's projects in the north – this site has a gross development value of over £1bn. The preferred contractor for the build is Chinese firm BCEG, which first entered the UK market via the Manchester Airport City development.
---