From university to museum, housing to hydrographic centre, the country beyond the capital is looking busy
It's a full house for out of London projects – a first for this page – although that doesn't mean that there isn't a metropolitan component to them, with half designed by London based firms. Carmody Groarke will be bringing the 1830 home of a Manchester museum bang up to date for the future while Hawkins\Brown is busy putting the 'I' in 'innovate' with its Oculus atrium for Cardiff's University's latest tech hub. Jestico+ Whiles is bringing new order to a former military base in Oxfordshire. Hampshire County Council Architects however, stays in control of its schools, Bond Bryan responds to its local context with a mixed-use residential development in Sheffield and AHR produces a bellweather office for the UK's centre of maritime data in Taunton.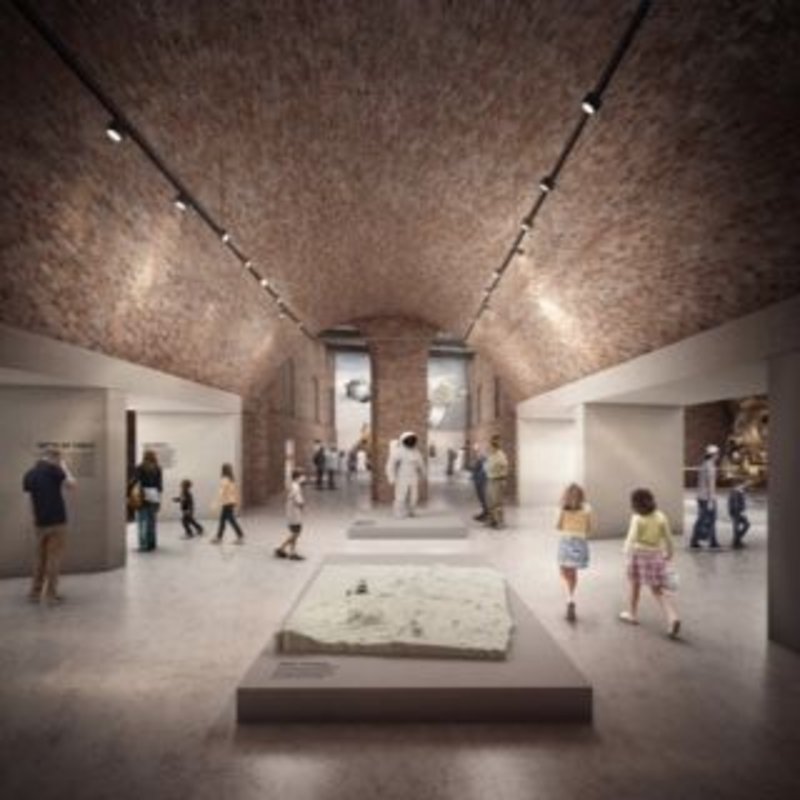 SPECIAL EXHIBITIONS GALLERY, MANCHESTER
Client: Museum of Science and Industry
Architect: Carmody Groarke
Area: 700m2
Planning authority: Manchester City Council
Planning ref: 113752/FO/2016
Occupying the basement of Manchester's grade I listed Museum of Science and Industry, the £6.2m Special Exhibitions Gallery, by architect Carmody Groarke, has won planning permission and listed building consent. The new space will also be partially set beneath the arches of the adjacent 1830 viaduct, providing world-class spaces for future science exhibitions and opportunities for creative engagement for new and existing audiences.
Funded by the DCMS, Wellcome, the Kirby Laing Foundation, Zochonis Charitable Trust and the Friends of the Museum of Science and Industry as well as a £300,000 donation from the Garfield Weston Foundation, the project marks the start of a long-term ambition to transform the museum over the next 15 years.
Museum director Sally MacDonald said: 'The new building will be a significant resource for the cultural offer of Manchester and gives us a facility where we can inspire young people and adults with creative science and STEM subjects.'
---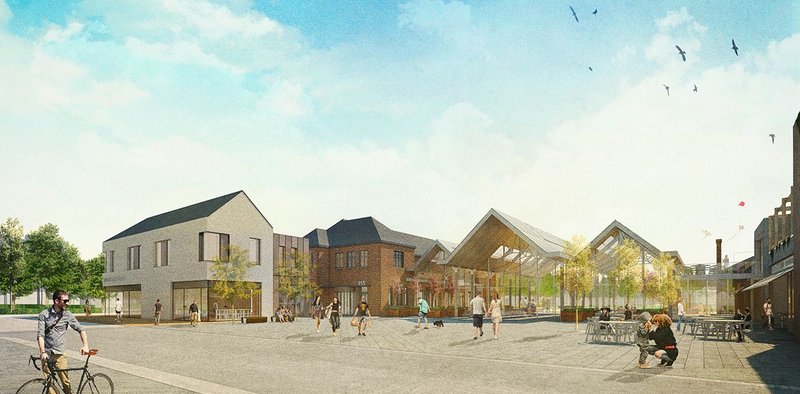 VILLAGE CENTRE, UPPER HEYFORD
Client: Dorchester Living
Architect: Jestico + Whiles
Area: 2,604m2
Planning authority: Cherwell District Council
Planning ref: 16/01000/F (Cherwell Council)
In a world of increased atomisation, how nice to see the concept of a village centre being promulgated. Jestico+Whiles seems to have had its eyes to the skies with its regeneration of the former US air base at Upper Heyford. The design will repurpose two former RAF buildings using contrasting, modern materials to make them more suitable for communal use. The architect hopes it will 'provide flexible open spaces with an abundance of natural light as well as period features from the original buildings.'
The architect, which previously worked on the historic Spitalfields and Borough Markets, plans to provide a range of 'aspirational' services including a family friendly American style brasserie, boutique hotel, delicatessen and market hall, terraces, external seating, co-working spaces, and landscaped and play areas.
Jestico+Whiles head of hospitality, James Dilley, said the scheme was firmly about place-making and referencing the 'layers of history on this site, not least the refurbishments of the heritage buildings of the former USAF base'.
---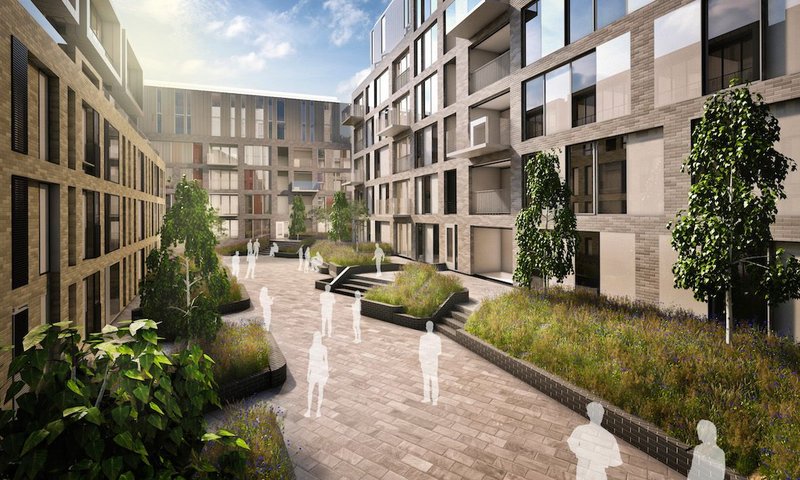 MIXED-USE DEVELOPMENT ECCLESALL ROAD, SHEFFIELD
Client: Hallminster
Architect: Bond Bryan Architects
Area: 0.6ha
Planning authority: Sheffield City Council
Planning ref: 16/03159/FUL
Bond Bryan has definitely 'got a new motor' with its £35 million mixed-used residential, student accommodation and retail development on the site of a former Sheffield car dealership.
Designed in two parts, an 11-storey student building and a cluster of three residential blocks; these rise above a ground floor of retail spaces, unified around a shared first floor landscaped courtyard. The ground floor units will be let to restaurants and bars and higher-end shopping to complement the existing offer on Ecclesall Road.
Dark grey bricks, with deep reveals and large-format windows characterise the student block. The adjacent block is smaller but has softer features and finer detail – curved and splayed corners, top-floor setbacks, warmer coloured bricks – giving, says the architect, 'a more feminine character. The Pomona Street block is the shortest but most exuberant, with warm brick colours, rhythmic window patterns and an articulated zinc clad top to bestow a more 'youthful' character.
Modern methods of construction and be of low embodied energy are intended for the development.
---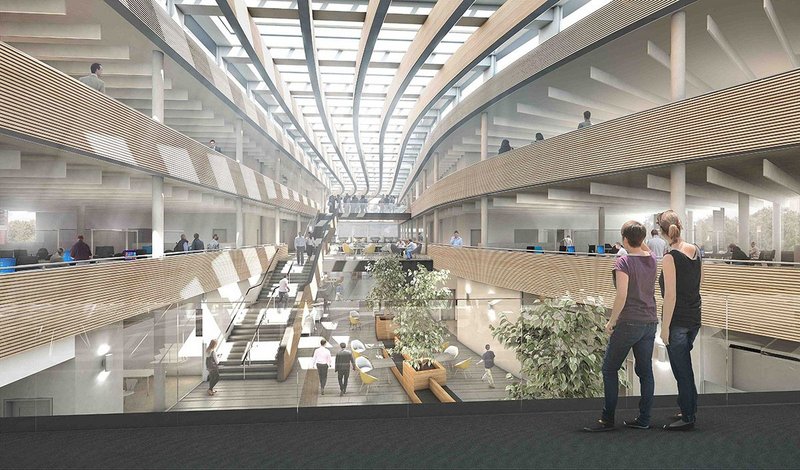 UK HYDROGRAPHIC OFFICES, TAUNTON
Client: UKHO
Architect: AHR
Area: 11,000m2
Planning authority: Taunton Deane Borough Council
Planning ref: 38/16/0323
This sizeable new bespoke facility in Taunton, for the UK's provider of hydrographic and geospatial data to mariners and maritime organisations across the world, will replace inefficient buildings, providing up-to-date technology infrastructure for the organisation as well as encouraging a 'one team' approach. The three-storey office building is designed to provide 700 open plan desks, with flexible floor plates and extensive meeting, breakout and collaboration spaces.
Two wings flank a central atrium, with open balconies and bridges, stepping diagonally across the section, connecting the two sides. These are accessed via a central feature stair. At 4m wide, the bridges do more than connect; they double up as meeting and breakout spaces.
The glazed atrium roof will create a naturally ventilated central space and will be hung with sinuous oak clad baffles, acting acoustically, providing environmental shading and reinforcing the sense of linear movement through the atrium. This is enhanced externally with linear brickwork and timber cladding covering the building's concrete frame.
---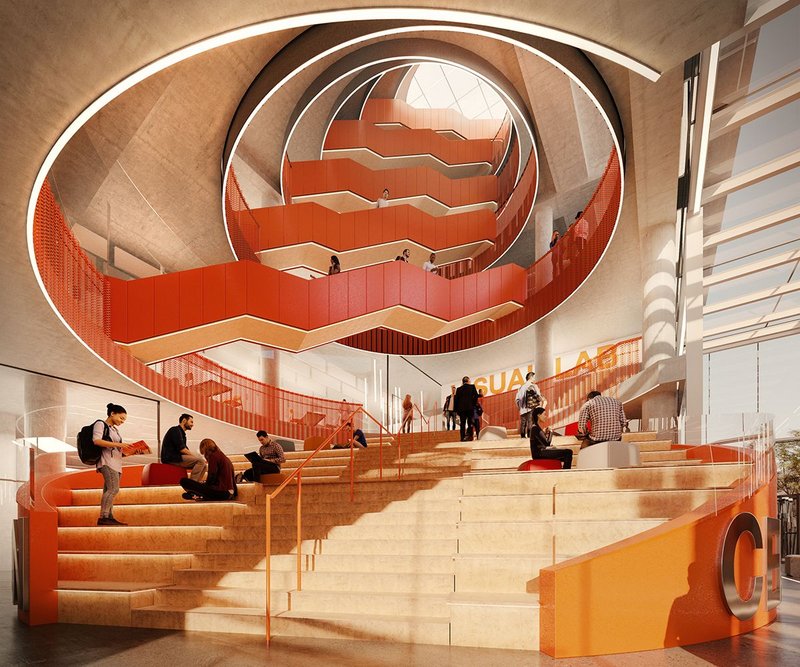 CARDIFF INNOVATION CAMPUS
Client: Cardiff University
Architect: Hawkins\Brown
Area: 12,000m2
Planning authority: Cardiff City Council
Planning ref: 16/01625/MJR
It looks like the cash is flowing west of Offa's Dyke with the latest phase of Cardiff University's £300 million Innovation campus, designed by Hawkins\Brown, gaining permission. The £135m project on the city's brownfield Maindy Park 'is the latest phase in Cardiff's mission to embed innovation in university life,' following its Haydn Ellis building, opened in 2013 and Brain Research Imaging centre, opened this summer.
There's something of Mecanoo's Birmingham Library to these interactive working spaces organised around a central 'Oculus' that connects the facility's seven storeys – a space that aims to develop 'new models for space use and the integration of industrial partnerships and collaboration in an HE context.' This includes a TED-ex style event space and fabrication lab to trial new technologies as well as a restaurant with alfresco dining and the connective staircase up to the collaborative research spaces.
Cardiff University hopes to start work on site early in 2017.
---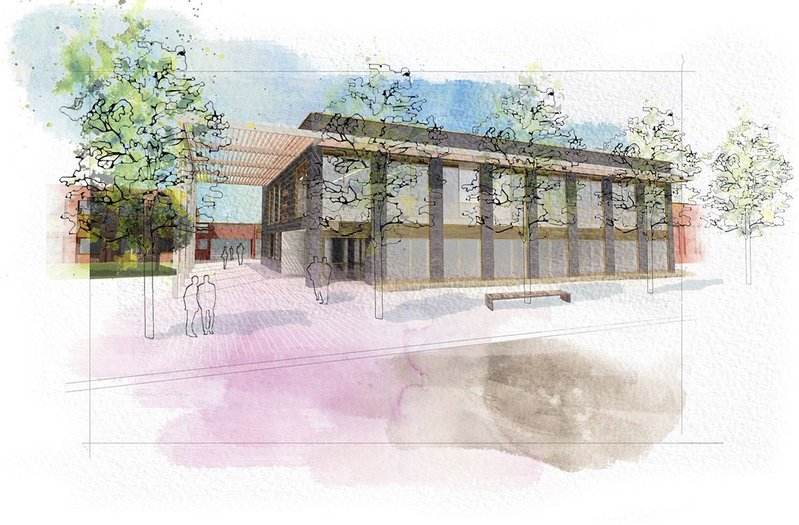 ROBERT MAY'S SCHOOL, ODIHAM, HAMPSHIRE
Client: HCC Children's Services
Architect: Hampshire County Council Architects
Planning authority: Hampshire County Council
Planning ref: PLAN/RS/HRE006
Robert May's School, founded in 1674 and moved to its present location in Odiham in 1975, is a mixed 11-16 secondary school with 1200 pupils. But with the need identified for a further 150 pupils to be accommodated from its catchment area, some reconfiguration of the existing space and expansion of the facilities was in order.
The result is a new-build two-storey block comprising a relocated main entrance and reception area, library, additional classrooms, workshops, offices and conference room. With space freed up in the existing school, refurbishment will see a new 'super lab' created along with expanded dining facilities. All new spaces are expected to be flexible and adaptable to allow for future change of use.
Landscaping works will include the creation of a new library courtyard intended to act as an external, flexible school space, providing enclosed space around it suitable for quiet study and reading.
---