Burgeoning east London sees a lot of activity this week, with housing as usual taking the lion's share of the country's planning permissions
With the number of planning permissions being secured in east London you'd think that 'Boris Island' was going ahead rather than Heathrow's third runway: there's four in this latest round up – two of them symptomatic of the pressure on London's housing market to deliver. Assael's Build to Rent scheme on Ferry Lane makes moves to choose its eventual users with a 'spatial democracy' producing bedrooms that are all the same size; while Pocket Living in Walthamstow, successfully branded 'compact and bijou', responds to the fact that space really is at a premium – both literally and economically.
Outside the capital meanwhile, more relaxed approaches are being employed. PTE Architects is looking at customisable homes to bring variety to a regenerating estate, while HKR seems to have created a Garden of Eden on the roof of its Anvil office proposal in Bristol. Ah, the Great Outdoors!
---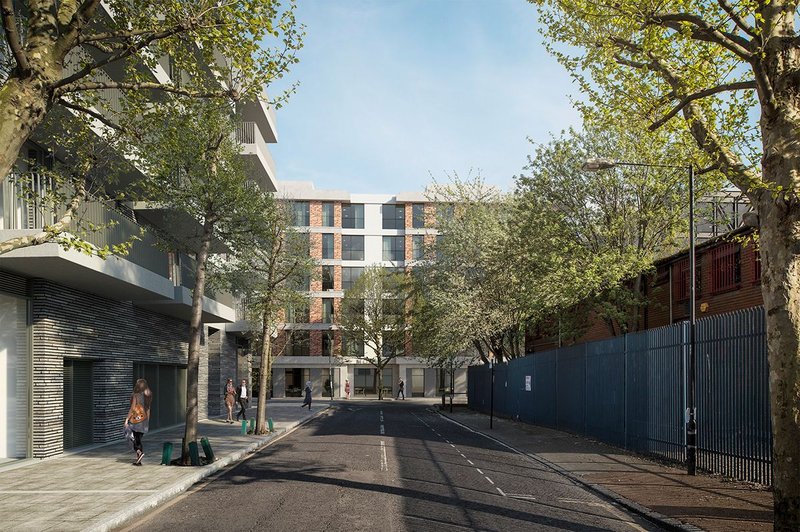 MIXED-USED DEVELOPMENT, HACKNEY WICK, LONDON
Client: Aitch Group
Architect: BuckleyGrayYeoman
Area: 15,770m2
Planning authority: London Legacy Development Corporation
Planning ref: 16/00462/FUL
The architect has gained permission to replace some light industrial units with a far denser mixed use development comprising 110 new homes and 6300 m2 of commercial and light industrial space. Four main buildings will be arranged around a central courtyard with an anchor café providing a social hub to the development. Of the homes, eight will be intermediate tenure and 14 offered for social rent; it is intended that the commercial space provide opportunities for small and medium sized enterprises in Hackney Wick.
Commercial uses will all be at ground level of three brick buildings, with up to five floors of housing stacked above it. At the prominent corner of the development facing the crossroads will be a steel and glass commercial building 'making the most of the site's location at a major south western entrance to Hackney Wick'.
Aspirations for the site would seem to be high. Practice director Matt Yeoman said the development will be 'providing space for the range of uses that make this multi-faceted neighbourhood a place where culture is produced as well as consumed'.
---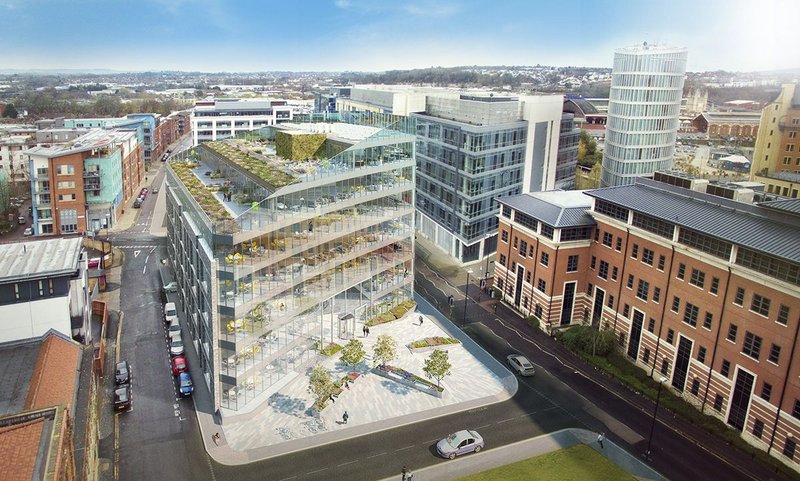 COMMERCIAL OFFICE DEVELOPMENT, BRISTOL
Client: Linkcity and formerly B Y Developments
Architect: HKR Architects
Area: 9,800m2
Planning authority: Bristol City Council
Planning ref: 16/01122/P
To say The Anvil office development in Bristol is a stone's throw from Temple Meads station might be a mixed metaphor too far, but located on Avon St, part of the area's 'Temple Quarter Enterprise Zone', that's exactly what it is.
The seven storey speculative Grade A office building has been designed with light, open floor plates offering maximum flexibility with smart technologies built into its BMS system – and it claims to place 'staff wellbeing at the heart of its design.' To that end it has a number of community and sustainability features including an imposing entrance set in a landscaped pocket park, while at upper levels landscaped roof terraces offer panoramic views of the city skyline. Sustainable features include 'reductions in CO2 emissions, low internal noise levels and onsite renewable energy generation'.
---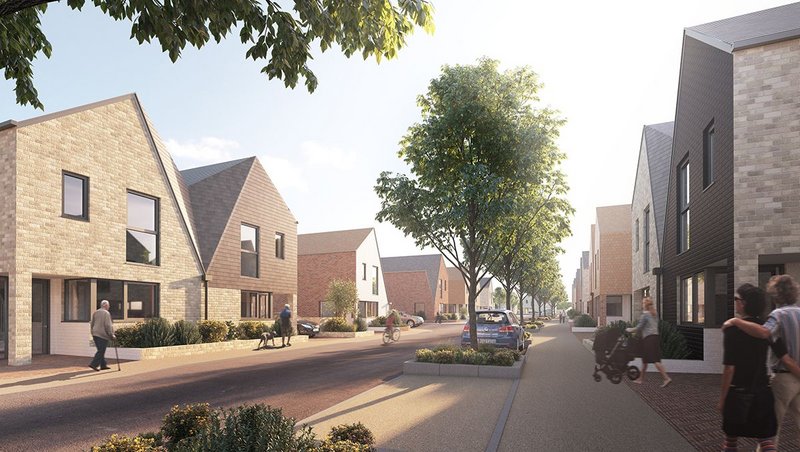 CUSTOM-BUILD HOMES, BASILDON, ESSEX
Client: Swan Housing Association/ NU Living
Architect: Pollard Thomas Edwards
Area: 6.90ha
Planning authority: Basildon Borough Council
Planning ref: 16/00898/OUT
PTE Architects has designed 251 innovative homes at Beechwood West, Swan Housing Association's regeneration of Basildon's 1960s Craylands Estate. Claiming to respond to the government's custom-build and self-build initiatives, each home will be uniquely customisable to create a distinct new neighbourhood to cross-subsidise the wider regeneration of the area. The new homes will be of elemental construction, pre-fabricated close to the site, and thus provide 'a high quality finish, extensive environmental benefits and savings on construction'.
With five starter home types to choose from, residents will select their plot and then use special software to create the home. According to the level of specification, they can then choose from a palette of external finishes for walls, roofs and windows – they can even add bays, conservatories or roof extensions. Basildon Borough Council, which is development partner on the project, has a series of reserved matters applications for the phases and as part of the outline application the design code fixes the materials palette.
This development is part of the 560-home permission for the development, which when it completes, will have delivered 970 new mixed-tenure homes to the area.
---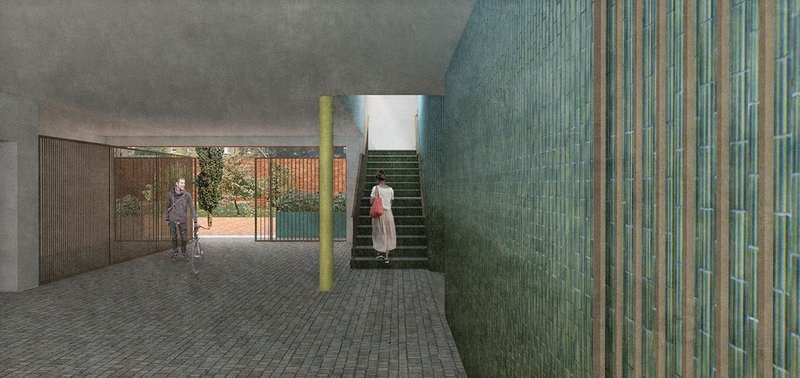 POCKET APARTMENTS, WALTHAMSTOW, LONDON
Client: Pocket Living
Architect: Gort Scott
Area: 2,910 m2. External area: 471m2
Planning authority: London Borough of Waltham Forest
Planning ref: 161661
Pocket Living has secured planning permission for a development of 45 apartments in the now fashionable Walthamstow area in London. It was only a matter of time before the property market moved where the artists had, and Pocket's intervention here, designed by Gort Scott, exemplifies just how desirable it has become with local values rising exponentially – creating a demand for more affordable 'bijou' housing products – here on the site of a former office building.
Taking inspiration from the William Morris School that used to sit there, the architect has used fletton-type bricks and precast concrete. Upper floors have Juliet balconies and double height windows. Shared entrances have emerald-tiled walkways and filigree metal gates that lead into an external landscaped courtyard. The architect says the principles of the local Warner Estate housing have been appropriated here with shared entrances, courtyards and common spaces, encouraging social interaction. The project is due to start onsite in November.
---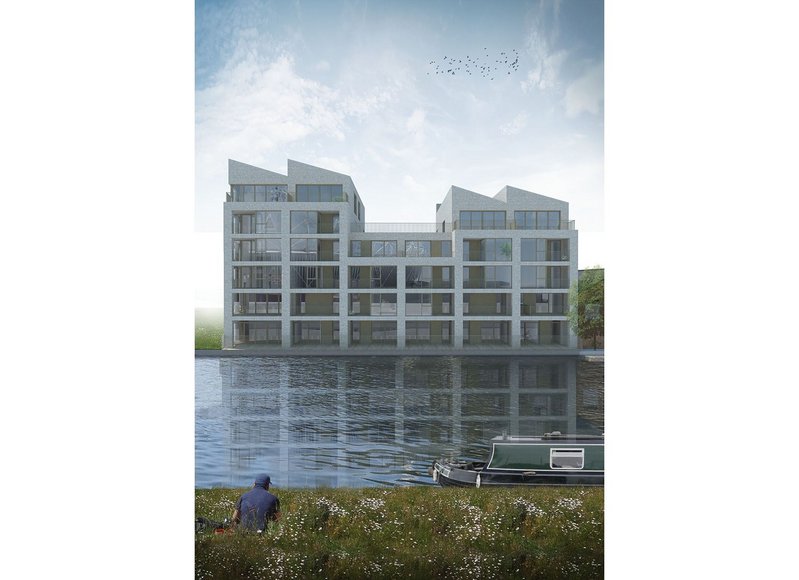 MIXED-USE HOUSING, VITTORIA WHARF, FISH ISLAND, LONDON
Client: Britzel Ltd
Architect: Kruszelnicki Leetch Architects
Area: 4,187m2
Planning authority: London Legacy Development Corporation
Planning ref: 13/00280/FUM
It's another Hackney Wick development in east London – this time at Fish Island – where has designed high-end residential, affordable housing and artists' studio spaces and café on the site of a former timber timber yard. The whole thing is constructed around an existing gatehouse and central working yard.
The architect state that the design seeks to respect the historic industrial buildings of the area by evoking their material and proportional characteristics in a contemporary warehouse form. This is reflected in the robust choice of brick, timber and concrete and generous internal floor to ceiling heights. The building is topped off with industrial style saw-tooth roofs that perpetuate ideas of the area's industrial past. A bridge link in the south east corner will connect Fish Island to the Queen Elizabeth Park.
The architect adds that the planning contribution was originally for affordable artists' studios but that the local authority had a change of heart and instead requested affordable housing.
---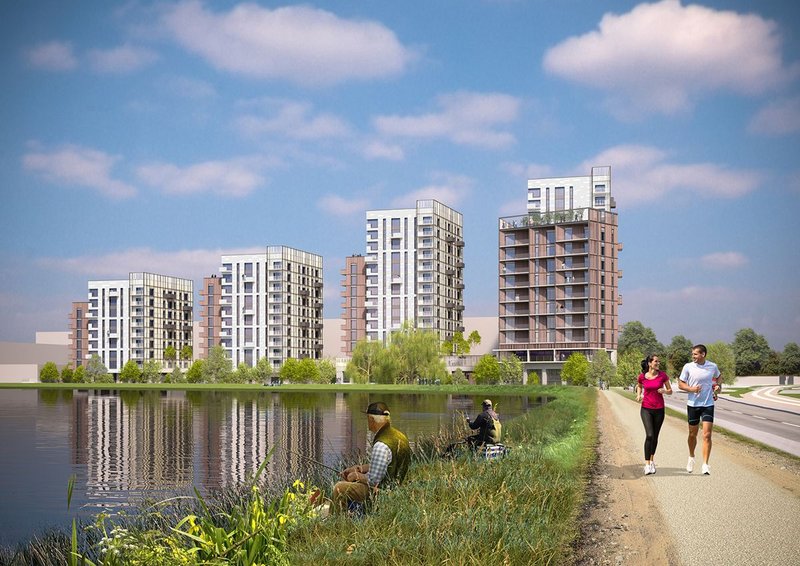 BUILD TO RENT HOUSING, FERRY LANE, WALTHAMSTOW
Client: Legal & General
Architect: Assael Architecture
Area: 36,690m2
Planning authority: London Borough of Waltham Forest
Planning ref: 161705
A Build to Rent scheme in Walthamstow at Ferry Lane, facing the borough's High Maynard Reservoir, has been given permission, delivering 440 homes new homes to the area and providing a planning first for the borough as regards the typology. The one, two and three-bed apartments will cater specifically for this specific market, with design features that make them distinct from traditional 'for sale' units. In particular, this means same-sized bedrooms and shared common spaces such as a high-quality gym and a business hub for those working from home.
There will also be 2,000m2 of flexible commercial space, suitable for shops, offices and other business uses, and a dedicated food outlet. Here will be landscaped external spaces with walkways, green spaces and podiums, an integrated external car park and parking for 650 bicycles.
Assael's Russell Pedley said the design was about 'the opportunity to adopt a new lifestyle where the whole development is your home and you're part of a community that thrives on its communal space and amenities'.
---