All sorts of homes, with some leisure thrown in too
It's a case of new homes for old in London, where Camden council stock lost to HS2 needs to be replaced. Meanwhile, in Exeter, it's new homes for old folks, with some low energy, highly serviced apartments to help the elderly stay independent. London's Tin Pan Alley is reinterpreted with a music venue for new bands to take us to the bridge while Moxon Architects uses an industrial aesthetic to bridge over to a natural urban park. AR Studio meantime, in a surfeit of green belt land, is to build a luxurious pavilion home within a former paddock.
SOMERS TOWN BRIDGE, LONDON
Total area: 38m2
Client: King's Cross Central Limited Partnership
Architect: Moxon Architects
Planning authority: London Borough of Camden
Planning ref: 2016/0288/P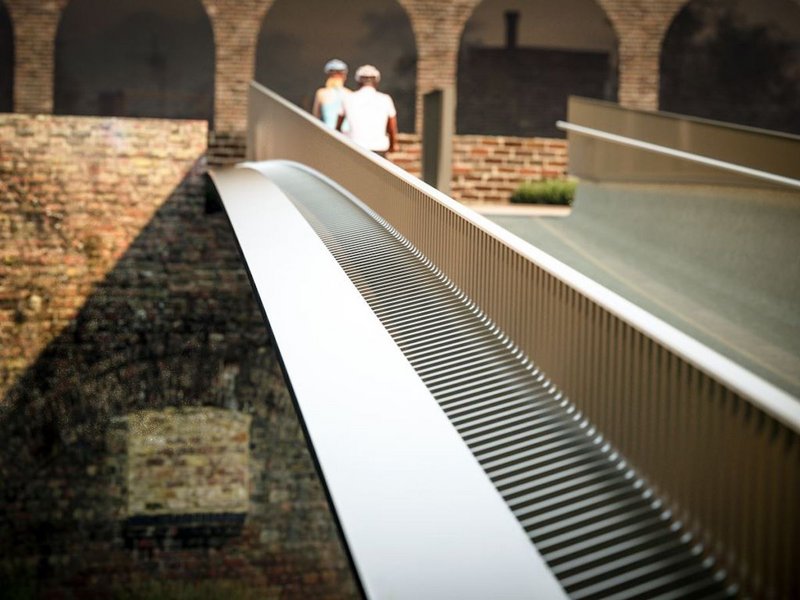 Zipping over the Regent's Canal and joining Argent's King's Cross development with Camley St natural park and St Pancras Churchyard – which boasts Sir John Soane's tomb and Thomas Hardy's architectural efforts with gravestones – this new bridge by Moxon Architects has just received permission. Springing from Argent's new Gasholder Gardens, the structure will be an important westward link for pedestrians and cyclists to the ill-connected Somerstown area of Camden.
At its slimmest point, the steel structure is only 15mm thick but ingenious engineering by Arup means that the entire 38m crossing is spanned without any intermediate support. In keeping with the examples of great Victorian railway design that abound here, Moxon's minimalist design is robust and unadorned, using careful material selection and with detailed craftsmanship.
The bridge is the latest addition to a development that has transformed this former industrial railway hinterland. Still to come is Thomas Heatherwick's Coal Drop Yard shopping mall beyond the bridge's eastern spring point, which received planning permission in December last year.
TIN PAN ALLEY, CENTRAL LONDON
Total area: 19,510m2
Client: Consolidated Developments
Architect: Orms
Planning authority: London Borough of Camden
Planning ref: 2015/6939/P & 2015/6937/L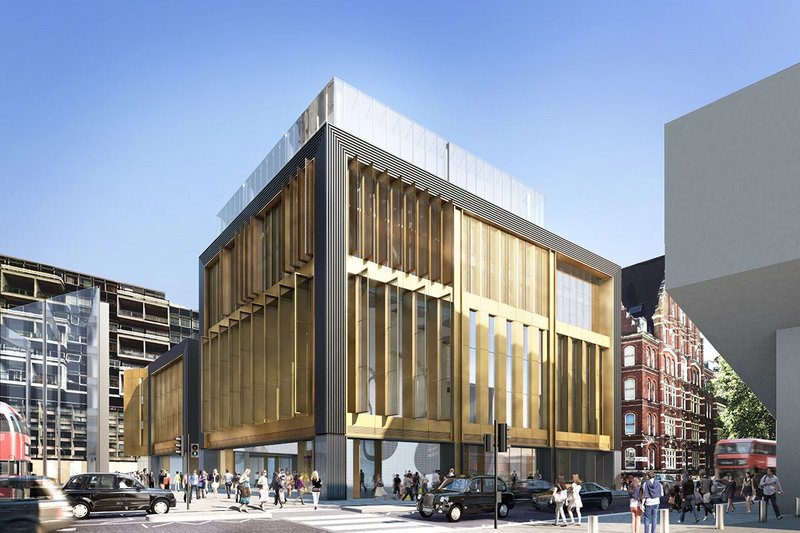 The Tin Pan Alley area of Denmark St and Denmark Place, famous as the capital's prime music destination, has been undergoing a radical track reshuffle, along with the ongoing regeneration works associated with making Tottenham Court Station one of Crossrail's prime interchanges. In addition to the 800 capacity music venue set to replace the former Astoria, permission has been granted to Orms, in consultation with Historic England, the GLA and the Music Venues Trust, for a 280 capacity 'grass roots' music venue within the conservation area. This will involve the moving of the former smithy at 22 Denmark Place and reinstating it in exactly the same location once a new basement structure has been formed beneath it. This will maintain its courtyard relationship to the 17th century house at 26 Denmark St – although the whole yard will now be enclosed under a glass roof as part of the circulation to the new basement venue.
The development is expected to complete by the end of 2018.
REGENT'S PARK ESTATE
Total area: 15.2ha
Client: London Borough of Camden
Architect: Tibbalds Planning and Urban Design
Planning authority: London Borough of Camden
Planning ref: 2015/3076/P
Here's a case of new homes for old – all precipitated by the imminence of the HS2 project, which is going to involve the re-modelling of whole swathes of Camden north of the proposed terminus at Euston. The Regent's Park Estate, between the station and backing up to the eastern edge of Nash's famous terraces, covers an area of 15ha and comprises 2200 homes spread over 49 blocks. Though predominantly 20th century, the squares and public spaces between them retain a sense of Nash's original 1810 scheme for the area.
Tibbalds, which has developed the overall design framework for the estate, is working with Mae Architects and Matthew Lloyd Architects, who are both bringing a contemporary twist to their interventions on the wider estate. This development is for 116 new homes for families directly displaced by the HS2 proposal; housing which will be spread across eight sites on the estate alongside numerous public realm improvements, including a replacement public house on Albany St.
PARAGRAPH 55 HOUSE, RAVENSTONE, BUCKINGHAMSHIRE
Total area: 165m2
Client: Private
Architect: AR Design Studio
Planning authority: Milton Keynes Council
Planning ref: 15/02777/FUL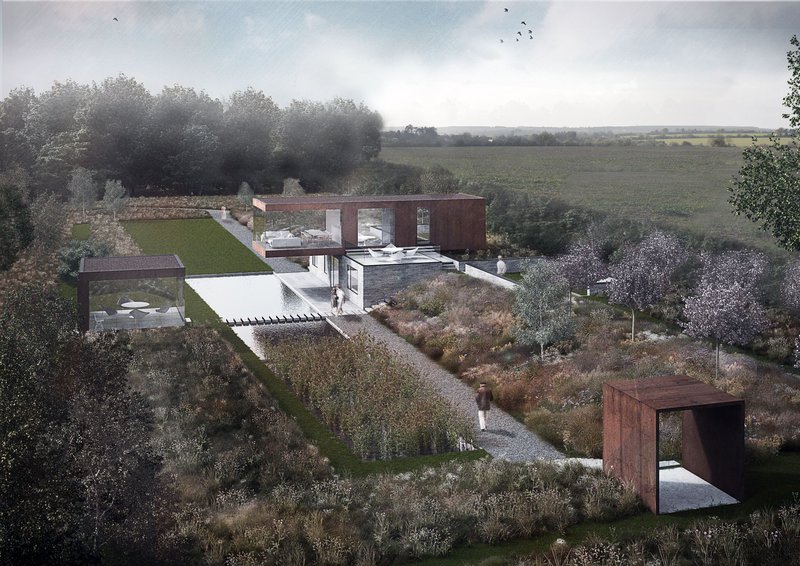 'Paragraph 55 specialist' AR Design Studio has secured planning permission for a contemporary three-bedroom home set within its own sprawling landscape in the Buckinghamshire green belt. The design is a collaborative work between the architect, engineer Eckersley O'Callaghan (known for its work with Apple) and Ibbotson Studios landscape architect, and turns an overgrown paddock site into a striking lakeside home for a couple.
The simple rectilinear form has apparently been inspired by local agricultural vernacular, with an open plan living space that cantilevers 5.5m above the water and gardens below. The design uses the stiffness of the engineered structural glass windows to brace the cantilever to create a pared-down aesthetic while giving uninterrupted views over the countryside.
This Buckinghamshire home is the latest success for director Andy Ramus' 16-strong Winchester based studio – it has three other Paragraph 55 homes in the pipeline.
ST LOYE'S EXTRA CARE SCHEME, EXETER
Total area: 4400m2 GIA
Client: Exeter City Council
Architect: Architype
Planning authority: Exeter City Council
Planning ref: 16/0063/16
With an ageing society in the UK, Exeter City Council has projected that there will be an additional 7000 older people living in the city by 2030 and a third of those will be over 85 years old – so a little future planning might not go amiss. Architype has been working with its council client on its £9.8 million St Loye's Extra Care Housing – the first extra care scheme for the city. Proposed to be a 'home for life', this five-storey development of one and two bedroom apartments will offer varying levels of staff support for residents that need it.
Apart from the apartments, St Loye's includes lounges, dining rooms with roof terraces, hobby spaces, a salon and spa treatment rooms and landscaped gardens. A dementia-friendly scheme, it allows for independence while still being connected back to the wider community. The housing will be built to Passivhaus standards to reduce energy use and make it more affordable to tenants.