Windmills, scout huts and prisons liven up the latest planning approvals
Perhaps it's all that clement weather recently but the emphasis seems to be on the south west of the country, with the lions' share of permissions this time. The smallest and most decadent, it turns out, will have to be the most robust, sitting on a cliff on Devon's Burgh Island, but Millar Howard Workshop's Scout hut in Stroud will also need to be prepared to be scuffed and bruised by its boisterous young users. A different kind of institution altogether gets residential makeovers in Dorchester and Shepton Mallet. Meanwhile, back in the capital, London's only working windmill gets a new space for community bake offs; while those with enough dough will be soon be able to rise purposefully above the Greenwich Meridian near the Thames' banks.
---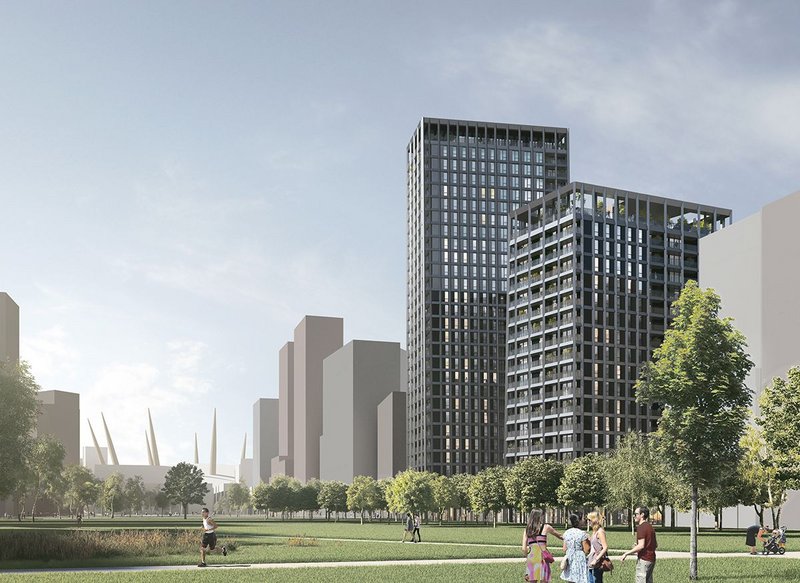 GREENWICH PENINSULA TOWERS, LONDON
Client: Knight Dragon Developments
Architect: Alison Brooks Architects
Total area: 26,505m2 GIA
Planning authority: Royal Borough of Greenwich
Planning ref: 16/1787/R
The Greenwich Meridian might run through at 90° but the lines on Alison Brooks Architects' 400-unit residential development for Knight Dragon are definitely more acute, one elevation on each of her four blocks tapering away noticeably as they ascend. The two towers, at 17 and 28 storeys on the south west of the site, face directly onto its 'Central Park', a proposed community green space, designed, the PR states, in the 'great tradition of London garden squares'.
The metal lattice expression of the towers and tapering forms are inspired by 'the industrial heritage of the local area, the gas holders and cast iron clad chimneys of Greenwich Power station.' Blocks radiate in plan around a central landscaped area and are connected by a colonnaded plinth.
Lower blocks are to the north east of the site; all will have 360° views, roof gardens and co-working spaces as well as a variety of flat type and tenures. The development is part of Greenwich Peninsula, which consists of seven new neighbourhoods, masterplanned by Allies and Morrison.
---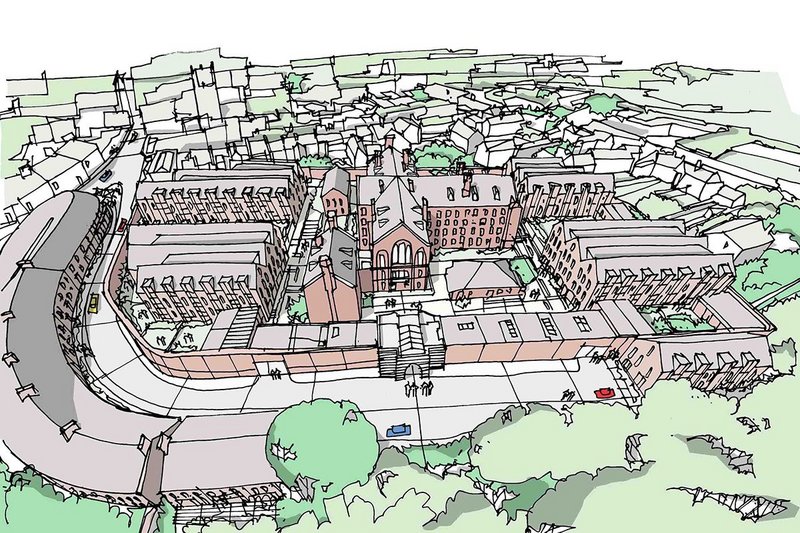 DORCHESTER AND SHEPTON MALLET PRISON REDEVELOPMENTS
Client: City & Country
Architect: Purcell
Total area: Dorchester 21.700m2, Shepton Mallet 15,700m2
Planning authority: West Dorset District Council & Mendip District Council
Planning ref: Dorchester WD/D/16/002697, Shepton Mallet 2016/2485/FUL
Doing bird in the hand is worth two in the bush in the south west, where two consents have been gained by architect Purcell to turn grade II and grade II* prisons in Dorchester and Shepton Mallet into homes. Both closed in 2013, the two prisons have had a colourful history. Dorchester is located on the site of the town's former Norman castle, has an 18th century gatehouse and was the site of the county's last public hanging of a woman – which might account for its stated associations with Thomas Hardy (Tess of the d' Urbervilles perhaps?), while Shepton Mallet was the oldest working prison in the UK and home to the infamous Kray twins.
Accommodation is rather better appointed than formerly, with Shepton Mallet's heritage block becoming 96 apartments and Dorchester 60. Both prisons will get heritage space for the public and development of ancillary areas on the site will, in the case of Dorchester, generate a total of 185 homes.
---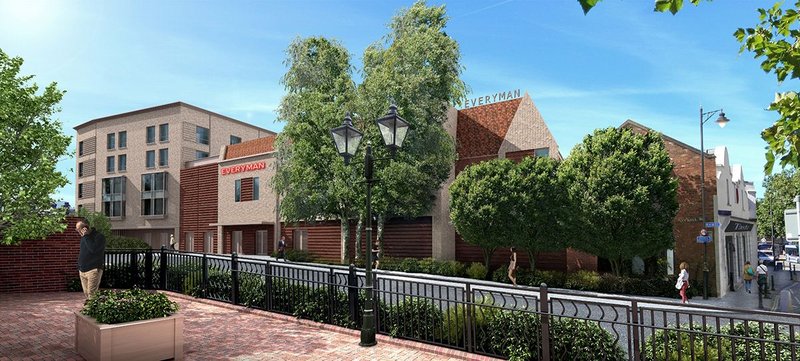 MIXED-USE DEVELOPMENT, HORSHAM, SUSSEX
Client: Reef Estates & Arcus-PCD
Architect: Holder Mathias
Total area: 8,355m2
Planning authority: Horsham District Council
Planning ref: DC/16/2506
In genteel society every man deserves an Everyman, and now Horsham in Sussex can consider itself to have joined the hallowed ranks of the independent cinema chain's inner circle with its proposed mixed-use development adjacent to the Horsham Conservation Area. People will also be able to work, eat and even sleep there – as the proposal includes a 92-bed Premier Inn as part of the offering.
The three-screen cinema chain will act as the anchor for the £35 million development, with new shops and offices extending around the existing Piries Place square, which will have its public realm upgraded as part of the proposal. The architectural expression picks up on the town's Carfax area, with a restrained, contemporary language of two tones of brick, bronze coloured metalwork and terracotta tiles, which aims to blend in with the vernacular of this upmarket Sussex market town.
---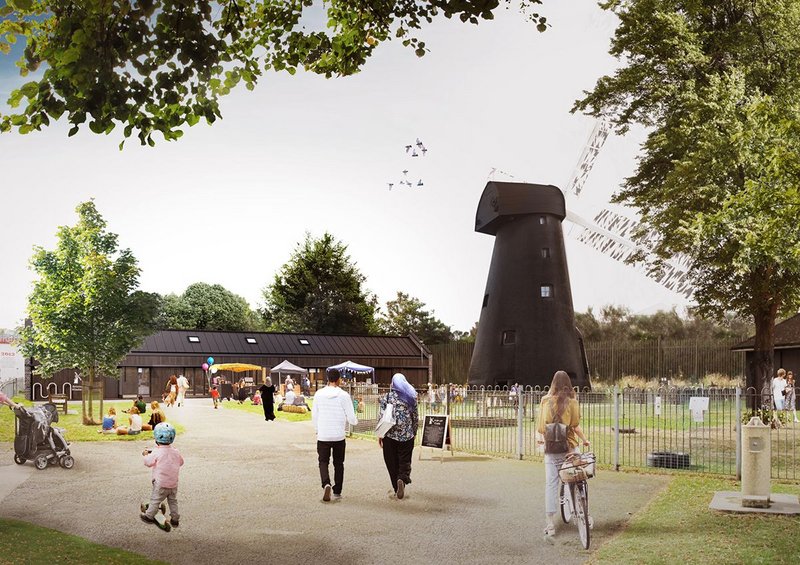 EDUCATION CENTRE, BRIXTON WINDMILL
Client: Lambeth Council & Friends of Windmill Gardens
Architect: Squire and Partners
Total area: 150m2 GIA
Planning authority: London Borough of Lambeth
Planning ref: 16/05991/FUL
Being constructed alongside a restored 1816 grade II* listed windmill, the last one in London, the new community building for the Friends of Windmill Gardens is a flexible space that will serve a variety of users – school groups, adult education initiatives and community groups – and serve as a visitor centre for the Friends. The building will also support the expansion of milling activities and the social enterprise that sells flour produced at the windmill, as well as running baking workshops.
The design aims to respond to the site's agricultural history by creating a contemporary, pitched roof structure using a Douglas fir timber frame, with the exterior clad in dark weatherboard. It is book-ended by two gable walls in black brick to reference the tar-sealed windmill tower.
The interior will be an exposed timber frame with full height sliding doors opening onto a decked external terrace overlooking the park. Starting next month, it's hoped the building will be complete by late summer.
---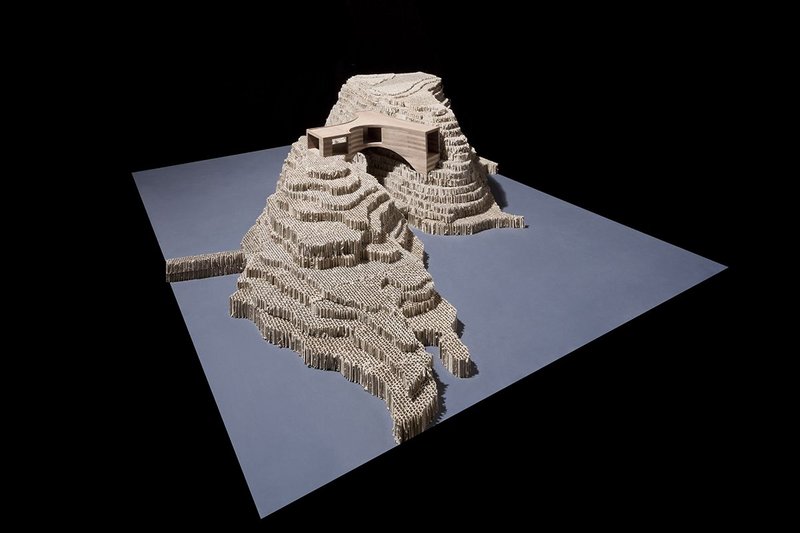 BURGH ISLAND HOTEL, SOUTH DEVON
Client: Burgh Island Hotel
Architect: Carmody Groarke
Total area: 90m2
Planning authority: South Hams District Council
Planning ref: 2879/16/FUL
More literary and even penitentiary references here just off Devon's south coast, with Carmody Groarke's remote new addition for the Art Deco Burgh Island Hotel – notably where Agatha Christie wrote 'Ten Little Indians' and the Poirot mystery 'Evil Under the Sun'. A large tricorn-shaped stone clad form creates a luxurious independent suite spanning from cliff to promontory with a small textured granular concrete arch structure. At 90m2, there's plenty of room to dispatch Colonel Mustard with the lead pipe, although fewer places to hide – the three corners terminate with large glazed openings facing south to open sea, east to the mainland and west back across the isle.
Burgh Island isn't Capri and this isn't the uncompromising yet stunning Casa Malaparte; but with its Yennadon stone walls and grass roof, there's an understated, deferential quality to the design that belies what will doubtless be the indulgent luxury of the interiors. Can't wait for the press trip…
---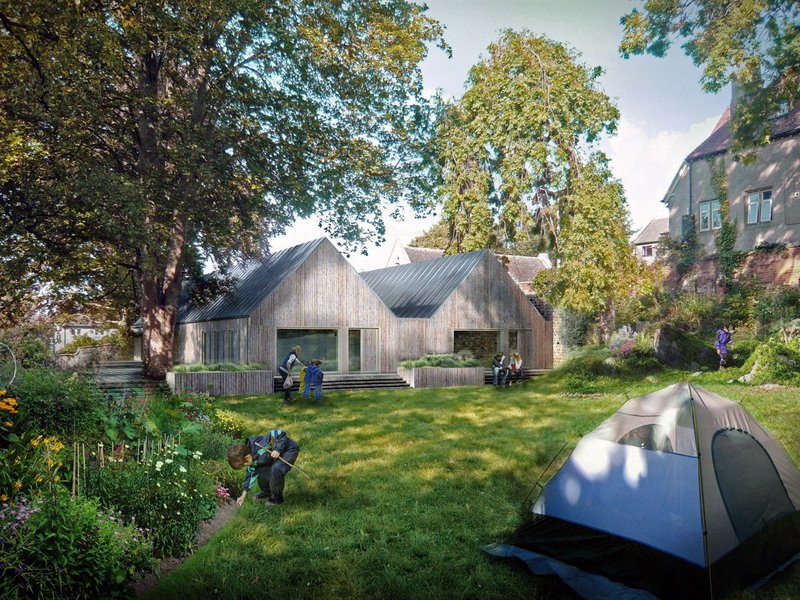 SCOUTING & COMMUNITY CENTRE, STROUD, GLOUCESTER
Client: Stroud Valley Scout Group
Architect: Millar Howard Workshop
Total area: 350m2 GIA
Planning authority: Stroud District Council
Planning ref: S.16/2139/FULPP-05386392
The scouts might vow to do their duty; but luckily for them, architect Millar Howard seems to have kept its end of the deal with its functional and pleasing new scouting centre and community hall in Stroud. With timber decks at grade, two halls will allow different user groups to use the facility simultaneously; and both will have access to the generous and pleasant grounds on its hillside site.
In terms of materials, Millar Howard is considering corrugated tin on the roof 'to reference the scout huts of old', but it's the more contemporary untreated larch cladding that's going to be on the walls over its timber structure. With the design going forward for institution funding, the architect is hoping to use it as an exemplar of pre-fabrication for the Scouts so is looking to offsite construction methods for potential roll-out anywhere; to be, like the Scout motto 'Be prepared'!
---