Lots of dwellings and a bus station feature in this week's range of planning approvals
Regeneration is the name of the game here, with consents given for big masterplans in Cardiff and London's Camden and Waltham Forest. This last one interests me most, given that I know an architect trying to build a small 2-bed home which was eviscerated and refused by Waltham Forest planners, now going to appeal, still sitting in the Secretary of State's in-tray. One has to ask if larger masterplanning proposals can possibly be subject to the same levels of policy scrutiny.
More scaled down interventions appear at London's Folgate St near the City (though this lies in the shadow of British Land's Norton Folgate regeneration plan) and Eagle Wharf Rd off the City Rd basin (regeneration again): where a site owner, there for 40 years, negotiated to keep the business on site while developing flats above. Perhaps a little more stakeholder investment thinking such as this could be applied to maintain a semblance of the 'vibrant communities' architects seem so keen to emphasise in their masterplanning reports – once the demolition dust has settled.
CARDIFF WATERSIDE
Client: Aviva Investors
Architect: Holder Mathias
Total area: 14,864m2
Planning authority: Cardiff City Council
Planning ref: 16/00547/MJR
Architect Holder Mathias is responsible for three new buildings here; two speculative offices and a new 210-bed Premier Inn hotel as part of a £40 million investment for client Aviva sited on the Cardiff Bay urban regeneration area at the crossroads between Bute Place and Pierhead St.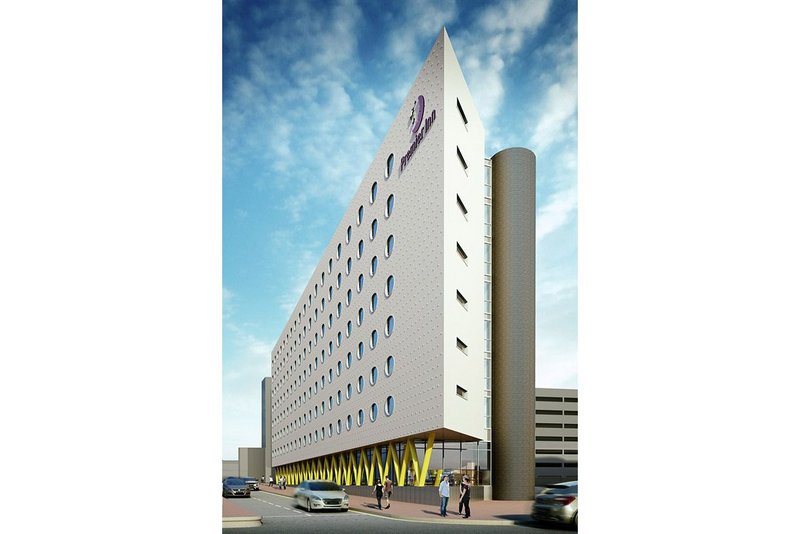 Design-wise the firm is pulling no punches; in fact, its peppering them all over the new hotel facade with its 'punched-hole' window elevational treatment over a ground floor of brightly coloured raked steel circular columns. While distinctive, it's not quite clear how it 'complements the eclectic character of Cardiff Bay' unless it's referencing some of the many portholes that must have passed through it over time. It's intended that this aesthetic treatment will be carried through to the office facade design as well. Quite how the functional distinction between the two will be made will presumably manifest itself in the detail design phases.
WIGAN BUS STATION
Client: Transport for Greater Manchester
Architect: Austin-Smith:Lord
Total area: 1,330m2
Planning authority: Wigan Metropolitan Borough Council
Planning ref: A/16/81978/MAJOR
Having carried out past commissions for Phase 3a of the Manchester Metrolink for GMPTE and Blackburn's 'landmark' railway station, and hot on the heels of its work with TfGM on the £32 million Tameside Interchange at Ashton-under-Lyme, Austin-Smith:Lord has just gained permission for its design for Wigan's new bus station.
The new facility, which is being built on the site of the current one in the centre of the town will provide expanded bus bay provision, improved concourse layouts and new public, staff and administrative facilities. These will include a travel shop and retail units housed below a distinctive roof using a lantern form, with two large rooflights opening out views from the station.
The 50-strong firm is also working with Strathclyde Partnership for Transport on the Glasgow subway modernisation project.
CENTRAL SOMERS TOWN
Client: London Borough of Camden
Architect: dRMM
Total area: 6,251m2
Planning authority: London Borough of Camden
Planning ref: 2015/2704/P
On a site in Somers Town, part of the ongoing regeneration of a whole urban quarter north of London's Euston Rd, the likes of Adam Khan, Duggan Morris and Hayhurst&Co are involved in the masterplan being overseen by architect DSDHA.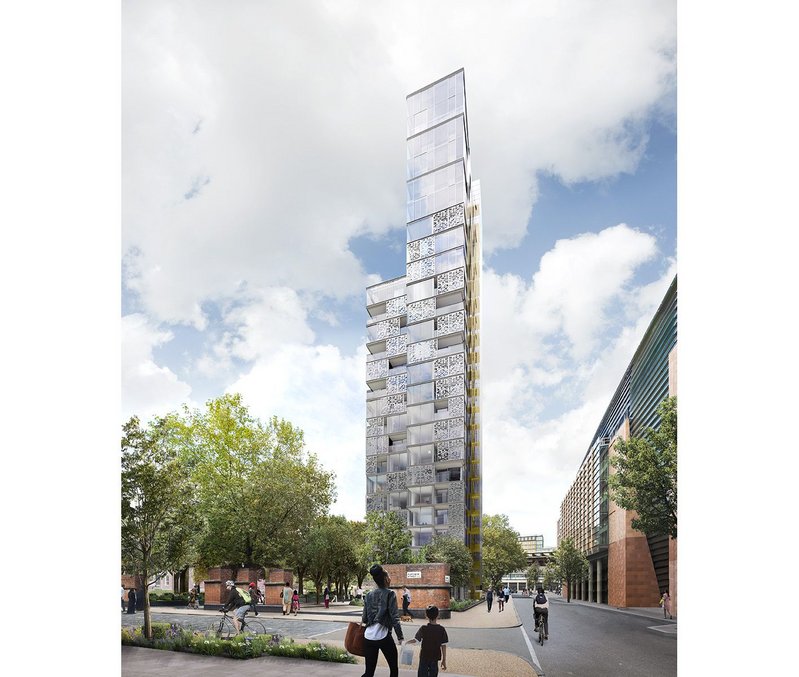 Credit: Cityscape
dRMM's 25-storey Brill Place Tower is part of this larger Community Investment Programme (CIP), which will help deliver a new primary school, community facilities, affordable homes and enhanced public space. The design of paired micro-towers, 'creating a slim profile and minimal footprint', with a double height transparent plinth aims to reduce visual impact onto Brill Place and its landscaped spaces.
The elevations are highly articulated with balconies, projecting window bays and winter gardens, while sliding screens provide solar control, privacy and activation for the facade. It's intended that the tower will act as a landmark announcing the new rejuvenated public open spaces of the area.
FOLGATE COURT, LONDON
Client: DTZi
Architect: Orms
Total area: 5,000m2
Planning authority: London Borough of Tower Hamlets
Planning ref: PA/16/00065
It's all change around Norton Folgate, and architect Orms is getting in on the action with its proposed refurbishment and rear extension of Folgate Court, a 1960s office building on Folgate St. In the spirit of Brexit it's 'au revoir' to international style, with the replacement of the white ashlar panel street facade sitting on a brick pier podium, and 'hello' rustic brickwork, to make the development more in keeping with the Georgian terraces opposite – of which the wonderfully atmospheric Dennis Severs' House forms part.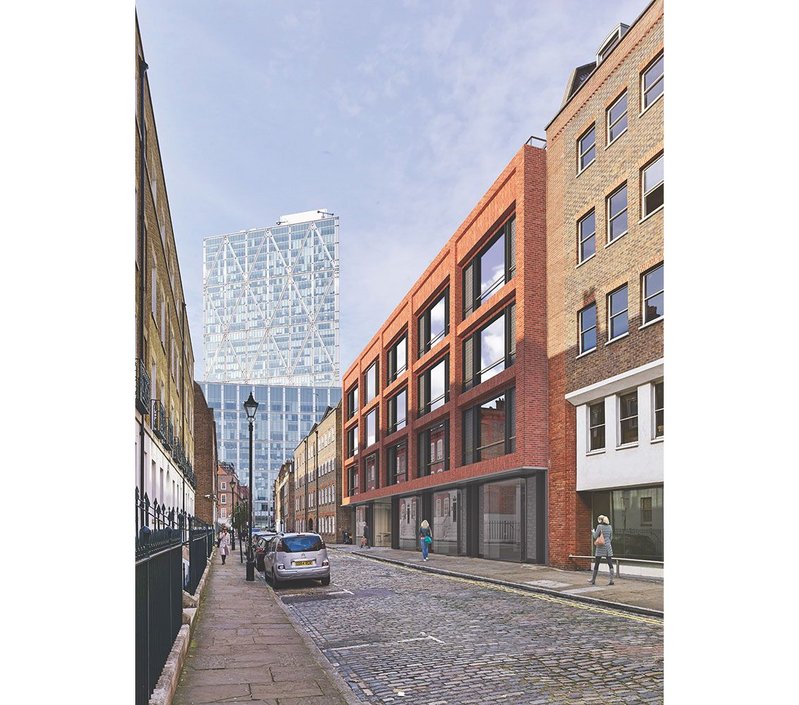 Spandrel panels are done away with to create floor to ceiling glazed openings following structural lines, allowing more light deeper into the building. The brick facade is articulated to create greater depth and includes perforated metal panels; there will be a central courtyard reception area accessed from a bay-width walkway.
Folgate Court is one of several London commercial schemes Orms is working on, including St Giles Circus and the refurbishments of Commonwealth House, Oxford House and Abacus House.
EAGLE WHARF RD, LONDON
Client: 32-34 Eagle Wharf Road Ltd and Aldridge Security
Architect: BuckleyGrayYeoman
Total area: 4,000m2 commercial / 3,200m2 residential
Planning authority: London Borough of Hackney
Planning ref: 2015/2643
Fresh from the critical success of its C-Space building on the City Rd, BGY has secured planning permission for a new commercial and residential development on the site of soon-to-be-demolished warehouse buildings near the City Rd basin. The new five-storey building will create 3,462m2 of workspace on the ground and lower ground, one third allowing the current owner to remain on the site in new premises, with the rest being offered as 'creative workspaces'. On the four floors above will be 36 new apartments, each with a minimum of two bedrooms.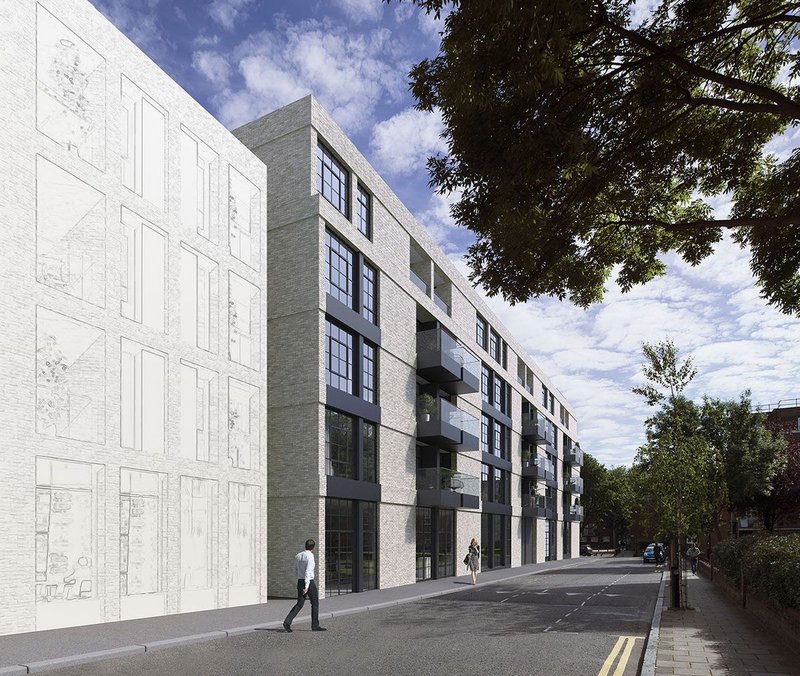 The new building will be clad in light yellow-grey brick with dark grey metal windows and top floor with the intention to give the elevations a robust, monolithic quality that the firm says fits the industrial character of the area. There will be full height glazing on the ground floor to the street and nearly all the homes above will be dual aspect with external balconies. The project is targetting BREEAM Excellent.
LEA BRIDGE RD REGENERATION
Client: Hill
Architect: Pollard Thomas Edwards
Total area: 0.8ha
Planning authority: London Borough of Waltham Forest
Planning ref: 153834
Is this High Rise and is that Tom Hiddleston on the balcony? No, it's an East London regeneration project by Hill, one of the top 20 housebuilders in the country, which appointed PTA for this major development on the Lea Bridge Rd. The £100 million project will create 300 new homes (62 of them affordable) in three towers set around a central landscaped courtyard with 1,950m2 of ground floor commercial space and gym.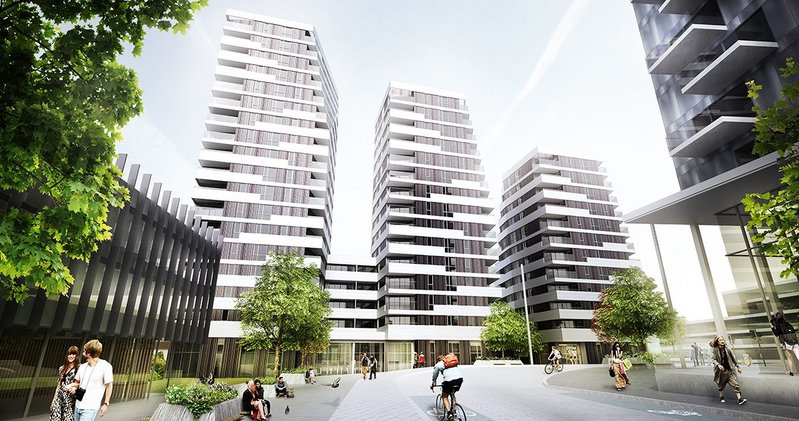 Situated between Stratford, Walthamstow and Lea Valley, the development is adjacent to the newly re-opened Lea Bridge rail station, which closed in 1985. It's also on the route of Transport for London's proposed 'Mini Holland' cycle route, aiming to increase cycle travel through the east London boroughs.
Hill states it has a 'growing pipeline of projects in London' and that this project is a 'milestone' in its drive to be involved in major regeneration projects. This scheme will start this autumn and complete in summer 2019.