Indemnity insurance costs are soaring while exclusions are forcing practices to turn down work on the very projects where their expertise is most valuable
Is obtaining affordable and comprehensive professional indemnity insurance (PII) now the most significant threat to the business of architecture?
For some time, RIBA members have been providing anecdotal reports of rapidly escalating PII costs and of policies being revised to apply an increasing range of exclusions and restrictions. As part of its response, the RIBA ran a survey into PII among its chartered members. The results described below give a broad and evidence-based understanding of the issues, which the RIBA will use to put forward the architects' view. The survey ran from June to early July 2021 with members proving keen to share their experiences and views; there were 1,405 responses to the survey, though not all respondents answered all questions.
Overall, the findings are clear: PII costs are rising for the majority, and exclusions and restrictions are regularly being applied to renewed policies. Because of these exclusions and restrictions, it is becoming difficult for architects to work in certain sectors – often the ones where they are most needed. For many, the issue of PII is not an inconvenience or a regrettable expense. It is a threat to their business.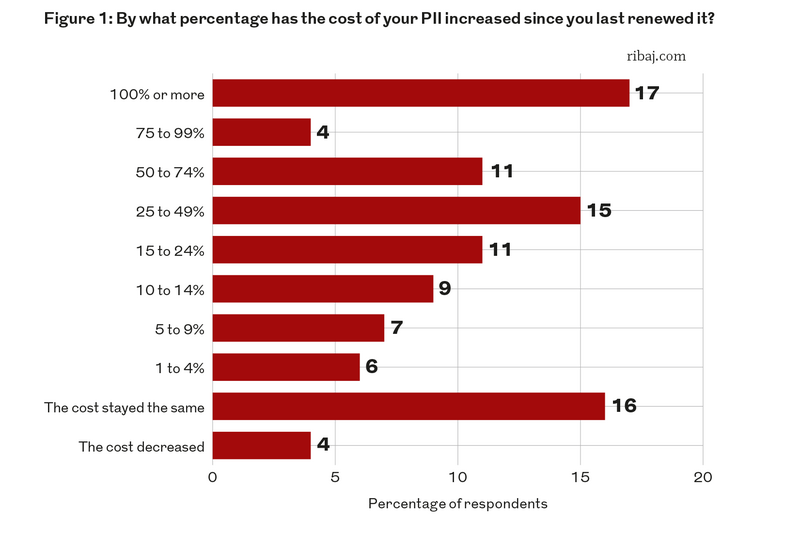 PII premium costs
PII costs are rising. Eighty per cent of respondents reported a rise in premiums at their last renewal. For almost a half, they had increased by 25 per cent or more, and for 32 per cent the increase was at least 50 per cent. At the top end of the scale, 17 per cent said premiums had doubled or more (see figure 1).
Closer analysis of the data, combined with reports from the industry, suggest that slightly fewer smaller practices were facing increases and that those increases were smaller. Responses from those who had renewed a policy more recently suggest that renewal costs may be beginning to level out.
And while costs have been going up, so too has the policy excess for many. While a majority (62 per cent) have seen no excess increase, 39 per cent have, with 16 per cent seeing excess increases of 100 per cent or more.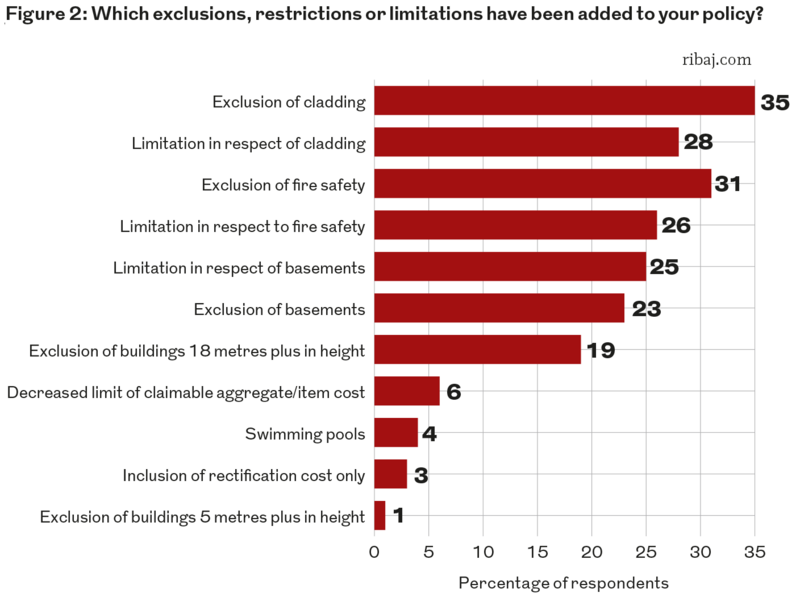 The PII market is proving a barrier to architects' ability to work on the very projects where they are most needed
PII exclusions
The issue is not just cost but obtaining adequate cover. The survey showed 39 per cent of respondents reporting that one or more insurers had declined to provide a quotation that met their requirements. This may not only be from their existing insurer but from other potential PII providers.
Insurers are frequently restricting cover; almost three-quarters (73 per cent) of respondents reported having had one or more exclusion, restriction or limitation added to their policy. The graph overleaf (figure 3)shows three significant areas where restrictions and limitations are being applied: cladding, fire-safety and basements.
Looking at the responses for each answer, 56 per cent report an exclusion or limitation (or both) being added in respect of cladding, and 49 per cent report a restriction or exclusion (or both) being added in respect of fire-safety.
At a time when architects' expertise is increasingly needed to remedy dangerously clad buildings and resolve significant fire-safety concerns, a majority (54 per cent) of respondents reported an exclusion added to their policy at renewal on at least one of fire-safety, cladding and buildings 18m or higher.
Given that these responses cover only added exclusions and restrictions, a lack of cladding, fire and tall-building PII cover may be even more widespread.
These restrictions and limitations are leading practices to completely or partly stop accepting commissions for certain types of projects across the range of building types (housing, offices, retail etc). In the 12 months leading up to the survey, 22 per cent of respondents reported that their practice had completely or partly stopped accepting commissions for certain types of buildings or services because of changes in PII cost and availability.
And it is not just affecting buildings with a heightened fire risk. A significant number of practices have stopped accepting commissions on projects that include, for example, swimming pools or basements.
The overall result is that the current PII market is proving a barrier to architects' ability to work on the very projects where they are most needed, where their unique range of professional skills is irreplaceable.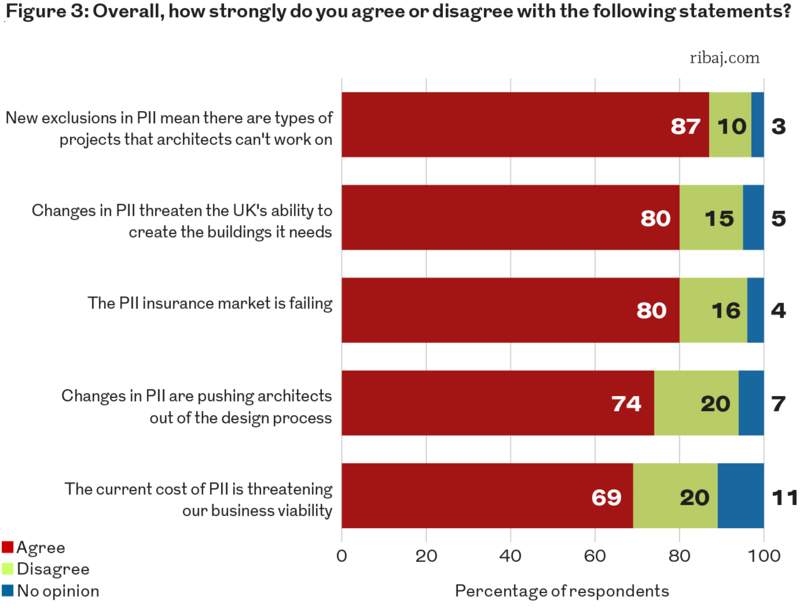 Attitudes to PII
As well as looking at the facts about the specific price and exclusions of renewed PII, the survey explored architects' attitude to the state of the PII market in general, and the direct effect it is having upon them and the wider built environment.
For every question the RIBA asked about architects' views on the PII market, a very clear majority of respondents agreed with a series of statements that described significant issues.
Of those surveyed, 87 per cent agreed that 'new exclusions in PII mean there are types projects that architects can't work on' and 74 per cent that 'changes in PII are pushing architects out of the design process'. This is not just an issue for the profession, but the future of the built environment. With a need to create more decent housing, liveable cities and a sustainable built environment, 80 per cent agree that 'changes in PII threaten the UK's ability to create the buildings it needs'.
PII is also having a direct effect on the business viability of practices just as we begin to emerge from the health and economic onslaught of the pandemic – 69 per cent agree that 'the current cost of PII is threatening our business viability'. Indeed, 80 per cent agree that 'the PII insurance market is failing'.
---
Adrian Malleson is head of economic research and analysis at the RIBA