We are living in a time where technology plays a part in every aspect of our lives. Over the past decade, advances in computer science have completely altered the way we view, create and conduct every day activities. Yet it is only recently that the construction industry has engaged with new pioneering technologies.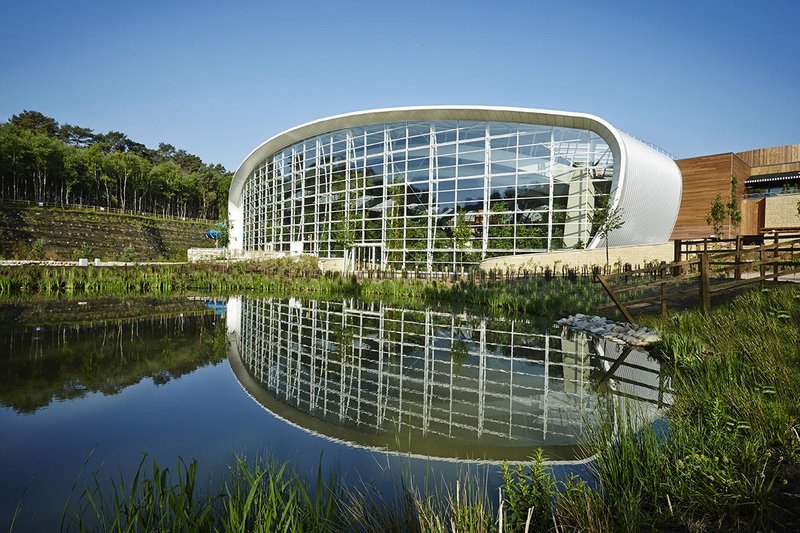 Center Parcs Woburn.
B & K Structures are leading the way in delivering ground-breaking advances in solid wood structural solutions – constantly investing to stay ahead of the game in the latest digital and technical developments. The company recognises that, as with every other industry, today's digital age can help to bring construction to places never before predicted.
Pioneering Partnership
B & K Structures together with leading Austrian based, engineered timber manufacturer Binderholz, formed the X-LAM Alliance in 2011. Now at the forefront of European cross laminated timber research and development, the X-LAM Alliance is an innovative partnership which brings to the UK construction market a seamless and consistent method of supplying certified cross laminated timber solutions. Having carried out fire, seismic, strength and lifting studies, the Alliance offer unrivalled information and technical data for all professions at each stage of the planning, design and construction process and can assist at every stage of the construction journey from pre-tender design through to on-site delivery and everything in between.

Through this innovative partnership, the multi award winning, CLT Construction Specifier was developed. A free, open source, online specifying tool - the CLT Construction Specifier enables construction professionals to make accurate early stage calculations to deliver exacting thermal, fire and acoustic performances, helping to eliminate the gap between design expectations and as-built results, whilst eradicating the costly risk of over-engineering.
The CLT Construction Specifier is free to use and open to all - for more information watch this helpful user guide: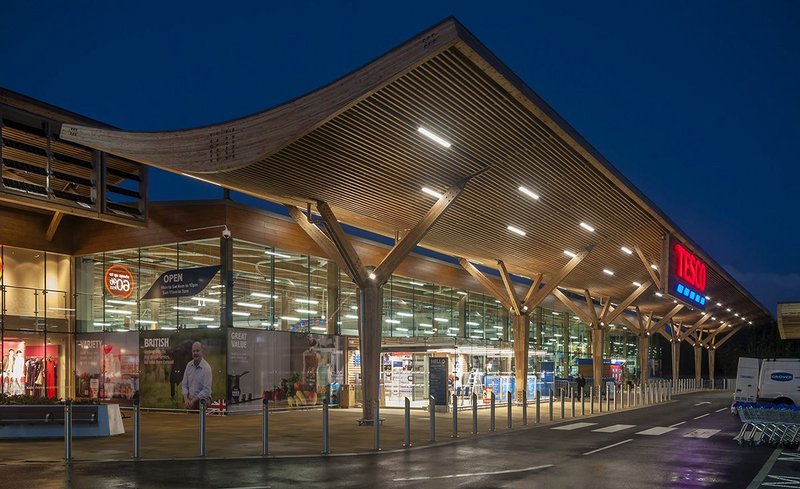 Tesco, The Bishop Centre, Taplow
BIM
B & K Structures are no strangers to the use of BIM – the company now applies this technology to every project. BIM played a critical role during the construction of the BSkyB Believe in Better Building project.

The use of BIM technology and CNC machines ensures enhanced accuracy so that structures are manufactured to exacting tolerances, assuring that the details of the connections are precise - eliminating errors onsite. Traditional workflows are being replaced by working within a common information pool. The use of BIM technology improves the quality of the delivered projects through efficiency of communication within the design and construction process, by providing a single coordinated source of structured information to support all parties involved in the delivery process.
Masters of Material
As a provider of hybrid structural solutions, which are optimised in terms of cost, performance and sustainability, B & K Structures take full advantage of offsite manufacturing techniques by exploiting Design for Manufacturer and Assembly (DfMA) protocols. DfMA is used as the foundation for concurrent engineering processes to simplify and fully optimise the structure wherever possible, to reduce manufacturing and assembly costs and to value engineer. This process helps to identify, calculate and eliminate waste or inefficiency in the building design. Through careful design detailing and value engineering, B & K Structures is able to offer the best possible construction solution, ensuring a smooth integration for follow-on trades and delivering environmentally sustainable projects on time and to budget.
Sustainability –The Most Essential Component
Sustainability is now a prerequisite - an essential component of any project, however environmentally efficient structures do not necessarily have to be delivered at a premium. As clients and principal contractors move towards more sustainable solutions, B & K Structures have seen considerable interest in the companies optimised hybrid designs particularly with such high profile, award winning developments as the BSkyB Believe in Better Building project and the Subtropical Swimming Paradise at Center Parcs, Woburn Forest.
By understanding their client's commercial objectives, together with the aesthetic and sustainable requirements, B & K Structures have developed optimised hybrid solutions to meet both performance and budgetary parameters.
Sustainable Structures - CPD
As the UK's leading frame contractor, with over 50 highly experienced and dedicated experts in structural analysis, building physics, planning and consultancy, B & K Structures, specialise in the design, manufacture and delivery of sustainable structures.
For more information, to arrange a meeting or book a CPD session on cross laminated timber or glulam hybrid construction:
Call: 01773 853 400
Email: sales@bkstructures.co.uk
Visit: www.bkstructures.co.uk
---