From a tiny but sculpturally formed holiday treehouse in the Wye Valley to the immensity of Suffolk's Sizewell C power station
Treehouses and a nuclear power station chart the small and the large in this month's planning update. But there is also people-power, with an alternative masterplan for Frome setting up a battle with the approved council scheme and a loved community public house retained within a new housing scheme. Two further housing schemes, one for adults with mental health needs who are transitioning to independent living and a conversion of an abandoned former bus depot in a Suffolk village, complete the round up.
Wye Valley treetop retreat
Total area: 47m2 and 20m2 external terrace
Client: Tom and Gemma Kelly
Architect: HILLS+CO
Planning authority: Forest of Dean District Council
Planning ref: P0512_21_FUL
As much as an architectural project, architect Scott Hills says this holiday retreat is 'a simple piece of sculpture'. As all treehouses should, it is designed to create a sense of the other, a space of dwelling that carries a sense of curiosity and escape. The escape begins even before entering the property with a long access walkway that cuts through the trees of the clients' private Wye Valley copse, elevated upon timber columns similar to those supporting the main house at the path's end.
It acts as a process of disconnection, an architectural play that continues inside with a scheme HILLS+CO's Design and Access Statement says sets out to 'to partly disguise or camouflage; to surprise; to open up to views; to frame the canopy; to exist within the trees'. The internal space is built around those opened views. The ground floor has a living space with kitchenette opening up on to a two-sided external space and a bathroom with a tub offering picture-window views into nature. Upstairs is devoted to a small mezzanine with nothing in it other than the bed facing another frame into the forest.
Externally, the form is a wedge in which the highest point allows for the mezzanine level, clad in slightly charred vertical timbers chosen to sit naturally in the setting against the seasonal changes of surrounding trees. The structurally supporting columns have a similar finish, all of varying diameters and arranged irregularly so as not to impose an over-rationalised system into the place. Other strategies to ensure a light-touch approach include using slender helical ground screws instead of traditional footings to minimise disruption to tree roots; new bat boxes, trees and a wild meadow; and planning for off-site timber frame construction.
Net zero independent living
Total gross internal floor area: 1037m2
Client: Haringey Council
Architect: Satish Jassal Architects
Landscape architect: Landscape Projects
Planning authority: Haringey Council
Planning ref: HGY/2022/0859
The Adult Services department of Haringey Council needed more accommodation for adults with mental health needs who are transitioning into independent living, with 14 self-contained, one-bedroom flats set to be delivered as part of the council's first new council housing for four decades. This scheme also includes an office for support staff and its three-storey block will sit adjacent to the taller blocks of The Sandling Estate and two-storey terraced homes, from which it is buffered with a landscaped garden and new trees.
As such, the scheme can draw from two different architectural palettes - that of the 1970s flats and the late 19th century bay-windowed terraces - creating what Jassal calls 'a visual bridge' between the distinct typologies. A white stone cornice and brick-on-end detailing reflects the vernacular of older terraced homes, while the broader form of horizontal massing and terraces speaks to the 1970s flats. This visual bridge comes together in the new block's triple window arrangement, which reads as a play on local bay windows through angular-cut columns, also a reference to 45° cut lines into the 1970s block's massing.
The backland site is currently occupied by eight bungalows, which for many years have not been of standard for housing the local area's senior population and instead have been used for temporary accommodation. The new net-zero project will have a CLT structure, saving 137 tonnes C02 embodied carbon over a concrete option, and will support a green/brown roof with 400W photovoltaic panels. Inside, a variety of one-bed flats, including two wheelchair-accessible ground floor units, will provide accommodation for residents undergoing support towards an independent lifestyle with office space ensuring each resident can have a dedicated support worker.
A community-led masterplan for Frome
Total site area: 5.16ha
Client: Mayday Saxonvale
Architect: Studio Saar and Andrew Kirby Architects
Landscape architect: Landstory
Planning authority: Mendip District Council
Planning ref: 2021/2373/OTA
Readers will know that some planning applications lead to a deluge of public comments - often in a tone similar to a letter of objection to this Frome masterplan proposal, stating: 'This looks absolutely hideous. Totally out of character with the surrounding area. Looks like a cross between a solar farm and a business park.' This was, however, a minority view; the five objections to the scheme put into the shade by 1,355 public comments of support, an extraordinary response to any application.
Mayday Saxonvale is a community-led response to a proposal by Acorn Property Group for a 3.2ha former industrial site in the centre of the town and can be seen as an example of a town coming together to radically imagine a future it wants. After receiving planning, the group put out a statement reading: 'Of course, gaining planning permission alone does not allow us to deliver the Mayday plan, we now need to acquire the site from Mendip District Council. We look forward positively to good faith discussions and negotiations with Mendip District Council and Somerset County Council for the purchase of the site.'
The already-approved Acorn scheme was developed alongside Mendip District Council (viewable here) receiving planning approval in 2021, though was opposed by many residents as well as the Town Council and other civic groups as failing to deliver on key local priorities. A community group had already formed in 2019 to consider how the vast former textile manufacturing site could be best developed, engaging Andrew Kirby Architects in 2020 for a feasibility study, then establishing themselves as Mayday Saxonvale not-for-profit social enterprise company in 2021 to develop this counter-proposal.
Their scheme proposes 182 new residential units of varying typologies, 40 per cent of which could be affordable. The Silk & Crepe Works Heritage Cluster of listed buildings- including the Silk Mill dating from 1785 - would form a Heritage Quarter including a spa utilising underground spring water and an active hub of business and culture. They foresee that several buildings and public realm improvements would be 'owned by, and directed by, the community in perpetuity'. Offices, workshops, cultural spaces, a hotel and lido would be permanent investments from which future profits would support projects of social benefit to Frome. Other progressive and experimental ideas include a Tiny Homes Quarter, envisaged as 27 detached, bespoke units for residents as 'affordable start-up dwellings or for those exploring more minimalist lifestyle choices'.
The masterplan and landscaping approach picks up on local characteristics, including car-free clusters of buildings and shared 'common ground' gardens. Landstory proposes a water-retentive landscape that can contain 1-in-100 year floodwaters, including a restored historic watercourse and spring given a soft edge to act as a key sustainable drainage systems feature. More broadly, ecologically rich planting, growing spaces, a meadow and orchard are included in the scheme, which also plans a riverside park containing the proposed lido, play area and weaving pedestrian connections throughout Frome.
However, the official council-approved scheme is not slowing down having just signed off S106 agreements. As Mayday are also not giving up the site it could become a battle between two modes of development. Mayday Saxonvale directors, Damon Moore and Paul Oster, who have said they are ready for a Judicial Review, state: '[Council] leaders repeatedly downplayed any impact of signing the S106 on their ability to assess and change course. We cannot see how this is possible, since by our interpretation of the contract, Acorn will be in complete control post-signature. We hold the council to their word that they will open discussions that can include an alternative candidate for the site'.
New housing with a pub retention
Total site area: 856m2
Client: R&S Property Associates
Architect: Autor Architecture
Planning authority: Ealing Council
Planning ref: 204549FUL
Listed Building Consent: here
There are many ongoing discussions around the loss of the Great British pub. Inflation, the impact of Covid and energy price increases only putting more pressure on what were once centres of community, with London alone losing around 150 establishments in 2020. The pattern has been that developers either buy up empty premises and seek to convert them or leave them abandoned long enough to argue for demolition. Autor Architecture is showing that there may be a different approach, with planning permission received for new homes in the existing Grade II listed building and an additional block, enabling the ground floor to be retained as a public house with a garden.
'Now is not the time to be demolishing pubs as they face so many threats on multiple fronts,' says Frederic Akuffo, managing director of Autor Architecture, 'however, we must build more housing for our growing population and densifying existing sites within the boundaries of the city is the most sustainable way to achieve this.'
The oldest part of the Ealing Park Tavern dates from 1885, though with a 1920s expansion and extensions in the 1930s and 1960s, some of the original character had been lost. The scheme here clears away some of that clutter, leaving space between the original pub and its retained stable building for an additional block that respects the arts and crafts style. The painted timber banding of the original building will be continued with a brick reinterpretation, while the Tavern's under-eaves render band will carry across the new extension in glazing, both devices to respect the original without pastiche.
Internally, eight new apartments will be arranged across the first and second floor of the Tavern building and its new extension, while the former stables is set to be converted into a standalone three-bedroom townhouse with garden. The project shows that there are alternatives to the removal of public houses for complete conversion to flats and that pubs can remain viable and a central component of - growing - communities.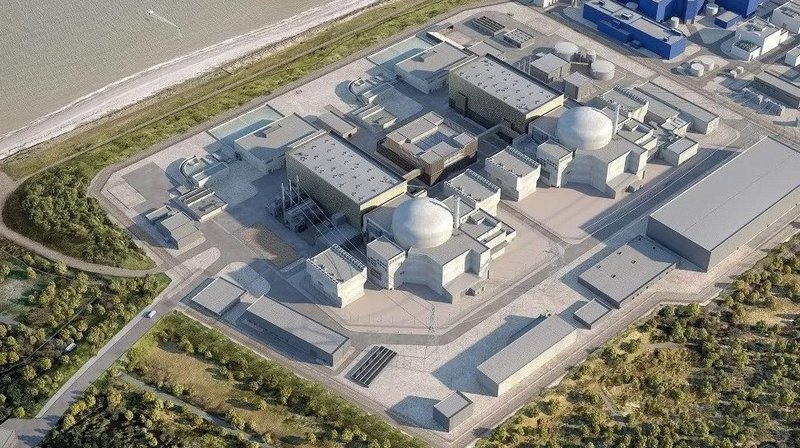 Power station, Sizewell.

Credit: Grimshaw
Power for the people
Total site area: 33ha
Client: EDF Energy
Architect: Grimshaw
Planning authority: National Infrastructure Planning
Planning ref: Generating Stations: The Sizewell C Project
Forgive us for bringing up the subject of energy, mostly in the news of late because of the immense rise in costs we are about to embark on, but in providing architectural services for EDF Energy's Sizewell C nuclear power station, Grimshaw are involved in one of the biggest, and priciest, planning permissions for many years. The news of the power station has been in the news already after Boris Johnson pledged £700 million to the project as he left office, with the plant potentially generating 7 per cent of the UK's power need, enough for six million homes. However, there has been less discussion around the architecture of the project.
Anybody who has walked the Suffolk coast will be familiar with the towering white dome of Sizewell B nuclear power station, sitting atop a rectangular mass painted blue to match the North Sea skies. Sizewell C will triplicate the domes, with two more set to sit alongside. The domes contain the reactors and sit within an area of the masterplan named Nuclear Island. Here, understandably, Grimshaw took a backseat on design, with the architecture based on the reference design for Flamanville 3 power station in France. This block will be formed of exposed structural concrete of varying pale grey finishes, with no additional finishes or cladding for ease of maintenance and inspection.
To the east of Nuclear Island are the two main Conventional Island blocks, where Grimshaw can impact the external aesthetic more through a square-grid cladding system of geometric recesses. It is a granular system designed to have a gradually shifting appearance from different vantages and, while light bronzes to aluminium finishes have been tested, the final colour will be refined through further site studies as the project progresses. Closest to the sea are the cooling water pumphouses, in a paler grey exposed concrete.
A variety of ancillary buildings wrap around the main blocks, in a massing and material approach the architects explain as having been 'developed to ensure all structures are sensitively integrated within the landscape of the surrounding coastal area' in the site of Outstanding Natural Beauty. The landscape scheme includes a new 14.2m high planted mound to replace existing sea defences, part of a masterplan Grimshaw say is 'as consolidated and compact as possible to reduce land-take and mitigate environmental impact as far as possible'.
A temporary small town will be constructed for the construction period. A total of 2,400 beds across 32 blocks alongside amenity buildings will support those building the power station. Modular construction will be considered for these blocks and, while the material palette is not fixed at this stage, architects will be considering a timber exterior.
There is still the possibility of a Judicial Review led by campaign group Together Against Sizewell C and supported by RSPB Minsmere, but it would be a surprise as immense in scale as the £20 billion cost for the project to not proceed now. Of that predicted build cost, it is expected that 20 per cent will be funded by the UK government, with operators EDF taking another 20 per cent, and so the government are now apparently asking around Saudi Arabia and the UAE for investors to cover the shortfall.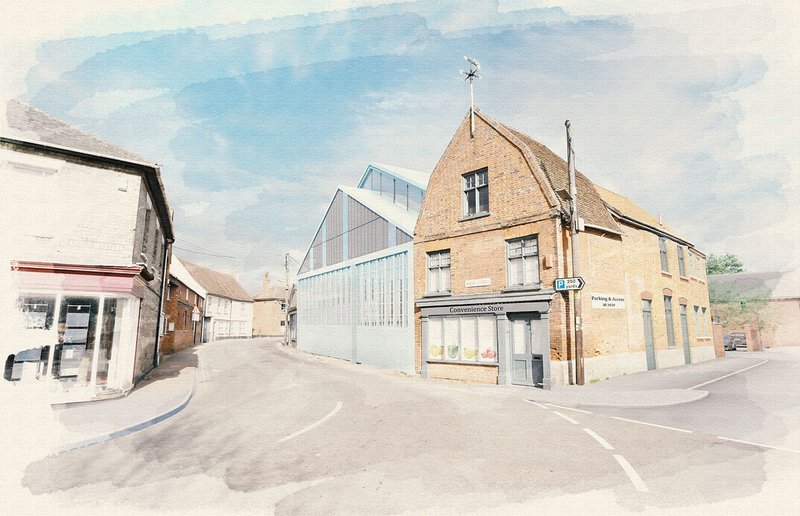 Bures St Mary, Suffolk.

Credit: Purcell
Life coming back to abandoned village industry
Total site area: 0.32ha
Client: Rosper Estates
Architect and heritage consultant: Purcell
Planning authority: Babergh and Mid Suffolk District Councils
Planning ref: DC/22/00754
Deeper into Suffolk, and at a somewhat smaller scale, Purcell have got permissions for a mixed-used brownfield development in Bures St Mary near Sudbury. The plans will bring ten new residential dwellings and a 400m² convenience store to a small site that was formerly Chambers Bus Company's depot, which has been slowly deteriorating since it was sold in 2012. As architects working in alignment to heritage, their approach began with an analysis of the site's developmental history and with consideration to the existing structures, which sit in the heart of the village's conservation area.
The site is deep in plan, with the frontage - illustrated here - comprising a gambrel roofed, three-storey building, a large industrial-looking garage building and a smaller single-pitch roof with historic shopfront. The rear of the site is currently a collection of sheds and stores and facilities from its days as a garage. The architects state that 'engagement with the local community and council conservation officers established a collaborative understanding of the significance of the 1920 steel and glass bus garage frontage'. This has led to retention of the central industrial facade and incorporation into a new building forming the store at ground level and four apartments above overlooking a central external space. The rear of the site will become a cul-de-sac of three and four-bed mews houses in a scheme offering mixed units for homes from one to eight persons, in accordance with local housing needs.