It's all about homes and communities in this collection of recently approved schemes from Conwy to Camberwell, Hounslow to Harlow
New build homes on the coast of Conwy and the farmland of Harlow new town have both recently gained planning permissions, while in the capital four schemes will replace garages in Hounslow, and a park in Camberwell is set to have a new community hub.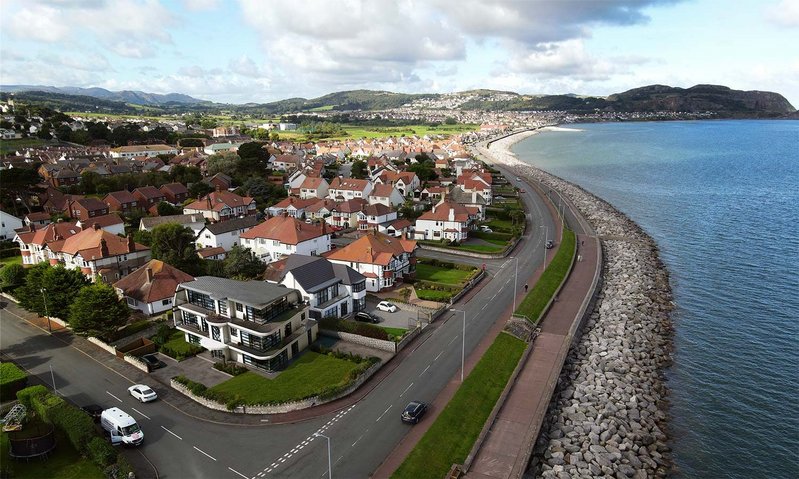 Breakers aerial view

Credit: JAR Architecture
Breakers, Rhos-on-Sea
Total area: Approx 475m2
Client: Commercial Development Projects Ltd
Architect: JAR Architecture
Planning authority: Cyngor Bwrdeistref Sirol Conwy / Conwy County Borough Council
Planning ref: 0/48885
Future residents of a new block of apartment in Rhos-on-Sea, North Wales, will luxuriate in expansive sea views, perhaps while resting on the wrap-around balconies included by JAR Architecture. The block, comprising four apartments and a penthouse, draws its height and massing from neighbouring properties, with a weather-resisting zinc standing seam clad roof that cloak the structure – conceptually referencing a 'wave interacting with a coastal breaker' – and a vertical circulation area, in the same zinc, drawing the eye to the entrance.
The project has caused some raised eyebrows. An existing deco block of two apartments, formed from a single occupation home in the 1960s, is set to be demolished. With a central tower and stepping wings wrapping the corner site and offering sea vantages, it is an uncommon architecture for the region, and one which JAR Architects describe as 'singular [in aesthetic] to the surrounding architecture with its only reference to the local vernacular being its white rendered finish', seeking to replace it with a 'more architecturally meritorious building'.
Heritage organisations including the 20th Century Society saw it somewhat differently. In their submission, the background of (presumed) architect Sidney Colwyn Foulkes was outlined, followed by a description of the 'striking art deco work … designed to maximise the amount of natural light introduced into the interiors' – stating that it felt the building could be retained and reused, and calling on the council to consider embodied carbon savings through retrofit. However, Welsh heritage body CADW declined to reverse a previous decision to list the property, and with consent granted, the new scheme is set to start on site.
Myatts Field Park Depot Building, Camberwell
Total site area: 215m2
Client: MFPP and Lambeth Council
Architect: Civic
Planning authority: Lambeth Council
Planning ref: 21/04180/RG3
A central London park will have new community facilities added following consent for this scheme by Civic architects, which says it aims to keep community-focus and sustainability central to its practice. The existing Depot Building will be demolished and a new construction, referencing and expanding the original's form and footprint, but increasing glazing and public accessibility, is proposed. A starkly different aesthetic for infill spaces, wrapping around the brick and clay tile massing with a copper roof – and quoting a neighbouring Knox Bhaven WC built in a 2010 overhaul of the park – provides an open plan interior offering meeting space, a training area for growers, kitchen, office, store, and direct access to the existing green house.
At a time of reduced local authority funding for greenspace, local community business Myatts Field Park Project [MFPP] has offered to take over longer-term horticultural maintenance of the park and its buildings from the council. The council is, however, fully funding the project with MFPP acting as tenant and user group of the new building. MFPP, which uses the existing 'small and cramped' buildings, has been instrumental to the success of the Victorian park. It was central to the 2010 Heritage Lottery funded improvements and behind a 2015 strategy to engage the broader residential community and new audiences with the park, planning for financial sustainability and social benefit. It hopes the expanded space will support new growing and cooking projects.
Civic was commissioned in 2016 to work with local residents on improvements of the Depot Building, with an initial 2016 infill scheme granted permission. This scheme continued to be developed with the council's support towards the expanded new-build scheme, drawing on the infill aesthetic, designed to be a carbon net zero project formed of CLT panels and wood fibre insulation.
Hounslow infill housing
Total site areas: Clifton Parade, 700m2. Manor Gardens, 658m2. Oxford Way, 164m2. Layton Court, 906m2.
Client: Sapphire Independent Housing
Architect: fourth_space architects
Planning authority: Harlow Council
Planning refs: Clifton Parade, 00442/E/P1. Manor Gardens, 00354/C/P1. Oxford Way, 00848/ADJ83/P1. Layton Court, 00164/E/P1.
Not one, but four, recent planning consents are being celebrated by fourth-space, which has worked with Sapphire Independent Housing on the first batch of a planned 16 small sites projects across Hounslow. Working closely with the local authority, Sapphire and fourth_space are redeveloping garage sites to provide new housing for local people, in line with the council's 5000 Pledge, seeking to construct 5,000 affordable homes on garage plots.
Schemes at Layton Court, Oxford Way, Manor Gardens, and Clifton Parade all required site-specific architectural approaches, varying from higher-density three-storey flats to smaller-scale houses, but across all the sites the architect has created a consistent architectural language and palette of materials and fixtures, creating a language adaptable to future locations, but flexible enough to respond to local surroundings and specific spatial requirements.
These schemes, all gaining consent over the last three months, will provide sixteen 1-bed and four 2-bed homes all available at affordable social rents, which Sapphire provides for some of the capital's more vulnerable people.
Newhall, Harlow
Total site area: 1.38ha
Client: Newhall Projects Ltd
Architect: PRP
Landscape architect: colvin&moggridge
Planning authority: Harlow Council
Planning ref: Phase 1, HW/FUL/19/00321 and Phase 2, HW/REM/19/00322
What is described by the PRP Architects as the 'most important' final piece of a broader masterplan has gained consent in Essex. Sited within a wider residential area of 1,900 homes covering 113ha, this 'keystone' of the site provides a further 64 new homes alongside commercial and community facilities.
PRP has worked with landscape architect colvin&moggeridge to ensure no resident is more than 60m away from a green space, which in total makes up 40% of the development's footprint. Between the two phases – of which this second, newly consented, phase provides 26 of the new units – is a pedestrian-only route, connecting to the existing primary school and nursery. Smaller open spaces with furniture and planting are scattered across the site, which abuts one of the 'landscape wedges' that cut through Harlow, central to the green ideas of Frederick Gibberd and his new town propositions.
Javier Juberias, senior consultant architect at PRP, said: 'Our concept was to create developments with their own distinction and identity. We believe that the local centre embodies this informal vernacular style of architecture, reflecting some of the detailing and forms of the historic barns.' Reflecting this materially and aesthetically, the new project draw inspiration from nearby barn buildings as well as more modern gable-fronted brick homes, inspiring a palette of London Stock and Charcoal bricks, grey roof slates, and a brown metal standing seam roofs.