This month's selection of planning consents covers two football-related schemes and two contrasting developments in London
There's a football theme to this latest batch of planning consents which includes training facilities for QPR and the much-needed restoration of Peter Womersley's concrete Netherdale Stand for Gala Fairydean Rovers. Also featured are central London almshouses which support the long-term future of an existing community in a changing part of the capital, and a development in Brick Lane which opponents claim does entirely the opposite
Gala Fairydean Rovers Stand
Client Scottish Borders Council
Architect Reiach and Hall Architects
Planning authority Scottish Borders Council
Planning ref 21/01335/LBC
Peter Womersley's mid-60s brutalist Netherdale Stand is to be refurbished and repaired, allowing it to once again be used by the supporters of Gala Fairydean Rovers. It was one of the first cantilever sports stands in the country, inspiring Michael Webb in his 1969 book Architecture in Britain Today to write 'poetry and geometry have been fused to produce a building of rare quality'.
That quality is due to return. It is currently in poor condition, with spalling concrete and rotten sections of timber window frames, while condensation is damaging voids to the underside. The bar has been extended with brick over previous decades and is now subsiding. Internally it has had a mock-Tudor lowered ceiling and wall cladding added. New tiling and decoration throughout means the internals are somewhat unrecognisable from the original design.
Reiach and Hall Architects has discovered traces of the original interiors and drawn on the wide documentation across architectural journalism across 50 years. These interiors will be retained and it is hoped that in future phases they can be repaired and restored. This first phase focuses on the exterior and structure with repairs including paint removal, drainage improvements, reinstatement of brickwork and copes, inserting ventilation grilles, adding a vapour barrier, and removal of the subsiding extension. Importantly, glazing will be reinstalled between the roof and rear of the seating, currently filled in by sponsorship adverts, an act that will emphasise the levitation-like feeling of the cantilever roof.
Upon completion, fans who since 2018 have been watching their team from a temporary stand on the other side of the pitch, will again be cheering from their iconic main stand.
Blackfriars Almshouses
Total area 3,000 m²
Client Southwark Charities
Architect Fathom Architects
Planning authority Southwark Council
Planning ref 20/AP/3250
A charity with 300 years' history is behind a contemporary version of almshouses – lifetime homes that are intended to set a new benchmark of provision for elderly residents. In a part of London undergoing mass redevelopment largely with high-value rent or riverside luxury, this project for the local community and focused on affordability and quality of living is a welcome development.
The project is a mixed-use scheme containing over 30,000m² of offices and a pub alongside the 62 almshouses and associated uses. The public and office-workers will access from the busy Blackfriars Road, while almshouse residents will enter around the back on the much quieter Chancel Street.
There are already 25 existing almshouses on the site, though not fit for purpose and not offering the accessibility and quality of living that best benefits residents. The new scheme not only increases the number of units but triples the external space, including landscaped gardens as well as a residents' rooftop kitchen garden on top of the 12 floors of homes. The residential block also includes three guest suites for family or carer visits, and a flat for a live-in housekeeper. Ground-floor community rooms and a rooftop lounge will encourage a sense of community and activity. The office component of the scheme comprises 19 floors of open-plan offices while a 20th-floor physic garden will support wellbeing and wildlife.
The aesthetics of the terracotta-clad façade – a natural reddish orange for the offices and calmer cream for the almshouses – are inspired by the historic local process of dying and stretching fabrics, with a 'tenter hook' detail tying the tops of the vertical elements back to the frame of the building.
Truman Brewery Development
Total area 4500m²
Client Old Truman Brewery Limited
Architect Buckley Gray Yeoman
Planning authority Tower Hamlets
Planning ref PA/20/00415/A1
The changing face of Brick Lane and Banglatown in London's East End will continue apace following permission for a new retail, restaurant and office scheme for a site currently operating as a car park. In an area that has been constantly shifting and changing architecturally and socially, there are concerns by many that this project is too dense for the site and could be the tipping point into many more gentrifying schemes in similar small sites across the broader Truman Brewery site.
In the summer of 2020, the GLA Culture at Risk Office stated that the scheme 'risks impacting negatively on the cultural heritage' of Brick Lane in both use and built form, and expressed concern at the lack of a wider masterplan and rental values beyond the local community's affordability. Opposition has also been constant from heritage organisations and a vocal local community, including protest group Battle for Brick Lane which is fighting many fronts in the area. There have been nearly 7,500 letters of objection as well as rallies in the street. However, the project has been given the go-ahead after an initial deferment last April when the council had been seeking confirmation of affordable workspace and retail units. Now they are assured that 10 per cent of the proposed offices will be priced at 55 per cent of market rates for the next 15 years.
The iconic Truman bridge link which crosses over Brick Lane will be retained and converted into a restaurant, though the industrial brewery block it joins will be demolished, clearing the site for a new 5-storey block addressing a new pedestrian street, New Dray Walk. The proposal also includes 16 new large retail units at ground level, with four floors above providing 5,600m² of open-plan office space.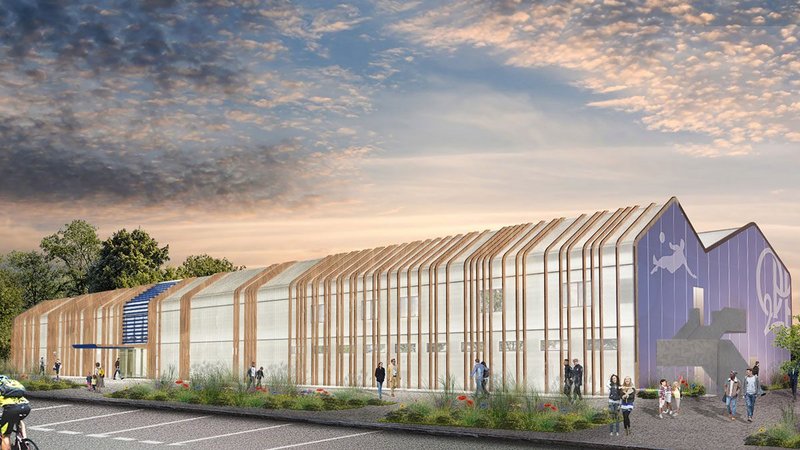 Credit: Studio Zoppini Architetti
QPR Training Ground
Total area 11,000m²
Client Queens Park Rangers Football Club
Architect Studio Zoppini Architetti
Planning authority London Borough of Hounslow
Planning ref P/2020/3898
Queens Park Rangers's battle for promotion into the English Premier League might be boosted by new training facilities in Hounslow. The masterplan consists of a new training centre building, floodlit 4G pitch, seven full-size outside grass pitches and one covered.
The project will support not only the first team, but the under 23s and academy youth squads, and also the wider local area who, through the QPR Community Trust, will use the facilities for over-60s evening social and sports sessions, disability sports, local school tournaments and adult health, including walking football.
Architecturally, Studio Zoppini Architetti – a firm with a long interest in sports design – has designed a folded roof that wraps over a wide variety of medical, training, changing, offices and social facilities over two floors. The envelope layers of polycarbonate and Alucobond cladding, timber fins and aluminium roof allow natural ventilation and daylight, working to a BREEAM Excellent rating.
The whole project is set to cost around £20 million, which the club is hoping to largely finance through a new tax-free bonds scheme that fans can sign up to. Work is scheduled to complete by next August.