The reworking of a 1930s hotel in Tynemouth and a heritage centre built from shipping containers are among the latest schemes to win planning permission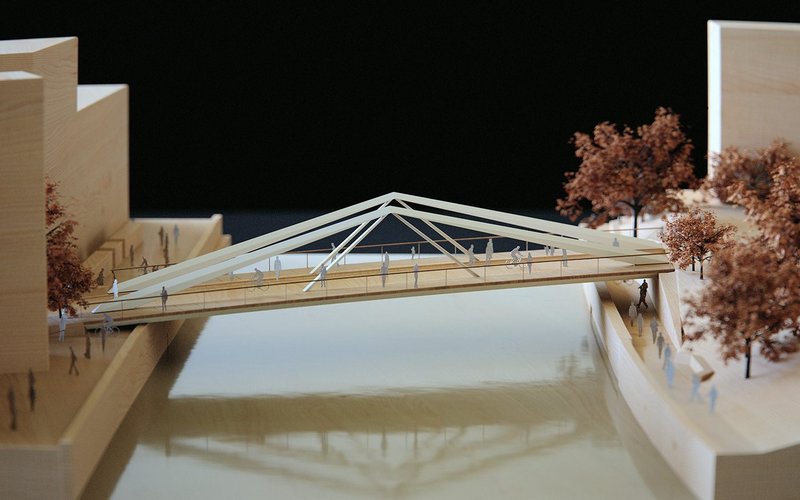 The Triangle Bridge.

Credit: Isaac Eluwole
The Triangle Bridge
Total length 41.5m
Client London Legacy Development Corporation
Architect William Matthews Associates
Landscape architect BBUK Studio
Planning authority Queen Elizabeth Olympic Park
Planning ref 21/00407/FUL
Fresh on the heels of its Stirling Prize shortlisted Tintagel footbridge, William Matthews Associates has won planning consent for a new bridge in London connecting the 1960s Carpenter Estate with the forthcoming Bridgewater Triangle, a scheme designed by Mikhail Riches.
The design has been developed in collaboration with Expedition Engineering, with landscaping considered from the start of design. The site covers not just the crossing but also a 250m-long waterside walkway on the Bridgewater side and a shorter stretch of canalside path on the Carpenters side.
The bridge comprises two 2.5m-wide walkways with a central 5.5m-wide roadway running between the triangulated trusses. The reinstated footpath running underneath will see the Olympic Park canal path connected again to that running along the southern length of the River Lea.
Landscape-wise, timber bleachers and steps will connect the renovated towpath with the higher-level site, with a fully-inclusive design incorporating ornamental planting and new tree planting. New areas of seating will match the profile of the bleachers, with added benches at five locations along the 250m length.
Northstowe Heritage Centre
Total gross internal area 106.4m²
Client Cambridgeshire County Council and Northstowe Heritage Group
Architect Proctor & Matthews Architects
Planning authority Greater Cambridge Shared Planning
Planning ref 22/00742/FUL
Northstowe is a new development on the outskirts of Cambridge, which will eventually provide up to 10,000 homes and a town centre and school. In its construction, as well as the works to the A14 bounding its eastern edge, a range of artefacts have been uncovered through extensive archaeology, including a prehistoric ear-stud, a Roman silver bracelet, and classical architectural fragments. Since the site is the former RAF Oakington, future discoveries may well span a wide range of dates through to 20th-century military metalwork. The site for this new Proctor & Matthews building itself is set out by the discovery of Bronze Age defensive ditches.
This scheme provides a cultural home for these finds in a location central to the growing residential areas. The new building, however, uses 21st-century techniques of modular construction with a structure formed of 11 shipping containers. Some will be connected and opened up to form open exhibition and arrival spaces, while others deeper into the plan provide study space, stores and an accessible WC. The building is double height above the atrium and exhibition spaces, allowing a more recognisable architectural form and a variety of light and hanging spaces. Externally, the containers are painted black with natural-finish timber slats breaking the massing, some of which run across glazed sections cut into the metalwork.
The Northstowe project is being overseen by Homes England, which will be leaving its own legacy in the new town with adjacent new offices also by Proctor & Matthews and with a similar aesthetic, though using traditional building methods. The cultural building, however, may not remain in situ permanently. A benefit of such modular design is that it could be relocated at a later date. Perhaps it would be a shame if it were to ever disappear; there is something of value in presenting the discovered history of a site within its future, to keep displacement of found objects to an absolute minimum, retaining them as cultural legacy for future residents.
Proctor & Matthews says the adaptive reuse of the containers 'responds to Cambridge County Council's climate strategy', though it should be noted that fabrication partner ISO Spaces states that they use single-use containers in their construction – units that have been used for only one trip before being sold on. An argument could be made that a container in near-perfect condition should be retained for its original purpose rather than deconstructed into architecture. Questions could be asked about whether this constitutes adaptive reuse when the containers' primary function is still possible and required during a container shortage.
Jersey Hospital
Total area 70,000m²
Client Our Hospital Jersey
Lead architect Llewelyn Davies
Landscape architect LDA Design
Planning authority Government of Jersey
Planning ref P/2021/1670
There was intent from the start of this project to provide not only cutting-edge healthcare, but to do so within a civic architecture. The overarching form of a block grid around two courtyards is derived from the patient, visitor and clinical movements through the building – this is a large scheme with a budget of over £800 million and a site that totals 1/1700th of the entire island of Jersey.
The massing of the building was always key through the design and consultation processes. Early intents for an 'organic' form to the main block were ruled out as impractical while the roof undergoing various stages of undulated inventiveness before the final, simplified scheme. Externally the materials are chosen to work with local natural colours and quieten the mass of the building through a muted palette and grass roofs where possible
Separately to the main hospital block is a mental health centre of two 15-bed wards around planted courtyards, working towards a non-institutional feel with non-intrusive monitoring built in. Other blocks across the site include a knowledge centre for training and education, and a multistorey car park.
As with the new movement of super hospitals worldwide, much consideration has been given to nature and culture as components of healthcare and design. LDA Design's people-first design approach includes roof gardens and terraces, winter gardens within the building, and an external landscape incorporating sensorial, therapy, social, and quiet spaces. Design and planting wise, the practice says the scheme is 'inspired by Jersey', using stone walls for seating, level changes, gathering spaces, and ecological and structural functions. The connection from within to without is also key, with consideration given to views into the landscape from the patient and working spaces inside.
The arts strategy organised by TP Projects will lead to a series of commissions to enhance the environment for workers, patients and visitors. A 2019 World Health Organization report shows that culture within a healthcare setting can support those experiencing mental health illness or neurological disorders, and create a better environment for end-of-life care.
Whitstable Houses
Total site area: 259m²
Client: Hillview Kent Development
Architect: OEB
Planning authority: Canterbury City Council
Planning ref: CA/22/00156
Many readers of this column know how it can sometimes be the seemingly simpler schemes which are harder to get permissions on. When it seems that the planning department are more critical and analytical on your simple scheme for an infill house or two than a bland office block up the road or a developer-led cul-de-sac disaster at the edge of the town. So it's good to see simple little schemes get through, even after a drawn out planning process.
This site in Whitstable is currently occupied by a bungalow, with a similar neighbouring bungalow recently having received planning permission to be demolished in favour of two semi-detached houses, while to its other side is a 2-storey detached home, so you would have thought it was a shoe in for a pair of 3-bed architect-designed homes in the midst of a housing crisis and a part of the town of similar density properties. However, this only went through on the third attempt, after a rejection last November (not enough parking and overlooking issues) and then again in January (unacceptable outlook due to a new parapet installed to prevent the previous overlooking issues). After another rejig of the first floor plans, and payment of another cheque, it's third time lucky for the scheme.
All in, it's not a complicated scheme though has a delicate use of play to make the most of the site and to open up views from the main bedroom, as well as introduce a playful twist upon the detached vernacular. The materials of render and weatherboard cladding below a pitched slate roof match the local palette, though there is a contemporary lightness while the shadows from the angular cuts will break the streetscape. The design and interior evolved in response to discussions over the various applications, with these interior models showing an possible ground floor implementation as open-plan space.
Wigmore Place office redesign
Total gross internal area 347m²
Client Howard de Walden
Architect Edge
Planning authority City of Westminster
Planning ref 21/06133/FULL
Not all central London architectural projects are grand iconic gestures, though these may make more headlines. This light-touch reworking of an existing three-storey building forming an end-corner of a late-19th-century mews off Wigmore Street is a case in point. Edge largely works with interiors, connecting its design approach across architecture and also client's brand identity, and so this small project also touches on each of these elements of design.
Little is altered externally. Bifold Crittal-style doors soften the threshold with painted timber planks built out over existing ground level brickwork to create a more pronounced presence and entrance. There are, however, no major structural alterations to the building. The interior is being remodelled and redecorated to suit a new single-tenant occupation in the media and office sectors.
It's a discreet project in a discreet location but there is an intent within it to connect the external and internal through a porous ground floor, with a tonality and material that connects the facade changes with the new internal design.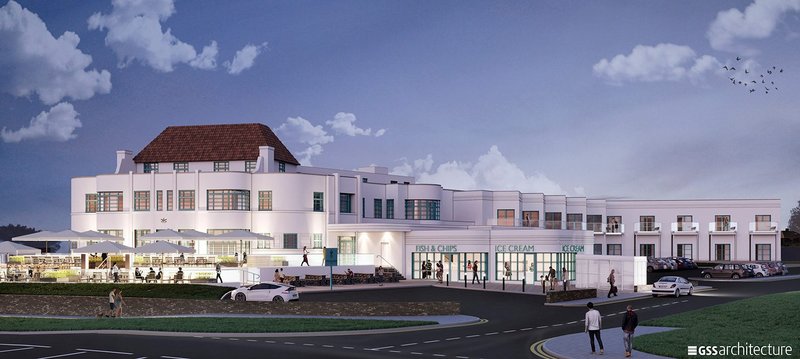 Park Hotel, Tynemouth.

Credit: GSS Architecture
Park Hotel, Tynemouth
Total site area 2500m² approx.
Client The Inn Collection Group
Architect GSS
Planning authority North Tyneside Council
Planning ref 21/02172/FUL
A handsome late-30s art-deco hotel at a prominent seafront location is to receive a new lease of life following permission to conserve, extend and improve the existing building. The original hotel, which the heritage statement positions as, in its time, 'one of the most modern and up-to-date establishments in the country', comprised 30 rooms and two suites. Piecemeal additions over the 1960s and 70s increased the size of the plan, the number of rooms rising to 55 alongside various kitchen and service areas.
Much of these later additions are to be demolished, replaced by a new bedroom wing, which returns a symmetry to the winged plan, as well as improving frontage on to the Grand Parade with provision for a fish and chip shop and ice-cream parlour. With perhaps half an eye on how the renovation of the deco Midland Hotel in Morecambe has supported a resurgence in the town more widely, it is hoped that this scheme will also have benefits beyond the promenade and park outside.
The building's fabric is beyond tatty, with cracks and spalling across the facades. A new white render will be applied, with proposed feature bands in turquoise to match new aluminium-framed windows. Existing and new flat roofs will be finished with bituminous waterproofing in a scheme that respects the heritage of the site and the position the hotel holds in the landscape.