Two London office projects by Make and John Robertson Architects play out the newbuild/refurbish debate, while Aston University's 'beacon' tower and Newquay's Cornish Cycle Hub get the go-ahead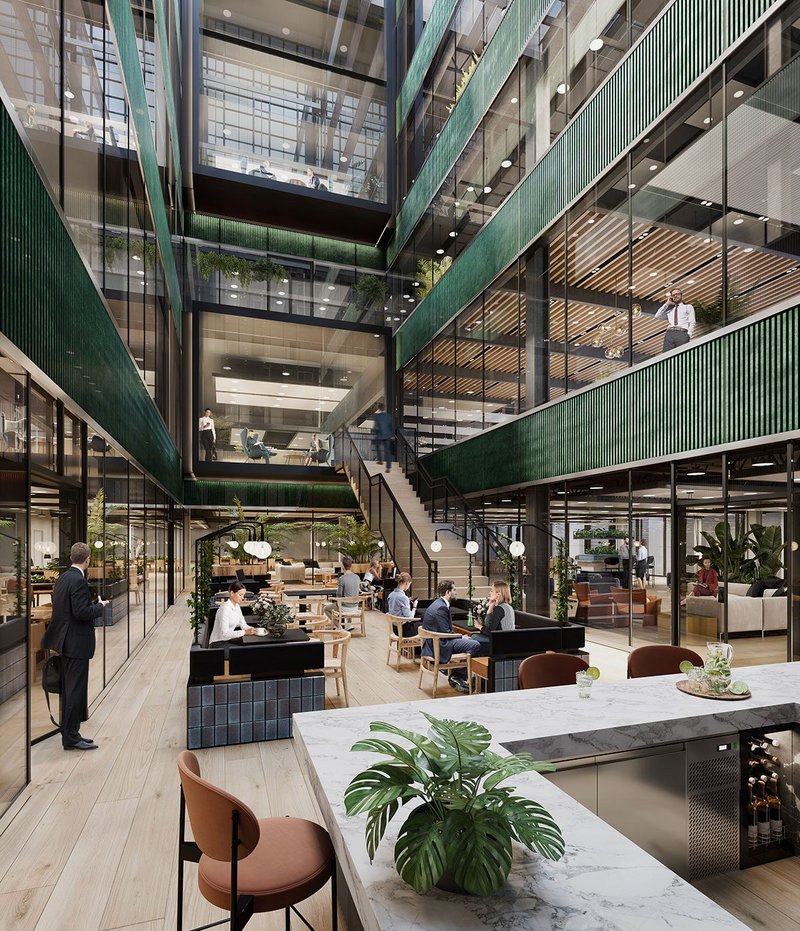 Northcliffe House, atrium.

Credit: JRA
Northcliffe House
Gross internal area: 25,119m2 (of which 1,102m2 is uplift from the existing building)
Client: DWS Grundbesitz GmbH
Architect: John Robertson Architects
Planning authority: The City of London Corporation
Planning ref: 20/00581/FULMAJ
Thirty minutes walk east from French Railways House is Northcliffe House, built in 1926 and synonymous as the print and production facility for the Daily Mail newspaper. Designed by Ellis and Clarke, listed grade II in 1988, for decades it sat at the centre of the newspaper industry locally and internationally.
JRA has experience dealing with other former newspaper buildings nearby, having restored and modernised both the Art Deco Daily Express HQ and the 1950s Financial Times printworks, Bracken House. As with both former projects, the intent here is not to demolish but redesign the ground floor entrance, upgrade office levels, and create a modern workplace within the existing cast steel frame and encasing concrete shell.
Two new levels are to be introduced on top, stepping back from the existing edge of the building with a series of roof terraces across the entire block, unifying the block and increasing lettable space. Existing listed elevations, with fine deco detailing and columns, will be cleaned and repaired, with new vertical elements on the rooftop additions riffing off the verticality. Internally, large open-plate floors will be modernised and refurbished to future-proof the building, and the existing structure exposed to heighten the perception of floor to ceiling height.
Targeting BREEAM Excellent, JRA is setting a marker for what can be achieved with refurbishment, and while the building may provide a more substantial structure than other schemes in the city, it is an approach other responsible architects will have to take.
---
Credit: Make Architects
180 Piccadilly & 48-50 Jermyn Street
Gross internal area: 9.830m2
Client: Great Portland Estates
Architect: https://www.makearchitects.com/
Planning authority: City of Westminster
Planning ref: 21/01138/FULL
A storm has been whipped up over recent weeks after planning permission was granted to demolish two handsome mid-century blocks in St James, London. Questions have been raised around Make's commitment to climate change with many asking if refurbishment of the existing buildings, with intelligent infill and additions, wouldn't have been a more sympathetic approach with such a site.
The two buildings will be demolished to make way for the new eight-storey block of commercial, retail and penthouses. 180 Piccadilly, known as French Railways House, is an eight-floor office block from 1962, is unlisted and while the Charlotte Perriand and Erno Goldfinger external details were removed in 2013, the building's handsome proportions are undeniable. The second building to be lost, 48-50 Jermyn Street, is a TP Bennett and Son 1950s block of five storeys, unlisted but recognised as of architectural merit locally.
Make intends to re-use the foundations, which it says contain the most embodied carbon of the existing buildings, and as the programme develops will investigate re-use of basement voids and columns, Portland stone and glass and window frames. The structure of its new building is a cross-laminated timber and steel hybrid, with an intent for some off-site manufacturing to minimise waste.
The architect argues that refurbishment and re-use was not an option as existing floor heights could not accommodate required commercial uses. With the two existing blocks unlisted, there seems little chance of further snags to halt the project going ahead. But rising alongside Make's development is the heat of conversation around refurbishment, climate breakdown and demolition of modern architectures.
---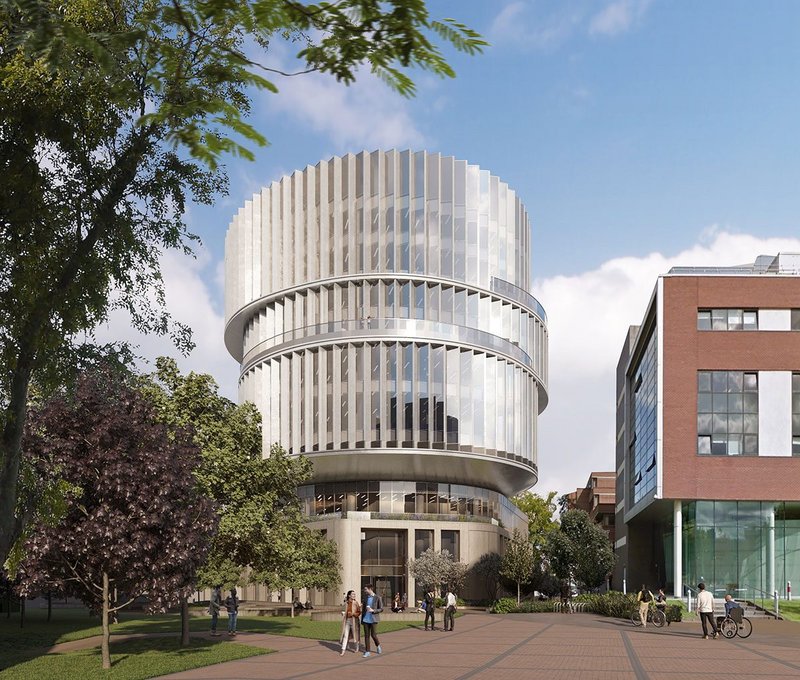 Aston University.

Credit: Hawkins / Brown.
Aston University
Gross internal floor area: 12,000 m2
Client: Aston University [link: ]
Architect: Hawkins\Brown [link: ]
Planning authority: Birmingham City Council
Planning ref: 2021/01862/PA
Within a new landscaped public realm, Aston University is set to construct 10 stories of a 'landmark building' which is designed to light up lantern-like into the Birmingham night sky.
Appearing like three cylinders stacked haphazardly above a plinth, the building will provide new flexible teaching spaces, study areas, staff rooms and workspaces.
The ground floor civic plinth is set to be public facing, with a café, public arcade and lecture theatre which can have public access if needed. Rising up through the whole layer-cake is a contorting, spiralling performance staircase which doubles as a stepped auditorium space for open presentations, while flexible spaces open up onto the central atrium through which the stair rises.
Hawkins\Brown states in its application that 'Not all buildings should be landmarks. A true landmark has a significant historical, architectural, or cultural meaning.' Set at the heart of the campus, and on a site that acts as fulcrum for a range of other existing and proposed academic buildings, the decision was made to design this icon. It has had mixed reactions, as expected, across social media and locally, but in a city of unexpected juxtaposition and built interventions, it may fit right in.
---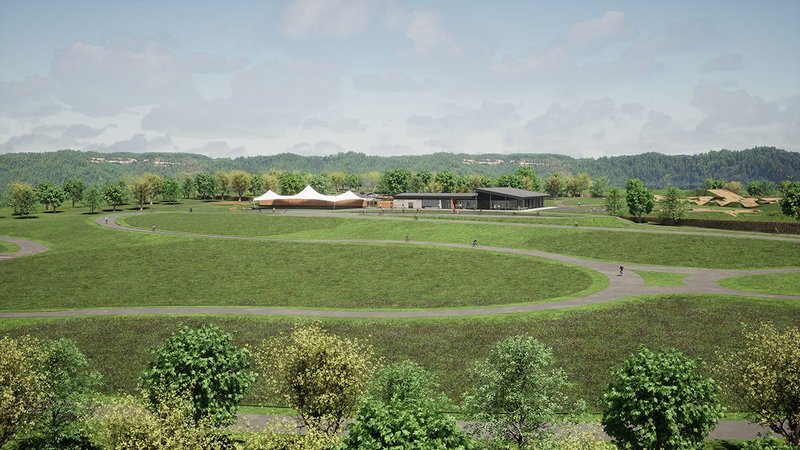 Cornwall Cycle Hub.

Credit: DB3
Cornwall Cycle Hub
Total area: Pavilion footprint: 2180m2, Site boundary: 22.5ha
Client: British Cycling, Cornwall Council, Sport England
Architect: DB3
Planning authority: Cornwall
Planning ref: PA21/02617
In the slipstream of seven Olympic and 24 Paralympic medals at the delayed Tokyo 2020, British cycling has received a further boost with the granting of planning permission for a major new cycling training and leisure centre at Newquay in Cornwall.
A partnership between British Cycling, Cornwall Council and Sport England, the project will see a range of cycling tracks including an 84km road closed road circuit and 3km of mountain bike trails, cyclocross features, a pump track, fitness trail and learn-to-ride area. Designed for riders of all abilities, the centre is planned to support the development of the sport nationally alongside offering recreational opportunity for everyday riders through 54 acres of new tree planting, wildflower areas and grasslands.
DB3's main pavilion provides a central hub with bike workshops, a café, changing areas, a fitness suite and multi-use studios in a low-rise block of Cornish facing stonework, white render, a brickwork plinth and zinc cladding. It is designed to blend into both the mature and new landscape works (designed to protect and enhance site biodiversity) and a series of rain gardens for a sustainable water strategy.
The week after planning permission was granted, Penzance witness the Grand Depart of the 2021 Tour of Britain. With a 12-month build expected, next year's peloton may even pass through.
---