Latest planning permissions include BIG's masterplan for Canada Water, a Cambridge bridge for pedestrians, cyclists and horse-riders, and prefabricated housing in Hastings – but built in Yorkshire
Larkhall Park Homes
Total gross internal area (all buildings) 12,294 m²
Client Homes for Lambeth
Architect Waugh Thistleton Architects
Landscape architect Outerspace
Planning authority Lambeth Council
Planning ref 21/04093/RG3
Homes for Lambeth (HFL), an arms-length housing body wholly owned by the council, is to deliver 127 Waugh Thistleton-designed homes in a scheme over four buildings and three sites along Courland Grove edging onto Larkhall Park. Half of these are set to be 'affordable', offered to some on the 30,000 strong local waiting list.
David Marks and Julia Barfield of Marks Barfield Architects were instrumental in the late-1970s creation of the park, working with the community to transform the rubble-infested wasteland in the face of council inaction. It is now a much-loved asset, with Waugh Thistleton's plans seeking to 'bring some order' to the mix of surrounding streets, comprising conservation area terraces, GLC mansions, and tower blocks.
Waugh Thistleton senior associate Dave Lomax described the three sites – all brownfield in disrepair – as 'unconnected pockets', and he seeks to create a language to give the street 'a sense of place of its own whilst being very much of Lambeth'. A uniform palette of material, colour, and form derived from nearby architecture has informed a 'family of forms' within the design of the new blocks: a pair of 13 and seven storeys, a nearby seven-storey block, and a terrace of eight three-floor homes.
The architects give credit to HFL for 'going on the journey with us' to put sustainability at the top of the agenda, working with materials with the lowest possible embedded energy over a 100-year life span. and which can be easily disassembled and reused within a circular economy.
Shortly after permissions were granted, HFL head Jitinder Takhar left her £190,000 a year position, expressing hope that the organisation would 'see the first sales being made next year'. Over her three years in the role, 21 council homes have been constructed, though the developer claims to have an 'active pipeline' of 1,000 units (including sale and commercial rent). As reported by local news outlet Brixton Buzz, the council recently agreed a new three-year plan for HFL, supporting it with £14.5 million despite it filing an £8.5 million loss in the last tax year. A council official claimed it was a 'different organisation' to Croydon's Brick by Brick development arm, which was recently wound up.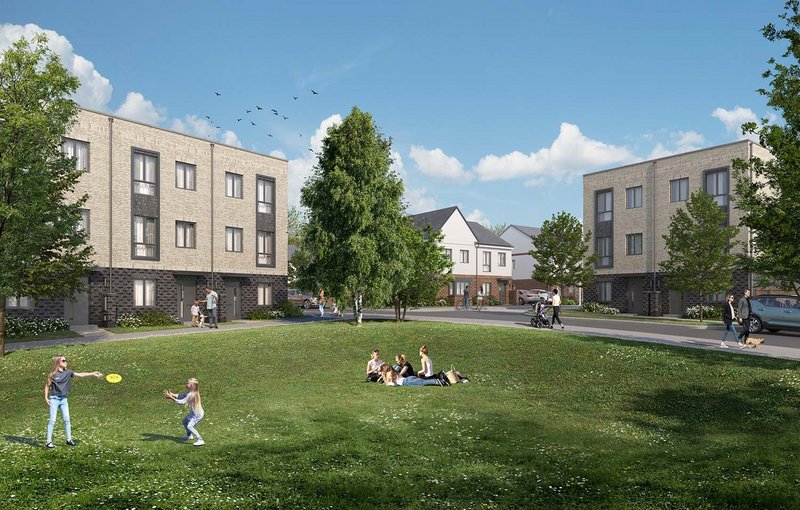 Ilke homes.

Credit: Roberts Limbrick Architects
Hastings Factory Houses
Total development area 12,507m²
Client Ilke Homes
Architect Roberts Limbrick Architects
Planning authority Hastings Council
Planning ref HS/DS/21/01044
Ilke Homes' team of 'experts from industries like engineering and aerospace, all committed to building the future', are working with Roberts Limbrick Architects on 140 affordable modular homes. Each property will be constructed in the developer's Yorkshire factory, before delivery to St Leonards, East Sussex, for construction on site.
Outline planning permission for a John Whiting Architects masterplan was granted in 2019, and now approval of reserved matters relating to the aesthetics, landscape, layout, and scale, has also been granted, the factory can begin constructing a variety of house types for the site.
By using off-site manufacturing with 'precision-engineering techniques', Ilke Homes claims to develop 'highly sustainable homes'. Hastings Council declared a climate emergency in 2019, targeting carbon neutrality by 2030, a full two decades before the government's target, and it hopes this scheme will support it on that path.
The properties delivered by Ilke Homes are predominantly mews, semi-detached and apartment homes across a site with a single access road acting as spine through an arrangement of cul-de-sacs and parking for nearly 300 cars.
Waterbeach Bridge, Cambridge
Total length 95m
Client Urban&Civic
Architect Knight Architects
Planning authority Greater Cambridge Shared Planning
Planning ref 21/04625/FUL (full) & 21/04353/REM (reserved matters)
With full planning permission for this foot, horse, and cycle bridge design, followed by granting of reserved matters relating largely to landscaping and street furniture, the A10 will become less of a barrier between a new Waterbeach Barracks development and the Cambridge Science Park.
Knight Architects specialises in bridge architecture and has also recently been selected to lead the design team on Sunderland harbour's new £31 million pedestrian bridge. Its Waterbeach bridge is not only designed for its four and two-legged users but also for drivers and passengers gazing up from the main road running underneath. Various structural forms were considered before the architect settled on the distinctive, asymmetric wing design, painted in a blue-grey reflecting the site's RAF history and presenting as a graphical statement in the landscape.
The bridge and Mere Way Cycle Route it serves are supported with nearly £4 million in Section 106 funding. The infrastructure was considered necessary not only to connect the new development with the northern fringe of Cambridge and the science park but also to allow local children from one side of the A10 to attend secondary school without relying on car journeys.
Children's Trust HQ
Gross internal floor area 3,035m²
Client The Children's Trust
Architect RCKa
Landscape architect Farrer Huxley Landscape Architects
Planning authority Reigate & Banstead Borough Council
Planning ref 21/02090/F
The leading charity for children and young people with brain injuries is to develop a new HQ in Tadworth, Surrey, following approval of RCKa's designs.
A key aim for the design was to enable the trust to move away from isolated areas of working and towards a more collaborative approach, particularly between rehabilitation and educational based services. The new HQ supports a 'transdisciplinary' approach, spatially allowing for the development of new methods for supporting users. The trust's existing services are provided within lightweight prefab units—too hot in summer, too cold in winter—with many areas having no level access, which in a school where nearly every student uses walking frames, wheelchairs, or other mobility equipment, is not conducive to its functions.
Following an extensive collaborative design period, RCKa's facility is divided into four distinct blocks, allowing for a breaking down of the massing of the new development into a more human-scale, and navigable cluster of buildings. A hall block, two teaching blocks, and a transdisciplinary hub sit irregularly around a central shared space, acting as a light internal landscape for not only connecting the spaces, but also as a spill-out space, reception, winter garden and dining space.
Each block type has a distinctive roofline—flat, curved, and sawtooth—to support wayfinding, while the shared space has a uniform canopy covering, which overhangs into the surrounding landscape, supporting different entrance points with varying sensory experiences.
Throughout, choice of colour and material also supports students' navigation, reading of the space, and sensorial experience, not only in the texture of masonry and colour of classroom blocks but right through to the detailing – for example with rain chains to offer pleasure and interactivity with the architecture. The massing and positioning of the blocks were in part determined by existing trees, with care taken to retain as many as feasible, supported by new planting in sensory terraces, an orchard, learning gardens, and arrival forecourt.
The Children's Trust is now working on a programme of fundraising towards the scheme ahead of a hoped-for start on site in summer 2023.
Canada Water Masterplan
Total site area 1.93ha
Client Art-Invest Real Estate
Architect Bjarke Ingels Group
Landscape architect Townshend
Planning authority London Borough of Southwark
Planning ref 21/AP/2655
When the London Docklands Development Corporation transformed the post-industrial eastern stretches of London during the 1980s and 90s, Rotherhithe was very much laid out as the quieter, suburban, domestic, and car-park-drenched light-industrial landscape overlooked by the Isle of Dogs' glitzy towers. It has largely stayed that way, though newly approved outline plans for a town centre look set to instigate a shift, bringing some BIG bling to the sleepy southern side of the Thames with 144,000m² of offices alongside ground-level leisure uses and landscaping.
Two sites will be developed with this outline permission, both a mix of surface parking and retail sheds. Much of the similar, surrounding sprawl is due to be transformed into a vibrant, dense centre through the Canada Water Masterplan, and this project – as would befit the appointment of BIG as designer – is intended to become a landmark for the area. It will provide flexible workspace infused with biophilic smart and sustainable buildings, attention given to the 'post-pandemic workplace' through an approach supporting naturally ventilated spaces surrounded by generously planted external landscaping.
Massing-wise, the design is a twisted and stepped tower alongside two shorter blocks with ziggurat-like planted terraces, an emerging trademark BIG typology. The architect describes the external greening as offering a 'visual amenity to be enjoyed by all', supported by a ground-level public realm designed as 'a network of spaces' with key routes between and around the three blocks.
Over the coming months, the developer intends to follow with a series of reserved matters applications, hoping to start on site in spring 2023. An announcement of the design teams for these next stages will follow, with BIG presumably hoping to be retained for the majority of the scheme, if not at least the main tower.
Tenter Ground Refurbishment
Total gross internal area 1208m²
Client Private client
Architect Chris Dyson Architects
Planning authority Tower Hamlets
Planning ref PA/21/02223
A Spitalfields island plot with a long social, architectural, and planning history has just received consent to be refurbished and expanded. The plot originally formed an element of the surrounding buildings to Tenter Ground, a 137m² field in which 17th-century Flemish weavers stretched wet cloth to dry, which in the late 19th century became the final part of Spitalfields to be infilled with residential streets. Over the 20th century, demolition, road-widening, and bombings led to an island site of 66-68 Bell Street, a small domestic building, and 1-5 Tenter Ground, an industrial block including a ground-floor art studio.
In 2016 the properties were owned by artist Tracy Emin. The local authority rejected her plans for the site, which would have seen 66-6 replaced with a sculptural David Chipperfield mass. Dyson's scheme deals with the existing heritage in a less aggressive way, though opposition still came from local heritage body the Spitalfields Trust.
Dyson's plans connect the two blocks, inserting a green-walled circulation core in the yard between, adding a floor and infill side elevation to 66-68, then tying the two together through lightweight glass roof pavilions across both blocks. This rooftop extension was the main grievance of the Spitalfields Trust, which stated that 'any additional storey would detract from their character as Victorian industrial buildings which are usually flat-roofed or have hidden roofs and the gables should define its profile'.
Internally the ground floor of 1-5, the industrial block and former Emin studio, will be retained as a commercial offer with only small adjustments. Other areas, including the basement pool, will be kept in their current state. New two and one-bed flats will be included in 66-68 while the rest of 1-5, 66-68's added floor, and the rooftop pavilion will become a vast new four en-suited bedroom residence including not only the pool and steam room but a music room, winter garden and five external terraces.