The government is putting its weight behind a standardised kit-of-parts approach to construction to boost productivity and cut costs and carbon. But how does the industry take on a car maker's approach to design and procurement – and what's in it for architects?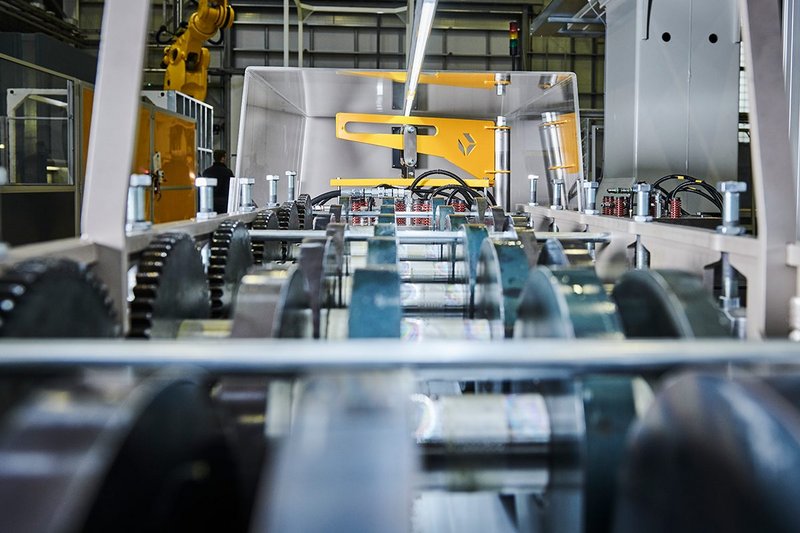 Equipment the Manufacturing Technology Centre is planning to use to manufacture a kit of parts for the Platform Design Programme.
Acute labour shortages and disruptions brought on by Covid-19 and Brexit are driving greater interest in Modern Methods of Construction (MMC) and among the various options on the table, a componentised approach to construction known as P-DfMA (Platform Design for Manufacture and Assembly) is gaining ground, thanks in large part to strong backing from Whitehall.
The term 'platforms' is commonly used in manufacturing, and in construction it refers to a process whereby sets of components or assemblies are mass produced to be put together in a multitude of ways and across multiple building types. For example, a single component could be used as part of a school, a hospital, a prison or a station.
The government's Construction Playbook, a template for smart procurement in councils and departments published in December 2020, specifically singles out P-DfMA from other MMC solutions as a means to improve productivity, innovation and efficiency and reduce carbon emissions.
It urges contracting authorities to 'develop and adopt shared requirements and common standards' to enable 'standardised and interoperable components from a variety of suppliers to be used across a range of public works'. The endorsement comes after the Infrastructure and Projects Authority (IPA) proposed P-DfMA as its preferred approach to offsite to be adopted across government departments.
The logic, as in car production, is that using the same parts will minimise the need for bespoke design, save time and money and improve quality and consistency. It could create a new market for manufacturing in construction, driving economies and efficiencies of scale.
P-DfMA has already made inroads into construction, experiments have included early-stage design apps for housing and schools and the first 'real-world' projects for prisons and hospitals. The concept is strongly associated with integrated design practice Bryden Wood and its collaborators in contracting and fabrication.
Circle Reading Hospital, opened in 2017, componentised many aspects including the superstructure, MEP, diagnostics, walls and ceilings. Circle Birmingham, which opened last September, took the concept a stage further to achieve a 30 per cent reduction in construction costs compared to traditional methods.
Jaimie Johnston MBE, global systems director at Bryden Wood, believes the government's commitment to build 40 new hospitals by 2030, with £3.7 billion already committed, will provide the impetus for P-DfMA to make a major impact on social infrastructure.
'A lot of people haven't yet clocked where the government's head is at,' he tells RIBAJ. 'The IPA's support for P-DfMA should have been the warning shot when we realised they are not really talking about MMC in the broadest sense, they're actually being quite specific. They're doing platforms, which means interoperable standardised components.'
Achieving such a high degree of standardisation is a big ask for a sector that typically treats each building project as a one-off, and the Construction Playbook acknowledges the need for government clients to 'harmonise, digitise and rationalise demand'.
Further direction will come from the Construction Innovation Hub, which has set up a Platform Design Programme, led by industry partners including the Manufacturing Technology Centre, BAM, ISG, Kier, Mace, Buro Happold, Grimshaw, Bryden Wood and various manufacturers to identify, refine and develop an ecosystem of platform solutions to deploy at scale.
The programme has partnered with five government departments to collate a cross-departmental data set of future requirements across a £50 billion five-year new build pipeline.
Andy Watts, director of design technology at Grimshaw, a design leader for the programme, told RIBAJ: 'We've started developing the kit of rules and the kit of parts, the next piece of work is to engage with sub-assembly teams to ensure that we're using their components and parts. If anything new needs designing, we will work with them to ensure it has the appropriate interfaces.' Common interfaces are a critical factor to ensure that components from different fabricators interconnect.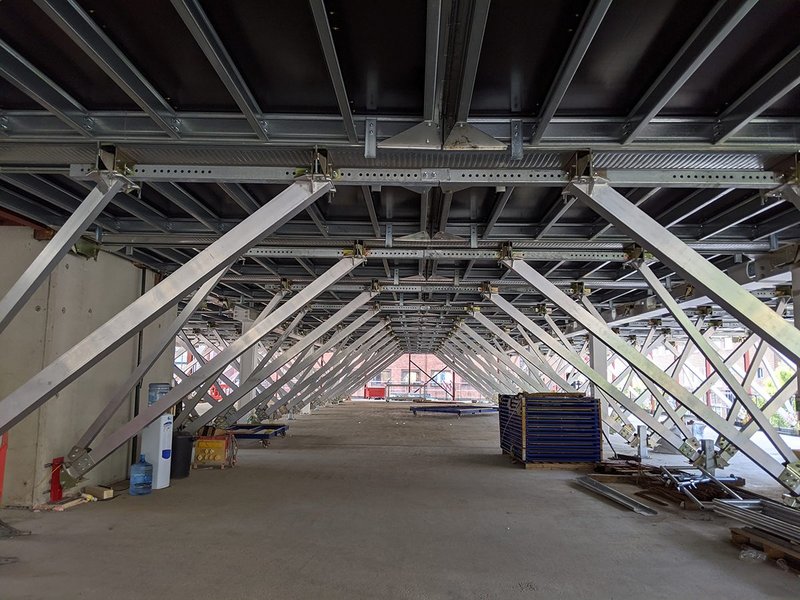 Temporary diagonal props support the laser-cut shuttering tables. Once removed these are taken to the floor above and reused.
The Hub is also looking at how existing digital processes, such as BIM, can be incorporated into a platform approach. Previously developed digital configurator apps enable users to quickly design different building types using pre-engineered components and according to predetermined assembly rules.
The Platform Design Programme will take a more holistic approach, creating a framework upon which any organisation with a digital capability can build a configurator tailored to their specific needs. 'This tool will also enable multiple parties in the supply chain to collaborate and pass on usable information both up and downstream, from a tier 1 contractor down to sub-assemblies and the fabricator,' adds Watts.
It's not only the public sector that is spearheading a kit-of-parts approach. Developer Landsec and Bryden Wood are behind the first ever platforms-based private-sector building: the Forge office block in Southwark, London.
The 12,540m2 development, currently on site behind the Tate Modern, had a strategy for componentisation applied at RIBA Stage 3, focused on the hybrid steel concrete structure, the internal services and the facade.
Using P-DfMA and components from Easi Space will use less material and create less waste, resulting in 20 per cent less embodied carbon in the superstructure. Overall cost savings are forecast to reach 33 per cent compared to traditional construction.
Among the many techniques being applied to promote repeatability, the structural design was re-engineered from five different floor heights to just two, while a conventional 9 x 9m column grid was swapped for 'micro' columns spaced 3m apart to reduce the weight of material needed to span between. All components are colour-coded and laser cut to minimise tolerances.
The platforms approach requires a different mindset on the part of the client, says Neil Pennell, head of design innovation and property solutions at Landsec: 'It requires a significant step change in the way you think about a building, through the design stages and into procurement. It's trying to learn from the world of manufacturing and how they apply strategies to get repeatable, consistent outputs, to drive efficiency.'
A commercial imperative is also critical to the success of componentisation, he adds: 'The Construction Playbook is a big part of driving that. It's going to take a while to grow the commercial pipeline to a level where people can say: I'm going to go that route with my manufacturing, or I'm going to assign some teams to focus on doing buildings that way.'
If a 'manufacture first' mindset is to become more widespread in the sector, construction teams must be prepared for longer lead-in times and careful early-doors planning. The role of tier 1s may change significantly, with a greater focus on logistics, transforming the site into a factory-like environment for component assembly, and working more closely with lower tier suppliers.
Architects will be wary of such a high degree of standardisation and the potential impact on design freedom and flexibility, but a thriving marketplace for interoperable products could offer more diverse options than existing MMC solutions.
The Manufacturing Technology Centre's industrial robot assembles offsite building modules.
Johnston argues that buying a car isn't considered restrictive in terms of choice, with customers able to select from a range of different models, colours, trims and many other customisations. Perhaps we should have the same expectation from buildings?
Platforms is a fledgling approach in UK construction, so architects keen to engage have limited resources in terms of existing standards and components. Watts recommends they study documented examples from the likes of Bryden Wood, Laing O'Rourke, and the Construction Innovation Hub, and work with their own supply chain and clients to identify opportunities for a platform-type approach.
'It does not have to be a totally platform-based project. Platform system principles can be applied to select parts, like the facades or structure,' he says. 'There is also the opportunity to engage with existing initiatives developing platform principles, such as the Hub, which is always open to new engagement.'