Sustainability makes timber an attractive choice for designers, but there are still issues to overcome and it has to stack up financially too say engineer Paul Fast and fire expert Ian King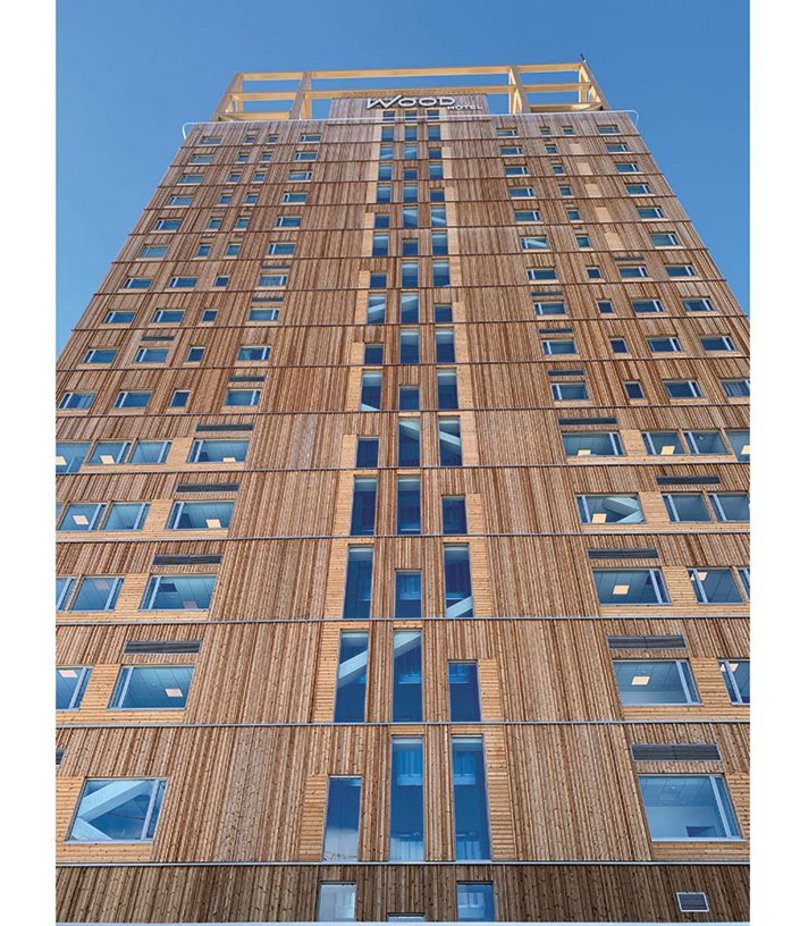 The world's tallest timber building, Voll Arkitekter's 85.4m Mjøstårnet tower, Norway.

Credit: Øystein Elgsaas Voll Arkitekter
Until recently, the plyscraper or wooden high-rise was considered an impossible flight of fancy. Timber is one of the oldest building materials, yet in the UK it has been mainly used for housing. The Great Fire of London in 1666 left a deep negative association between wooden buildings and fire. And, while wood does evoke feelings of warmth, it is prone to warping and twisting. However, recent innovation means that timber frames are now being used for high-rise and commercial projects too. There are hundreds of wooden framed projects under construction, with over 400 mid-rise buildings being built in Canada alone. Paul Fast of Canadian engineering firm Fast + Epp, which was responsible for Tallwood House at Brock Commons in Vancouver, for a time the tallest timber building proposal in the world, discusses whether plyscrapers will become mainstream and how soon. Then Ian King of Zeroignition explains how to mitigate fire risk and the latest timber innovations.
Will plyscrapers become mainstream?
Timber towers are growing in popularity, capturing the collective imagination of built environment professionals. As architects and engineers, we see a unique allure in the prospect of building something that spans longer or rises higher using sustainable materials. Although stretching our limits is a noble objective, doing so just to secure bragging rights misses the mark.
When Fast + Epp was tasked with designing the structure for Brock Commons, the question was not can it be done (no brainer), or we should do it because it would be the tallest timber tower in the world (vain), but rather, can we do it economically? We needed to ask whether we could build a timber structure, with all its inherent sustainability advantages, for the same price as a more conventional steel or concrete building.
There's no avoiding that wood is the weakest material of the 'big three', so it would make sense for heavy lifting to be done by the stronger materials and lighter lifting by the weaker. When building taller with timber, column and wall sizes increase, reducing usable floor space, which can put developers off. The taller the building, the more these realities point to hybrid structures for the foreseeable future, at least until we can quickly grow stronger wood species, which I believe may happen soon. What's more, differential settlement issues due to elastic deformation, shrinkage and creep are exacerbated when building taller, particularly in the case of hybrid construction where core elements are steel or concrete and columns are timber. These designs require rigorous fine tuning which can also affect costs.
Acoustic considerations also have a significant impact on the economics of timber construction. Dry systems are increasingly being researched and developed to replace conventional concrete topping; however, too little mass can be counterproductive from a wind loading perspective when building taller. Successful development of economical acoustic solutions will drive down the cost of timber alternatives.
Weather factors can affect tall timber construction but the development of inexpensive, temporary rain-enclosure systems will enhance the viability of taller timber towers that are often subject to lengthy periods of rain exposure during construction.
On the other hand, harnessing the two-way spanning capability of cross-laminated timber (CLT) will enhance the viability of mass timber in tall buildings. Technically, if CLT slabs are point supported to create a structural system akin to a concrete flat plate, beams are eliminated, erection time reduced, building height diminished and building services more easily installed. However, this approach only works for buildings that can accommodate tighter column spacing such as hotels and residential towers.
'Soft' factors are driving the growing demand for tall timber construction. For some office environments, funky is now in and T-bar ceilings are out. Many tenants are calling for exposed timber and ample daylight – in essence a warmer ambience. Having to meet two-hour fire ratings for tall buildings will, however, once again move the cost dial in the wrong direction as structure either must be encapsulated or allowance made for thicker structure that relies on charring for fire resistance.
The demand for more sustainable construction systems such as carbon-sequestering and rapidly growing timber is also on the rise. Certainly, tall buildings in dense urban centres with high construction costs lend themselves to timber construction, with off-site component prefabrication resulting in faster construction and quieter job sites.
Essentially, the metaphorical door is daily opening wider and wider for timber in taller buildings. Of course, overcoming public fear about fire still has a way to go, notwithstanding extensive research results that should increasingly allay such concerns. Building codes are rapidly changing to adjust to new timber realities. In light of these factors, does it make sense to build taller with wood? In the right location for the right building type, it absolutely does. However, let's not force a square peg into a round hole. When your timber structure starts groaning, remember there are other materials that will gladly help.
Paul Fast, director, Fast + Epp
---
WHERE WE ARE NOW AND WHAT NEEDS TO HAPPEN NEXT
New guidelines
The Council on Tall Buildings and Urban Habitat (CTBUH) recently issued revised guidelines that recognise timber as structural material. A tall wooden building is defined as being over 14 storeys or 50m. At 85.4m, Mjøstårnet in Brumunddal, Norway, is the world's tallest timber building. This 18-storey mixed-use building contains apartments, the Wood Hotel, a swimming pool, office space and a restaurant. It was designed by Norwegian practice Voll Arkitekter and built using cross-laminated timber (CLT) – thin layers of wood glued together in a criss-cross pattern. This alternation of the grain direction strengthens the panels and stops them warping if they get wet.
Fire
Fire safety is one reason why timber has not been considered a realistic alternative to concrete or steel, as seen with the blaze at timber-clad Worcester Park in Sutton in early September. However, proper engineering design, correct material choice and effective installation coupled with a robust inspection regime ensure that timber constructions can be as fire safe as concrete and steel options. And, while it is a combustible material, timber can provide the two-hour window required for fire protection due to its slow rate of charring (BSEN 1995-1-2: 2004). For example, The American Wood Council conducted extensive testing into CLT apartment buildings and found that, after the furnishings and contents had been consumed by fire, the exposed CLT self-extinguished due to the char formed on the wood.
The importance of design
In the wake of the Grenfell disaster, fire protection design has moved to the top of the design agenda as the challenges posed to buildings by fire are increasingly recognised to be systemic rather than merely product-related. Good design incorporates active protection, which requires human/computer-based action or motion to trigger a response (fire service alerts, sprinklers, fire extinguishers and the use of fire blankets for example). It also incorporates passive fire protection where measures such as fire-resistant walls, floors and doors, fire retardant materials and compartmentation have been designed in.
Most timber buildings under construction, including all the taller ones, use engineered timber such as CLT. This has been treated with fire-retardant adhesive, which ensures passive fire protection is designed into the building. Meanwhile Part B of the Building Regulations requires installation of sprinklers in certain circumstances, such as new residential blocks over 30m tall.
Certifiably sound
Innovation has been driven by policy and the relaxation of wood-related construction codes across the globe. This relaxation has been partly driven by wood's sustainable benefits and the need for reduced carbon emissions, with studies finding wooden homes to emit 69% less than concrete ones.
Oakwood Tower, a wooden skyscraper designed by PLP and proposed for the Barbican, would, if constructed, be the City's most eco-friendly building. It would also be the second tallest building in London after the Shard. Architects have the ambition, yet safety has to be at the top of the agenda. With the continuing innovation in building materials and approaches, it's time to look at certification once more. All construction materials need to be have been fully tested for thermal, acoustic, fire, airtightness and environmental properties. This process needs to be properly certified through a third party regulator, rather than being self-certified. Marking your own homework, which is completely legal in the current climate, could lead to potential disaster. The fast pace of innovation means statutory accreditation of materials and an enhanced inspection regime need to be top of the industry's agenda.
Ian King, chief operating officer, Zeroignition
---