Haworth Tompkins has set itself up as a 'pedagogical practice', aiding learning across its staff. But that doesn't just develop young staff, it benefits the business too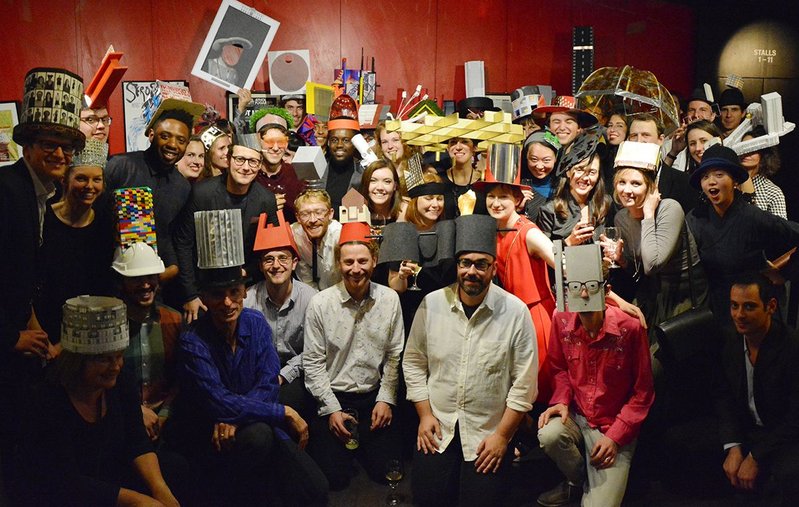 Haworth Tompkins celebrated the 25th anniversary of the practice in November 2016 with a 'family party' at the Royal Court Theatre.

Credit: Robert Smael
When Steve Tompkins spoke at RIBA Future Leaders in March, he described practice as 'a chorus of soloists'. This conjures up one of the greatest conundrums for a design studio, how do you give creative individuality enough space while pulling together as a team? Haworth Tompkins has balanced this push-pull dynamic with a practice culture that simultaneously encourages individuals to foster independence, autonomy and responsibility, while embracing collaboration and a strong ethos of shared social values.
When I met founding director Steve Tompkins and managing director Toby Johnson at their studio in Kentish Town, north London, it was to not to discuss their award-winning work for the likes of the Everyman in Liverpool, Chichester Festival or The National, but to find out what makes their practice tick. The studio has been selected as an RIBA Practice Role Model. It is a plaudit that the directors are both shy of, for fear of appearing in any way 'sanctimonious', but also welcome as it espouses the values that they have worked hard to embed in their office.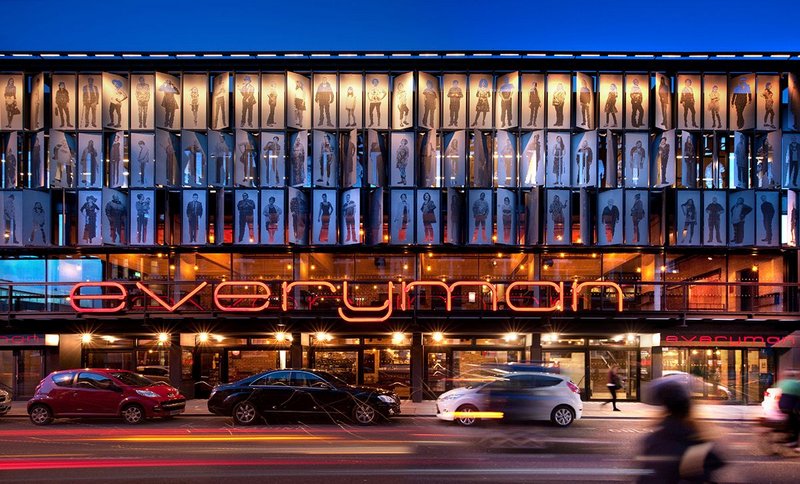 The RIBA Stirling prize-winning Everyman Theatre in Liverpool. Haworth Tompkins successfully created a new theatre to replace its previous Victorian home by designing a building that immediately belonged to the city. Built of reclaimed brick, it includes life-size figures of contemporary Liverpudlians on its façade.

Credit: Philip Vile
The role models project shines a light on chartered practices that are committed to making 'architecture and the broader construction industry more diverse, accessible and inclusive'. Haworth Tompkins has been assiduous in seeking to open up architecture as a profession. It has adopted an equal opportunities recruitment policy partly informed by the programme set up by an enlightened Young Vic theatre, which was ahead of the game; Tompkins is a trustee of the theatre. The wider staff also work proactively to provide opportunities to those who might not generally consider a career in architecture by offering a work placement scheme for 16-18 year olds in local schools. The practice runs internships in partnership with the Stephen Lawrence Trust and individual staff members volunteer for the Social Mobility Foundation. An alternative route to practice is supported by employing post graduate students from the London School of Architecture.
Spare room to learning environment
Tompkins and Graham Haworth started the office in 1991 from a friend's bedroom in Great Portland Street. Tompkins admits:'we didn't do much for the first few months'. The work was 'serendipitous'. When in 1994 the practice was selected by director Stephen Daldry to remodel the Royal Court Theatre in Sloane Square, it was an office of eight that had completed just one building. Its other most significant early project, Iroko Housing for Coin Street Community Builders, was won via an invited competition from a long list of nine, despite having no track record in social housing. This may all sound too easy for an emerging practice, but from the outset the directors brought an unwavering focus to the understanding of a project's context and client relationships that set them apart from their peers.
By the time Johnson joined in 2005 to support the management of the practice, the studio had a staff of 22. 'Steve and Graham were getting drawn into the day to day, which was holding them back from thinking more creatively,' he says. The practice was transformed by three changes. First were Johnson's appointment and a studio move from Clerkenwell to north London, which brought the entire practice together on a single floor of a refurbished Victorian warehouse, where they were able 'to feel one, having a space for working, making models and eating lunch together in the kitchen'. The third was an organisational change, which was the most far reaching. The practice's structure shifted from being largely ad hoc, resourcing projects as needed, to that of two teams of 'teaching group size'. This was a good fit with Haworth Tompkins' ethos and the staff make up, where many younger team members were relatively new to practice. The office became an effective 'learning environment'.
The educational model at Haworth Tompkins is non-hierarchical. The studio's catch phrase is 'a good idea is a good idea'; input is valued whether it comes from a Part 1 or senior director. Tompkins explains: 'No one stands on ceremony. It's a two-way conversation. Everyone is invested in making amazing buildings, in honing and tuning.' The directors also see themselves as part of the constant learning process. All staff in the practice have an internal or external mentor who is not their immediate manager. There is, however, no doubt that the directors have a firm hand on the tiller. As Tompkins says, it is their job 'to hold the trajectory of the wider creative project'. This is where the directors' experience of working in the performance arts and social housing, with clients like the Young Vic and Peabody, come into play. Before anything is translated into architectural plans, the practice leaders ensure a significant amount of time is spent with clients on strategic development. This deep knowledge and emphasis on upstream thinking is just as important for cultural organisations, where funding of a project is going to result in significant capital expenditure, as it is for complex urban regeneration projects, where there are multiple stakeholders and factors outside design to consider.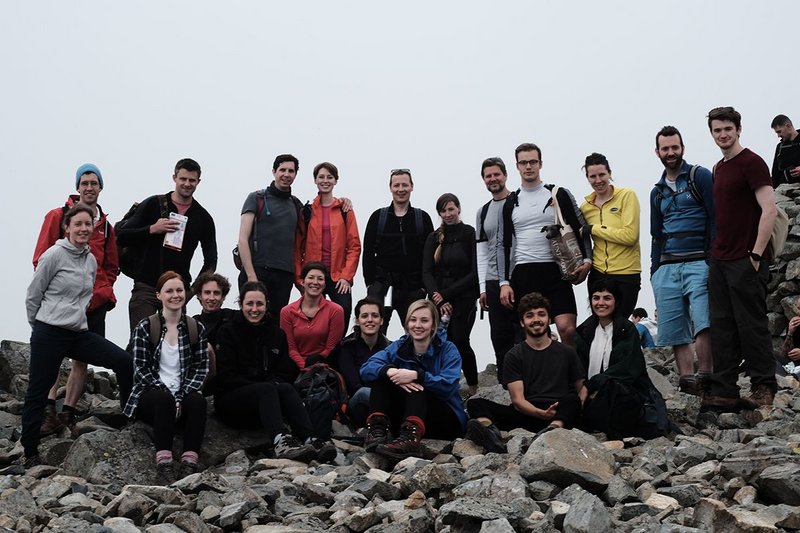 Staff members of Haworth Tompkins on a trip to the Lake District. Photo: Fred Howarth.
Practice sightlines
From its fifth-floor studio, Haworth Tompkins has views across London on every side. These are not the dreaming spire vistas that students on placements might previously have sought in the seclusion of academia. The office provides a setting that connects Part 1 and 2 students firmly to the everyday reality of practice. Tompkins and Johnson admit that financial instability in architecture, riding the various economic cycles, is a way of life. An 'awareness of instability' helps to ward off 'complacency' and keep the practice 'nimble and responsible'. The staff are 'mutually supportive' and pastoral care is provided through the in-house mentoring system. An external consultant also offers individual support for those running their first and second jobs. The practice maintains its agility and momentum through self-critique, constructive reflection and established internal ­processes: directors and associates meet every week; quarterly 'think tanks' enable the practice leaders to 'step back and see where the stretch marks are, identifying areas where they are struggling or thriving'. Reviews and weekly meetings are informed by business planning reviews every three years, which sets targets in terms of sectors and scales of projects its aims to reach. There are monthly studio and bi-weekly group meetings, in addition to weekly project design and delivery reviews and individual performance reviews. Furthermore, tracking tools are used to make ­informed decisions on the setting of ­resources and fees – not to scrutinise or micro­manage individuals' timekeeping.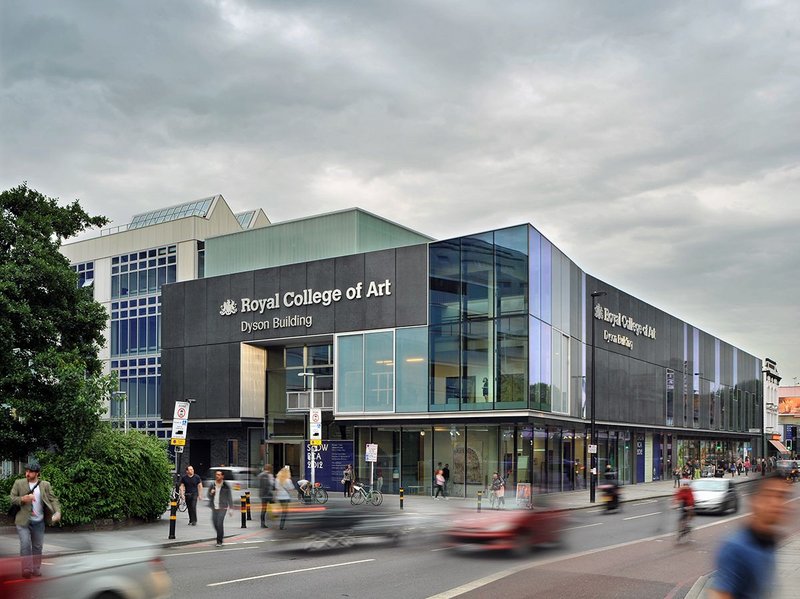 The Dyson Building for the Royal College of Art provides a 'creative factory' for print-making and photography at the college's Battersea Campus. For Haworth Tompkins, higher education is a burgeoning sector. They have further projects underway with the University of Kingston and Pembroke College, Cambridge.

Credit: Philip Vile
Digital and analogue
The practice has the same impetus in its adoption of new technologies. Haworth Tompkins is now in its fifth year of BIM implementation. It has embraced the opportunities that BIM has enabled: to work within a 3D environment and with VR, co-ordinate with other consultants and to design energy and daylight more effectively. In the studio, 3D modelling is combined with analogue processes, which is what Tompkins says gives its buildings their distinct flavour. The repetitive discipline of hand sketching often enables architecture to be 'more considered and less hastily conceived'. In the early design stages, an importance is placed on drawing, whether by hand or on screen to enable 'free thinking to evolve' and 'retain openness'. While valuing the longstanding benefits of the analogue, as studio heads, the directors remain keen to learn and 'to do things they have never done before'. What is their next challenge? Their first foray into offsite with a prefabricated modular auditorium for the London Theatre Company at London Bridge, opening this autumn, which requires a 'different mindset and interface', and yet another learning opportunity. •
More information about RIBA Practice Role Models here
Helen Castle is RIBA head of professional programmes and consultant editor of Architectural Design (AD).
---