The President's Medals have been rewarding the best student ideas and drawings since 1836. This year those projects spanned from the archaeology of the future to the social effect of a socialist city and a civic centre for an island community, with intelligent design development and many beautiful drawings along the way. Of 81 schools that entered, this year saw one, the Bartlett, sweep the board with the excellence of its students' submissions.
---
Serjeant award Part 1
Grunewald's Athenaeum
Razna Begum
University of Greenwich
Tutor: Pascal Bronner
---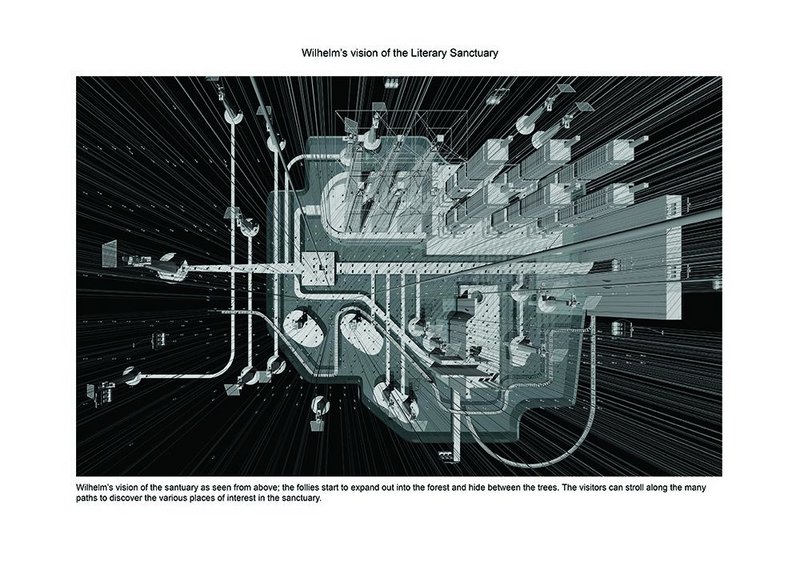 Follies rising up through the trees in the forest sanctuary.
The project is set 250 years into the future, a time when books have become virtually ­obsolete. The digital age has deemed the paper book unnecessary and the art of paper-making is lost with it. An excavation has taken place at a site in the Grunewald forest, where the Berlin British School previously existed. A book was first discovered there by Wilhelm, a descendant of the famous folklorist Franz Xaver Schönwerth, a collector of fairy tales contemporary of the Grimm Brothers.

Each of the excavated books was found sealed in a plastic bag, some of which had been severely damaged. As Wilhelm endeavours to salvage and preserve the remaining books, a monumental scheme develops to restore the printing and archiving of paper books in a ­library. It glorifies the lost art of paper-­making and is a hub for lost books of the past and present.

The base landscape constitutes the heavy structures – paper marsh, bridge, altar (for the first excavated book), the entrance gate and stairs, as well as the library and paper-­making workshop. In the workshop, visitors can collect pulp from the paper marsh, make the ­paper and then hang it to dry. The paper marsh surrounds the landscape echoing the nearby lake. The infinite fragile and tensile canopy disappears into the sky above.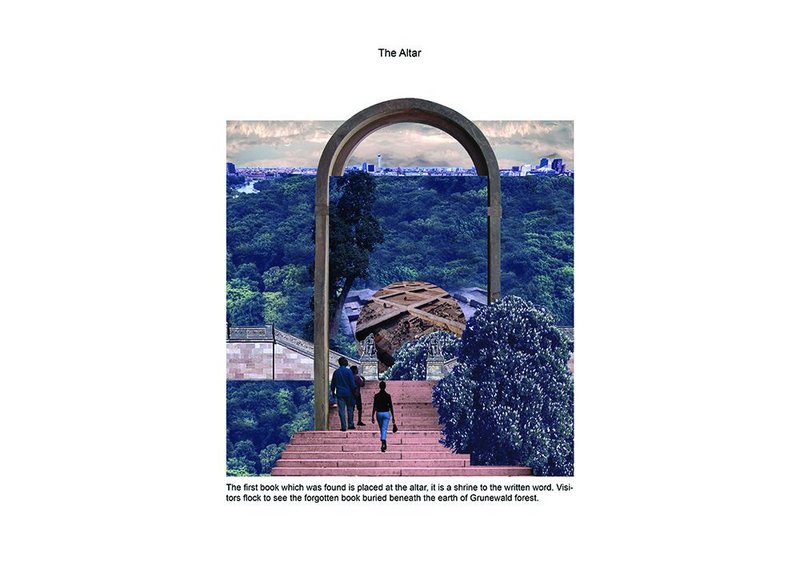 The first discovered forgotten book enshrined in the Grunewald Forest.
---
Part 1 Judges
Roz Barr, founder of Roz Barr Architects
Peter Böhm, founder Peter Böhm Architekten studio
Satwinder Samra, senior lecturer, University of Sheffield
David Gloster, RIBA Director of Education
Vidhya Pushpanathan, 2012 Bronze Medal winner, Wilkinson Eyre
---
COMENDATIONS
Myocardial Augmentation Facility, Orvieto, Italy
Thomas Bush
De Montfort University
Tutor: Christopher Jones
UNESCO World Heritage: A contemporary art museum for Santa Chiara in Pisa, Italy
Minghui Ke
Kingston University
Tutors: Alfredo Caraballo;
Karin Templin; Bruno Marcelino
Gubbio Lido: Recovering open space within the walled city
Pierre Blanc
London Metropolitan University
Tutors: Freddie Phillipson;
Lucy Pritchard
SOM Foundation Fellowship Part I
---