Rob Beeny's reimagining of a rural power station as community asset was inspired by the effects of withdrawn green subsidies on Tuscan businesses and residents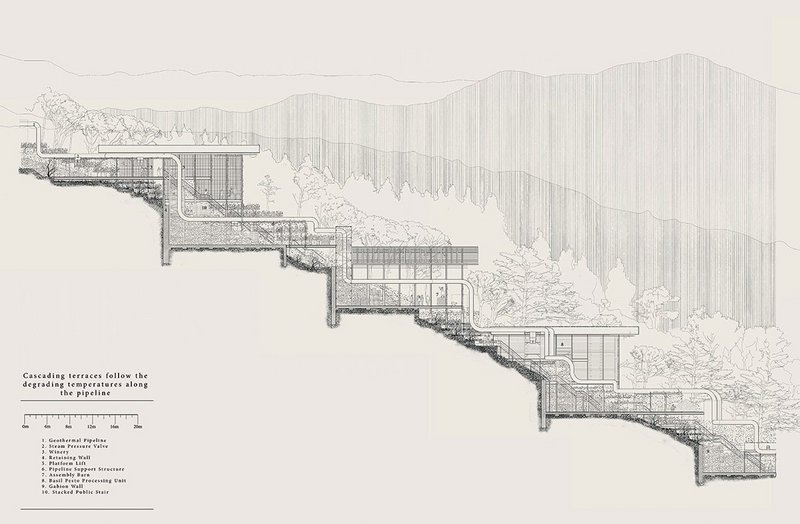 Buildings for local businesses cascade down the hill, steel frames infilled by their artisan users.
Rob Beeny
Devil's Valley Geothermal Co-operative
University of Westminster
Tutors: Anthony Boulanger, Callum Perry, Stuart Piercy
A study trip to Tuscany sparked the idea for Devil's Valley Geothermal Co-operative, a re-imagining of a rural power station as a community asset. Briefed to explore changes within the countryside, Rob Beeny was drawn to the dramatic infrastructure of geothermal energy visible in the Devil's Valley.
'There are amazing concrete cooling ­towers with all this pipe and ductwork that dances across the countryside,' he says.
Discovering that the withdrawal of government green subsidies was threatening local residents and businesses that benefited from the cheap renewable energy, he designed a masterplan for the scenario of a decommissioned power plant. This is ­imagined as being used by a new local co-operative which drills a new well and uses the renewable power to support a thriving artisan ­community.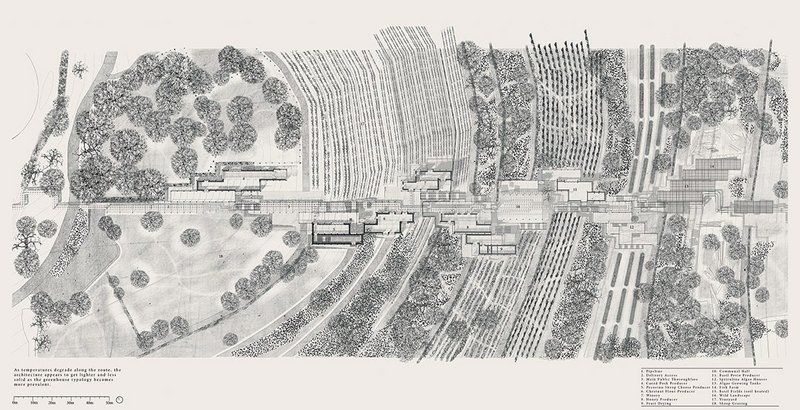 Masterplan for using geothermal power as a community asset.
The architecture of the development is a series of linear structures cascading down the hillside. Businesses including fish farms and those making honey, wine, cheese and malt beer are positioned along the pipeline according to the amount of heat they require. Their facilities get lighter and less solid as the temperatures generated by the power source decreases, culminating in greenhouse-like structures. Steel-framed on concrete piloti, they are infilled with local materials; in the spirit of the shared endeavour, Beeny envisages the artisan community constructing the buildings themselves. The development also includes a large communal hall/barn for use by co-operative members and the public.
A public thoroughfare runs through the development, with the geothermal pipe on display as it runs down the hillside. The deliberately high visibility of the renewable power source is important, says Beeny: 'It's about celebrating the fact they own this amazing infrastructure and are looking after it.'
Terraces formed on either side from displaced land are cultivated so the power station 'blurs' into its surrounding landscape.
The resulting development enables a rural co-operative to regain control of its socio-economic future by controlling its own geothermal well and pipeline.
---
SILVER Commendations
Lisa Edwards
Reclaiming the Sento
University of Kent
Tutors: Ben Corrie, Yorgas Loizos, Matthew Woodthorpe
Yip Wing Siu
Designing with Bata: New Doggerlands, a dynamic masterplan for enabling the East Tilbury Commons
Bartlett School of Architecture, UCL
Tutors: Sabine Storp, Patrick Weber
Daniel Tihanyi
Preservation and enhancement: Vision for a Yemeni mountain settlement
University of Strathclyde
Tutors: Piotr Leśniak, Gordon Murray
RIBA Prize for Sustainable Design at Part 2
Aisling Mulligan
A methodology for reuse: Embracing a circular economy in a carbon-conscious construction sector
University College Dublin
Tutors: Pierre Long, Orla Murphy, Emmett Scanlon
Serjeant Award for Excellence in Drawing in Part 2
Aine Walker
Project: Anamnesis: Connective (re)collections
University College Cork
Tutors: Lorenzo Cammoranesi, Kieran Cremin, Jason O'Shaughnessy
---
Silver Medal Judges
Chair: Professor David Gloster RIBA director of education
Lily Jencks Co-founder of landart practice JencksSquared and architectural and landscape design practice Lily Jencks Studio
Arthur Mamou-Mani Director of Mamou-Mani Architects and lecturer at the University of Westminster
Mauricio Pezo Founder of the Chilean studio Pezo von Ellrichshausen and associate professor of practice at AAP Cornell University
Ola Uduku Research professor in architecture at the Manchester School of Architecture
Nicky Watson Chair of the RIBA Education Committee, RIBA board trustee, RIBA Council representative for the North East and director of JDDK Architects