Architecture peps up glamping and more at Wales festival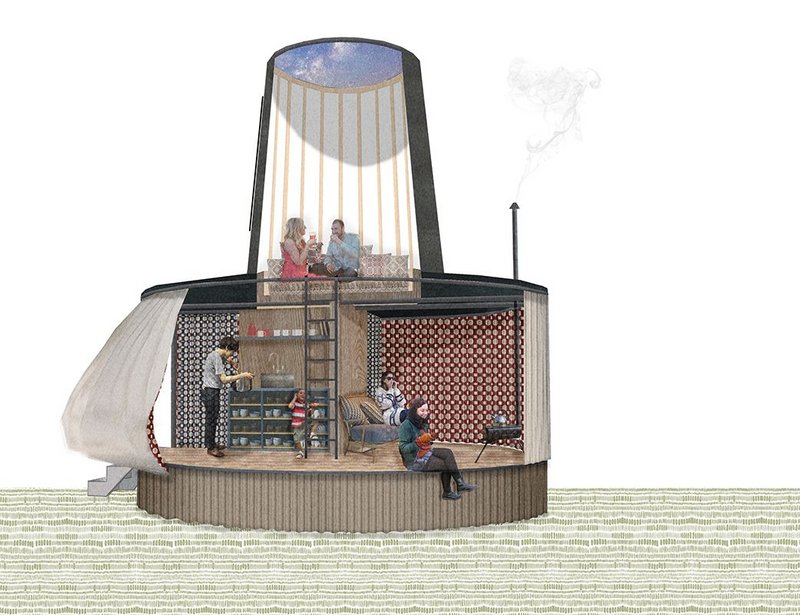 Rural Office for Architecture's Black Hat, one of the winners in the Legendary Glamping competition for holiday cabins in Wales themed on Welsh legends and materials.
How would you rather glamp in Wales? In a cabin shaped like a traditional Welsh hat, in a Skyhut with retractable roof for stargazing, or perhaps a scaly-skinned Dragon's Eye pod? Architectural glamping is just one of the topics covered in this year's Wales Festival of Architecture organised by the Royal Society of Architects in Wales and held at various venues this spring.
Two of the winners of the Legendary Glamping competition to design a Welsh-themed holiday cabin are speaking at an event on 10 May at MOMA in Machynlleth. Niall Maxwell of Rural Office for Architecture and Carwyn Lloyd Jones will be joined by Dafydd Tomos of architect George + Tomos Penseiri, one of the concept creators that secured funding from Visit Wales for the bright idea of glamping structures inspired by Welsh legends and materials. The eight pop-up cabins have now been prefabricated and were recently unveiled ahead of their tour to three locations across Wales over the summer. The project is being documented for a Channel 4 television programme.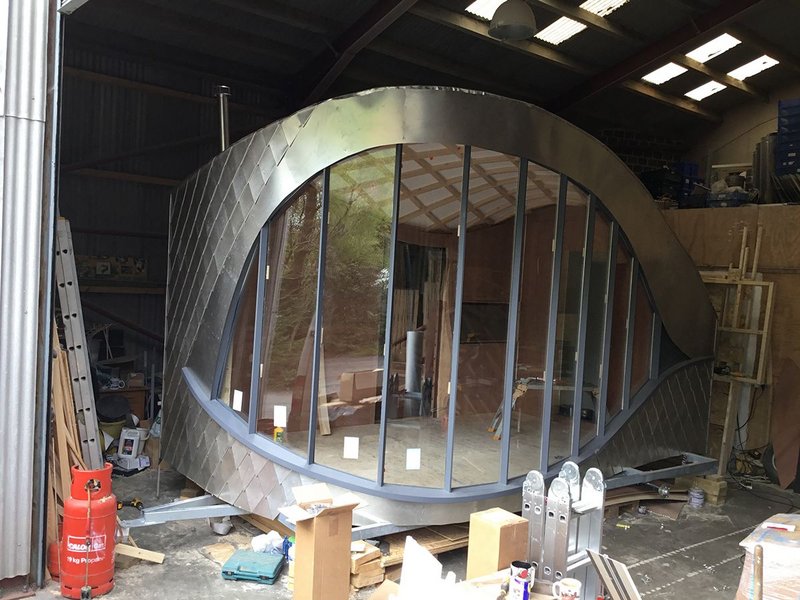 Dragon's Eye Epic Glamping cabin, designed by Carwyn Lloyd Jones.
The RSAW Legendary Glamping event will be held in a converted chapel, an appropriate venue given that chapels are the theme of another festival event, the Welsh Chapels exhibition by architect Dick Evans (until 20 May, MOMA, Machynlleth). His drawings, collographs and prints capture the essence of chapels.
Contemporary as well as traditional Welsh architecture is celebrated throughout the festival programme. The exhibition, For the people…A celebration of Welsh Architecture (until 20 May, Aberystwyth Arts Centre) features photography by James Morris, who was commissioned to document all the 2016 RSAW Award-winners. Refreshingly, the brief was to show the buildings as they are used, people and all.
"We deliberately wanted to show how people live and move around the buildings. The photographs really make you want to go to them because you can see people in there, enjoying them," says RSAW director Mary Wrenn.
Legendary Glamping likewise promotes new Welsh architecture, she adds, offering visitors a taster experience of contemporary design.
Another architectural exhibition, Added Dimensions, shows the work of local architects in Swansea, Carmarthen and Llandelli (various pop-up venues, until 31 May).
The art exhibition Roger Cecil – Inside the studio (MOMA, Machynlleth until 24 June shows figurative and abstract paintings inspired by the industrial valley towns and mountains of South Wales.
Festival-goers with their appetites whetted for contemporary architecture can find out the winner of this year's RSAW awards by attending the presentation ceremony on 30 May (Cardiff and Vale College, tickets: £25+VAT).
Wales Festival of Architecture 2017, various venues