Growing up in the countryside has left the directors of 31/44 Architects with a certain diffidence and a reverence for cities undissipated by 20 years in London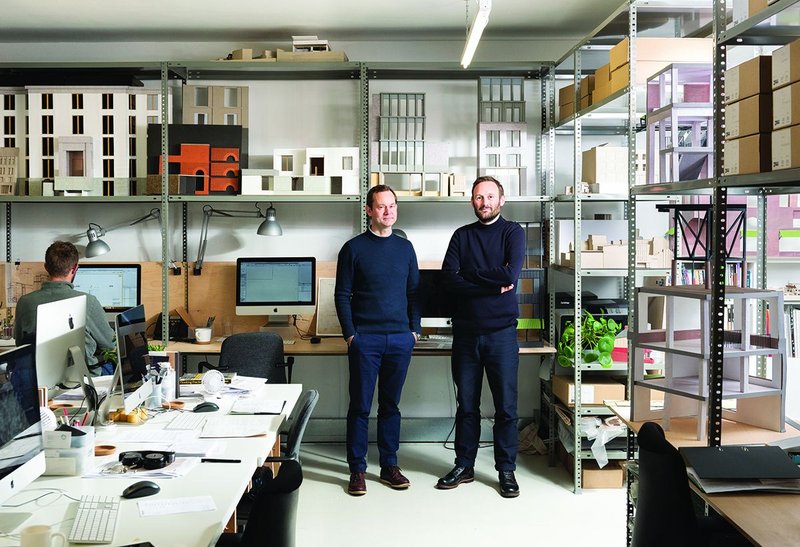 31/44 Architects' Will Burges (left) and Stephen Davies in their studio.

Credit: Ivan Jones
A photoshoot can reveal a great deal about the sitters. Some people take to it automatically, others find it all slightly awkward. Will Burges and Stephen Davies, directors of 10-strong London practice 31/44 Architects, are definitely in the second camp. When we meet in late November at their office in a mid-century building in Whitechapel overlooking the Gherkin, there's a feeling of novelty and unease while we wait for the photographer. Lots of tinkering, hands in pockets, sitting down and getting up again.
It's a Friday afternoon and many staff are away. When the photoshoot starts, Burges and Davies would clearly rather pretend it isn't happening by talking instead – never really looking at the camera. But they are laughing about themselves too. And when we take the shoot to the dormant Whitechapel Bell Foundry down the road, which 31/44 is in the process of redesigning after its controversial sale last year, suddenly Davies with his blue mac and Burges with his cow hitch knotted scarf look like actors in a Jack the Ripper themed tour of the East End.
The scene pitches them wrong, but they've got into the spirit of the interview. The self-consciousness of an hour earlier has slipped away and they are chatting freely without having to be prodded hard. As the afternoon continues I realise this speaks volumes about Burges and Davies, and how they run their practice.
'We are quite sensible,' says Davies. 'We have spreadsheets and we've never thrown everything at one thing thinking if this comes off we are sorted and if it doesn't we are in real trouble.'
Instead, Davies and Burges describe their style as slow and steady, which makes sense from our encounter. That might not sound like much of a story but it is given the practice started 'accidentally' when Burges, who had been an employee of eight years' standing at Proctor & Matthews, was contacted by a friend with a lot of work and decided to help. James Jeffries joined soon after and Davies in 2012. They've completed dozens of buildings, are getting increasingly significant commissions and awards (Red House was shortlisted for the House of the Year), but only now do they feel they've done enough to warrant talking about it. It's all quite enamouring and realistic, which is refreshing.
We are quite sensible. We've never thrown everything at just one thing
Rather, at the time, the only thing that was clear was that they didn't want their own names above the door. 'I remember at Proctor & Matthews, we often had meetings where the client would be disappointed that no one with the surnames Proctor or Matthews were there,' explains Burges. A nondescript name meant people could join and leave invisibly – as Jeffries did just six months ago, closing the practice's co-original office in Amsterdam. The name 31/44 comes from the respective telephone dialling codes of the Netherlands and UK.
Now on the top of a four-storey building with the City of London in the middle distance and the dilapidation of Whitechapel below, the interior of 31/44's office is typical of many a small practice. Grey-green rack shelving with models stacked high line the space; architects poked in slightly unfairly underneath. But look carefully and you see that the models are at a far bigger scale than most practices would make, and Davies and Burges are wearing full navy, not black.
'We collect people with complementary skills,' explains Burges after a few minutes. 'We have an open table where everyone contributes to designs. There isn't a red pen master sketch by either of us. We are not hyper confident in that way; we look for reassurance and interrogation from each other.'
Collaged together, like the proposal drawings for Whitechapel Bell Foundry, what's interesting about these admissions is that often these qualities would be perceived as something that could hold businesses back. But in Burges and Davies' case it means they have a lot of repeat work and word of mouth recommendations. They credit just three clients with changing the direction of the practice – something they put down to 'being nice and working hard'.
'We both grew up in the countryside,' says Burges who is from The Fens, whereas Davies is from North Wales. 'We don't have that metropolitan confidence you get if you are a kid in the city. There is still a separation in us that, even after 20 years in London, think cities are bonkers. We have a reverence for them.'
They think clients appreciate this humbleness and take on their ideas as a result. While luck in meeting clients might play a role initially, it is what happens afterwards that means they get more work. The client for Whitechapel Bell Foundry, for example, is an American investor whose secretary called up out of the blue three years ago telling them to meet this man at the such and such hotel the following Tuesday. After converting a three-storey building on Redchurch Street in Shore­ditch, then an adjoining site, Whitechapel is their third project together. If that job had been offered through an open competition, 31/44 might not have got a look in as it still struggles to pre-qualify for many projects. To Burges and Davies, treating clients well means having the appetite to go through the process and get things delivered as well as getting to know clients as people and how they prefer to communicate – brief and direct in the case of the American.
'We were always mindful that the project needs to get built,' says Davies about their approach to starting up. 'Once you've been through that process, it helps you grow quite quickly.'
We both grew up in the country; even after 20 years in London we have a reverence for cities
However, what these good manners mean for 31/44's architecture is its early projects feel now quite distant from its work today as it didn't want to go overboard on them and risk they wouldn't get built. Secondly, and this goes back to how they feel about cities, it means the firm's designs are not 'selfish', ego-led icons.
'Sometimes you need to design buildings that make a piece of the background of a city. We try to do buildings that start off like this but when you stop to look at them they have a greater depth,' explains Burges. At the first phase of Redchurch Street, for example, 31/44 kept the original three-storey 1950s building, excavated a basement and added two storeys for a hotel.
'Regeneration is a difficult thing. We don't want to kill a place,' says Davies. 'We were always quite conscious that if we did something here, how would we make it not feel like a big commercial developer coming in but do something for the established community?' This led to the suggestion of giving the coffee roastery Allpress, which had become synonymous with the old building, a kiosk in the refurbishment to maintain its presence there. Then overall the building feels tough, industrial as well as civic, which reflects what has happened to Shoreditch in general.
Now 31/44 has a few buildings under its belt it is designing projects with increasing personality. Red House in south London, which was speculatively built by Arrant Land, for example, uses the red engineering accent brick of the neighbouring terraces all over, as well as picking out a decorative scheme in those which it repeats as blocks of pattern. The practice takes something ordinary and subverts it slightly – 'adopting to undermine'. It ekes out space and is ­sympathetic to context, with everything feeding into the one thing. The effect is quite abstract and intriguing, with a twisting ground floor plan around lightwell courtyards. That client came to them by recommendation too, but what convinced him was a well-written design and access statement by 31/44 (check yours now!) which they found online.
So what next? Whitechapel Bell Foundry is about to go in for planning, which may take some time as it includes proposals for a five to six storey hotel on the two sites behind as well as the listed building (which will retain a foundry element but be open to the public). The practice also has a two-house, six-apartment scheme in Whitstable as well as private houses in Peckham and Forest Hill, and eight supported living projects across the country. However, after all this, Davies and Burges feel it might be about time to revisit the large housebuilding projects they worked on before at Proctor & Matthews. They've learned a lot since and are interested to put it to use on that 'sometimes frustrating process'. As ever they'll start cautiously and bashfully I'm sure, before swinging into it.