How Philip Yuan's practice combines sensuous architecture with world-beating technology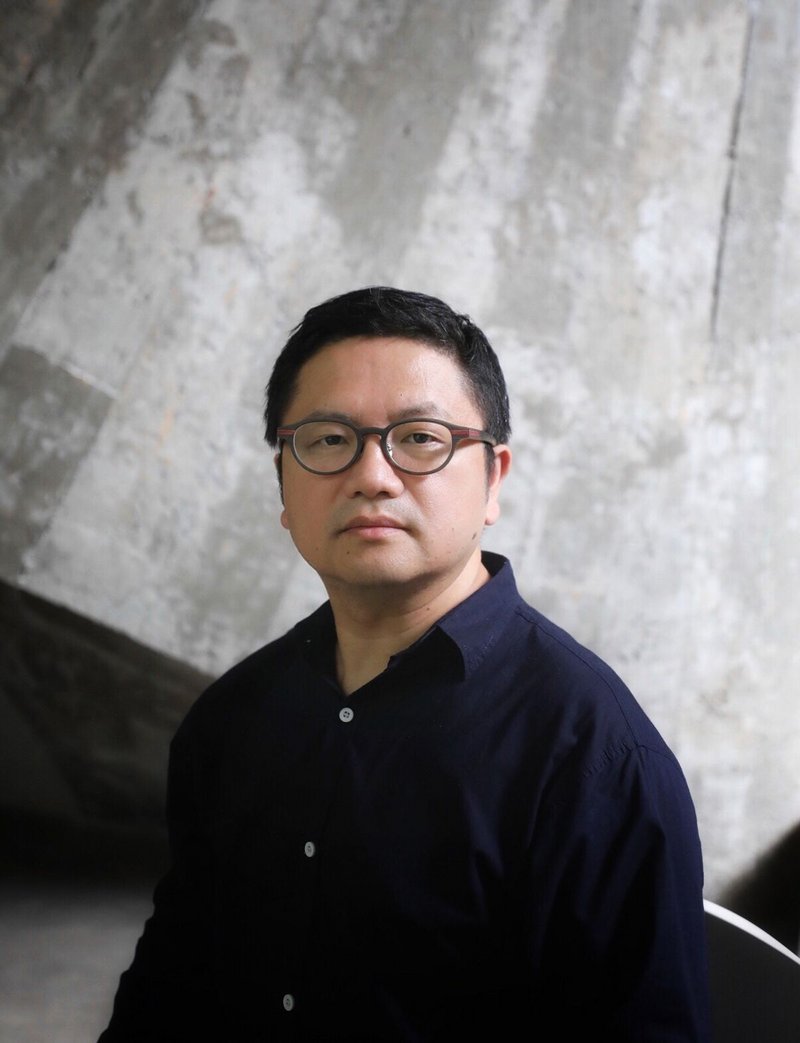 Philip Yuan, principal of Archi-Union and Fab-Union, and a professor at the College of Architecture and Urban Planning, Tongji University, Shanghai.

Credit: Ningjue Lyu
Forget what you previously imagined about China. Shanghai could not be further from the old western perception of takeaways, cheap goods and people in Mao jackets riding on bicycles.
After landing at the stylish new Pudong Airport, you are whisked away in a Maglev train (268mph max operating speed) that makes Britain's fastest train, Eurostar e320 (186mph), look distinctly sluggish. Then from the magnificent colonial-style buildings of the Bund, many of them designed by British architects in the 1930s, you can gaze across the Huangpu river at the astonishing skyline of the Pudong district, with its pulsating, animated LED facades, the symbol of the new China. Think that the Shard (302m) is tall? Forget it. At 629m the Gensler-designed Shanghai Tower is over twice the height. Overall, Shanghai is a lot faster, larger and more technologically advanced than many in the west could ever imagine.
In this technologically charged, futuristic environment the architectural practice Archi-Union, run by Philip Yuan, appears to be quite at home. In fact, there are effectively two practices – Archi-Union itself, one of a wave of highly accomplished emerging architects in China, and Fab-Union, its in-house experimental wing that tests the latest design and fabrication technologies.
The Archi-Union offices are a 30-minute taxi ride from the centre of Shanghai in the grounds of a former factory, not dissimilar to the 798 Art District in Beijing. The first view that you have of the office is the exquisite undulating Silk Wall (2010) surrounding the premises (pictured top, photographed by Zonghai Shen). The wall itself belongs to a pre-computational era, and displays Yuan's familiarity with conventional local construction practices. Indeed, although he was subsequently exposed to a computational culture as a visiting professor at MIT, he had a traditional education in China, and as a young architect worked in a standard Chinese office. Yet he has managed to create an ribbon of simple concrete blocks as sensuous as any fabricated using advanced western technologies.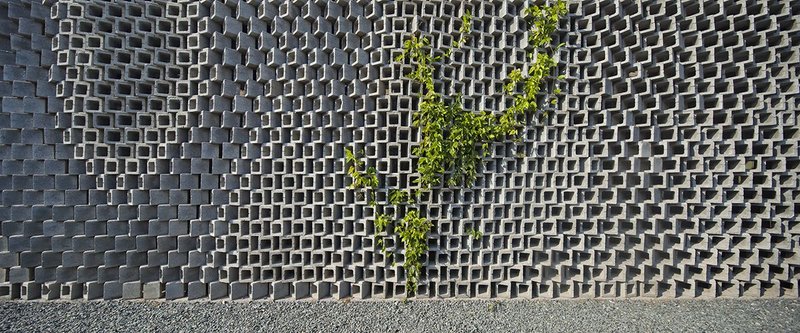 Silk Wall, Archi-Union offices, Shanghai (2010). Construction workers were given simple, analogue templates to lay the blocks.
This early project stands in contrast to Chi She, a gallery in the West Bund that was renovated in 2016. There, as opposed to the crafted nature of the 2010 project, bricks were laid using a robotic arm, representing the next highly computational phase of the office.
Behind the Silk Wall is Archi-Union's office, an Aladdin's cave of technological wizardry. An entrance courtyard opens before you with a plasma-cut steel table placed in the middle. It was fabricated by a local ship building company, for which Yuan recently designed some offices. Behind that is a vaulted structure, designed in collaboration with Philippe Block using RhinoVault software, and constructed by researchers and students from ETH Zurich, MIT and Tongji University, where Yuan is professor of the College of Architecture and Urban Planning (CAUP). Archi-Union is such a fusion between academia and practice that it is not always so clear where one ends and the other begins. Many of the staff are postdoctoral researchers and former Tongji University students.
Entering the main building, the visitor is greeted by a giant 3D printed wall. The experimentation continues in the main office space where 100 architects sit at their computers surrounded by injection moulded and 3D printed furniture. The furniture is viewed as a proto-architecture, intended to test the practice's latest ideas at small scale before implementation in actual buildings.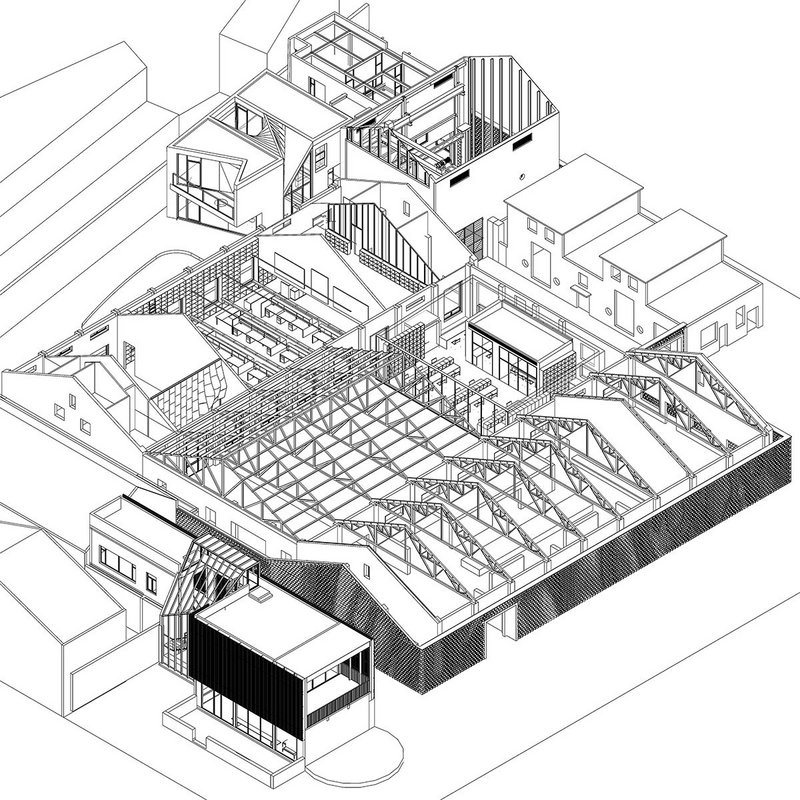 Axonometric of the Archi-Union offices, which are in a former factory. The roof of the central portion of the factory was removed to create a courtyard.

Credit: Archi-Union Architects
To the rear of the main building are Fab-Union's experimental labs, although many of its hoard of 24 robotic arms are housed in a separate facility. The pièce de résistance, however, is the giant fabrication hall that houses two large KUKA Quantec Nano R1800 robots suspended from a customised gantry and used for robotic fabrication. Most schools of architecture would be happy to own a single robotic arm; even the best have nothing quite like this. It is in this experimental hi-tech wonderland that Philip Yuan has built a reputation as not only one of the most talented emerging architects in the world, but also as one of the most technologically advanced.
But what's interesting about Archi-Union is that its designs are not compromised by using these technologies. In fact, it is hardly noticeable that its buildings are fabricated robotically. Who would have guessed, for example, that the beams for the In-Bamboo community centre (2018) in Sichuan Province, which is made of traditional materials and has an incredibly hand-crafted look, had been cut in one continuous curved line using a band saw end effector attached to a robotic arm?
Another example of this fusion of traditional forms and hi-tech construction is Archi-Union's Inkstone House Cultural Centre, also in Sichuan Province. The design is based on the curvilinear forms of the traditional inkwell used for Chinese calligraphy, but the curved timber beams used in its construction were also cut using the same robotically controlled band saw. This is digital craftsmanship at its finest and, evidentially, most precise.
At the back of the Archi-Union complex is Philip Yuan's teahouse (2010), an early exploration of the potential of ruled surface concrete construction. This in turn inspired the design of his larger Fab-Union Space gallery (2015) on the West Bund, a concrete structure inside and out and one of the most successful of Yuan's works. When I last visited the gallery, it housed an exhibition of Steven Holl's designs complete with quaint watercolour paintings that, by comparison, looked as though they came from a previous millennium.
In front of the teahouse is a pool traversed by two bridges also designed using RhinoVault and constructed as part of the academic collaboration between Tongji University, ETH Zurich and MIT.
Bridges are something of a specialism for Yuan. Over the past three years he and his students have 3D printed four full-scale bridges as part of yet another groundbreaking venture in which he has been involved: the DigitalFUTURES series of annual international workshops, conferences, exhibitions and PhD programme. He has also published a dozen or so books.
Overall Yuan, the mastermind behind Archi-Union and Fab-Union, comes across as an energetic individual, a mix of academic and architect, writer and practitioner, who is at home working with both traditional materials and using the most advanced design and fabrication technologies.
As China begins to develop its own new highly innovative strand of architectural design and construction, in the context of a culture that is a curious mix of old world values and contemporary, westernised lifestyles, Yuan is playing a crucial role. I wouldn't be surprised if he were to be the next Chinese architect shortlisted for a Pritzker Prize.
---
Neil Leach teaches at Tongji University among other institutions. He received a NASA grant to develop a robotic fabrication technology to print structures on the moon.