Undiagnosed dyslexia meant Darren Bray left school with one GCSE above D. Meeting the right mentors, and his own determination, led him to become an RIBA Role Model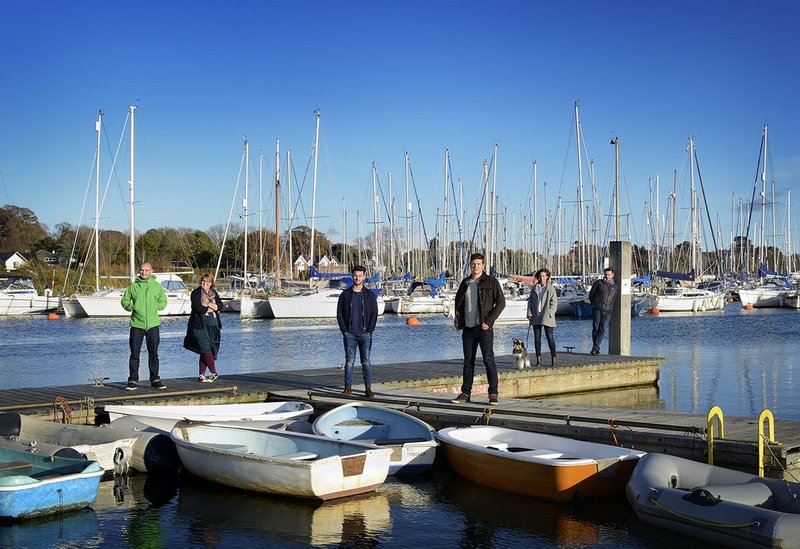 The PAD Studio team in the harbour at Lymington.

Credit: Nigel Rigden
Darren Bray refers to himself as a 'gatecrasher', 'imposter' and 'disrupter'. This perception of himself as an interloper has not shifted after 19 years in practice. Having his ambitions thwarted by the education system in his school years and then receiving vital encouragement from key individuals in his late teens has inevitably shaped his outlook.
An outlier, he might be, but a loner he is not. He is the gatecrasher who wants to get everyone else into the party rather than sit alone drinking. Those who know him best say he is a people person, a giver with a strong moral compass. Recognised as an RIBA Role Model in 2015, he has distinguished himself as a part-time teacher at Portsmouth School of Architecture, as a mentor and as technical director at award-winning PAD Studio in Lymington, Hampshire.
When Roger Tyrell, principal lecturer at Portsmouth, first encountered Bray, he was a shy 16-year-old, lacking self-confidence, who had 'been poorly served by the education system in failing to diagnose his ­dyslexia'. Having left school with just one GCSE above a grade D, Bray was employed by Tyrell on a Youth Training Scheme at his practice in Brixham, South Devon. Tyrell recognised in him a spark and a sense of inquiry: 'He always sought out opportunities in the office rather than waiting for them to arrive.'
Working for Tyrell spurred Bray's thirst for knowledge. He attended technical college, where he gained a BTech in Building Studies after five years. This gave him the qualifications to become an architectural technician, but with further encouragement from Tyrell and fellow British architect Stan Bolt he applied for undergraduate studies in architecture at Portsmouth. By way of preparation for his interview, they gave him two books and sent him off around Europe for a month to look at buildings.
Having undertaken Parts 1 and 2 at Portsmouth and worked for a number of practices in the area, including Re-Format in Alton where he was an associate, he joined PAD Studio in 2007. Bray's 'technically brilliant' skills proved complementary to those of managing director Wendy Perring. As she explains: 'Darren has great attention to detail, years of practice experience and is wonderful at relating to craftsmen and the people who make the work that we design.' This has freed her to play to her own strengths 'in uncovering the narrative and design response'.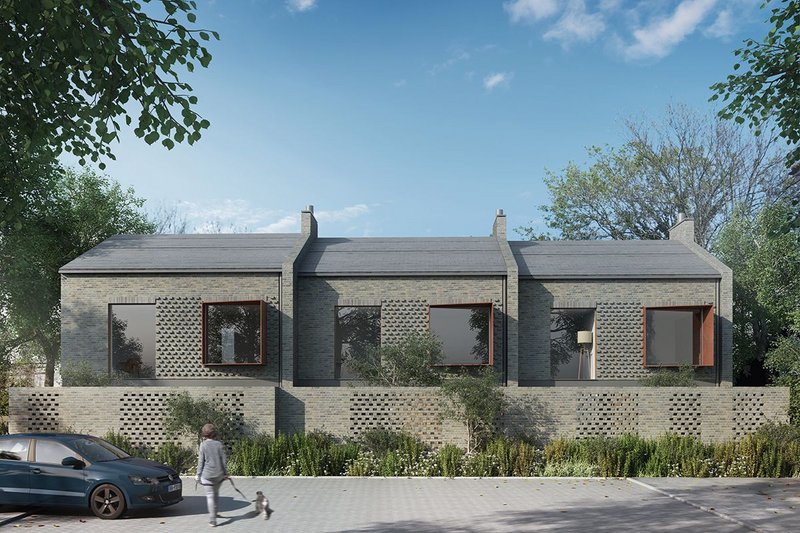 Rendering of new terraced housing by PAD Studio for Enfield, north London.
The PAD studio is just off the Georgian high street in Lymington, sharing a courtyard with an artisan café, deli and gift shop. Painted a soft duck egg blue with a striking traditional style shop sign, it could ­easily be mistaken for a local art gallery. The space might be intimate and informal, but everything is perfectly curated: whether it is the wooden topped work stations, square shelves, beautifully crafted models, carefully heaped rolls of drawings or professionally shot photos of recently completed projects.
PAD's team of six is diverse in terms of age, gender and background, but they are all what Bray describes as 'strivers'. Tayseer Kardash, who is working there as part of her MArch at Cardiff University, epitomises this. Having studied architecture in Sudan, she had to start from scratch in the UK. She took her undergraduate degree at Portsmouth where she was taught and mentored by Bray. She not only had to learn English but was profoundly deaf, yet won every prize going. She has since had a transformative operation that, combined with a hearing aid, has recovered most of her hearing.
The ingenuity and deftness that the individuals who make up PAD have drawn on to navigate life's challenges serve them well in practice. PAD has established its design credentials with a number of private houses in and around the New Forest: just this year, two of these were shortlisted for the RIBA South Regional Awards, alongside the likes of FCBS, AHMM and Richard Meier. Punching above its weight, it was the only practice to have more than one project nominated. As an area of outstanding natural beauty, the New Forest has stringent planning controls. It is one of the most ancient and protected landscapes in the UK, with its woodlands, heaths and coastline of salt marshes and historic towns and villages. This requires sensitive handling of context and an astute approach to planning.
New Forest Lodge, shortlisted for the 2017 awards, is a case in point. A prefabricated cabin, it was designed to provide its owners, who had lived in a static caravan for 15 years, with a 'permanent' home. In order to gain planning permission, the structure had to conform to the Caravan Act 1968. This limited its length to 20m and its width to less than 7m. It also had to be on a concrete base and not permanently fixed. PAD has achieved an attractive light-filled dwelling connected to its natural setting. Built to PassivHaus standards and a modest budget, it exudes well crafted quality: chestnut clad, it is fitted out with bespoke joinery and internally finished with oak and limestone.
PAD is now spreading beyond the local area. It has a number of projects in the South Downs and recently won planning for three houses in Enfield, north London; the first of four schemes that replace old garages with new homes. It also has its first public building on site, the Canoe Lake Tennis Club in Portsmouth. The practice first gained widespread acclaim in 2013 with its quirky and photogenic Exbury Egg, a live-work pod for artist Stephen Turner. Its reputation was consolidated when it was named 2014 RIBA South Emerging Architect of the Year.
The development of the practice has, as described by Bray, also been 'organic', resting on the close relationships it has fostered over time with clients and collaborators. The Enfield project came about through its work on a difficult site next to the Montague Estate, home to the Beaulieu National Motor Museum, with a private client. He was so impressed by PAD's resourcefulness and flexible thinking that he asked them to look at his development sites in north London.
Now teaching alongside mentor and previous employer Roger Tyrell on the postgraduate Emergent Studio at Portsmouth, Bray, says Tyrell, 'passionately encourages his young charges to have aspiration, develop confidence and be rigorous in all they do... leading by example, his energy commitment and passion are constantly evident in all he does'.
Darren Bray has proven with a great deal of tenacity what is possible outside the conventional A level route. His experience raises the question of whether the current ­academic entry requirements might be an insurmountable obstacle for other highly talented individuals at a time when architecture is seeking to be a more diverse, accessible and robust profession.
Helen Castle is head of professional programmes at the RIBA and consultant editor of Architectural Design.
For information on RIBA Role Models see architecture.com.
---