Melbourne's new Design Hub is built for sustainable cooling, but its glass disc facade is also waiting to harness the sun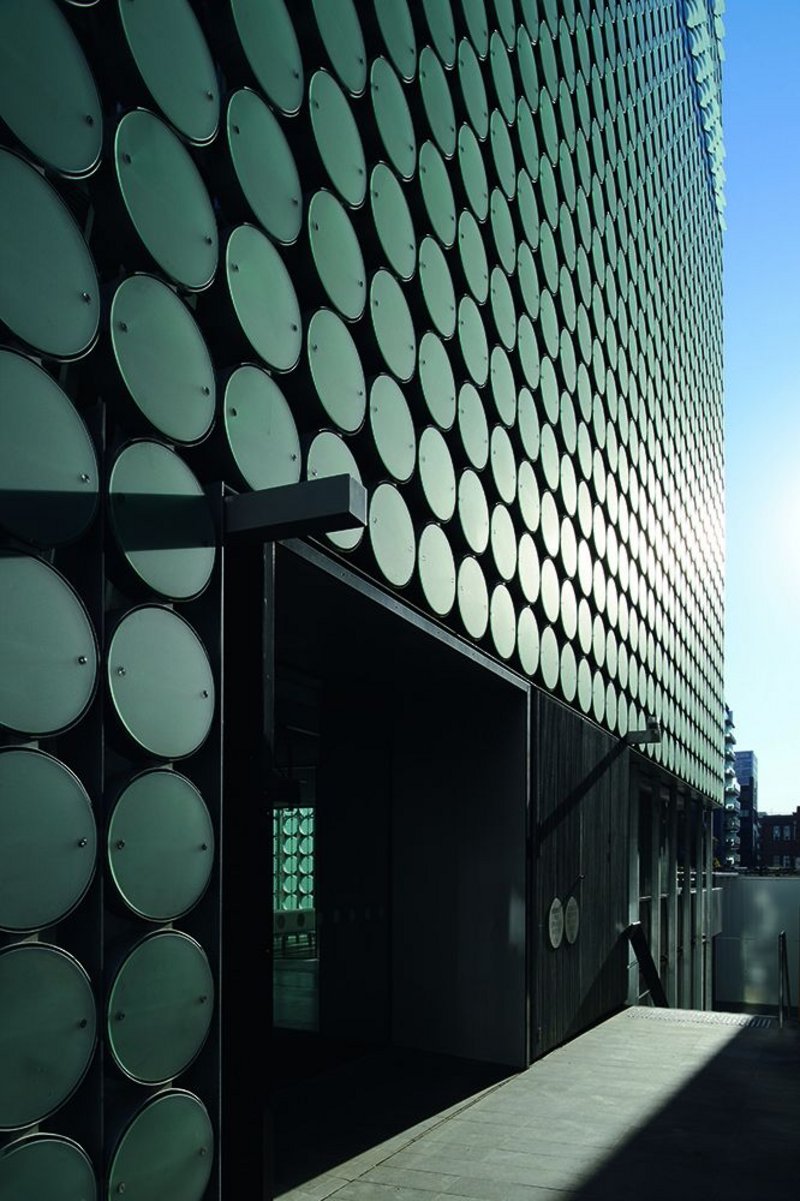 Godsell's RMIT facade is inspired by Nouvel's Arab Institute, but with its up-to-date BMS system it avoids the problems that plagued Nouvel's design.
For a building full of post-grad design students engaged in research, it's fitting that the very fabric of the Royal Melbourne Institute of Technology's new Design Hub is conceived as a research site in itself.

Architect Sean Godsell has a track record creating buildings with double facades that offer protection from the harsh solar conditions of the Australian climate, most notably the timber-shuttered Peninsula and Carter/Tucker houses. The RMIT Design Hub takes this further in an urban context, providing a double-skinned facade with an operable outer layer of automated sun-shading made up of 17,000 glass discs. The outer layer shields the inner skin but will also act as a test-bed for what Godsell anticipates will be significant advances in solar technology. These could lead, he hopes, to the facade eventually being able to generate enough electricity to power the whole building.

'It's a building with a whole other life to come,' he says.

Design Hub occupies a prominent corner site in Melbourne near the Shrine of Remembrance war memorial. RMIT wanted the building to foster both industry links and cross-fertilisation between a wide range of design disciplines from disparate sites by bringing them together in one, 13,000m2 research hub. The outward form itself is relatively simple – an eight-floor tower with two basement levels built with a structure of steel reinforced concrete columns and post tensioned concrete slab. But the complexity is in the disc-covered, dynamic facade, which makes the building an instantly recognisable local landmark.

The big challenge for Godsell was not so much how to foster a culture of creative cross pollination – achieved through ultra-flexible warehouse style space and clever circulation – but meeting the requirement for a ultra-green building that sent the message that the RMIT was serious about sustainable design.

'The real sticking point was solar power. The reality is that solar technology is still in its infancy,' says Godsell. Rather than commit the building to technology that might become obsolete, the architects designed a solar-responsive dual skin facade without photo-voltaics but with built-in scope for experimentation including PV capability that can be upgraded as solar technology moves on.

Design Hub's outer, sun-shading facade is made up of 600mm diameter sandblasted glass discs attached to either horizontal or vertical aluminium axels. These are in turn fixed to a galvanised steel 130mm deep cylinder. Panels measuring 1.8m by 4.2m hold 21 glass disks and their cylinders, themselves supported on a secondary galvanised steel frame set 700mm off the double-glazed inner skin of curtain walling. Of each panel, 12 discs are operable via electronically activated actuators, with the exception of the ground and plant levels, where all discs have fixed positions.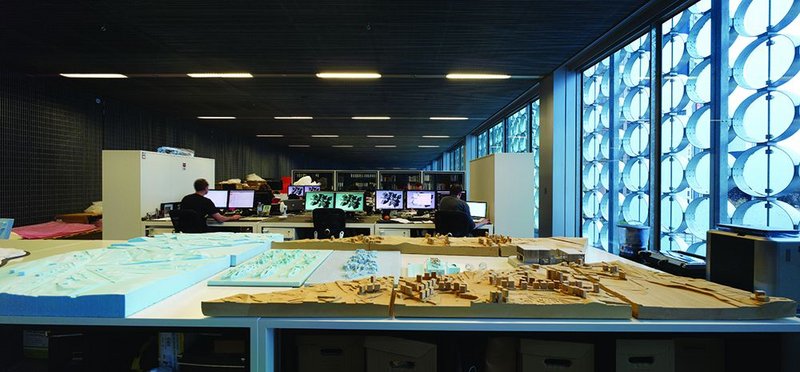 Opaque glazing gives 85% reductions in solar transmission while offering glimpsed views of the city.
Discs open to 90º, pivoting on horizontal axles on the north and south, and vertical axles on the east and west to prevent direct sunlight on the inner curtain wall, which is also protected with low emissivity film. With 86 panels per level, the building contains 774 panels. The discs have been designed with scope to hold PV cells in the future with the infrastructure to distribute the power either throughout the building or back to the grid.

This operates silently as the sun hits the facade in the morning, poetically 'waking up and greeting the day', says Godsell. It recalls Jean Nouvel's 1987 Arab World Institute in Paris with its lattice-like southern facade of light-sensitive, lens-like brise-soleil which has long been an inspiration for Godsell, despite its operational difficulties. Design Hub however has a building management system – then unavailable to Nouvel. The discs give the harsh Australian sunlight a dappled quality comparable to that filtered by gum trees in the bush, he says. Their circular motif, inspired by skin cell structure, creates a simple geometry and a strong identity for the building which is picked up in the interior surface treatments and graphics.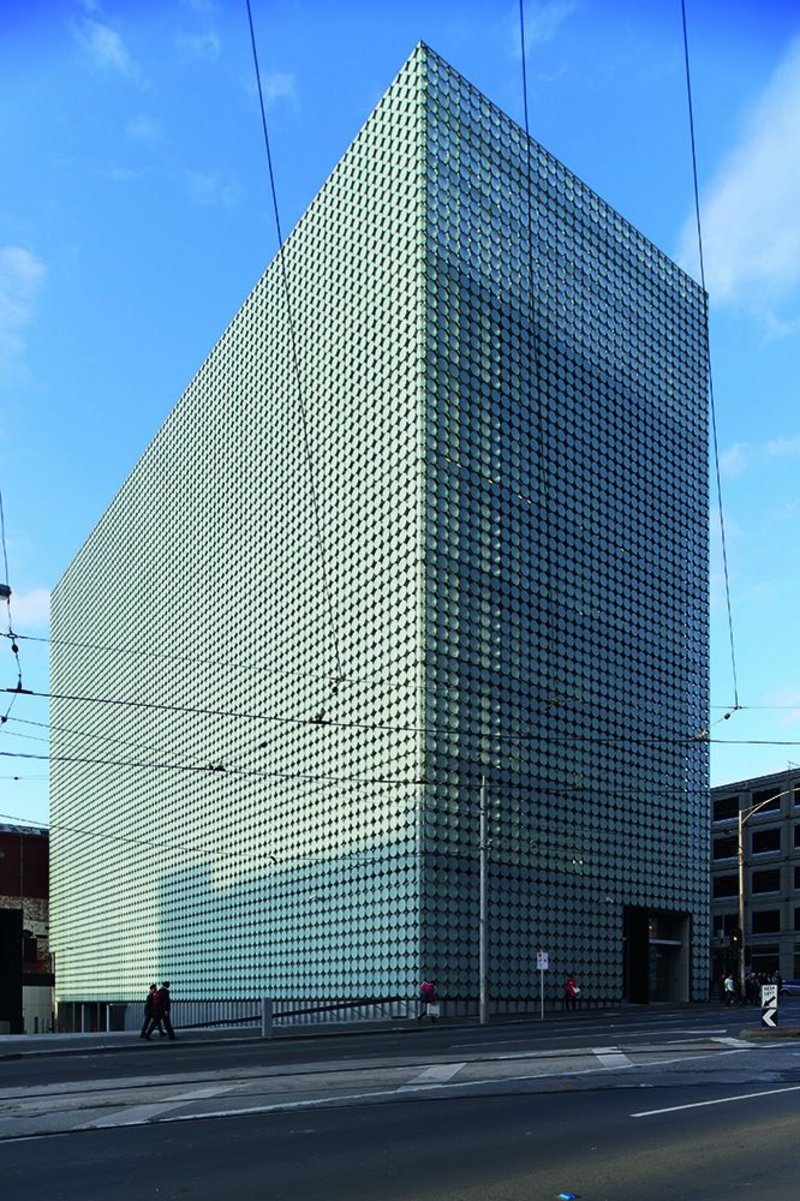 Godsell enjoys the abstract nature of his secondary facade.
The facade design incorporates a potential for passive evaporative cooling, inspired by the 'Coolgardie safe' concept pioneered in the outback which used the cooling effect of wind blowing over a wet surface. The facade is designed with fine mist sprinklers built into the inner skin. These allow installation of a wetting membrane – using rain harvested from the roof – that draws air under the floor and into the building, reducing the need for artificially chilled air and lowering energy consumption. Although the mist sprays are not in use, Godsell anticipates this may change as research progresses.

Godsell is pleased with how the occupants have colonised the space. Cross-pollination of research is encouraged by the positioning of a large open stair at one end of the building and lifts at the other, which encourage people to walk through the floor and break-out spaces and perhaps catch sight of something interesting. There are also rooftop seminar and function spaces, a 180-seat lecture theatre, seminar rooms, café and 200-seat multi-purpose facility.

'It seems to be working really well. There's a floor level full of computer game designers – it's like a jungle in there with tv screens, musical instruments and plants. There are other users who are neat and tidy. The variety in how it's used is the ideal outcome,' he says.

With the building now fully occupied, the university – with industry partners – can turn to researching more sophisticated solar technology using experimental PV cells on the operable facade, and potentially use the inbuilt wet membrane system for evaporative cooling of the air intake for the air conditioning. An area on the north facade on level 5 has been chosen to start experimenting with and Godsell is confident that in time it will bear fruit.

'It might be decades before the building [facade] is transformed into something else. But everything is in place and inevitably it will happen,' he concludes.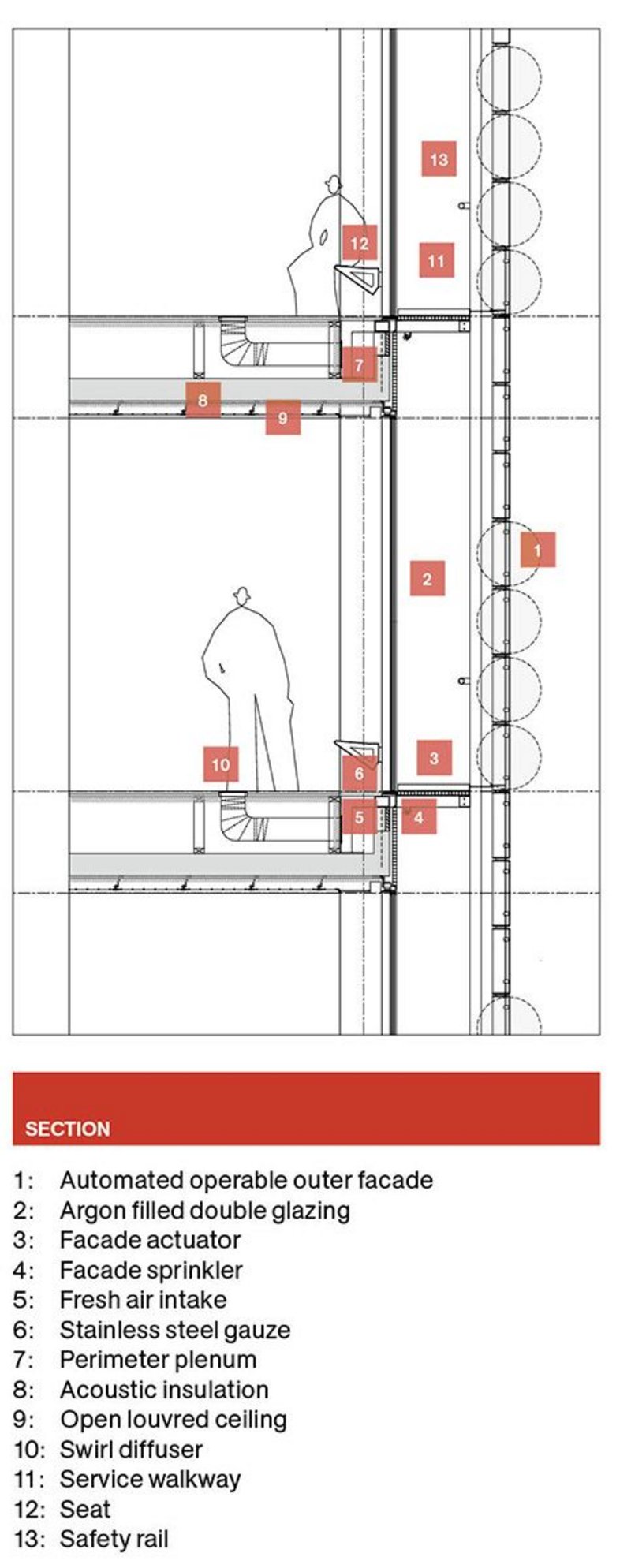 ---
Facade facts

Design Hub's unusual operable facade has helped it achieve the 5 star Greenstar Education rating – the highest rating available at the time – which gives it Australian Excellence status.

'It gives the best of both worlds,' says Aecom principal mechanical engineer Matthew Lonnen. 'You have the option for shading but if you don't want that, you can open it.'

The use of opaque glass rather than timber for the louvre was also unusual, says Lonnen, adding that this lets light through while still providing 85% solar shading. According to Aecom, 80% of occupants consider the space to be comfortable for 98% of year. The dual-skin facade reduces plant cooling demand by 35% when compared to no outer skin in place.

Aecom tested a portion of the facade in a wind tunnel at Monash University as part of the development of the double-skin design. This was to assess acoustic and structural resonance, and also operation of the moving discs in various wind conditions. Analysis of glass disc performance, completed by University of Technology Sydney, calculated visual light transmission of 87% with a solar heat gain coefficient of 0.81%.

Lonnen anticipates that with a lifespan of 20,000 movements, the motors for the facade could last up to 30 years before being replaced. For ease of maintenance, the motors – one per set of 12 discs – are placed at foot height, easily accessible via the walkway that runs between the two facade layers on every floor.

Overall, the Design Hub has achieved a 30% reduction on green house gases compared with the benchmark Greenstar Level 1 building.
Credits
Architect, interior design, landscape: Sean Godsell Architects
Client: RMIT University
Architect in association: Peddle Thorp Architects
Structural and civil engineer: Felicetti
Services engineer: Aecom
Building surveyor: Phillip Chun and Associates
Facade contractor: Permasteelisa