The architectural joys of Belarusian churches and how to conserve with limited resources raised questions of our fundamental relationships with objects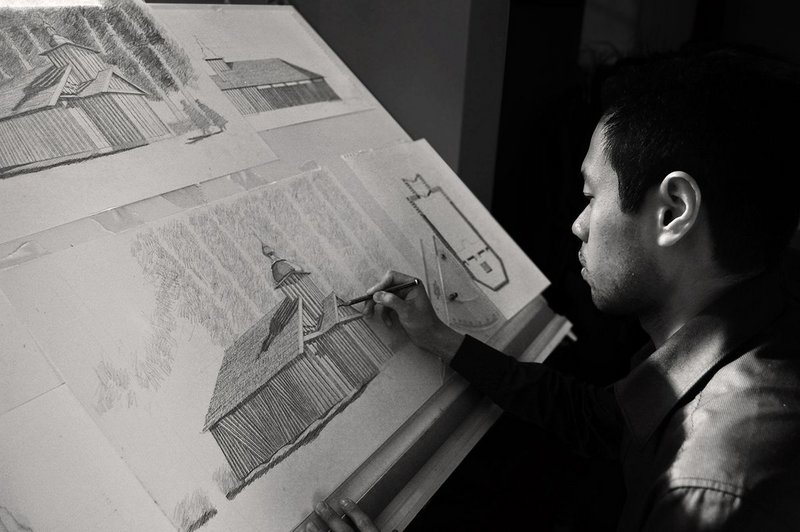 The true nature of craft – it is simply about applying love and care even to things made from very limited resources?

Credit: Kanstantsin Lashkevich
We all ascribe meanings to artefacts, and attach private or shared memories to objects like heirlooms or buildings. We feel connected with them regardless of their utility or aesthetic distinction. Over the last three decades, many rural settlements in Belarus have been lost as residents have had to abandon them following the Chernobyl disaster. And a scene in Soviet director Elem Klimov's 1985 World War II drama, 'Come and see', haunted me for months. It shows Nazi troops setting a wooden church ablaze after locking all the villagers inside, the kind of atrocity that they repeated many hundreds of times in occupied Belarus.

I first visited Belarus in 2012, after my practice won the commission to design a church for the Belarusian diaspora community in London. The brief stated that the church needed to be designed 'to reflect the spirit and identity of Belarus and the Belarusian people', so I organised a field trip to understand the culture first-hand. I avoided cities to explore the countryside, hoping to study surviving fragments of a world that has been swept away by wars and Bolsheviks. Apart from beautiful birch forests, I was struck by the numerous vernacular churches. In a globalised world, these handmade indigenous structures built from local materials are rare. Sketching seemed the most appropriate means to study them; it forced me to slow down and observe details I would otherwise miss.

One of those I sketched was the nationally significant 16th century building in the village of Muravanka in the Hrodna region. This is a brick Gothic fortified structure, a rare exception in a country where wood has been the usual building material. In the 13th century, Belarus became part of the Grand Duchy of Lithuania, which in 1569 united with Poland to form the Polish-Lithuanian Commonwealth. In the following period, many of the Duchy's Orthodox inhabitants became Uniates – that is to say, they worshipped according to the Orthodox rite but were in communion with the Roman Catholic Church. Yet their wooden churches were different from those of neighbouring countries. The log-built Russian churches are often based on centralised plans. Those in Lesser Poland and the Carpathians are dominated by enormous, steeply pitched shingled roofs that come down low. But the churches in Belarus and elsewhere in the former Grand Duchy have sheer walls clad in distinctive vertical planking.

The Counter-Reformation was very strong in the Polish-Lithuanian Commonwealth, which adopted the Baroque style with great enthusiasm. In the mid-18th century it developed a distinctive version called Vilnius Baroque, named after the capital of the Grand Duchy. Its great genius was the architect Johann Glaubitz. Though buildings in this style sometimes lack the ornate sumptuousness and colour of Central European or Italian Baroque, their forms are still highly sculptural and vividly expressive. Echoes of this influence can be felt in the wooden churches, but it is confined to their single or twin-towered, pedimented facades and intricate, bulbous outlines of their cupolas and delicate iron crosses. The contrast between these austere exteriors with their sparse fenestration and the busy interiors proliferating with icons and other devotional objects, as one might expect of a Baroque church, is striking.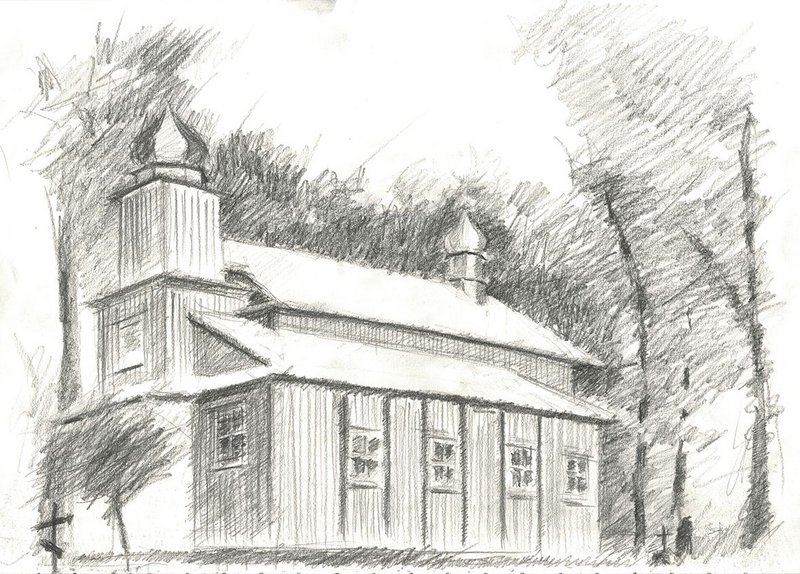 The Church of Protection of Our Lady, in Hanchary, Belarus, built in 1774. Sketch from life, 2012.

Credit: Tszwai So
Yet few of these churches survive in their original form. As a result of the late 18th century partitions of the Commonwealth, Belarus was brought entirely under Russian rule. The Uniate Church was abolished and brought into communion with the Russian Orthodox Church. This programme of Russification affected the wooden churches, many of which lost Baroque features which were regarded as too Catholic in appearance. They acquired spires, cupolas and ornament based on the 16th and 17th century architecture of Moscow and other ancient Russian cities, which the Tsarist Empire had made its official style. More recently, the few that somehow survived the upheavals of last century have been repainted in gaudy colour schemes, re-clad in plastic imitation weatherboarding or acquired garish roofs and gutters of shiny sheet metal. The Church of Protection of Our Lady in Hanchary, Belarus, is one example, having its Baroque cupolas replaced with Russian Orthodox onion domes, its external walls painted blue and new metal roofings installed. Such work is the result of the innocent endeavours to save these churches by reverent villagers who had little to work with.

Despite all that, these tranquil wooden churches still retain their simple beauty. For centuries, they have formed the nuclei of Belarusian rural life, and the focus of peasants' daily devotions. They are dignified and unpretentious, and they also renewed my understanding of the true nature of craft – it is not something reserved for the well-to-do, it is about applying love and care even to things made from limited resources. The feelings evoked by a seductive image generated by expensive software are very different to those prompted by a sincere hand-drawn sketch that cost next to nothing to produce. It was this same heartfelt emotion triggered by these wooden churches that genuinely captured my imagination.

As Deyan Sudjic has observed, our relationship with objects does not have the leisure to mature a time when new technology and materials appear in rapid successions. Things were once made to hold memories and grow old, but we have commodified everything, including buildings, since then – and the search for the next new thing is relentless. The wooden churches of Belarus might become more relevant if the age of excess should ever end. Unlike the Arts and Crafts movement in the 19th century, which was largely seen as anti-industrial and expensive, perhaps it is still possible to reconcile the vernacular approach to building and the market economy today; and a different attitude towards appreciating buildings around us might emerge.
Tszwai So is director at Spheron and one of the members of RIBAJ's Rising Stars cohort 2016. Find his profile here.
RIBAJ Rising Stars is a scheme to reward up and coming construction professionals. Rising Stars 2017 is opening for entries in June. For more information visit www.ribaj.com.
---