Though long-discussed, the need to demolish the wall between research and practice remains. Communication is at the key and the RIBA Research Matters conference was a starting point
Architectural education has never posited itself as an apprenticeship: no school of architecture I know of runs a lecture series extoling the merits of a robust single-ply roofing membrane. The reason for this is that the three or five year courses are spent developing a set of tools with which, to various degrees of extremity, an idea can be sniffed out, disassembled, manipulated, reconfigured and then communicated in a different set of terms. This last point comes to fruition in May as students work all night, applying flourishes and cross hatches to drawings, models and portfolios.
I am relatively green to teaching but, from the other side of the fence, it seems to me that the most valuable thing an institution can bestow on its students in this time is confidence and critical judgment. Aesthetic prowess and impeccable skill are tools by which we teach the ability to communicate. With this combination of the confidence to pursue an interest, the critical capability to self evaluate and the ability to clearly communicate a complex sequence of agendas and outcomes, a graduate is pushed into the world as a fledgling architect or, alternatively, career academic.
In practice, this ability to communicate is essential. It is what enables the architect to win work, enthuse clients, manage contractors and develop projects in a team environment. Similarly, uncommunicated academic research is not much use to anyone, whether it happens to be in a university or professional practice. It squarely places what could be important work in an insular circuit of recycled assumptions and stale mistakes, and overlooks the relevance that academic work has to the profession and vice versa. This is a much larger debate, but the critical lesson should surely be that finding effective and precise ways to pass findings to the right audience lies at the heart of successful research.
The Research Excellence Framework of 2014 suggested that 'new insights should be effectively shared'. The RIBA has met with this call to arms by running events such as the Research Matters conference, where early-stage career academics are offered a forum in which to informally present their research. Just as architecture students are set pin ups, crits and regular opportunities to test their ability to communicate their ideas, so too should academics and researchers be given the chance to set fluid and genuine engagement in communication as a part of their working process.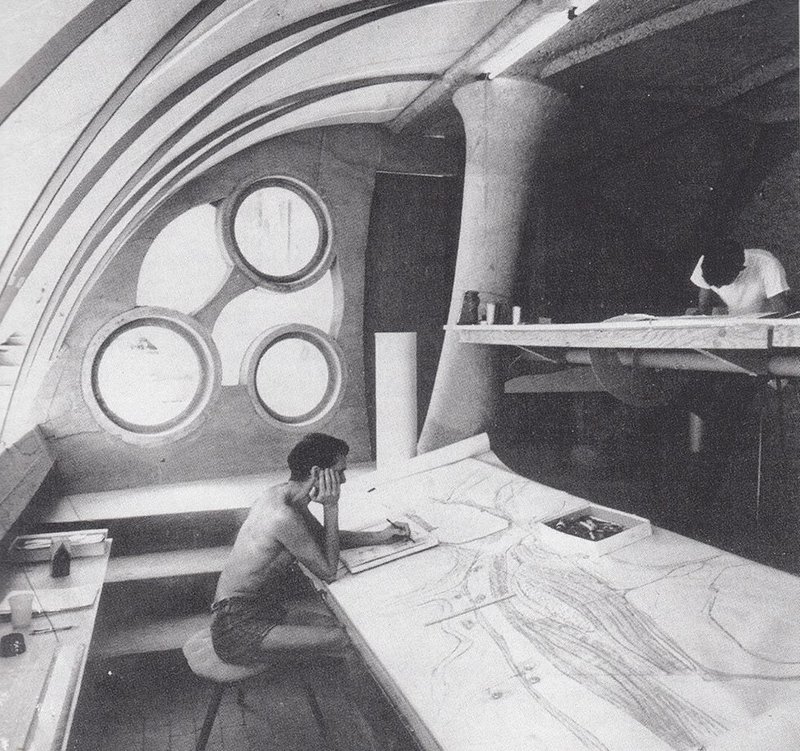 Katrin Jaschke's research examines Paulo Soleri, here in his drawing studio.
To this end, the establishment of this conference is an important and commendable move from the RIBA. The format of the 2016 event (which took place at the RIBA in April) bookended some very interesting research agendas in various stages of development, with keynote speakers giving practical advice to early career academics. Dr Peg Rawes from UCL presented methods by which researchers could externalise their knowledge, illustrating the responsibility that architectural study has in engaging with other disciplines to prevent it becoming abstract and insular. Brent Cornell, in his analysis of the model of an architectural education, suggested that mechanisms employed to integrate research into teaching happened organically in early stage design education, but should be widened in scope to a university-wide level.
Overwhelming and quite magnificent bodies of research were presented by Mike Aling from the University of Greenwich, with 'Spatial Codices: On Architectural Book Design' and the University of Brighton's Karin Jaschke with her research on Paulo Soleri. These were fledgling pieces of exciting material – rough and awaiting critical comment. At a more progressed level of resolution were Richard Beckett and Mollie Claypool from UCL. Richard Beckett's work was an exemplar of cross-disciplinary study, his research into biofilms spanning engineering, architecture and biological investigation. Mollie Claypool presented her expansive work 'From Surface to Volume', which is being collated for publication. In all these cases, the work was at a critical point – poised and awaiting feedback that could push it forward, help to clarify fledgling ideas or offer a gentle nudge towards a dangerous leap. However, the density of information presented and the packed programme for the day did not afford this opportunity, missing the potential to reframe the event into something quite significant. The odd, slightly voyeuristic feel of silent spectators on the sidelines presented it as more of a show-and-tell than a crit, with passive onlookers not engaging with the work, and presentations given no opportunity to step beyond scripted material, diligently prepared for the event.
The format to bring together early stage career researchers with no specific agenda or theme other than to talk about what they were doing and how they were doing it, without the formality of preparing a paper, has genuine potential to be a pioneering step away from the traditional conference format. It opens up discussion to very different fields of research and lays out a forum in which work can evolve beyond the established confines of the university campus. Ultimately, the potential for architectural researchers to batten down the hatches, and forget the tools of communication that are so present in early design education, seems to be part of the problem that severs the world of professional practice from academic research. The real presence of the RIBA as a critical body in research is often forgotten behind the dominating publicity of its role in practice life. However, Research Matters proved that the simple ability to provide an unaffiliated campus for research, and a forum for an open crit, could offer an answer to this. A better method of communication to disseminate research in a more engaged way, during its development rather than as a closed and completed article, might blur the boundaries and encourage less predictable cross-pollination of agendas. This event was a tantalising taster, like putting the cake in the oven but just not quite turning the heat up. Architectural education equips us with amazing tools for communicating ideas; we just need to remember use them. It might even be fun.
Tamsin Hanke was 2013 RIBA Dissertation Medallist. She now works at Niall McLaughlin Architects and teaches at the Bartlett
---