New Board of Trustees at RIBA takes on strategic role to give greater scrutiny, better transparency and improved communication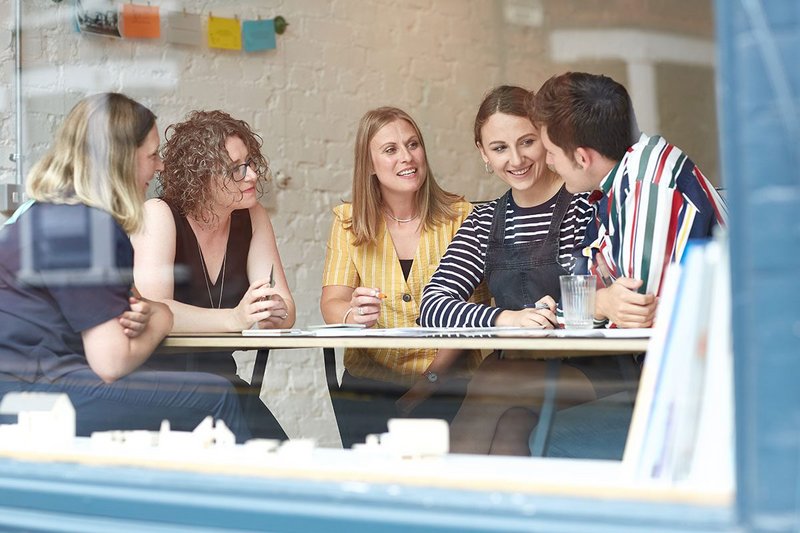 The governance structure should ensure the RIBA works harder for members like those at chartered practice Harrison Stringfellow.

Credit: RIBA
After almost three years of consultation and planning, the RIBA has undergone radical transformation – in an initiative driven by members, for members. In April, a new Board of Trustees was formed, engaging some of the most experienced minds in architecture, business, law and culture, with Sir Nigel Carrington, vice chancellor of University of the Arts London, announced as chair elect.
The RIBA's 180-year-old structure and unwieldy constitution desperately needed overhaul and modernisation; not only were they out of date, but they hindered efficiency and progress. Kerr Robertson, RIBA honorary secretary, gives an example: 'Instead of debating the big issues that matter to our members, meetings of RIBA Council – bringing together 50 elected representatives from all over the UK and overseas – were bogged down wrangling about operational minutae. It was a waste of resources and of their expertise.'
A comprehensive governance review was agreed, and detailed consultation with members began in mid-2017, with a clear goal – to develop a more effective and modern structure, and enable the RIBA to focus on better outcomes for its members.
The conclusion is a new constitution and governance framework, including the creation of a new Board to oversee the operations of the RIBA. The Board will work closely with the representative RIBA Council, which appoints the trustees – most of whom are architects. This new structure has been championed by three past RIBA presidents and voted for by an overwhelming majority of chartered members at a Special General Meeting last October.
As Valeria Passetti, new trustee for membership development, puts it, the new arrangements will 'mean that the RIBA's governance is more transparent and accountable. The institute will therefore be in a stronger position to represent and serve our members, the profession and the public as we work to tackle societal issues – and have positive influence on social, economic and environmental challenges.'
This new structure improves scrutiny of the RIBA's operations. The new Board will oversee decisions including the business plan. With a broader mix of skills and expertise among the trustees, this will improve the scrutiny of the work of our talented executive team. It will also free up RIBA Council members from operational detail and enable them to focus their time on collecting insight from the profession and driving change. There will always be a majority of architects on the new Board, in addition to independent experts, and a future chair may well be an architect.
Robertson explains: 'Running the RIBA business is a complex operation. The creation of a new Board, including non-architects, is not just about better support and improved accountability; it is also about having an outward-facing organisation that can better address the challenges of the day.'
The new Board members were selected to lead on a portfolio of focus, based on their skills and experience. Architect Nicky Watson, trustee for learning, outlines her area of interest: 'The new structure will enable the RIBA to have a more holistic and consolidated approach to learning. From having influence and input in primary and secondary schools and Schools of Architecture, to CPD and specialist professional accreditation, the RIBA will be more effective in supporting the current and future generations to access the profession and maximise their value to society.'
Indeed, promoting architecture's position within society is at the very core of what the RIBA does. As architect Jo Bacon, trustee for culture and events, explains: 'As a more connected and collaborative organisation the RIBA will continue to effect real-world change. The new structure will improve communication – resulting in an enriched dialogue between the wider circle of knowledge which will be drawn upon and the historic depth of the RIBA's cultural offer. We will continue to lead in widening participation and access to the debate, discussion and pioneering research of architecture.'
To find out more visit architecture.com
---
New RIBA Board of Trustees
Nigel Carrington (chair elect) Sir Nigel Carrington has held senior roles in law, business and higher education. He was awarded a knighthood in the Queen's Birthday Honours 2019 for services to higher education and the creative Industries.
Jo Bacon (culture & events) Architect and managing partner of Allies and Morrison Architects, Jo Bacon has over 30 years' experience in practice and is chair of the RIBA Awards Group.
Valeria Passetti (membership development) Valeria Passetti is managing director at Conception Architects and RIBA vice president (membership).
Nicky Watson (learning) Architect and director at JDDK Architects for 20 years, Nicky Watson is RIBA vice president (education).
Matt Jones (digital) Matt Jones is a principal designer at Google AI and lectures in technology and design.
Murray Orr (business & enterprise) Senior banker and chartered accountant, Murray Orr has over 40 years' experience in the financial services industry.
MaryAnne Stevens (heritage) MaryAnne Stevens is an art historian, curator and lecturer and former director of academic affairs, Royal Academy of Arts, London.
Alan Jones, RIBA President
John Assael, RIBA Honorary Treasurer
Kerr Robertson, RIBA Honorary Secretary
Two further trustees are yet to be announced.