Four projects have been shortlisted for the RIBA International Prize. We asked each of the architects for their thoughts on technology, craft and the future - here, Tomo Yamanashi of Nikken Sekkei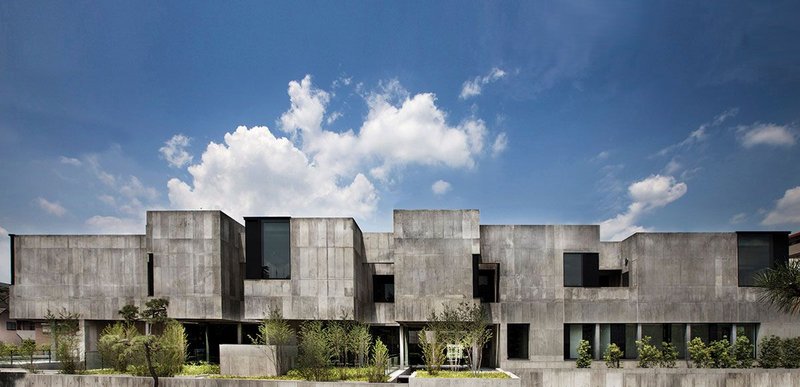 Toho Gakuen School of Music grew out of two client groups within the school and the tension between them on the brief from costs to location.

Credit: Harunori Noda
Tomo Yamanashi, Nikken Sekkei
Shortlisted for Toho Gakuen School of Music, Tokyo, Japan. 'Village' of practice rooms above first floor campus space
What gave you the chance of making a great building?
It was my clients. In fact two clients with completely different ideas from each other. The first were professors who promoted the school expansion to a new, less constrained, site. I had already collaborated with them and they trusted me to take time to investigate the existing building and interview music school professors and students.
As the ground works finished, the client changed to the second team of professors opposed to expansion to another site. They wanted to keep the construction cost low, planning to use it as a decant building then as a warehouse.
So, I cancelled all the finishing work and proceeded with construction as a warehouse. When the concrete structure was nearly completed, I invited the second client to site and showed the building to them as a warehouse. However, I had asked the contractors to finish one small room with interior decoration as a music school and I had students waiting there. At the end of the tour, I invited the client professors to this small room and asked them to listen to students' performances. When the performances finished, the professors said it was 'likely to be a good music school' and the project was changed to music school again.
The critical attitude of this second client was also indispensable for the birth of this facility.
What has most changed the way you work in the last decade?
Three things overlapped and have changed my way of work. The first is the power of ICT, including computational design. It enables many people to manipulate very advanced information with computer assistance. The internet, virtual reality and artificial intelligence are representative examples.
The second is collective knowledge. Specialised information on the architectural design becomes complicated and advanced, and we have to design in a way that gathers the wisdom of the team.
The third one is globalisation. The design and production of a building strongly depends on both global rules and local rules. At the same time, we can identify regional characteristics and feed them back into our own designs.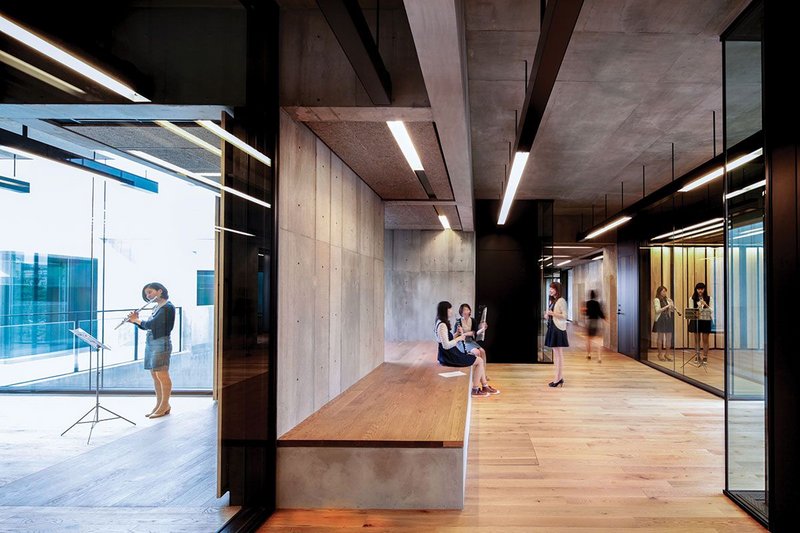 Nikken Sekkei is moving in the direction of mass customisation with prefabricated formwork in Tokyo.

Credit: Harunori Noda
How have your processes or buildings changed with digital technologies?
Digital technology means everyone can easily obtain sophisticated information; the expert's information advantage is no more. Manufacturing is beginning to shift from mass production, which tried to satisfy many people by average values, to mass customisation responding to individuals' high demand. Architecture is no exception, it should move in the direction of mass customisation, with digital technology at the centre.
Do you take advantage of prefabrication or improvements in building or material technology?
In this project, prefabricated plywood formwork was used for in-situ concrete. The formwork was reassembled like a jigsaw puzzle and used for multiple concrete casts, which reduced the cost, though it still required some manual connections.
A similar mass customisation method was used for slender columns on the ground floor. They were cast in situ with steel pipes as formwork; the pipes also acted as final finish and as temporary supports for the ply formwork for floors. Based on the BIM, a factory was able to produce the pipes and reinforcing bars at high speed.
Do you still see the importance of the craft, or art, of making?
It is impossible to build architecture by any one method. Machine-driven work should be automated to increase productivity. Difficult tasks that can only be done by craftspeople should be properly rewarded.
What can your shortlisted building tell us about the architecture of the future?
When you carefully observe an old building you can see the reasons and rationality there, and you can see that it was born from the repeated involvement of many people. It is not a violent thing that looks meaningless and random, using a random function installed on computers.
What I aimed for with this project was to incorporate as many design conditions as possible using a computer, to create a naturalness born in a rational choice. In other words, it was to build an algorithm to create 'new nature'.
What is the greatest challenge that architects face? What can individual architects do about it?
In Japan there is the phrase 'fueki ryukou'. Fueki means never changing, and ryukou means changing according to the times. It is not important to change, but how you respond to change really matters. One of the important things is to collaborate with people with different talents. Our ultimate goal as architects is to design a work that we can convince people is good. So only the results are important.
And a good work, I believe, is a building that can create new value and meaning for society, sufficiently answer the client's brief, and achieve self-realisation at the same time.
---
The winner of the RIBA International Prize will be announced on 22 November.
Read the thoughts of the other shortlisted practices here: Stefano Boeri Architetti, O'Donnell + Tuomey and Aleph Zero.