Meet our winning cohort of emerging architects. These nine innovative practitioners are excelling in the studio and beyond, pushing boundaries, breaking down barriers and making quantum leaps in digital technology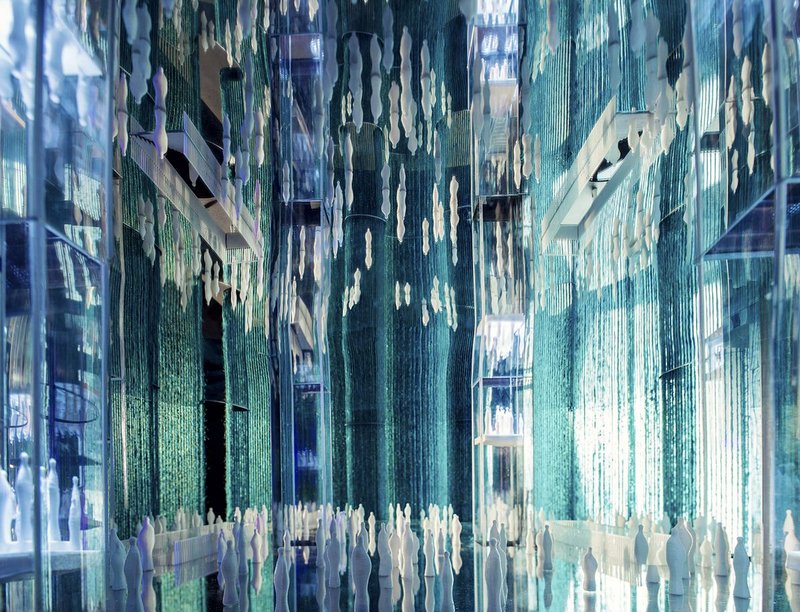 Greg Storrar, Ocean of Light finalist scheme for UK Expo 2020.

Credit: Alex Peacock
Digital technologies have arrived in force at Rising Stars 2019.
In previous years, we've showcased all manner of specialisms, from pure design to improving mental health, LGBT activism and project management. But digital, strangely, has never really featured in its own right. We wondered whether those eligible to enter the awards felt that it was so integral to everyday architectural life and practice that it wasn't worth singling out. Or perhaps it just seemed as if there was nothing new.
This year, though, is different. As many as half the submissions mentioned digital technologies of some sort. Among them were the use of augmented reality to communicate with clients, research and development in computational design, VR innovations driving projects from conception to completion, integrated thermal modelling and some very clever timber construction software.
What took it so long? We can't be sure, but it sounds as if this year's cohort use and think about these technologies differently to their predecessors – even those who are only slightly more experienced. What's more, these new skills aren't just being applied to design work and client liaison, they're also being used to promote practices through social media (a single Instagram post published by one Rising Stars 2019 entrant received 10,000 likes) and to revive physical networks, including two dormant branches of the RIBA.
Yet in the year when climate emergency finally hit the global agenda, it was little addressed in the submissions, beyond the occasional Passivhaus scheme. You'll still find in the 2019 cohort, however, exceptional design talent, inspirational youth-mentoring and teaching, a humanitarian outlook and groundbreaking projects ensuring that architecture looks after the most vulnerable in society. Another successful year: well done!
---
Isabelle Priest, assistant editor, RIBA Journal
---
Origin is thrilled, once again, to be championing the RIBA Journal's Rising Stars 2019.
One of the main reasons for our involvement is because the initiative resonated with us. Like the entrants, Origin is essentially in its infancy in its overall journey and potential. Since establishing in 2001, we've certainly made our mark in the fenestration industry by rewriting the norms with our fresh thinking, innovative product developments, unparalleled lead times and unmatched support for our customers.
The standard of this year's entrants has been hugely impressive. There's definitely a bright future in front of every one of them. We've loved working with the Rising Stars, as they have all demonstrated a strong sense of collaboration, confidence, enthusiasm and passion, which has been fantastic to see and be a part of.
---
Ben Brocklesby, sales and marketing director, Origin
---
The 2019 judges
Peter Morris
Founding partner and managing director, AHMM
Kieren Majhail
Rising Star 2018 and architect associate, BDP
Sarah Prichard
UK MD, Buro Happold
Simon Henley
Principal, Henley Halebrown
Louise Wyman
Director of design and development, West Midlands Combined Authority
Eleanor Young
Executive editor, RIBA Journal (chair)
---
The 2019 Longlist
Irene Astrain Director-architect, Astrain Studio
Benches to buildings in just three years
Tom Bell Chartered architect, Roberts Limbrick Architects
Rare balance of big ideas and drive
Oliver Boaler Architect, Bennetts Associates
Agility and professionalism – and a vegetarian cookbook for meat-eaters
Laura Collins Principal Consultant Architect, Arcadis
Analytical approach and confident communication
Joanne Dunwell Architect, Bennetts Associates
Technical and conceptual strategies, pushing sustainability
Daniel Dyer Architect, MawsonKerr Architects
Successful design with non-traditional procurement
Shivam Garg Architect, Roberts Limbrick
Promoting mentoring and mental health in Gloucestershire
Jane Hamlyn Architect, Atelier 3
Building design dialogue with Cornish planners
Simon Hill Associate director, DLG Architects
Workplaces, people and a better Leeds
Simon Kinvig Associate architect, Broadway Malyan
Energy and networking bringing Birmingham together
Fergal Rainey Architect, McGurk Architects
Innovation and enthusiasm on Belfast projects
Amrita Raja Associate, Woods Bagot
Bringing making to practice, making the most of US connections
Olivia Redman Architectural assistant, HKS
Supporting on competitions and delivery
Dani Reed Architect, Child Graddon Lewis
Passion for reworking existing buildings
Emma Smith Chartered architect and director, Pedersen Smith
Entrepreneurial development and architecture
Alex Towler Architect, Transition by Design
Co-operative and collaborative community problem-solving
---