Why Merseyside has (and hasn't) changed and why Liverpool makes sense for the RIBA's newest gallery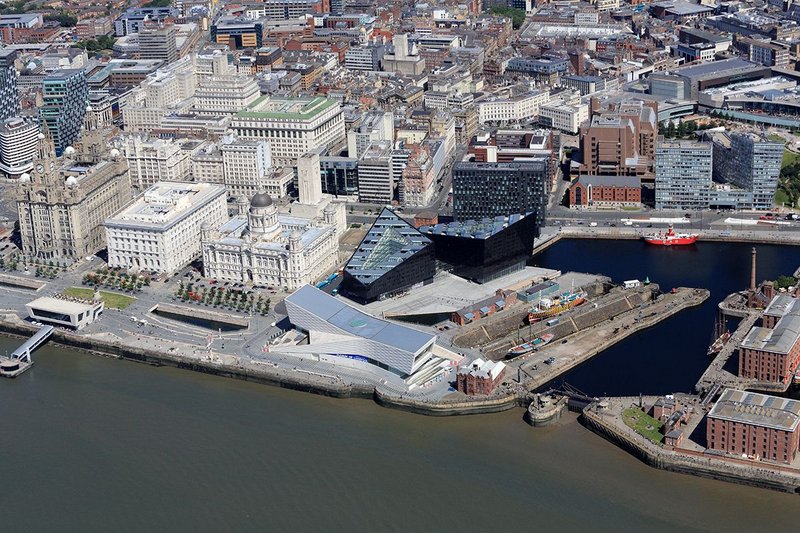 On the waterfront- RIBA North's location.

Credit: webbaviation.co.uk
RIBA North is open, and what a long, long trip it's been to get to this point. It was 1978 when, as a cub reporter fresh out of college, I first saw Liverpool. That year the RIBA held a well-attended conference there to address the problems of the declining industrial city. James Stirling refused to take part – despite Liverpool being his birthplace – on the grounds that the great mercantile centre had become an 'insipid mess' wrecked by everyone from planners and traffic engineers to 'commercial architects'. He got a ticking off from the Institute for that, but did he care? Big Jim was Big Jim.
What struck me then was not so much the quality or otherwise of the new stuff as the swathes of dereliction throughout the city. I had never seen anything like it. And the waterfront seemed to be more or less sealed off behind a formidable brick wall, behind which not much was going on – certainly not in the great Albert Dock, which had closed in 1972 and was standing forlornly empty and threatened with dereliction.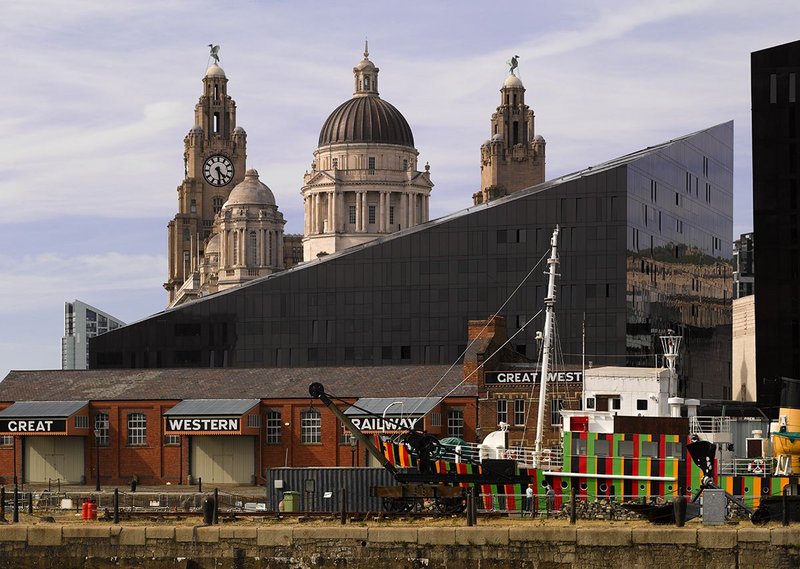 Illustrious architectural neighbours.

Credit: Edmund Sumner
Things were to go lower still for the city with the Toxteth riots of 1981. But then the fightback began, aided by the energetic and popular Michael Heseltine as 'minister for Merseyside'. The Albert Dock reopened in 1984, the Tate moved in (in a Stirling/Wilford conversion), regeneration of various kinds commenced. Not that the city ever lost its reputation for cavalier demolition of good buildings, mind. And I wish they hadn't so comprehensively removed the great wall around the central docks – it had a mystery and nobility to it – though I can understand the rationale in opening up to the waterfront.
As for the commercial architects derided by Stirling, they eventually proved their mettle not only in the salvaging of the Ropewalks district (kickstarted by an early Urban Splash project with ShedKM) but also in the Stirling-shortlisted Liverpool One development masterplanned by BDP with a starry back-up cast of architects. Liverpool has been City of Culture. It's a big tourist destination. It's buzzing. Assemble won the Turner Prize for its community-based work there. Liverpool now has a real spring in its step – but regeneration comes with its own set of problems. Some contentious high-rise developments are planned close enough to the centre to alarm UNESCO, which is threatening to remove its World Heritage Site designation from the waterfront.
After seeing all these phases of city-rebuilding over the years, I'm back for the opening of RIBA North. This is on Mann Island, close to the famous 'Three Graces', Edwardian commercial palazzos including the Liver Building on the Pierhead. As the opening exhibition reminds us, you are standing where Will Alsop's famously unbuilt 'Fourth Grace', the swirly thing he called 'The Cloud', was going to go. What got built instead is a complex of three black-glass buildings by Broadway Malyan, two of which form a chiselled pair linked by a glazed external 'winter garden'. This is where you will find RIBA North, its presence marked by a strong red Corian spine wall leading you in and up.
It helps that the RIBA's centre is designed by Matt Brook, who also designed the whole award-winning development for Broadway Malyan and is a stickler for detail. Materials are good, and feel durable. It contains the RIBA's first museum-standard gallery outside London. The opening show, 'Liverpool(e): Mover, Shaker, Architectural Risk-Taker' may be a mouthful of a title but it contains some real gems of unbuilt projects in the city including a lost masterpiece, Denys Lasdun's design for the Liverpool Metropolitan Cathedral. The Heritage Lottery Fund helped pay for the conservation of the drawings, models and watercolours on display.
The Centre starts downstairs with a café and shop, then moves upstairs to the gallery – or galleries, since there are two other spaces that can be used for exhibitions and events. The main one includes a new big model of the city – physical, but interactive – which performs something of the same function as the big model at New London Architecture.
Then there are the offices – enviable, these, looking right out across the historic docks area. They contain the offices of RIBA North West as well as desk space for practices and a graphic design company which works with the Institute. At the opening RIBA chief executive Alan Vallance revealed that – despite his Aussie accent – he hails from across the Mersey in the Wirral. President Jane Duncan joined the mayor of Liverpool, Joe Anderson, for the official launch.
It was interesting to note at the red-themed opening (including a dense fabric art installation in the winter garden conceived as architectural cut-outs) how various people referred to RIBA North as being part of the Northern Powerhouse initiative. In other words it is seen as an agent for urban improvement across the north. Can a gallery, shop, cafe and offices really have such impact? Thinking back to 1978 and how hopeless everything seemed then, and what a difference the arrival of the Tate made in Albert Dock, I'd say – why not? This is a region with plenty of big-hitting architects, industrialists and cultural institutions. There is now another place for the RIBA to display its unrivalled collections as well as act as a regional and national forum. The challenge for RIBA North is to become a catalyst for beneficial change far beyond Liverpool. It is, as they say, a big ask. But there's nothing like being there, on the ground, open to public and professionals alike.
---