The revamp of the RIBA's headquarters into a House of Architecture is the lead item in our online opportunities hub, bringing you the latest work projects up for grabs
The central staircase at the RIBA's 66 Portland Place. Accessibility within the building is an important part of the brief for updating the building

Credit: RIBA
The RIBA Journal is launching an online Opportunities Hub. It will be first news site for competitions run by RIBA Competitions as well as bringing together tenders and competitions, contracts and calls for interest, public or not, to help you evaluate what to bid for.
We all know that finding the right work is critical to practices flourishing. The last RIBA Future Trends survey was optimistic, continuing the positive trend of practices in 2021 predicting increased workload over the next three months for their organisation. This was backed up by an increase in actual workloads of 10 per cent year on year. Much of that work is from existing clients and local contacts but, for many growing practices, advertised opportunities and design competitions are also an important source of work.
So we are delighted to be launching the hub with the call for expressions of interest, launched today, for work on the RIBA's own central London headquarters at 66 Portland Place. RIBA president Simon Allford has articulated a new vision for the 1930s building, writing in the RIBA Journal about creating a generous physical entity, a 'House of Architecture'. He describes it as a space where members, visitors and RIBA colleagues can find inspiration, stimulation and make connections.
The brief outlines an exciting programme of opening up the building for members for culture and learning, and making it fit and accessible for day-to-day working. It includes a substantial element of conservation of the RIBA's principal spaces. With a £20 million first phase and the development of a strategic masterplan for future phases and embedded sustainability goals, this is an ambitious programme on a listed building.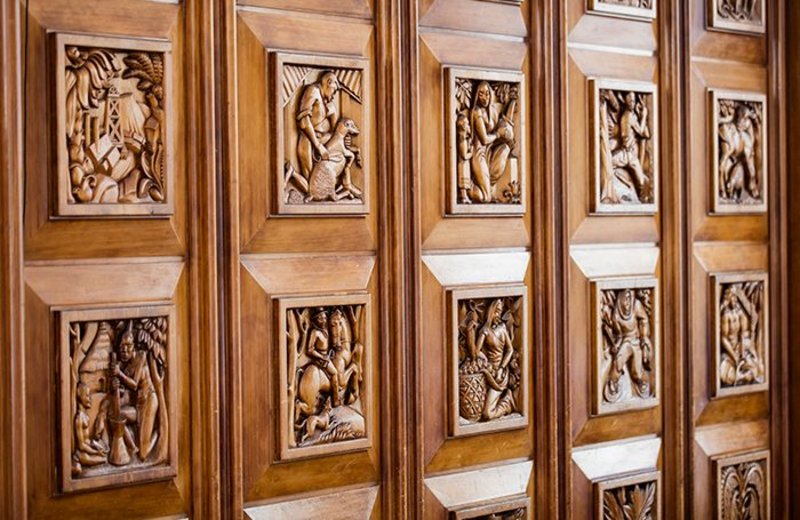 Historic carvings inside the RIBA headquarters at 66 Portland Place. The project will involve a substantial amount of conservation.

Credit: RIBA
Designs for the RIBA's 66 Portland Place were originally chosen by design competition in 1929 with 284 entrants from across the world, from which George Grey Wornum's proposals were chosen. You can see some of the designs above. This time around, the bidding process should be less demanding on practices; there will be a call for entries and a competitive interview for the six selected practices. Allford again: 'I encourage all Chartered Practices to register interest, and help deliver us a rejuvenated home, fit for the present and the future.'
The evaluation panel includes RIBA president Simon Allford, chief executive Alan Vallance and chair of the board Jack Pringle as well as other architects and RIBA board members. Bringing a sense of history and art to the process will be MaryAnne Stevens, art historian and curator. Day to day decisions will come from the estates team and architect advisor Sarah Williams of S Williams Architects, who has a track record of working with the RIBA on its buildings.
Williams says: 'We recognise that one of the most significant challenges for the winning team will be to deliver an exemplary refurbishment of this grade II*-listed building, incorporating the RIBA 2030 sustainable outcomes, which includes net zero in operation. The aspiration is for the building to be fully accessible, inclusive and sustainable while conserving and enhancing its heritage status.'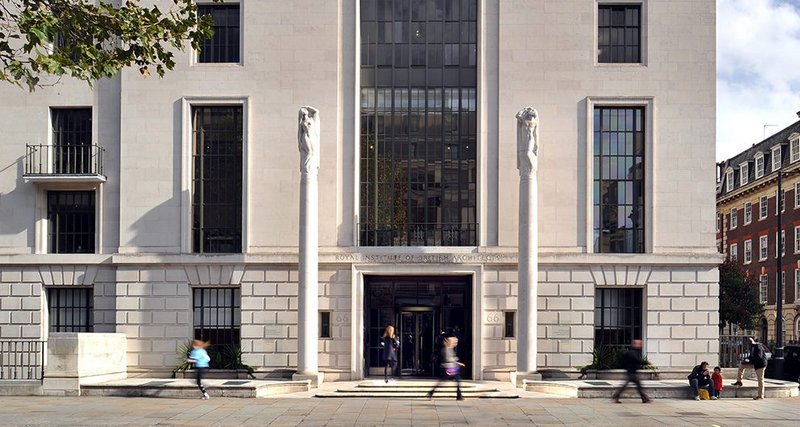 Art and architecture brought together on the RIBA's main façade. Can a reworking of the building also make it more welcoming and accessible to members and the general public?

Credit: RIBA Collections
66 Portland Place has drawn fire in recent years for its empire-related imagery. Architectural historian and LSA head of school Neal Shasore, who is an expert on the building, describes empire as embedded in the DNA of the building, in its very timbers. But he is optimistic about architects' ability to respond creatively to this and the conservation challenges posed by the building. 'The job is an opportunity for progressive and challenging conservation work,' he says.
And if taking on the RIBA headquarters is not for you and your practice, then keep an eye out on our page of live opportunities. The RIBA Journal already has a strong strand of pieces on business opportunities in sectors and client interviews and there are more of these to come as the year progresses as well as the best design competitions and calls for interest.
Neal Shasore on 66 Portland Place
There is outward primitivist iconography of indigenous peoples in British colonies and dominions that needs to be addressed in the Jarvis Hall screen and the Dominion screen in the Florence Hall.
Empire is in the DNA of 66 Portland Place; the use of Empire Timbers (a campaign promoted by the Empire Marketing Board and Building Centre) was designed to make it a showcase of empire products. It highlights the politics of supply chains in the latter phases of the British Empire. As the architect-MP Alfred Bossom wrote in 1932: 'The lead by the RIBA in their new building for Empire products would carry a tremendous force throughout the entire profession.' Making this manifest in design without resorting to explanatory plaques is an interesting challenge.
Architects are the right people to address this. They can use design and materials to provocatively question the need for redress and resolution vis-à-vis climate and social justice.
The original architect, George Grey Wornum, was immersed in the tradition of the 'long' arts and crafts. The reinvigoration of the building will present opportunities for architecture to reconnect with craft.
There is much ornamental and decorative detail that has been stripped out of the building in its 87-year lifespan. Wornum was particularly interested in the effects of light and colour and had significant experience as an interior designer, both on domestic projects and for a series of striking dance halls and showrooms. One example at Portland Place is the curtains in the Florence Hall, which were an oat, green and gold melee with a chevron pattern designed by Alec Hunter of Warner Textiles. Much of this detail has been lost. It doesn't have to be faithfully recreated but this spirit of the building could be reanimated.
If the original programme of the building was understood, the hints or echoes of its previous patterns of use could be creatively alluded to. They could help to tell the story of architectural professionalism in the 20th century.
The job is an opportunity for progressive and challenging conservation work.
Neal Shasore is an architectural historian, chief executive and head of school at the London School of Architecture and a trustee of the Twentieth Century Society. His book 66 Portland Place (RIBA Publishing) will be published later this year