Better presentation, a simplified fees section and provisions covering novation are just some of the improvements in the five new Professional Services Contracts published so far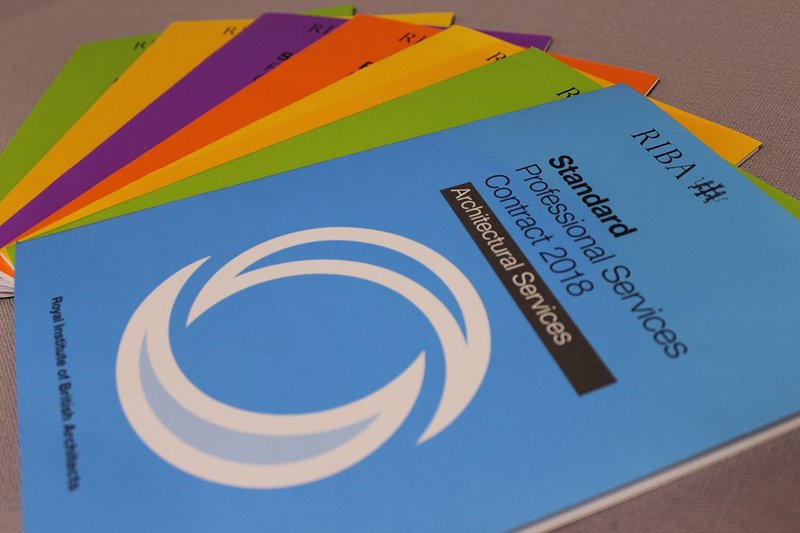 A new suite of appointment documents from the RIBA is an exciting development as it changes the landscape of practice.
The RIBA has been publishing appointment documents since 1872. Relatively recent editions were published in 1999, 2007, 2010 (revised 2012) and 2015 when the RIBA issued an addendum to address the requirements of the CDM Regulations 2015. The new RIBA Professional Services Contracts (PSCs) represent a welcome change in range, format and layout, with some significant adjustments to the terms and to the services.
Why do architects need a written appointment?
Before examining these changes, it is worth reviewing why architects need a written appointment. For most practices this is obvious – clear terms are needed to define the parties' obligations and rights, and hence avoid possible confusion and disputes. They protect the architect's interests, limit their liability, and from the client's perspective provide a detailed explanation as to what to expect from their architect, including delineating services that will and will not be included for the fee.
Despite these common-sense reasons, there is evidence that some architects still operate without any written terms, or with very limited and inadequate ones. Cases such as Freeborn v Marcal (2019), in which the ruling stressed the importance of an architect having a clear, concluded appointment establishing a defined brief, and generally keeping accurate and contemporaneous records, may be an extreme example, but anecdotal evidence shows many architects are reluctant to put 'formal' documents before their clients before any work begins. A check undertaken by the RIBA Professional Standards team found that 26% of the professional conduct cases raised in 2018 related to allegations of insufficient or non-existent terms of appointment, and that 25% of the hearings in these cases resulted in RIBA members being sanctioned for breaches of the RIBA Code of Professional Conduct. Around half of the ARB Professional Conduct Committee (PCC) reported cases refer to appointment issues, and in two cases this was the only ground cited for the PCC finding the architect guilty.
The RIBA Code of Professional Conduct states that 'All terms of appointment between a Member and their client must be clear, agreed and recorded in writing before the commencement of any professional services' (Principle 2: 2.1) and Guidance Note 2.1 states 'The RIBA PSCs should be used where appropriate and possible'. RIBA Code 2: 2.2 gives a list of what must be included in those terms. ARB Code 4.4 has similar requirements. Using the RIBA PSCs fulfils all the main code obligations, although it should be noted that a cover letter will still be necessary to inform the client of the firm's written complaints procedure and to let them know that you are registered with the Architects Registration Board and subject to its code (if this is the case).
Why do we need new appointments?
It is vital that the standard appointments are reviewed regularly to ensure they comply with current legal requirements and reflect the commercial context and client expectations. With respect to domestic clients, new consumer protection legislation has introduced requirements that must be reflected in appointments. For example, the Consumer Contracts (information, cancellation and additional information) Regulations 2013, require the customer to be provided with a cancellation form, and the Consumer Rights Act 2015, together with the revocation of the Unfair Terms in Consumer Contracts Regulations 1999, has redefined what might be considered an 'unfair term'. Commercial clients are increasingly likely to consider imposing bespoke terms, and ensuring that the RIBA PSCs reflect a commercially acceptable balance of risk will help to minimise this.
The new RIBA PSC suite
Development of the new suite was steered by an RIBA working party that included architects, client representatives and construction lawyers, and drafted under its direction by an independent consultant. The RIBA PSCs were subject to several rounds of consultation with leading industry figures, construction lawyers and other construction institutions. They were of course checked by RIBA solicitors.
Five new PSCs have been published to date. The RIBA Standard PSC is the most comprehensive. There is also a RIBA Concise PSC and a RIBA Domestic PSC, and a back-to-back RIBA Sub-consultant PSC. An entirely new appointment is also included in the suite, the RIBA Principal Designer PSC.
The RIBA Standard PSC has the most comprehensive services schedule, setting out four roles – architect, lead designer, project lead and contract administrator – and breaking down their services by each stage of the RIBA Plan of Work. Other services can be listed under each work stage and/or separately selected from the Other Services schedule. The RIBA Concise and Domestic PSCs include architectural services only with an option to include additional roles. The RIBA Domestic PSC is intended for use with consumer clients, and includes the necessary cancellation form. It also includes principal designer services (as this would be assumed by default if the client makes no separate appointments). The principal designer duties are excluded from the RIBA Standard and Concise PSCs, as the RIBA recommends that this role should be appointed under a separate and distinct PSC, hence the publication of the new RIBA Principal Designer PSC. The RIBA Sub-consultant PSC is for where architects may require sub-consultants, or may be engaged by other firms, and ensures compatibility with the RIBA Standard PSC.
What are the key features and changes?
The most immediately obvious changes are to presentation; graphics, format and layout have all had a thorough overhaul. All new versions comprise a single document in four main parts: contract details, agreement, contract conditions and schedule of services, with no separate supplements. A contract checklist has been added, and the guidance notes are now at the front of the document for ease of reference. This makes all the RIBA PSCs more modern, appealing and easier to use than their predecessors.
The fees section has been simplified and payment frequency options expanded, although the fee charging options are largely unchanged. Design meeting frequency options have been added, which will be welcomed by many practising architects (meetings above the specific number will incur additional fees). An expanded electronic data protocol has been added and the terms now refer to the General Data Protection Regulation (GDPR). Feasibility studies have been added to Work Stage 1 services, and town planning included in Stages 2, 3 and 4 (before they were confined to Stage 3). Tendering services have been added to Stage 4 (before these only applied where an architect was acting as CA).
A key change running across all versions is a revised standard of care:
'The Architect/Consultant will exercise the reasonable skill, care and diligence to be expected of an Architect/Consultant experienced in the provision of such services for projects of a similar size, nature and complexity to the Project...'
The reference to 'experienced' was included to align with industry expectations; not only is it what most clients expect to see, it is used in the standard terms of other professions (the new RICS PSCs for example). This is standard wording and should be acceptable to all PI insurers. It is arguable, in any case, whether it raises the standard of what is expected – it would never have been an excuse before for an architect to claim that their poor performance was because they had never worked on this kind of project before.
More importantly, and very much to the benefit of the architect, is the introduction of a new 'governing clause' stating 'nothing contained in this as agreement or elsewhere shall be construed as imposing on the architect any greater duty…' In practice, a higher or strict standard is sometimes set out in other documents, such as a project brief, and this should help to avoid the architect being held liable to this higher standard (contrary to the result in cases such as Costain v Charles Haswell & Partners (2009), where engineers were held to be strictly liable for their design.)
An interesting new addition is clause 3.2.5 which states that:
'The Architect shall…if acting as Contract Administrator for the Building Contract, exercise impartial and independent judgement when acting as intermediary between the client and the Contractor'
Although the exact nature and extent of the contract administrator role will depend on the building contract, and generally there would be an express or implied duty to act impartially, this serves as a reminder to the architect, and perhaps more importantly reminds the client that in this role the architect must maintain an independence, not least because in the long term it would not be in the client's best interests if the architect were to take a partisan view.
As in previous versions, the RIBA PSCs offer a great deal of protection to the architect in terms of obligation to pay fees, protection of copyright and limitations on nature and extent of liability (most of these provisions are largely unchanged). However, of note is a redrafting of the net contribution clauses and the reintroduction of a net contribution clause in the RIBA Domestic PSC. This was removed following a judgment which had suggested it could be unfair for consumer clients, but subsequent case law has removed this constraint.
One of the most significant changes to the RIBA Standard PSC is the introduction of provisions covering novation. These are to cover situations where an architect transfers from the original client to a new client. This is normally to a contractor in a design and build context, but it could also apply if transferred to a different client such as a new developer. The clauses would be relevant whether the novation was anticipated at the time of appointment or arose later. There is no obligation to accept the novation, but should it go ahead the contract sets out the terms of the novation agreement. These reflect exactly the terms of the Construction Industry Council (CIC) Novation Agreement, to which the RIBA PSC refers (it also refers to the CIC matching warranties). For the first time architects have available a fully coordinated suite of appointment, novation agreement and warranties clauses to deal with this situation.
On the horizon
The suite of RIBA Professional Services Contracts is being reviewed and expanded and a number of new contracts are in development. These include an Interior Designer PSC, which will be published in association with the British Institute of Interior Design; a Design & Build PSC; a Client Adviser PSC; a Planning Consultant PSC; an Information Manager PSC; and contracts covering conservation projects and the provision of post occupancy evaluation services. The RIBA is intending that at least some of these will be published next year.
Professor Sarah Lupton is a principal in Lupton Stellakis and holds a personal chair at Cardiff University where she directs the Master of Design Administration (MDA).
PSCs available digitally
Another new feature of the latest RIBA PSCs is that you can now create, draft and print your professional services contract digitally. RIBA Contracts Digital has been specifically developed to make the preparation of contracts simple and straightforward. RIBA Chartered Members receive a welcome 50% discount on any contracts purchased through the digital tool. Further details can be found at architecture.com/riba-contracts.