Re-fabricate is a hands-on project to imaginatively rethink recycling and reuse on a global scale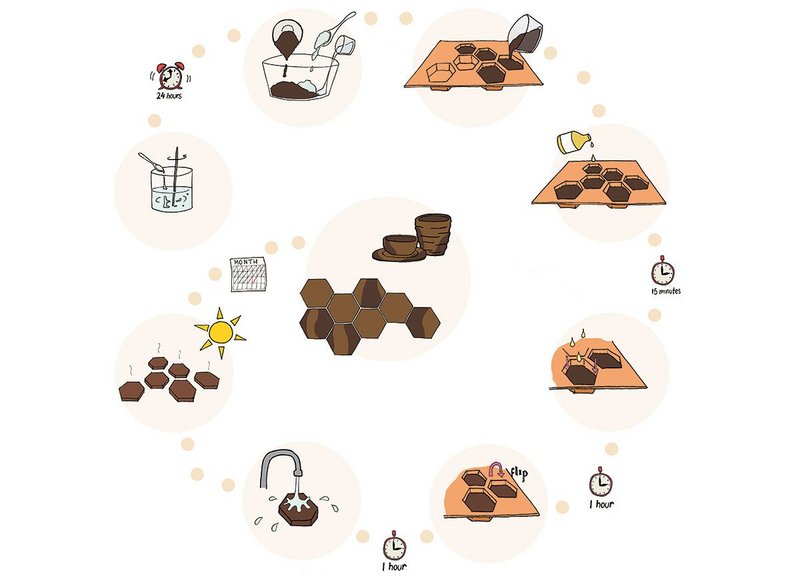 The Aggregates group devised a product using coffee grounds as an alternative to sand in the production of concrete.
Last summer a group of young architecture graduates decided to try to bridge the yawning gap between academic study and industry in terms of thinking and working. The group included Kate Ridgway and Paul Daramola, whom Dian Small of RIBA London put in touch with Rosanne Scott because of the latter's interest in Architects for Change, particularly around supporting architects with disabilities and dwarfism. They all felt the RIBA could do more to support people at their career stage and wanted to develop wider networks. They all had an interest in sustainability, waste was in the news a lot at the time, and they decided they wanted to do something. That is how Re-fabricate began.
The initial interest developed into an idea of finding teams that would each tackle the reuse of a type of waste material – timber, plastic, textile, aggregate and glass – by collaborating with other design and industry professionals. The project launched at the RIBA Sustainability Festival in September last year, which led to link ups with Tiziana di Ronco, Sophie Zara James and Guiseppe Ferrigno. This group became the committee that ties the project together. They put out calls for collaborators through organisations such as the Royal College of Art, Landscape Institute and Association of Industrial Designers. They set up a website and sent out flyers and enewsletters and received more than 200 responses from a huge range of professionals – architects and designers spanning concept, service, landscape, urban, product and digital, as well as material developers. The responses were narrowed down to around 60 people and each person was assigned a group, with about a 50% split of archi­tectural designers to other backgrounds for each type of waste material.
'We had such high interest,' explains Scott, 'that the initial five groups turned into six, with two for timber.'
The project, which started officially in February with a series of workshops and lectures on the circular economy, has just completed. For the final virtual presentation each group had to explain their idea, the research and testing and develop a potential business model with help from external mentors. The idea was to use a Remakery co-operative workshop space in London to develop and test ideas, but coronavirus meant this was not possible and teams had to switch to working from home.
Nevertheless, the energy and products that have come out of the project are remarkable. Some teams focused on creating new products out of old. Aggregates, for example, used coffee grounds as a sustainable alternative to sand in the production of concrete and ceramics. Glass, meanwhile, invented GlassPass, an environmental certification tagging to make recycling more efficient – a project the committee and the RIBA are considering rolling out to other regions. Three of the teams' creations are detailed here.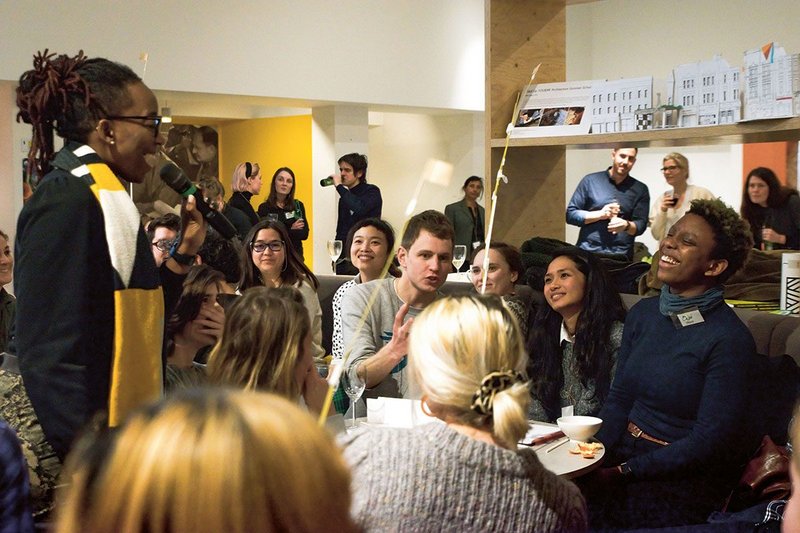 Early meetings with Re-fabricate members took place through RIBA London.
Timber 01 – WoWood
This team of seven included a landscape architect, service designer and product and concept designer. The group started by researching the different grades of timber waste from A-D and how to interrupt that process. The initial focus was on grade D waste because so much of it goes to landfill. The team found that the finest grains of sawmill waste dust particles cannot be used for MDF manufacture. They wanted to create a new product that would use this waste and use natural binders. They sourced several big boxes of sawdust of different types of timber, including cherry and chestnut. They also collected bark from a local forest and ground it down.
Three members of the group were responsible for testing, turning their homes into micro labs. Using household instruments such as a coffee grinder they bought with the seed funding money and natural binders made from potato peel, carrageenan (from seaweed) and another agar-based binder, they went about creating samples. They made about 30, 10cm radius samples in total, exposing them to the elements, then heating and reshaping them for testing. For the final presentation they used a sawdust and carrageenan mix named WoWood, formed into an acoustic panel using a steel mould. Once dried and solid, the product is 100% biodegradable and can be reshaped into other things later. The surface is deliberately multifaceted, including holes for acoustic purposes.
The team is keen to progress the product into a business. The immediate next step will be to send the samples for toxicity, waterproofing and further acoustic testing, then to investigate how to amass the waste to create the material and possibly switching to a binder they could make out of waste collected from restaurants. The group sees opportunities in all kinds of interior products – they even made a coat hanger out of it. If it succeeds in waterproof testing, it could even be used for fencing.
Textiles – WeRope
The eight people on this team were committee member Sophie James plus four architects and a mix of other designers, including textile specialists. Again, the group started with research and was shocked to discover statistics such as the fact that globally a truck's worth of textiles is dumped into landfill every second. But the problem with this waste is it contains many different fabric types, which are often in themselves composite fabrics. Early on they engaged with the IKEA shop in Greenwich and the issue of uniform waste disposal – the logo causes additional problems for recycling. At that point the team was considering two options: creating a new bio material by shredding and grinding material down and binding with natural resins, or finding a way to use the textiles' strength properties to create new items.
Starting with the bio material, the team went about creating samples at home. However it didn't work and was just creating more waste. So members started experimenting with traditional ropemaking, learning how to do it through online videos. They tried out different thicknesses, knots and combinations of textiles. Team member Rashmi Bidasara's family background is in textiles and during lockdown she returned to India and started ropemaking at home with her grandmother and mother using an old weaving loom. The final product became a prototype charpai, a traditional woven bed used in the Indian subcontinent, made using a metal frame and the recycled rope technique. They made strips out of the recycled textiles which they attached to a drill to spin it quickly to form a braid. This was then held taut by 6kg kettlebells and tested with five different types of knot.
At the same time, the team formulated a business model called WeRope. The first part would be to provide the rope, the second stage to provide rope panels for use in smaller items, the third stage would be to create modular panels and the fourth stage repair and recycling. The team see potential for the technique to be applied to all sorts of items: noticeboards, benches, stools, even wall partitions. And there's potential to team up with companies like Zara and H&M Home, sourcing recycled waste textiles from them and then selling the furniture items in their shops to create a circular economy.
Plastics – UPlastic
The eight-strong Plastics group was an inter­disciplinary mix including landscape architects and urban designers. It took on the challenge that many people are trying to solve – how to stop a truckload of plastic going into the ocean every minute. They decided early on that the biggest problem with plastic is the waste disposal and recycling process, and the lack of trusted system to deal with it. They discovered, for example, the huge variation in the uptake and success of recycling between UK councils. The best, like the South Riding of Yorkshire, have a recycling rate of 60%, whereas the worst are generally around 30%. However, Newham in London has a rate of just 14%. Many councils' solution to recycling was to export as much as 1 million tonnes per month to South Asian countries, but since China banned that in 2018, it has fallen to 500,000 tonnes a month.
With this in mind, the team decided what was most needed was a way to improve, ration­alise and even out rates of recycling, rather than a method that would create new materials. They wanted to remove the local, postcode lottery aspect and incentivise consumers at the same time. They decided this would be best done with a mobile phone app in which the users are individuals and small businesses, the client is the council and the target market is medium to large recycling companies that process the plastic appropriately. Partners in the process were found through the UK Plastic Pact.
The group developed a prototype app for their presentation. To use it, individuals scan a plastic item's barcode, which is linked to a database that shows what type of plastic it is, which parts are recyclable, and how to prepare and sort it. The item is put in a container which is collected when full and taken to the partners for recycling. Users can track the progress of their recycling from beginning to end and get points and rewards based on weight and number of items they recycled which they can exchange for discounts. They can also share their successes on social media within the app to develop a culture of recycling. For example, if you recycle 10 Coca-Cola bottles, you might get one for free. In time, the team thinks organising its own collection process would be the most reliable and efficient system.
The group now plans to undertake surveys of different recycling habits and demographics, as well as user flow analysis of the app. It is targeting Newham council to run a test project.